From Lebanon, Ohio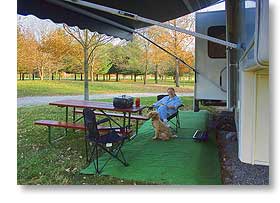 Thursday, October 28, 2004 - We left Enon Beach campground around 11:30 this morning and made the relatively short drive south to the next stop on our itinerary, Cedarbrook Campground in Lebanon, Ohio.
The only incident on this drive was not finding a connecting road we wanted to use which would have bypassed Lebanon. But since there was no route marker for that road we ended up having to drive through Lebanon after all, where I made a wrong turn, thinking one of the streets was the route we wanted. But we eventually did find the right road and then missed the turn for the campground since the sign was pointing the opposite direction, which meant driving through Lebanon again. Argghhh!!!.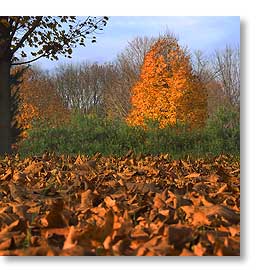 But, on the bright side, it was a beautiful day for a drive and I gained quite a bit of experience in navigating the rig through a small town and along country roads.
And it was certainly worth the effort. Cedarbrook is a very nice campground in nearly all aspects, unlike Enon Beach. However most important to me is that Cedarbrook has free high speed internet access in the lounge. This is provided via either ethernet or wi-fi access with the wi-fi able to be received outside the lounge, of course.
So for a few days I'll be able to keep up with email and my forum postings on a regular basis.
Anyway, this location is fairly close to my sister Carol.

From Enon, Ohio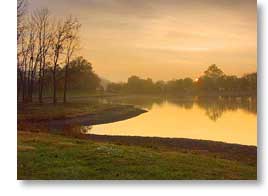 Friday, October 22, 2004 - We left Ottawa, Ontario 2 days ago on Wednesday, October 20, as planned. While there we succeeded in tying down all the loose ends and business matters we had needed to do before we could leave Canada for six months, so we departed our Rideau Heights campsite around 10:30am and drove until 10:30pm at which point we were too tired to continue. So we pulled into a freeway rest area just inside the Ohio border east of Cleveland, parked Big Harv in with the big trucks, crawled into our bed in the RV, and got about 5 hours sleep before continuing on our way at 3:30am and arriving in Columbus, Ohio around 9am after a leisurely drive timed to miss Columbus's morning rush hour.
As with previous trips towing Big Harv, we encountered no problems, although a drizzling rain started around Rochester, NY and continued until we stopped for the night. The rain, even though not heavy, did make driving through Buffalo, NY a bit tense at times. Otherwise, the drive was pleasantly uneventful.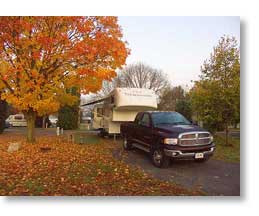 After making arrangements on a phone in Columbus to see my daughter and her family later in the day, we continued on to the Enon Beach campground which is an hour west of Columbus but selected as a site that's fairly central to all the places we're likely to be driving to while here.
As a campground though, this is the noisiest (freeways on two sides as well as a major railroad line) and least picturesque one we've stayed in. Parts of it can best be described as a grungy trailer park, so once the week is over that we signed up for, I expect we'll move to one a bit more appealing.
However, as can be seen from the photos above (as always, click on them to see a larger image), the campground does have areas that are nice. You can also see from the sunrise photo that the trees are past their prime for autumn color with many of them already bare. At least it is enough warmer here that we are more comfortable. Ottawa had gotten to be cold enough that it was clear winter wasn't far away. Here it still feels like autumn.

From Ottawa, Ontario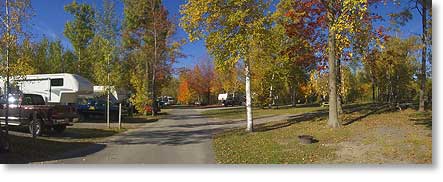 Thursday, October 14, 2004 - We left Dwight, Ontario 3 days ago on Monday, October 11, as planned. That was the Canadian Thanksgiving holiday and we were concerned the traffic might have been heavy because of it, but happily such turned out not to be the case. The 200 mile drive to Ottawa proved to be fairly painless.
The only problem we encountered was a a number of pathetically slow drivers, particularly in the part of the trip where we had to drive through 35 miles of Algonquin Park itself. Hard as it is to believe, with the full rig in tow I actually passed one of them, something I thought would never happen!
Anyway, we are now camped at the Rideau Heights Campsite in the south end of Ottawa itself. Being right in the city, this campground is far from the most picturesque we've stayed in but is certainly the most convenient. Initially I didn't want to stay here because its full service sites are not pull-throughs but have to be backed into. This was something I was trying to avoid at all costs but with the encouragement of Sandra and the park owner and with him giving me directions, I actually managed it without much difficulty.
We are back in Ottawa to finish up a few matters that were put on hold for the shakedown trip of the new RV that we just took. Plans are to leave here next Wednesday, October 20, and head for Ohio to see the family, probably taking 2 days for the trip. However, the date we actually leave Ottawa is dependent on when the flu shots will be available.
I'm certainly ready to head south. While the days have continued to be pleasant, the nights are frequently getting down very close to the freezing mark which not only complicates matters with concerns for the plumbing freezing up, but also makes the furnace run a lot which means we are having to refill the propane tanks far too often.

pBase Galleries Restructured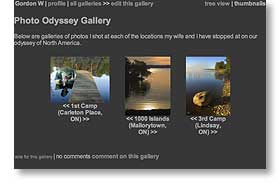 Thursday, October 14, 2004 - One advantage to being back in Ottawa for a few days is the abundance of open wi-fi networks that are available. Because of this I've been able to restructure my online photo galleries at pBase.com around what I think of as the 'Photo Odyssey' that Sandra and I are now on.
A visit to my pBase gallery will now show a new subgallery called Photo Odyssey Gallery which at the moment contains subgalleries of photos from our first 3 Odyssey stops (as pictured here) with more that will be added soon to include all our stops todate. Since I haven't yet posted, or even processed many of the photos I plan to post for all the stops, I will be adding photos on as regular a basis as possible until I'm caught up. So checkout my pBase galleries often.
Another significant change was putting all my galleries of photos shot around Ottawa taken before the Odyssey into a separate gallery of its own.
BTW, it might interest some to know that from time to time either or both of my 'Latest Photos' and 'Best Shots' galleries will make it to pBase's Most Popular Galleries list, an achievement I am proud of since it reflects the opinions of my photographic peers toward my photography.

Internet Access Situation

Sunday, October 3, 2004 - Just before we left Ottawa I subscribed for a dialup internet account with Juno (who's affiliated with NetZero, I think) because Juno claims coverage across both US and Canada, thinking Juno being a Canadian company (or at least they advertise on Canadian TV) they would give me better access up here than the more expensive AOL.

Ju-NO

However, Juno has not worked out.
First, with the exception of Ottawa and Kingston, none of the areas we've been in have had local Juno access numbers to call. Secondly, in neither of those two areas did we have access to a phone plug where we could take advantage of the dialup account.
This has made Juno and dialup totally useless and has limited us to using, when and where we can find them, open wireless (wi-fi) computer networks that have internet access enabled.

Wi-Fi

Finding one of these wi-fi networks usually involves quite a lot of driving and time while giving us only a limited amount of access time due to various reasons.
The good thing about wi-fi is that it is a high-speed technology, unlike dialup. The bad thing is our access to wi-fi is not only sporadic but also until my friend Neil Herber tracked down the problem for me, none of my email programs were able to send emails!
They could receive well enough but simply wouldn't send. This was verrrrry frustrating.
So, if you haven't gotten much or any email from Sandra or me, this was why.

Libraries

Anyway, the only other internet access we've found is that nearly all public libraries now have high-speed internet access available which at least allows us to surf the web, but security issues with any publicly accessible computer limit our use of them.
For instance, due to technical reasons I won't go into here, it is very unwise to do anything that requires entry of user IDs and passwords, so we can't even check email with these computers.

Satellite

So what we're looking at doing to remedy this frustrating lack of consistent internet access is to get satellite access.
The bad thing with this is it's expensive (as well as having a latency issue which I also won't go into here).
The good thing though is it's much more convenient and available, especially when you consider a satellite can be accessed no matter where we are, as long as the antenna can 'see' it.
To pay for this, we are going to divert the money we were going to use for cell phones. The cost works out to be about the same.

Contacting us

What this will mean for those who wish to communicate with us is that instead of calling us on the cell phone you will be able to contact us through AOL's Instant Messaging service (AIM).
In many ways AIM is even better than telephoning. First, it's free. Secondly, we'll be available for much longer periods of time (i.e. as long as the satellite dish is set up and one of the computers is on). And thirdly, if you have the required hardware and software, you can not only exchange text messages with us but voice and video as well. In our former life I used AIM for this numerous times with the Mac using iChat and it works extremely well.
So that's the situation and the plan. We'll let everyone know when it's in place.



__________________________

To view news from our previous stops and camps, visit the News Archives.


Updated Wednesday, November 3, 2004

Copyright © 2004 by Gordon L Wolford .
All rights reserved.