Day Trip to Myrtle Beach, South Carolina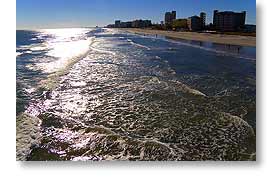 Monday, November 29, 2004 - Three days ago – the day after Thanksgiving – Sandra, Cousin Keith, and I headed south to Myrtle Beach, South Carolina, primarily because there's a Camping World store there, but also because Sandra wanted to see more of the ocean and I wanted to see what had changed since my last visit there many years ago.
I found a lot had changed, but didn't find anything at the Camping World store I liked better than my money. However, Sandra did find a couple small things she'd been looking for. My main interest in the store was to see if they had a system for satellite internet access, which they did but it was the automatic tracking variety which costs far more than it's worth to me.
Anyway, Myrtle Beach has now become the Pigeon Forge of the east coast in the sense that it's now just mile after mile of hotel after hotel and cheesy tourist attraction after tourist attraction, to the point there's almost no room left along the main thoroughfares for further development which means the traffic was quite heavy even in this being the off-season. Can't imagine what it'd be like in the summer. Not my cup of tea, but I expect a lot of folks view this kind of area as exciting.

Day Trip to Wilmington, North Carolina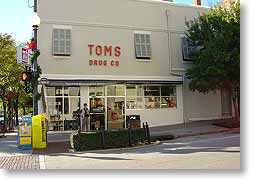 Sunday, November 28, 2004 - Three days ago on American Thanksgiving, Sandra wanted to go for a ride and see some ocean so we headed east toward Wilmington and Wrightsville Beach, with a stop on the way to introduce Sandra to Lake Waccamaw, a locale of some fishing experience in my younger days.
After arriving in Wilmington, I drove around a bit to refamiliarize myself with the city as it's been quite a number of years since my last visit. Then after taking a few photos along 3rd Street, to my great surprise not only found Tom's Drugstore a block up from the river, but actually found Tom's still in business! Tom's is famous in my family's history as the place where my parents first met each other during WWII, the story being that my mother, who worked at Tom's soda counter in those days, was so smitten with my father at first sight that she gave him a soda without charging him for it and that was that.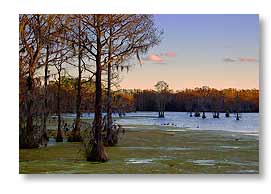 After seeing Tom's (photo above that Sandra took with me standing in front) and walking along the river walk a bit, I tried unsuccessfully to find Greenfield Park (not a sign anywhere) so we drove out to Wrightsville Beach (signs everywhere) and to my further surprise we not only found people on the beach, but surfers in the water! Due to the weather being mild but certainly not warm enough for swimming, I'd expected the beach to be deserted.
Then as it was nearing sunset (sure gets dark early now) I finally did find Greenfield Park (photo on the right) where we had just enough time to walk around the park a little and take a few photos before the sun went down and we headed back to Mollie.

Getting the Hang of It

Saturday, November 27, 2004 - The ground on Cousin Keith's property had dried out enough that we decided today would be the best day to get the RV positioned properly (turned around) since we're supposed to have rain again tonight, and hard rain at that.
So we got everything stowed and hitched up and with Keith on one side and Sandra on the other to make sure I didn't back into a ditch or tree we got Big Harv repositioned, which involved doing something like a 'Y' turn that was accomplished by backing up twice and two forward moves, one of which had probably less than a foot clearance on either side.
After having accomplished this I'm now much more comfortable with the thought of backing into campsites in the future, although I will always prefer the simplicity of pull-through sites.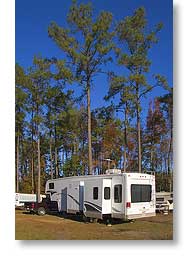 In Mollie, North Carolina

Thursday, November 25, 2004 - It is the American Thanksgiving holiday today, so Happy Thanksgiving to everyone. Sandra and I certainly have a lot to be thankful for.
Anyway, we are now camped on Cousin Keith's land. The drive down to Mollie from Chocowinity was fairly uneventful except it rained most of the way and was raining when we arrived at Keith's. We managed to get setup, although the RV is not oriented in the most optimum position and Keith and I were fairly well soaked by the time things were all in place.
Then yesterday, bright and early, he and I went out shooting photos while tracking down ancestoral gravesites which gave me the opportunity to give the new camera its first practical workout since there was just about the right amount of fog in the air to make for some interesting photos of scenes that otherwise would have been uninteresting.
Things were going well until we made a wrong turn around a field on the way to the very remote grave of our great-great-grandfather and Big Larry sank into the mud up to its axles and couldn't pull itself out even with four wheel drive. Fortunately with the aid of kindly folks and Keith's unbelievable assortment of tools, we managed to winch Big Larry out of the mire and finish shooting photos. However, from now on, Big Larry will stick to established roads.
Anyway, it was an adventure and all concerned survived unscathed and gave me something to talk about at the local church's Thanksgiving fish fry last night where we met a few more of my cousins, an uncle, and other folks I haven't seen for at least 20 years.

Leaving for Mollie, North Carolina

Tuesday, November 23, 2004 - We are leaving later this morning for Mollie, North Carolina to visit my mother's side of the family and to show Sandra around the area since she's never seen it and it was an important part of my life when I was growing up.
We are planning to camp on Cousin Keith's property which he's set up with hookups for RVs. This means that in all likelihood our internet access will be very spotty. We are looking at possibly getting our satellite internet access set up while there but this remains in doubt.

At long last...a high-end digital camera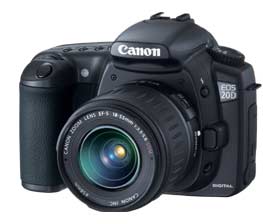 Monday, November 22, 2004 - After 6 years of waiting for digital photography technology to reach a high enough level at a reasonable enough price, today I bought what I hope is the last digital camera I'll need to buy - a Canon EOS 20D.
I had actually been looking to buy a different camera, but this one was running a very close second on my short list and when we walked into ASAP Cameras in Greenville, North Carolina yesterday and the person there set me up with a system that did everything my first choice does, plus has the benefit of higher resolution, better image quality, and at the same price I could buy it online out of New York City for, I saw no reason to wait any longer.
So for those of you reading who know cameras, this one is a digital single lens reflex with 8MP on a large sensor and came with a 17-85mm f4-5.6 IS (image stabilized) lens included. To go with it, I also bought a matching 75-300mm f4-5.6 IS telephoto lens, a 1.4x tele-extender, and a 2 element closeup lens for macro shooting. In 35mm terms, this gives me a focal length range of 27-672mm in two lenses that are fairly lightweight as lenses go.
Now all I need to do is shoot some world-class photos and sell them to help defray the cost of this rascal (which, while reasonably enough priced for this sort of thing, was still far from cheap ;-).

Day Trip to Cape Hatteras, North Carolina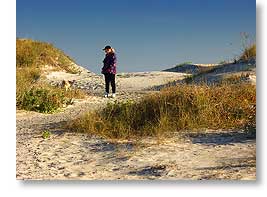 Thursday, November 18, 2004 - Yesterday, since the weather was supposed to be good (although not what you'd call warm) Sandra and I left here at 5am to make the two hour drive to Cape Hatteras, North Carolina (a.k.a. The Outer Banks) for a day of sightseeing and photography.
I took 161 photos, these being two of them. On the right is Sandra walking our dog, Bib, among the dunes. As seen here, he is watering yet another clump of dune grass. Below is a fairly typical view of an area about midway down the Cape that's still not highly developed, yet. However, north of the access highways is now so built-up that it brought to mind what has happened to Pigeon Forge, TN. Not a pleasant thought. As always, click on the photos to see larger images of them.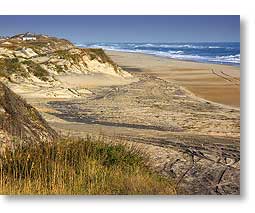 However, we had a pleasant day on the Cape, despite the day being quite long (15 hours total on the road and over 400 miles) and the temperature being only what you'd call mild and then only during the afternoon hours (61°F/16°C).
So far the temperatures we've been experiencing in North Carolina have been disappointingly cool or actually cold. For instance, down to freezing at night and several days it has been no warmer at night than it has been in Ottawa!
Anyway, we are having fun and hope to get setup with satellite internet access while we stay on Cousin Keith's property (an hour west of Wilmington, NC) starting next week and also the higher-end camera I've been waiting for (the Minolta 7D, a digital SLR) has finally started appearing on store shelves so my wait for it should shortly be over.

Now in Chocowinity, North Carolina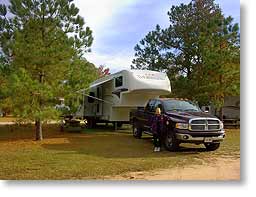 Tuesday, November 16, 2004 - After doing some research we settled on the Two Lakes campground in Chocowinity, NC as a good place to stay and arrived here at noon after the relatively short drive from Rock Ridge.
Twin Lakes campground offers a subscription wi-fi service so we signed up for a week of it, which means that's how long we are planning to be here. So far the wi-fi service is rock solid and probably cost less than the diesel fuel we would have spent trying to find an open wi-fi network somewhere around here. Plus this has the distinct advantage of allowing me to surf the web from the comfort of my recliner.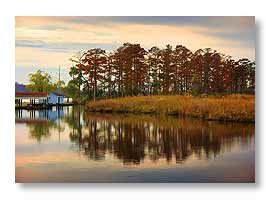 For those not familiar with Chocowinity, it is on the Atlantic coast directly south of Washington, NC and about 35 miles north of New Bern and is right by the Pamlico River at the head of Pamlico Sound. The reason we decided on this location is it's central to the region and is an area I've never seen much of, which is rather surprising considering the number of times I've visited North Carolina
Pictured here are Sandra at our campsite and a view along the Pamlico River near our site as sunset was approaching (click on them so see larger images).
Anyway, since we have this excellent wi-fi internet connection, sending and receiving email will be prompt.



__________________________

To view news from our previous stops and camps, visit the News Archives.


Updated Saturday, December 4, 2004

Copyright © 2004 by Gordon L Wolford .
All rights reserved.