O, the Weather Outside is Frightful

Monday, December 20, 2004 - We got up this morning to weather that was beautifully clear but disgustingly cold at 3°C/39°F. Then I went online and saw the temperature back in Ottawa was a bitterly cold -30°C/-22°F with a windchill of -43°C/-45°F and I felt so much warmer and quite thankful to be here in Lakeland even though it is predicted to drop down to 1°C/33°F tonight.
If this is any indication of what it will be like in Ottawa tonight, I'm doubly glad we're not going to be there and have heartfelt sympathy for family and friends who still must endure that kind of winter weather. And it's still only December with tomorrow being the first official day of winter. Hopefully the weather last night is not a precursor of things to come in January and February.

Explored Lakeland a Little More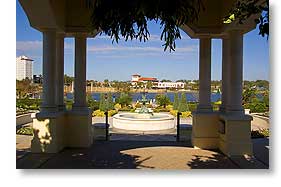 Sunday, December 19, 2004 - Being a real beauty of a day, warm if one stayed in the sun, we took off late morning to see more of the local sights.
First stop was a return to Lake Mirror in downtown Lakeland to see the Hollis Gardens which we'd missed entirely on our first visit to that lake.
Hollis Gardens (photo on the right) turned out to be a quite nice formal garden in the English tradition but with a definite Floridian feel (not many English gardens with palm trees I expect).
Our next stop was a computer store where I replenished my supply of blank DVDs, but when I came out of the store I was dismayed to see one of the rear tires on Big Larry was almost flat! Fortunately I carry a small air compressor in the truck for just such an eventuality and we made it back to the campground without further incident, but this ended our exploration until I have the tire fixed on Monday.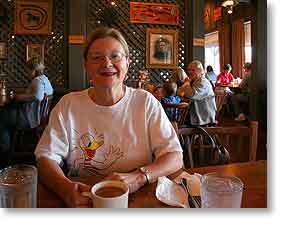 A Barrel of Fun

Friday, December 17, 2004 - This morning for breakfast Sandra and I took advantage for the first time of the Cracker Barrel gift cards her former co-workers gave her as a going away present when she retired and we started our odyssey around North America. Due to their generosity, we'll be able to eat at Cracker Barrel restaurants quite a few times before the cards are all depleted.
In our travels we've gone by numerous Cracker Barrels, but never at the right place at the right time. However, as good fortune has it, there is one located just around the corner from our Lakeland campsite.

Explored Lakeland a Little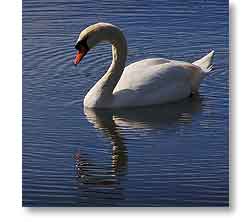 Friday, December 17, 2004 - Yesterday Sandra and I drove around Lakeland, Florida a little to see what it's like. There are 3 lakes downtown alone, so the name is apt. We explored two of the lakes before feet and backs got tired of it.
Here's a shot I took at one of those lakes, Lake Wire. This was just one bird out of many that were there.
Another interesting bird I saw for the first time in my life was a stork. These are interesting to look at but not nearly as beautiful as the swans.
A number of the bird photos I've shot here in Lakeland are currently at the top of my Latest Photos gallery on pBase which can be viewed by clicking here.
Otherwise, we didn't do much yesterday except enjoy the sunny mild weather.

Lakeland, Florida Update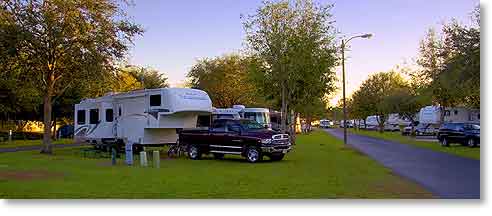 Thursday, December 16, 2004 - As mentioned below, here's a photo of our campsite in Lakeland, Florida, shot as the sun was going down. These various campsites admittedly all have a great similarity in look, but at least these photos give those who are interested an idea of what things are like around us.
So far we've only done grocery shopping. Tomorrow will probably be a day of leisure since I've worked hard at our last two locations shooting as many photos as I could in a very short time, but be that as it may I expect we'll do some exploring and get a feel for the area. I'm hoping to get some photos of wildlife during our stay here.

Moved to Lakeland, Florida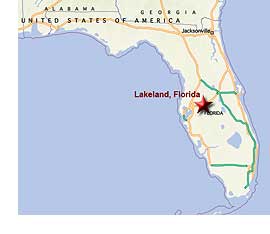 Wednesday, December 15, 2004 - To keep everyone apprised, Sandra and I now reside in the Lakeland RV Resort in Lakeland, Florida, 35 miles east of Tampa. We left St. Augustine after a short but worthwhile stay there, having shot quite a number of photos.
We left there at 10am this morning and arrived here in Lakeland around 1pm after a pretty painless drive, with only a few odd moments of traffic excitement in driving through Orlando.
I haven't shot a photo yet of the campsite, but one will follow. I've spent my time since getting camp setup in getting signed up for the wireless internet access provided in the campground. It only covers the office and lounge area, not the RVs themselves as I'd hoped for, but this is still far better than driving for miles every time I want to connect to the internet.
We have signed up for a two week stay here and since internet access won't be a problem during that time, you can expect reasonably prompt replies to email and frequent appearances on AIM.

Now in St. Augustine, Florida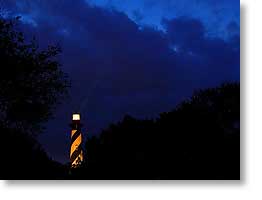 Tuesday, December 14, 2004 - We left Charleston, SC yesterday around 10am (takes 3 hours to actually hit the road from the time we get up in the morning on a departure day) and since we didn't want to drive into the night getting over to Tampa we decided to spend the night in St Augustine, Florida because it is the only place I know of in northeast Florida that is interesting photographically.
Also after stopping at the Florida Visitor Center on I95 at the border with Georgia and checking out the weather forecasts for the coming week that were posted for the various regions of Florida (this is a great visitor's center) we decided to stay even farther south than Tampa for the duration of the holidays if we had any hopes of finding actually warm weather. So I expect our next stop will be in the Ft Myers area, hopefully in a campground with wi-fi access.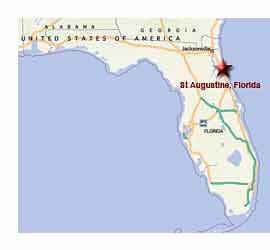 Anyway, while at the visitor's center we called and made arrangements to spend the night at the Indian Forest Campground which is about 5 minutes west of St Augustine and arrived here shortly after 4pm, with camp setup by 5pm, and me scurrying into town shortly thereafter to try getting a sunset photo, which I wasn't able to do (gosh, it gets dark early), but did manage to get several dusk shots of the beautiful lighthouse here that I don't remember ever seeing before (photo above).
While in town I also saw they had put up some very interesting Christmas light displays, far better than what Pigeon Forge had tried to do, so I went back and got Sandra, brought her back into town to show her the lights, actually found a parking spot, and then walked around for several hours taking photos of the lights and dining out at a surprisingly good restaurant.
And, because I've found so much I want to photograph around here, we signed up to stay for two nights even though the cold front we had tried to escape by leaving Charleston will catch up with us today (sigh) but it seemed a pity to rush away from here without at least spending one full day shooting photos. Now if we can find a suitable wi-fi network so I can post this update before it's old news.

Getting Cold Again

Sunday, December 12, 2004 - The forecast is for the lows at night to start dropping into the 20sF this coming week in Charleston, so it's time to leave and move further south, which we're doing tomorrow. We are heading in the general direction of Tampa to see my former employer and friend Bill Sommer who now lives there. I don't know though if we're going straight there or stop somewhere else along the way for a few days. Updates will be coming when we know for sure.

Location Maps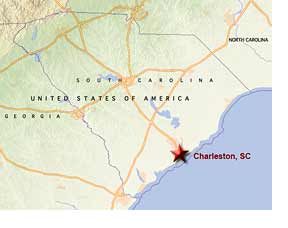 Saturday, December 11, 2004 - To assist in the geographical education of our eldest grandchild specifically, and anyone else who might not have known where some of our more obscure locations were located (like Chocowinity, North Carolina for instance although I find it hard to believe that not everyone in the world knows where that is ;-) it's been requested that I provide a map of where our location is each time we move to a new one.
This seemed like a good idea, so here's the first one, showing Charleston, South Carolina. Click on it to see a somewhat larger version of it.



__________________________

To view news from our previous stops and camps, visit the News Archives.


Updated Friday, December 31, 2004

Copyright © 2004 by Gordon L Wolford .
All rights reserved.