Tentative Plans

Monday, January 10, 2005 - Right now I'm sitting in the waiting room of Troy, Alabama's Dodge dealer while Big Larry is having his scheduled maintenance work done. After leaving here, if the sky's cleared I'm going to shoot a few photos around Troy and Montgomery and then we're packing up this evening so we can get an early start tomorrow morning (Tuesday January 11) and head to somewhere in the New Orleans area. Not sure yet what campground or how long we'll be there, but current plans are to not be there very long and this will probably also be expedited by yet another cold wave moving south, so we will likely soon be heading on to southern Texas in order to find some more warmth.

Daytrip to Montgomery, Alabama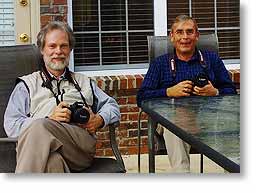 Friday, January 7, 2005 - Although it was cloudy with periods of drizzle we made the planned trip today to Montgomery, the state capital of Alabama, to see my friend Jim from the photo forums.
We found his house with no problem, met in person for the first time, and then drove around the Blount Cultural Park, which was unexpectedly remarkable even on a cloudy day, and then drove to the zoo where we all (Jim, Sandra, and I) took photos.
The zoo is a good size although not large, however it is large enough to have the usual array of animals, birds, and reptiles. My goal was to shoot photos that didn't look like they were taken in a zoo, but might have been taken in the wild. It remains to be seen how successful I was.
Then after a snack stop at a Taco Bell, it was back to Jim's house where his wife Wendy arrived shortly afterward from an all-day training course and later prepared us a sumptuous evening meal.
So all-in-all it was a very pleasant day even though the weather could have been better for photography. At least it didn't rain on us while at the zoo, so I'm not complaining.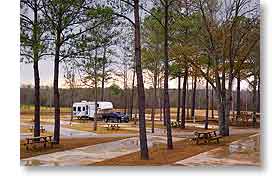 Now in Troy, Alabama

Thursday, January 6, 2005 - After a short but very nice stay in Mexico Beach, Florida, early today we got up, packed up, hitched up, and spent something around four hours on the road driving north to Troy, Alabama where tomorrow we will be driving 40 miles even further north to Montgomery, Alabama to meet in person one of the photographers I've exchanged messages with over the internet in photography forums and who has invited Sandra and me to meet him for a day of photography and then dinner at his place.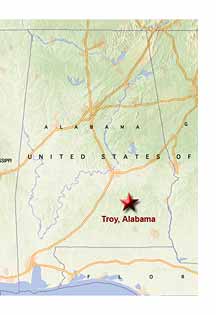 Today's drive was unique in that it involved no interstate highways, making the entire trip on two US Routes, 98 and 231, which were 4-lane nearly all the way but not limited access. We also lost the sun shortly after leaving Mexico Beach and drove through several periods of light rain, but otherwise the trip proved to be quite easy.
In Troy, we are located in the Deer Run RV Park, which contrary to what we had read and had been told and to our great disappointment doesn't have wi-fi access. But despite that, it's still a very nice park and though it isn't obvious from the angle in the photo above, we back toward a little lake which is the view we have out the back window. So the area isn't as fun-in-the-sun as it was in Mexico Beach, but this is a much nicer campground than the one there and we have a much better view from the RV. Due to the relatively short drive we arrived here early in the afternoon and had our pick of sites, but in the evening as I write this many of the empty sites in the photo are now occupied.
And as is now usual after a move, here's the map for granddaughter Grace showing our location in Alabama. Click on it to see a larger and expanded map.
We have signed up to be here in Troy until Tuesday morning since we have an appointment to take the truck in for its next scheduled maintenance service on Monday morning, which gives us the weekend to see the area around Troy and relax before heading for the Louisiana bayous and New Orleans.

pBase Problems

Thursday, January 6, 2005 - The photography hosting website pBase.com that I use to present my general photography galleries has recently been having some extreme problems keeping up with the demand for photos of the tsunami disaster to the point pBase at times almost has nearly crawled to a standstill, becoming virtually unresponsive.
My apologies to anyone who's tried unsuccessfully to view my photos or leave me a message there and run into this problem. pBase apparently has been working feverishly to increase their ability to handle this higher demand and today did seem to be much more responsive so hopefully they've succeeded.

Link to Our Christmas 2004 Greeting & Photo

Thursday, January 6, 2005 - I've been updating the News page here at an unprecedented rate of late which means our Christmas greeting has had to already be moved to the archives. If you missed it, you can still view it by clicking here.

Afternoon on the Beach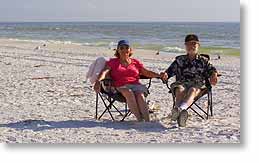 Wednesday, January 5, 2005 - Today we took advantage of our extra day in Mexico Beach to spend some time on the beach, soaking up some sun while another major winter storm is moving across the midwest.
First, we had lunch on the beach at Toucan's Restaurant where we ate on their deck that overlooks the sand.
Then we took our chairs out on the beach as seen here in the photo (click on it to see a zoomed-in larger version). Sandra lounged around and read while I walked along the beach shooting whatever photos happened to catch my eye.
Tomorrow we head north to Montgomery, Alabama for a short stay there.

Now in Mexico Beach, Florida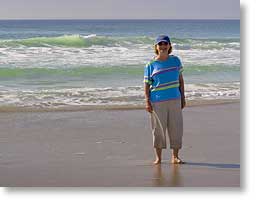 Tuesday, January 4, 2005 - Yesterday we moved from Lakeland, Florida to Mexico Beach, Florida. The drive took something over 8 hours and was uneventful except we arrived in Mexico Beach just after dark and the GPS failed just at the most critical time as we were trying to locate the campground. The failure was a result of typical Microsoft software behavior but I won't get into that here. I have confidence we will learn how to avoid this in the future once we get past the necessary learning curve.
Anyway, we eventually found the right place without serious difficulty and we like the area so well we just signed up for an extra day, rather than leaving tomorrow as originally planned.
Today on a sightseeing excursion we drove into Panama City, Florida, 27 miles to the north and spent a fair bit of the day enjoying and photographing the white sand, dunes, and wildlife at the St. Andrews State Park just west of Panama City. We still didn't see an alligator but we did see a deer or two and numerous birds.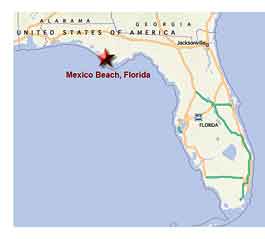 In the photo above, Sandra has gotten her feet wet in the Gulf of Mexico at the park, a pleasant haven of sanity and tranquility in all the bustle of an urban area like Panama City. Click on the photo to see a zoomed-in larger version.
And for the benefit of our granddaughter Grace and everyone else who might not know where Mexico Beach is located, the map on the right shows where it is. It's little more than a couple of restaurants, some beach-oriented businesses, motels, and houses along a beach road (US Route 98) and quite a number of streets of houses (mostly modular), churches, and little parks, but it's nice because the beach is gorgeous and quiet (i.e. not lined with high-rise condos and gaudy tourist attractions). The campground isn't directly on the beach, but it's only a couple minutes drive away.

Tentative Plans

Sunday, January 2, 2005 - For those who are interested in this, our plans are to leave Lakeland tomorrow morning after a surprisingly pleasant stay and head for the white sand beaches around Panama City, Florida for an overnight stay tomorrow night before heading up to Montgomery, Alabama to meet one of the photo forum fellows I've exchanged messages with and who has expressed a desire to get together. He's another refugee from the Canadian winter and also now shoots with a Canon 20D.
After a short stay in Montgomery, we are heading for the bayous of Louisiana where hopefully I can get some swamp pictures of note and will probably visit New Orleans for one evening only (not my favorite place despite its popularity) to see if I can get some photos of it that I like better than those I took on my previous visit to that city. Hopefully, being there at dusk and night will inspire me with the unique lighting those times of day produce.
Then from there we're heading for southern Texas along the Gulf coast and up the Rio Grande River from there through the Big Bend and onward to the west.

Where the First Day of 2005 Finds Us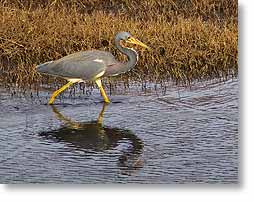 Saturday, January 1, 2005 - It finds us almost in the same position we were in yesterday, except for having had a late night last night to see in the new year.
We celebrated the new year today by giving the new GPS its second workout by driving to the Kissimmee State Park by its guidance, having used it yesterday afternoon and evening on an excursion to Winter Haven, which wasn't all that impressive a city but navigating by GPS was sure slick. It worked as advertised. We plotted a route with it, watched it keep our position centered on the map as we progressed along our route, and even turned the map as we turned so the map was always facing the same way we were heading. Almost too cool for words.
Photo of the heron above was shot from the side of the road on the drive back to Lakeland and is typical of the many birds we saw along the way.
Anyway, again, may all of you reading this have the happiest of new years in 2005.



__________________________

For Older News

To read news from our previous stops and camps, visit the News Archives.


Updated Tuesday, February 8, 2005

Copyright © 2005 by Gordon L Wolford .
All rights reserved.