Now in San Benito, Texas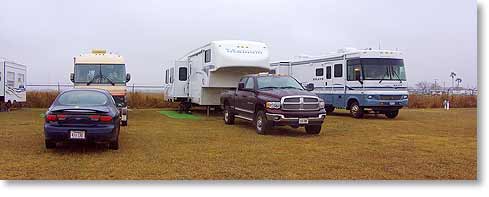 Monday, January 31, 2005 - As expected, it was rainy today, but at least it held off until we were hitched up and almost ready to roll out of Rockport, so I didn't get too wet. I was just happy it wasn't foggy, as I'd feared it would be. Fog had started to develop as we went to bed last night, so I was nearly ecstatic when I saw this morning it had cleared out.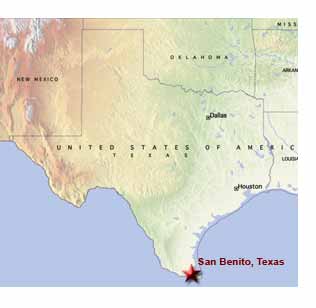 We left Rockport around 8:30am and found an excellent country road that bypassed Portland and Corpus Christi and took us directly over to the main road south, US Route 77, which is almost interstate quality and took us all the way to San Benito, Texas, our destination.
The campground Sandra found, First Colony RV Park, is within sight of Rt 77 so finding the park was quite easy. Checking in was also painless, but not getting onto the site. All they had left were some back-in sites (as can be seen in the photo above), which are well laid out but poor assistance from a staff member confused things and I would have done better backing in on my own.
Anyway, it was a good trip, despite the on and off rain and drizzle the whole 200 miles, and by 1:30pm we were setup and settled in. This is a very nice campground, although it doesn't have wi-fi, but I'm not complaining. I'm just grateful we found a site so easily. This is a very busy time of year down here for the campgrounds and many are full, like the one we left behind in Rockport. The one here is a Passport America campground which means it's half price, so we've signed up for a week and can stay longer if we like.
You can see on the map that we're about as far south as you can go in Texas. Brownsville is 20 miles southeast of here, South Padre Island 30 miles due east, and the closest point of the Rio Grande River as the crow flies is 7 miles, so I don't anticipate any shortage of new things to see.

Definitive Plans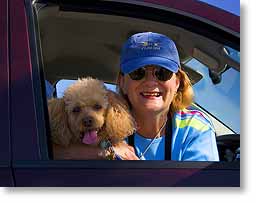 Sunday, January 30, 2005 - We are scheduled to leave Rockport, Texas tomorrow morning. The weather doesn't look that favorable for traveling so if we can we're going to extend our stay here until Tuesday
UPDATE: I just talked with the office and we can't stay, so we will be leaving early tomorrow as planned, rain or not.
We'll be heading 200 miles further south to the Brownsville, Texas area, which is as far south as you can go in Texas and is as far south as Miami, Florida.
Our time here in Rockport has been quite good though and we've enjoyed our stay immensely, but it's time to be moving onward.
And for those who like to see photos of us, here's one of Bib (the mutt) and Sandra (the wonderful wife). This was taken during our stay in Mexico Beach, Florida but could well have been taken around here. Click on it for a larger image.

Daytrip to Corpus Christi, Texas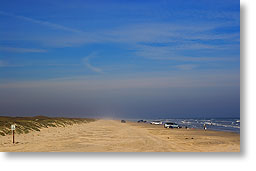 Friday, January 28, 2005 - Day before yesterday we made the 30 mile drive south to Corpus Christi, mainly to check out current cell phone options because since we've decided not to spend money on satellite internet access we are going to put that money into cell phones so Sandra and I can contact each other when one of us is out in the truck.
Anyway, we decided to take advantage of being down there and see some of the north end of Padre Island. Pictured here is the beach just north of the Padre Island National Seashore. As you can see, even outside the National Seashore it is virtually undeveloped and looked very much like similar areas of North Carolina's Outer Banks.
One thing that mystifies me is the $10 entrance fee the US Government was charging to get into that place. I can't imagine what is there that could justify charging an admission fee. Anyway, we turned around and went to the beach above instead.

Dinner Out In Rockport, Texas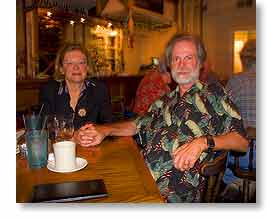 Thursday, January 27, 2005 - Tuesday evening Sandra and I decided to have a night out on the town which we did by having a dinner by the water, thinking that particular evening would be warm enough to sit out in. Unfortunately with the wind blowing in a cool front, it turned out not to be pleasant enough to sit out after the sun went down, but we did get an inside table on the second floor that while not right by a window still had a good view of the water anyway.
This was at Charlotte Plummer's Seafare Restaurant here in Rockport, Texas. Sandra had the Shrimp Sampler and I had the Grilled Chicken Breast (I'm not a seafood enthusiast). Both meals were excellent as was the service.
While there, we saw the sun set and the moon rise, so I would go out on the patio now and then and take a photo of the fishing boats in the harbor directly behind the restaurant. One of those shots can be seen by clicking here. Romantic, isn't it?

Amazingly Improved Wi-Fi Reception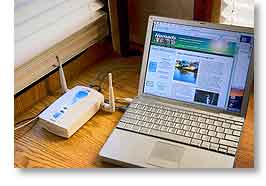 Wednesday, January 26, 2005 - The owner of Rockport's Raintree RV Park where we're currently located knows quite a bit about wireless internet access (wi-fi) and when we first visited here checking out the campground, he told me about a device (ZyAIR B-420 Wireless Ethernet Adapter) he had for sale that could greatly improve my wi-fi reception and once we had the RV in place on the site he would let me try the device before buying it if I liked it.
With an offer like that, how could I say no? So we did indeed try it out once we were settled in and it did indeed make a dramatic difference in wi-fi speed and range.
For instance, as a quick test we took it out in the truck yesterday and drove down the block until my laptop's built-in wi-fi card lost the campground's wi-fi signal completely but I was still able to readily access the internet using the ZyAIR. What this buys us is in situations when we can't find a campground that has wi-fi access available, we don't have to be parked right outside a place that does, like many hotels, cellular stores, and computer stores now do. Often in those cases parking within range simply isn't available, so the ZyAIR will allow us to park much farther out in the parking lots of these places where parking is more available.
The ZyAIR also makes a huge difference in download speeds even when we are in range of my computer's built-in wi-fi card, like here in the campground. Without the ZyAIR, trying just now to download a 30MB file to update my scanner's drivers I was getting erratic download speeds varying between 15 to 25 KB/sec using the built-in card. Not too bad, and certainly far better than I'd expect from a dialup connection, but using the ZyAIR I got a steady 270 KB/sec! This is faster than I used to get with my 2 Mb ADSL connection in the house and in this case made the difference in download times from around 30 minutes to less than 2 minutes.
And finally, the third advantage to the ZyAIR is that since it outputs to ethernet which is a simple connection to any of our computers and its antennas are detachable, it gives me a way to attach a high-gain antenna, something I had no way of doing before, and with a high-gain antenna I could access a wi-fi network from blocks away, depending on terrain, obstructions, and the gain of the antenna.
So, this little device (pictured above next to my laptop) has made an huge improvement in our ability to access the internet through wireless networks.
However, one still needs to find a wireless network, which while becoming more and more common, aren't pervasive like satellite access is. On the other hand, satellite access has its own set of problems, too numerous to list here, and the cost of the ZyAIR was a small fraction of what satellite hardware costs and the ZyAIR has no monthly fees attached to its use. So while no methods of internet access are perfect for us nomads, this little ZyAIR looks like it will make access a whole lot easier, faster, and more reliable.

Still in Rockport but New Campground


Monday, January 24, 2005 - As planned, this morning Sandra and I got the rig hitched up and moved to the other side of Rockport, Texas to the Raintree RV Park where we not only have a larger site for less money, but it's waterfront property as well. The previous park would have squeezed in another site there where Sandra can be seen basking in the sun on our new site. Click on the photo for a larger view of her.
They call that water a pond although I'd call it a channel, but you can see from the photos that it isn't a bad site as sites go. The only apprehension I'd had with it was it is a back-in site rather than my preferred pull-through, but with the aid of the park owner and one of his assistants I backed into place on the first try with only one minor adjustment after I had it in.
We have signed up to be here 7 days and with the forecast calling for beautiful weather the next few days, I anticipate a pleasant stay.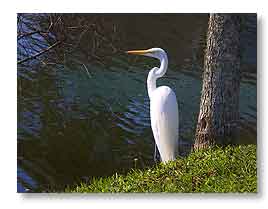 A good deal of that pleasantness, I expect, will come from the park's wi-fi signal in this site is also much stronger than it was in our previous site, so I'm planning to get a lot of work done on my pBase galleries while we're here as well as regular, if not daily updates to the news page here.
Also adding to the pleasantness here is that our pond has some of its own resident wading birds. So far we've seen several varieties of unusual ducks, as well as an anhinga, several egrets, and flocks of smaller birds that make quite a ruckus. The photo of this egret was taken on the bank of the pond near the RV. Not too hard to take.

First Alligators in the Wild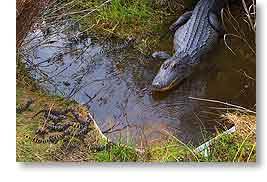 Saturday, January 22, 2005 - Ever since we had arrived in Florida I've been wanting to see an alligator in the wild, up close and personal...just not too close.
As it turned out there, I did see an alligator on the Peace River, but it was so far away I didn't even know it was there until later when I was inspecting photos at full size of a heron I'd photographed with my long telephoto lens and saw there had been an alligator near the bird. Since then, I've seen alligators in captivity, but none of these cases were what I'd been wanting.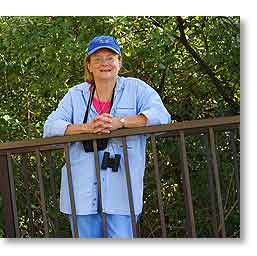 Then yesterday Sandra and I went on an excursion about 25 miles north of here to the Aransas National Wildlife Refuge which is the winter home of a migratory flock of whooping cranes, a very rare bird and another creature I've only been able to photograph in captivity and hoped to get a shot of in the wild.
Well, as it turned out, we didn't see even one whooping crane but we did see a total of 17 alligators, if you count the 13 babies! The best encounter was the one pictured above which is of a ditch directly beside the road in the refuge. If you look at the lower left corner you'll see 9 baby alligators plus there are 4 more swimming in the water. I took this shot standing on top of the near edge of Big Larry's truck bed and I was close enough the mother hissed at me, but made no threatening moves toward me. The edge of the truck was about 8 feet away from the babies and even though there was no chance the mother could have gotten to me it still made the hair raise on the back of my neck to look her. She looks very well fed.
We also saw two more alligators from maybe 200 feet across a small lake and the closest encounter was about 5 feet away from one that was near the Refuge's visitor center, but involved no danger since it was on the other side of a fence.
Click on the photos above for larger images.

This 'n That from Rockport, Texas

Saturday, January 22, 2005 - It's mid Saturday morning, 72°F/22°C outside where the sun is shining through a hazy sky and as I sit in my recliner writing this The Weather Channel is playing on the TV describing the latest winter storm to be moving through up north. It's days like this that made all the effort to be here worthwhile.
Yesterday, Sandra and I signed on for two more days here and I expect Monday morning we'll move somewhere south of Corpus Christi, campground as yet undetermined.
We have also been discussing not going up the Pacific coast this trip due to concerns about driving back to Ontario from Vancouver in mid-April as we'd earlier planned and instead going westward only as far as the Grand Canyon and then returning to Ottawa via a more southerly route.

First Full Day in Rockport, Texas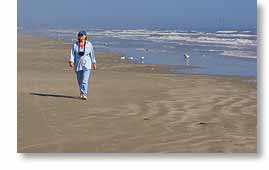 Thursday, January 20, 2005 - Before I get in trouble with my nephew Nick for not posting photos of people lately, here's one I took today of his Godmother (my wife Sandra) walking back on Mustang Island's Gulf coast beach (which, of course, has to make the title for this image Mustang Sandra for those who remember a golden oldie of a similar title ;-) after she took photos of those birds wading around behind her (click the photo for a closer look at her).
For those who aren't familiar with Gulf coast geography, Mustang Island is one of the barrier islands along Texas's Gulf coast and is just north of the more well-known Padre Island.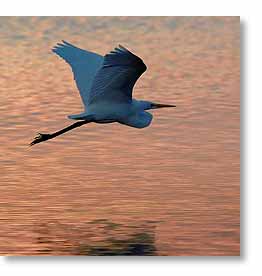 However, my day started by taking off as it was starting to dawn, with my camera in hand and looking for sunrise photo ops.
What I found was a whack of large wading birds who weren't overly shy or skittish and cooperated with me in my efforts to photograph them. Here's one of an egret in flight with the warm glow of the sunrise reflecting off the water. Not a bad way to start the day.
Then I went back and got Sandra and we did a bit of exploring the Gulf coast barrier islands as mentioned above and coming back through Corpus Christi, Texas where we had a late breakfast at a Cracker Barrel Restaurant we found there (thanks again to Sandra's former co-workers at BreconRidge).
The area around here reminds me very much of Florida. Same flora and fauna, but with so many more birds it makes Lakeland look like a birdie ghost town in comparison.



__________________________

For Older News

To read news from our previous stops and camps, visit the News Archives.


Updated Sunday, February 13, 2005

Copyright © 2005 by Gordon L Wolford .
All rights reserved.