Return to South Padre Island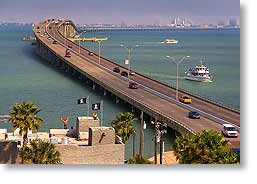 Wednesday, February 9, 2005 - Yesterday, after posting the news item below and spending two hours washing the truck (Texas dirt is quite tenacious), miracles of miracles happened when the clouds began to thin with some actual blue patches showing here and there. So I quickly grabbed my camera, left Sandra behind at her request, and dashed east toward points of interest.
My first effort was to locate 'Citrus Gardens' in Los Fresnos and finally did manage to track them down but didn't find them interesting enough to even get out of the truck.
Then it was on to Port Isabel on the Gulf coast where Sandra and I had seen a small lighthouse on our first visit to the area and I wanted to give it a closer look. Port Isabel is a small city directly across the Laguna Madre channel from South Padre Island. Pictured above, taken from the top of said lighthouse, is the channel and the Queen Isabella Causeway going to South Padre Island which can be seen in the distance. Click on the photo for a better look.
The lighthouse proved to be a real lighthouse that is now maintained for its historical value and was rather interesting. As was walking around the immediate area of Port Isabel, including the fishing pier from where I not only saw a number of pelicans but several dolphins as well. Unfortunately, all were too far out in the water to get any stunning photos of even with my long telephoto lens, but it was fun to watch anyway.
From there, it was over the causeway to the island and this time I drove the island road to its end several miles to the north. Once one drives beyond all the build-up for tourists the island looks much like all other sandy barrier islands
On the way back home, I stopped south of San Benitos at the Los Ebanos Preserve where butterflies are known to hang out, but the preserve wanted a $6 dollar admission which was not worth it due to the late hour, so like the Citrus Gardens, I left there without seeing much of anything either.
Today the clouds have returned, so I'm glad I took advantage of the sunny break yesterday while I had the chance. At least while it continues to be cloudy, the weather has turned pleasantly warm the last few days so I'm not complaining.

More This 'n That from San Benito/Harlingen

Tuesday, February 8, 2005 - Sunday we signed up for another week here in San Benito, Texas. The cloud cover continues to remain nearly incessant, but it's still the best weather to be had short of driving back to southern Florida or west to Arizona, neither of which we want to do, so we're making the best of what we have. At least it's warm, Yesterday at one point, the thermometer outside the RV said it was 85°F/29°C and we had to wear shorts to be comfortable.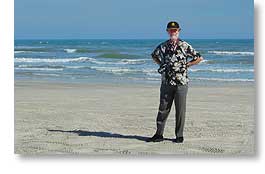 Senior Moments

Well, it's official...I look like I'm a senior (notice I didn't say 'we' to include my lovely wife in that statement). Yesterday, she and I went out for a late breakfast and ended up at a Denny's Restaurant (sadly no Cracker Barrels around here) where I noticed Denny's menu had a page for seniors, age starting at age 55. So we ordered from that and the waitress never questioned our ages! I remember the days when people always guessed my age at ten years younger than I really was. Those day are obviously long gone. (sigh)
As further evidence of this sad and sordid fact, when we got coffee at the MacDonald's Restaurant on South Padre Island a few days ago the young whippersnapper at the counter gave me the senior price without even asking!
Anyway, the photo here is one Sandra took of me during our visit to Padre Island a couple weeks ago. Don't think I look that old. hmmmph!
It's almost enough to make one shave off one's white beard!

In Memory

And speaking of old things, yesterday was February 7, a date indelibly etched in my memory since that was my parents' wedding anniversary, which if I calculate correctly would have been their' 61st had they lived this long. I think the last anniversary they celebrated together was their 52nd in 1996. Hmm...how time flies.

This 'n That from San Benito/Harlingen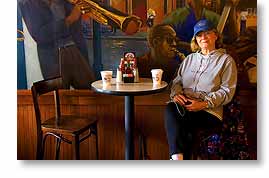 Sunday, February 6, 2005 - Here I am again, sitting in my recliner, enjoying a quiet but cloudy Sunday morning at the moment as I update the News page here.
First, to keep nephew Nick appeased, here's a photo of his Aunt Sandra. This was taken in a cute little coffee shop by the boardwalk at Kemah, Texas during our stay near Galveston.
Second, for those interested in such things, the device I bought recently to improve our internet access via wi-fi continues to prove its worth. For instance, a couple rows over from us is an RV with a satellite link (the one we were considering) that he has put onto a wireless network. His wi-fi signal is so weak at this distance and with at least one other RV obstructing it that his network doesn't even show up on our sniffer software here, let alone be strong enough to log into, yet the new device is able to maintain fairly steady contact with it. This not only allows us access to the internet from the convenience of the RV, but also means we don't have to go out driving in the truck to one of the local wi-fi hotspots I've found, which saves fuel and wear and tear on the truck. So the device will pay for itself in fairly short order.
Third, we still can't find a view of the Rio Grande River! This is becoming bizarre. We don't want to drive across any of the bridges into Mexico, but that's beginning to look like the only way we're ever going to see the river. I thought it would be like the St. Lawrence River between Canada and the USA which has roads running along both banks for the length of the river. Not so the Rio Grande. The only road we've found that claims to go to the river turned into a two lane dirt path before the river was in sight and since it looked all too much like the dirt road I got mired down in while in North Carolina and just as remote, I wouldn't take the truck down this one. I can't help but wonder if this lack of access to the Rio Grande isn't intentional by the US government as some kind of deterrent to keep people from illegally crossing the US border from Mexico.

Tentative Plans

Sunday, February 6, 2005 - Although it's still mostly cloudy, we're actually seeing a bit of hazy sun and it's warmed up. It even got up to 70°F/21°C yesterday with the sun peeking through briefly a couple of times, so while we are currently scheduled to leave here tomorrow, we can stay longer if we like. So our problem is do we stay and give up shooting any serious photos in this area until next year or try to wait out this weather system? The forecast shows some sun returning, but it's been wrong before. Despite that, it's likely we'll extend our stay here for another week. Since this campground is a Passport America member it is pretty cheap to stay here.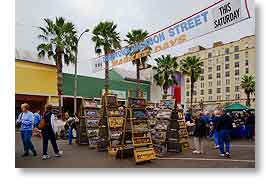 We Go to 'Market Days'

Sunday, February 6, 2005 - Yesterday, as Sandra and I were driving around downtown Harlingen, seeing what could be seen, we discovered their 'Market Days' was in progress. This appears to take place every Saturday when they close off a section of Jackson Street (although the street signs say 'Ave') to car traffic and people set up stalls much like a flea market. This is no doubt an effort to get people downtown and from the number of businesses we saw that were closed down, they need something like this.
Anyway, even though it was cloudy we enjoyed ourselves.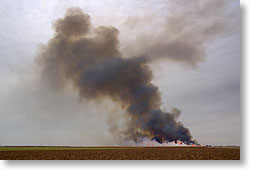 The Mission to Mission

Sunday, February 6, 2005 - Friday we decided to make the 50 mile drive west to the Camping World store in Mission, Texas. Those stores are like megastores for things needed by campers and RVers and we decided we needed a few items, like a compact and lightweight table that could do the job of a picnic table when one isn't supplied by the campground, as is our current situation. We also needed better chairs for outdoor use. The ones we have are not comfortable, so we found a couple lounge chairs that should do the job.
Anyway, on the drive back to Harlingen we took a two lane road, rather than the freeway which was having some major construction work done to it and I wanted to see if the smaller road would be a better route to take when we move west to the Big Bend area, and while sitting at a traffic light we saw a huge column of smoke on the distant horizon (photo above).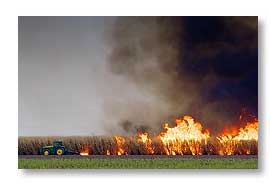 For the next few miles we speculated on what might be causing it, like farmers burning off a field (lots of sugarcane fields in the area) or an airplane had crashed or an explosion of some sort or an oil tank had caught fire were the ones that came to mind.
When we got close we saw it was a cane field being burnt off. Cousin Keith tells me they do this so the old dried up growth doesn't interfere with the new growth that will sprout up in the spring. I guess from that, one can assume sugarcane must be a perennial plant
The second photo shows the tractor in the lower left corner as it moved along torching the cane with a flame thrower. It was quite interesting to watch.

We visit Brownsville & South Padre Island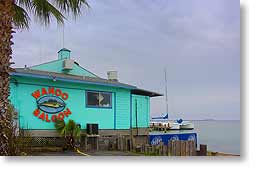 Thursday, February 3, 2005 - Today Sandra felt improved enough from her recent cold for us to take a drive down to Brownsville, Texas and then over to South Padre Island on the Gulf coast of Texas.
Between her cold and the incessant overcast we've had since our arrival here, we haven't done much this week except hang around the RV and the immediate area. However, today even though it was still cloudy, and forecast to be that way for at least two more days, we decided to get out and see some sights.
We started by driving to Brownsville. I have to say I'm sure there must be areas of the city that are worth seeing but we sure missed them. Every place we drove, about all we saw were squalid little houses and run-down businesses in seedy neighborhoods, where judging by the prominence of wrought iron grillwork covering doors and windows, it's evident they must have a very high crime rate. I mean even the churches we saw had chainlink fences topped with barbed wire surrounding their property. With the majority of signage we saw being in Spanish and with nearly everyone we saw being of Hispanic origin, it was hard to believe we were still in the USA and hadn't somehow ended up in Mexico by mistake.
We tried to see the Rio Grande River but couldn't find it anywhere and on our closest approach to it we asked a border guard where we could get a view of it and he gave us directions to two locations, one he said we'd have to get to on foot and he didn't recommend it because 'it was too dangerous'. We never were able to find the second location. I've never seen a major river that was so hard to get a look at.
At that point we gave up, left the city only too gladly, and headed for South Padre Island where we found things completely different. It reminded me very much of the commercial strip on Cape Hatteras at Nags Head, North Carolina and north from there, as well as a toned down Myrtle Beach. Since it was getting late, we didn't see much of South Padre Island, except in the immediate area around the bridge from the mainland, but we found a McDonald's Restaurant with free wi-fi access that was a joy to use over a cup of coffee and french fries. We will definitely be going back to the island when the weather becomes more photo-friendly.
The picture above is a quick snap I took on the island. That darker grey-blue line along the horizon is the bridge to the mainland. Click on the photo for a larger image.

Stalled Weather System

Thursday, February 3, 2005 - As mentioned above, our weather has been less than ideal so far during our stay in San Benito. This is because there's a weather system that's stalled over southern California and Arizona that's pumping clouds and moisture over this way from the Pacific Ocean along the southern jetstream at the same time the northern jetstream is dipping southward bringing cold arctic air with it. The result has been day after day of cold damp cloudy weather. We've been doing well to reach highs of 50°F/10°C all week and now they're saying we won't see sun until late in the weekend.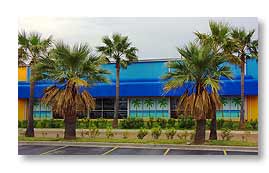 Just to show how weird the weather has been, it was warmer in parts of South Dakota yesterday than it was here and they also say it's been raining in the upper atmosphere and even shows on radar but the air is so dry the rain is evaporating before it reaches the ground. Totally bizarre.
Anyway, I'm still quite grateful it's staying well above freezing at night and we aren't having snow and ice to deal with and even with the wind can be comfortable outside during the day with a light jacket or sweater.
Plus I've noticed it just feels warmer when there are a lot of palms trees and bright colors around, like those in the photo which was taken next to the MacDonald's Restaurant on South Padre Island.

First Full Day in San Benito/Harlingen

Tuesday, February 1, 2005 - Since Sandra has acquired a nasty cold, I went out by myself this morning in search of an open wi-fi network. I quickly found one here in the park but the internet was not accessible through it, so I had to drive into town.
The campground is actually located very near the city limits of San Benito and Harlingen, Texas, so out on the main road if we turn left, we're in Harlingen; turn right, we're in San Benito. The two are actually one city for all practical purposes.
Anyway, this morning I drove into Harlingen along the freeway's frontage road and then along one of the main outer business drags and found no open wi-fi networks. Then just as I was about to despair, I found one on the business route of the main road and was able to check email and upload the update to this web page below. Then on the way back to the RV I found an accessible wi-fi network that's even closer, so it looks like we will have fairly convenient internet access while we're here, just not as convenient as we had grown accustomed to in Rockport where we had wi-fi in both campgrounds there.
After returning to the RV and booking a groomer's appointment for the dog, Sandra felt like joining me in doing a bit more exploration of the area, so we drove around some and discovered palm-lined Jackson Avenue in downtown Harlingen, a street that looks worth further exploration when Sandra feels better and the weather is more conducive to walking around outside. Right now, it's only 50°F/10°C, windy, and drizzly so we'll spend the rest of the day in the RV where it's warm and cozy. The only consolation to the weather here at the moment is that it's a whole lot better than it is not all that much farther north.



__________________________

For Older News

To read details of our previous stops and camps, visit the News Archives.


Updated Thursday, February 10, 2005

Copyright © 2005 by Gordon L Wolford .
All rights reserved.