Remember the Alamo?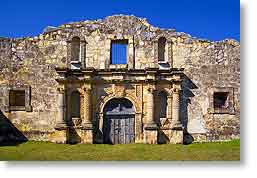 Sunday, February 27, 2005 - Today the sky is mostly clear (a truly momentous event of late), so we hopped into the truck as soon as we could and headed for Alamo Village, 7 miles north of Brackettville, Texas on the Shahan Ranch to see and hopefully photograph the movie location for John Wayne's classic movie, The Alamo. (The real Alamo is in San Antonio, Texas.)
I say hopefully because in the past these things usually end up being a disappointment, but this time it actually turned out to be worth the drive and $8.50/person admission.
The set was as detailed as I was hoping for and they had no problem with people taking photographs, which was another concern I had. It didn't take much prowling to find evidence of its origins as a movie set but the buildings were surprisingly complete (no false fronts) and for the purposes of shooting some photos in the West of the USA that actually look western, even if fake, this location met my expectations. It matters little to me that it's fake because most things from the Wild West era haven't survived anyway and for the most part, what we've seen so far in cities and towns looks much like it does in Ohio and Ontario. I mean, a Wal-Mart Supercenter looks the same no matter where it is.
Pictured above is my photo of the centerpiece of the set, the facade of John Wayne's Alamo.

Still in Del Rio, Texas, but...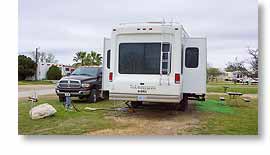 Thursday, February 24, 2005 - We are still in Del Rio although we moved this morning from the Buzzard Roost Campground to the American Campground, mainly because Del Rio is not a hotbed of open wi-fi hotspots like Harlingen and Rockport were which made finding a connection in town quite difficult even with all the new capability we've recently acquired, while this campground offers free easily accessible wi-fi service.
Not to mention, the kind person in the office gave us a pull-through spot almost directly across the lane from the wi-fi antenna (visible at the top of the pole on the left side of the photo above) which means we don't even need the ethernet device or high-gain antenna to get an excellent connection right here in the RV. We have signed up to be here a week, so during that time we'll have great internet access from the comfort of our recliners.
Now if the weather was only as good. As can also be seen in the photo above, today is cloudy...surprise! Actually we had some sun yesterday afternoon and evening but it was a shortlived respite from the overcast. I asked someone if this cloudy weather was typical for this time of year in Texas and was assured it was not. So California is getting an unusual amount of rain this year and Texas is getting an unusual amount of overcast.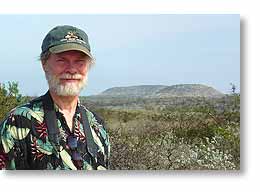 Anyway, we went for a drive yesterday afternoon to take advantage of what sun we had and drove down to Box Canyon in the Amistad National Recreational Area. Once we left the main highway the road to Box Canyon turned into one of the roughest dirt and rock roads I've ever been on, but we persevered because I was keenly interested in seeing a box canyon. However, as has been all too often the case, the reality of what we found was far less than the vision its name inspired. After bouncing around on that horrid road for maybe 10 miles, Box Canyon not only turned out not to be a box canyon, it wasn't even a canyon at all but a squalid little village of ill-kept mobile homes that played host to a boat ramp on the shores of Lake Amistad. It was most disappointing. Above is a shot Sandra took of me along the Box Canyon road.
Otherwise, the Amistad NRA has proven to be interesting, but unfortunately most of its best areas are accessible only by boat. However, someone in the previous campground told me about the Alamo Village movie location that's about 35 miles east of here and I have great expectations for that as a fabulous source of photos ops. Stay tuned.

No Cell Phone Coverage

Tuesday, February 22, 2005 - Del Rio appears to be out of the area covered by our North American cell phone plan, one of the few areas like that in the US, so our cell phones will be turned off during our stay here and in Big Bend (also not covered) rather than risk incurring exorbitant roaming charges. So if you try to call and can't get us, this is why.

Now in Del Rio, Texas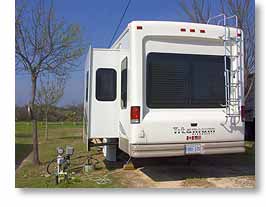 Monday, February 21, 2005 - We are now, as planned, residing in the Buzzard Roost campground in Del Rio, Texas.
The drive up here was four hours and fairly uneventful with the exception of half the drive being in fog. Fortunately, the fog wasn't dense and only caused a bit of concern in a couple areas.
As can be seen in the photo on the right of our Del Rio campsite, the sun is out, the first time we've seen really blue sky for quite a few days, although according to the weather forecast this beautiful weather will be shortlived. So as soon as I've updated and uploaded this page we're going to go out and see what's to be seen in the area that's worth photographing.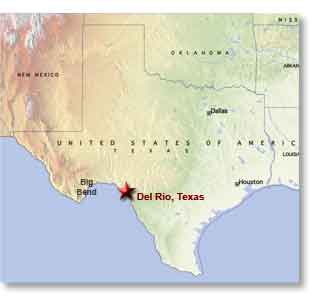 One thing I've heard about that's definitely worth looking at and photographing is the nearby Amistad National Recreational Area which runs along the shores of the Amistad Reservoir, a dammed up section of the Rio Grande (Amistad meaning 'friendship'). With names of areas like Indian Cliffs, Windmill Canyon, and Rough Canyon Cliffs, it looks like there should be a lot to see and photograph there. And, since the weather channel is forecasting the clouds and rain to return in a couple days and will extend through the weekend, we may be here a while.
You can't see it from the small photo above of our campsite, but the area across from the RV is full of sage (I think) and cactus. Click on the photo for a better look at the cactus.

Leaving Laredo


Monday, February 21, 2005 - Today we are leaving Laredo, Texas and heading for Del Rio, Texas. Yesterday Sandra reserved us a spot there at the Buzzard Roost campground.
Knowing we were leaving, last night Laredo threw a going away party for us and pictured here are some of the many fireworks they sent up in our honor.
Seriously, the fireworks were for their Jalapeno Festival that was held during our stay here and culminated last night with a fireworks display.
For several days now we've gone to sleep with the sound of music (country music in this case) coming from the festival's carnival which was directly behind us across a wide arroyo, so we literally had a front row seat for the fireworks and I photographed them from right outside the RV. It was quite interesting and the fireworks show was excellent.
Anyway, as I said above, we will be leaving here in a little while to make the four hour drive north to Del Rio and after that the next stop should be the Big Bend area. I just hope the weather in Big Bend cooperates for photography, something that never did happen in Laredo.
On the other hand it didn't matter much since Laredo was disappointing from what I was expecting. Rather than seeing much of its western heritage still evident, the city looks much like any other American city, with the exception of the strong Hispanic influence. The 'historical' districts here proved to be anything but. We did however, finally get to see the Rio Grande up close and personal here, so that's something.

This 'n That from Laredo, Texas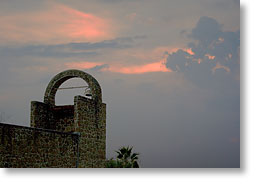 Sunday, February 20, 2005 - So far the weather in Laredo has been much like we had for the first two weeks in Harlingen/San Benito - cloudy and drizzly. This is starting to look like it must be typical winter weather in Texas and would explain the popularity of southern Florida for snowbirds since they've been having a lot more sunshine over there than here during the same period. Must be some basis to them claiming to be the sunshine state.
Anyway, today we are supposed to see a bit of sun (I'll believe it when I see it though). Last evening we did get a small glimpse of it during sunset, as can be seen in these photos I took, the first being by one of the shelter houses here in Lake Casa Blanca State Park and the second being of the park's fishing pier.

We Come Clean

Otherwise, there's little to report about our stay here except Friday we went shopping, mostly for a ladder, and yesterday we used the new ladder in washing the Texas road dirt off Big Harv and Big Larry. This dirt doesn't just wash off, it has to be rubbed off. All I can figure is that there's so much oil in the ground down here it must even be in the dirt because it takes a lot of elbow grease to get it off.

Texas Roads & Drivers

And speaking of Texas Roads, during our stay in Harlingen we noticed a very peculiar driving practice they have down here that I've never seen anywhere else - on a two lane road with a wide paved shoulder they'll move over and drive on the shoulder to let you pass them even with oncoming traffic which also moves over onto their shoulder to make sure they're out of your way!
This was really bizarre the first time I saw it happen, but it's surprising how quickly I adapted to it.
I'm sure this is highly illegal everywhere else I've been, but at least in the Rio Grande Valley it seems to be normal, although I have no idea just how legal it is here either. I can see how this could lead to some serious head-on accidents, and it certainly keeps you on your toes to make sure someone isn't coming at you in your lane assuming you're going to move over for them, but it sure does keep traffic flowing.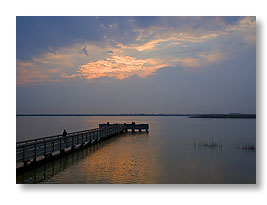 As do the high speeds limits on most of the two lane roads around here, some being as high as 70mph (115kph), speed limits being something that look to be taken more as guidelines rather than limits.

A Walk on the Wet Side

One bit of excitement we have had here was yesterday morning when I got up and walked through wet carpet in the living room. This is obviously not a good thing and had to be dealt with at once. However I could find no trace of where the water was coming from and due to the way water will travel in a situation like this it could have been coming from almost anywhere. So all I could do was disconnect the outside water line and bleed off the pressure in the water lines until Sandra got up and we could see if anyone in the internet forum she participates in that covers this brand of RV had had the same problem.
Happily, as it turned out, someone had and quickly responded (just gotta love the internet) and pointed me to the likely cause - a fitting on the back of the water intake panel working loose from road vibrations. Getting to this fitting required prying loose a panel in one of the lower kitchen cabinets, but when I got to the fitting I found it was indeed loose by half a turn, so I tightened it and we are now in the process of getting the carpet dry before we pressurize the water lines again.
I'm confident this fitting was the problem since the outside of the line coming out of the fitting was wet, as was the flooring below it, but only time will tell. This fitting is obviously something we'll have to check on now and then.



__________________________

For Older News

To read details of our previous stops and camps, visit the News Archives.


Updated Friday, March 4, 2005

Copyright © 2005 by Gordon L Wolford .
All rights reserved.