Last Day in Big Bend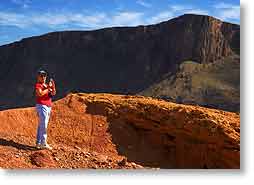 Friday, March 11, 2005 - Today is to be our last full day here at Big Bend. We are planning to return to Alpine tomorrow, probably for a week so I can process some of the over 1,100 photos I've shot here and get them uploaded to the internet, something that hasn't been practical here since Lajitas (the nearest wi-fi access) is a 34 mile roundtrip and there's 2 stretches of that road under major road repair which makes travel on it slow and rough, so I've only been to Lajitas once this week.
Otherwise, our stay here at Big Bend has been fabulous with excellent weather for a change. Like yesterday afternoon it reached 81°F/27°C under a perfect blue sky. Not hard to take at all, but good weather and beautiful scenery is about all that's here and we're starting to need things that can only be found in more civilized areas.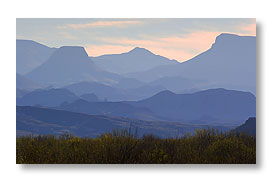 After our second stay in Alpine, we're looking at heading northwest to the Guadalupe Mountains National Park, Texas and Carlsbad Caverns National Park, New Mexico which are only about 20 miles apart, right by the Texas and New Mexico border, and then it will be time to start heading back north.
The photos are Sandra a few days ago photographing the Contrabandos movie set from above. In the distance beyond the red rock is a very high and impressive escarpment that is actually in Mexico across the Rio Grande which flows down between them. The escarpment runs for miles and miles, more or less parallel to the river. The other photo was taken yesterday morning a short while after sunrise looking back the way I came on my way to Santa Elena Canyon, a chasm in that same escarpment about 15 miles downriver from where Sandra was standing.

Big Bend Bests Big Ben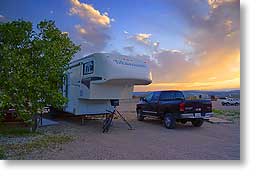 Sunday, March 6, 2005 - And what I mean by the headline is that before today my most prolific day for shooting photographs was five years ago in London, England when I shot 316 photos in one day. However today, in and around Big Bend National Park I took 384 photos and could have taken far more.
That number combined with the 188 photos I took the evening before means I shot a total of 572 photos in a day and a half, which I don't mention as an indicator of my prowess as a photographer but to show just how impressive the scenery is around here and that I was quite fortunate to have had cooperative lighting and atmospheric conditions. This is one of those places where there's a photo everywhere you turn and with more around the next bend in the road.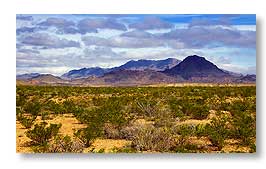 And, some of the best scenery isn't even in the national park, although the photo on the right was taken there. Sandra learned from someone here in the campground (Big Bend Motor Inn & RV Park) that the road through Terlingua and Lajitas (Texas Route 170) where it runs through the Big Bend Ranch State Park is considered by National Geographic to be the most scenic road in the USA and after having driven on it I can see why. It runs along the Rio Grande which has cut some spectacular landscape through there. There is even another movie set along there, that while not as grand in scope as the one at John Wayne's Alamo Village, it is equally good as a small southwest village from the old west.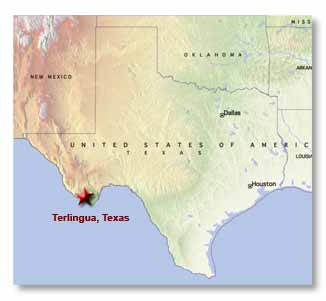 Anyway, the whole region is quite different from what we're used to and if you've never been here, I highly recommend it. But this is a secret so don't tell anyone what I just said because I'd hate to see this area become popular and turn into another place like Gatlinburg/Pigeon Forge in the Smoky Mountains. As it is, the traffic in the park and the region is quite manageable.
However, the down side of so few people around here is that it impacts our lifestyle and is more expensive, so considering I've already shot as many photos here as I was expecting to shoot in two or three weeks, we may move back up to Alpine after the week we signed up for here is over. There were things around Alpine we didn't get a chance to do, like visit the McDonald Observatory and view the mystery lights at Marfa.

Now Near Big Bend, Texas

Sunday, March 6, 2005 - Just a quick message to let everyone know we arrived as planned near Big Bend. There is absolutely no wi-fi access in the park or Terlingua but while driving through Lajitas, Texas we found an excellent wi-fi network so I can at least post this much for now.
In the last two days I've shot about 400 photos in Big Bend which is an incredibly beautiful place, as is the whole area.

Now in Alpine, Texas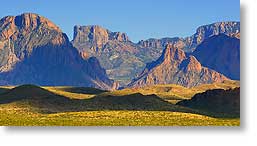 Friday, March 4, 2005 - But we're only here until tomorrow morning, at which time we leave for Terlingua, Texas which is little more than a gas station, motel, campground, and a scattering of buildings 3 miles west of Big Bend National Park.
We stopped in Alpine which is around 100 miles north of the park because Alpine is the closest city to the park and campsites were available. We weren't sure if any would be available in Terlingua or in the park so we took the site-in-hand. There is even wi-fi in Alpine, surprisingly enough because I've got to say that Alpine is literally out in the middle of nowhere and not all that large either – pop. around 6,000 which makes it more of a town than city.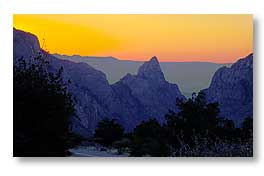 Anyway, the drive over from Del Rio started out good and only got better. The terrain during our four hours on the road changed from more or less flat Texas rangeland to wide valleys between craggy rocky mountains that are far more beautiful than I had imagined. Photos of them I've seen in the past simply don't do justice to them and I doubt mine will either, but the variety of shapes and colors is stunning and makes mountains like the Appalachians boring in comparison. The drive yesterday between Del Rio and Alpine was the prettiest towing drive we've had and it definitely looks like we're out west now, no doubt about it. A few of the buildings even have the southwestern architecture like one would expect to see in New Mexico.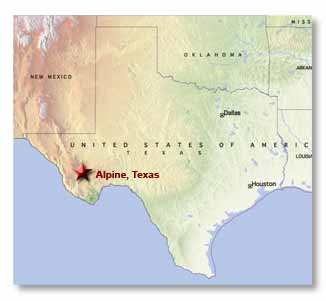 We got to Alpine around 1pm, drove right to the campground we had found in our campground directory, arranged to stay two nights on a pull-thru site, setup camp, and were on the road south toward the park an hour later. It took an hour and a half to get to Terlingua just outside the western gates of the park (speed limit 75mph/120kph on a two lane road, just gotta love it), found the campground and arranged to spend a week there from Saturday to Saturday, during which time we hopefully will be able to move into the park itself, but due to the size of our RV there are only a limited number of places in the park that can accommodate it. The park campgrounds are also very full and they said with spring break coming it will only get more crowded, so we may have to continue to stay in Terlingua, which is expensive, before we start our way back north.
Sadly, we found no wi-fi in Terlingua at all, open or otherwise, so it is very doubtful we'll be online during our stay there unless we make the drive back up here to Alpine, which might happen but it won't be often since that's a 200 mile round trip. Perhaps once a week for supplies if the need arises. I will, of course, update this page when possible, but don't be surprised if it isn't for a week or two or three.
Photos above were taken in the park last evening as we drove through it on the way back to Alpine. Click on them for a larger view.

Extensive Photo Galleries Update

Friday, March 4, 2005 - While we had the in-RV wi-fi internet connection in Del Rio, both Sandra and I made some extensive additions to our photo galleries so if you haven't looked at them recently you might find a visit there to be interesting. Most of my updates were done to my Photo Odyssey Del Rio gallery, but also to my Laredo gallery as well. Links to the main galleries can be found to the left in the sidebar under 'Our Photos Online.'

Tentative Definitive Plans

Thursday, March 3, 2005 - We are leaving Del Rio, Texas this morning, heading on the last leg of our journey up the Rio Grande valley to Big Bend National Park in southwest Texas.
Unfortunately, at this time we don't know where we're going to be staying. According to the national park's website, all their campgrounds are full and we've found only one private campground near the park which hasn't responded to an email Sandra sent them, so we may have to stay further from the park than I'd like to, maybe around Alpine, Texas.
Also, that whole part of the state is remote and sparsely inhabited so our cell phones will be out of their network coverage and wi-fi access is uncertain at this point, which means there's a possibility we may be out of touch for most of March. Hopefully, I'll have some stunning photos to show for the effort.

This 'n That from Del Rio, Texas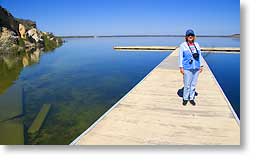 Tuesday, March 1, 2005 - Where does the time go? March already, which means we've only about a month before we have to head back north for tax time.
We've had an unprecedented three days of sun, so Sandra and I have been out seeing the sights.
Yesterday we drove around Del Rio itself, following the recommended tour route in one of the tourist pamphlets. We didn't see anything spectacular because Del Rio isn't a spectacular place, but we did see some things of interest that we hadn't seen in our previous visits to town.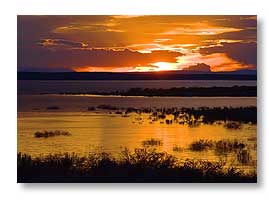 Then Sandra wanted to see some different areas of Lake Amistad so we drove to some access points she hadn't seen yet, but I had. Pictured above is Sandra standing on a fishing pier. You can see even in this small picture that the water is pretty clear. That debris in the water is parts of the old road that was submerged when they filled the lake, which is actually a reservoir that was filled in 1969.
One thing about this bothers me. When they filled the lake, they also submerged some ancient cave paintings done by prehistoric natives. To me, this is criminal neglect.
Anyway, pictured on the right is the sunset we had Sunday evening. This was taken from the road going to the Laughlin Air Force Base marina on Lake Amistad. That is Mexico across the water.
We are planning on leaving here Thursday morning and making the final leg to Big Bend where we'll probably spend the rest of our time before heading back north around the end of the month.



__________________________

For Older News

To read details of our previous stops and camps, visit the News Archives.


Updated Friday, March 11, 2005

Copyright © 2005 by Gordon L Wolford .
All rights reserved.