Now Near Springfield, Ohio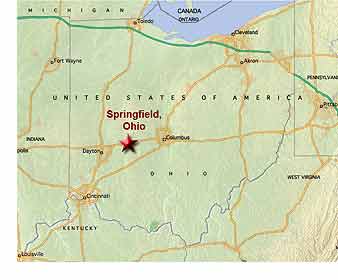 Thursday, April 7, 2005 - As evidence of why it's so hard for us to give specific dates and destinations, we had been planning on staying at the same campground in Lebanon, Ohio we stayed at on our way south last autumn. However, when we called them on the phone while traveling thru Kentucky this morning we were dismayed to learn they were booked full all weekend and we then had trouble finding a campground in that region that would actually answer their phone rather than answering with a machine and then never returning our call.
So, we took the first campground that did answer their phone with a live person and that ended up being the Beaver Valley Resort near Springfield, Ohio, just east of I70 Exit 62 where US Route 40 intersects.
For those folks in the area who might want to visit, click on the map above for a detailed view of that interchange. The pushpin shows our location in the campground.
Our 270 mile drive today from Cave City, Kentucky went well, leaving at 9am CDT and arriving here around 3pm EDT for 5 hours on the road. The highways in Kentucky were less than stellar, probably second only to I10 in Louisiana for roughness. We got spoiled by the roads out west, I guess. New Mexico had absolutely awesome highways. Life is different back east, I guess, where the traffic is heavier (sigh).
Anyway, we are signed in to be here until Monday morning, April 11, when we hope to move closer to Columbus, Ohio.

Disappointment at Mammoth Cave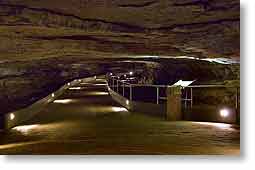 Thursday, April 7, 2005 - Yesterday I made the short drive over to Mammoth Cave National Park to see what the photo opportunities were like there and was extremely disappointed with what i found.
My let down wasn't so much from the scenery (although I have to say that having just come from Carlsbad Caverns, Mammoth Cave is far less impressive), but I was mainly disappointed with the policies of the park which were the complete opposite of Carlsbad's.
Carlsbad was not only people-friendly, they were photographer-friendly. Camera bags and tripods were permitted on the self-guided tours, which were also free to holders of the National Park Pass, which we are. At Mammoth Cave, you were dealt with as a potential threat (seriously) and the park pass was good for nothing and not only were tripods not allowed anywhere in the cave (or even the Visitor Center!), neither were monopods (single leg camera supports which are far less effective than tripods but better than nothing). Monopods do not get in anyone's way like tripods can and take no more space than walking sticks, which also weren't permitted! Nor were purses, fanny packs, backpacks, camera bags, or anything even remotely resembling a weapon. Good thing I didn't tell them I've had martial arts training and my hands are considered lethal weapons or they wouldn't have allowed me out of the truck. Idiots.
These moronic limitations and the attitude of park staff apparently are a knee-jerk reaction to a bomb scare that took place at Mammoth Cave a while back and rather than using common sense to deal with it, the park administration has simply banned everything from the cave (and visitor center) except cameras and the clothes you're wearing. By the time I got through talking with park officials I felt lucky they even allowed me to take the camera in.
I did manage to get a few photos, like the one above of the main entryway into the cave, but only because my new camera is an extraordinary piece of equipment and even still I had to use every trick I know of to avoid having to use the flash in order to get shots with the cave's ambient lighting, which was quite dim, and the shots I did get aren't good enough for any serious application due to the settings I had to use.
Because of their imbecilic limitations and because they don't honor the park pass, I wasn't even tempted to take any of their more expensive guided tours and was glad to just leave and I doubt I'll ever go back since my only interest in the place is to photograph it and the bozos have now made that virtually impossible. hmmmph!!!

Taking a Break in Cave City, Kentucky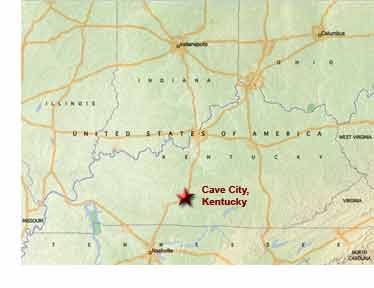 Tuesday, April 5, 2005 - We left Cullman, Alabama this morning around 9am CDT and arrived at the Jellystone Park Camp Resort in Cave City, Kentucky around 2pm for a 5 hour 230 mile drive that was basically through the central part of Tennessee.
The drive was under fair weather and fairly uneventful with the exception of driving through Nashville which was painless until we encountered road construction, and while I'm getting used to such things it was a great relief to drive clear of it.
Since, as happenstance has it, we are quite close to Mammoth Cave National Park and the temptation to go there after having so recently seen Carlsbad Caverns it too great to ignore.

Change in Plans

So we have signed up to be here until Thursday to allow us time to visit the cave. However, rain is forecast to arrive late tomorrow and continue through Thursday which means we might extend our stay here until Friday to avoid having to tow during a storm. So our ETA in Lebanon will depend on the weather.

Overnighting in Cullman, Alabama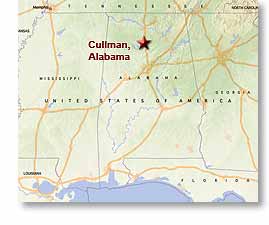 Monday, April 4, 2005 - We left Vicksburg, Mississippi this morning a little after 9am CDT and arrived at the Cullman Campground on the western edge of Cullman, Alabama a little after 3pm for a 6 hour 330 mile drive on mostly excellent roads, although I20 did get a bit rough for a short stretch going into Birmingham, Alabama.
As a surprise bonus as something we didn't know before calling ahead and reserving a spot here, this campground has wi-fi internet access and so far it appears to be quite fast. But it's still afternoon, late afternoon, and campers continue to come in, so if a lot of them log onto the wi-fi it might slow down. But no matter the case, it sure beats having to drive around finding an open wi-fi network in town we can access. Currently I'm lounging in one of the recliners as I update the News page here.
We still have 450 miles to Lebanon, Ohio. We could do that in one long 9 hour drive but will probably take two easier days to do it, so ETA in Lebanon is still sometime Wednesday, April 6. Looking like we might have to deal with some rain though.

We Take the Trace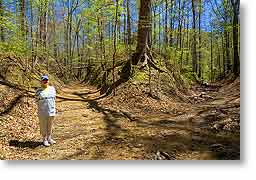 Sunday, April 3, 2005 - Yesterday, the weather being sunny and warm, Sandra and I drove around Vicksburg a bit and then took MS Rt 27 south to where it intersects with the Natchez Trace Parkway and then took that road to Natchez, another historic Mississippi River town much like Vicksburg. Along the Parkway trees were budding, the dogwoods in bloom, and wildflowers scattered about in picturesque clusters.
For those not familiar with American history, the Natchez Trace was originally an Indian trail (trace) that in the early 1800s became the main road in what was then the southwest USA and ran between Natchez, Mississippi and Nashville, Tennessee.
Pictured on the left is Sandra standing in a worn and eroded section of the original Trace, which looks like a fork in the road at this point and I'm not sure which is the main trace and which is the offshoot.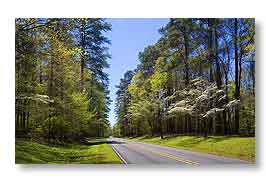 Pictured on the right is today's Natchez Trace Parkway, part of the US National Park Service. The Parkway runs more or less along the Trace and is considered one of America's most scenic highways. I would have to agree, at least for this part of the country, which is essentially flat and boring.
We enjoyed our drive and stopped where we could to take photos, however unlike the similar but even more scenic Blue Ridge Parkway, the Natchez Trace Parkway had precious few places where you could pull off the road. At one particularly scenic spot, I tried to simply pull over onto the grass berm but with all the rain they had around here just before our arrival, the ground was still soggy and the truck's handling got spongy so I pulled back onto the road before I lost momentum and got mired.

Some Random Musings

With the main body of our first major trip of the Odyssey rapidly drawing to a close, I've been thinking back over what impressed me most of what we've seen and experienced.
The first thing that occurs to me was the surprising beauty of the desert mountains in west Texas. I had thought these would be little more than barren rock and therefore dull and ugly. They were indeed mostly barren but they were certainly not ugly. The different colorations in the various strata and the incredible variety in shapes made them much more interesting than the Rockies further north or the eastern mountains.
And, it's true when they say it gets cold in the desert at night. It's amazing how quickly thin dry air loses its heat. It routinely dropped 50°F/30°C from day to night temperatures.
The next thing that impressed me was how quickly the terrain changed from arid to arable. Within a matter of a few hours from leaving Carlsbad, New Mexico and traveling through west Texas, the terrain changed from high desert and scrub growth to plowed fields and green trees.
Next has to be the difficulty we had in seeing the Rio Grande. Fortunately, in the Big Bend area this wasn't a problem, but I'm convinced limiting access to the river further downriver is intentional on the part of US Immigration as a way to make illegal crossing of the border from Mexico more difficult. From Del Rio down to the Gulf, Border Patrol vehicles were everywhere and even in the middle of nowhere we'd periodically have to pass through a Border Patrol inspection station.
The truck and RV performed much as expected. I did however learn that having a 4x4 vehicle doesn't mean you can go just anywhere you like without concern for getting mired.
Backing a 38 foot RV into a campsite is something I can now do, but still try to avoid. And while towing something that size still makes me tense, it is no longer nerve wracking..
Then there were the extremes we saw. For instance, going from the too many people crammed into too small a space that is now Pigeon Forge, Tennessee to the wide open spaces with no sign of civilization. I get claustrophobic in crowds or crowded situations, but I found I also like some of the niceties of civilization and am not happy without them. When you can't get to where you'd like to go because there are no roads then I'm not happy (for instance Guadalupe Mountains National Park has no roads into its interior and to get into the scenic insides of the park requires many miles of hiking and that much hiking is something I'm no longer able to do, 3 to 5 miles being my limit depending on terrain). When Sandra can't find a simple ingredient for something she wants to cook without having to drive 100 miles, that's a little too remote for my tastes. So somewhere between the extremes of Pigeon Forge and west Texas is what suits us.
The next thing that comes to mind is all the oil wells we saw in West Texas and Southeast New Mexico. There had to have been thousands of them altogether we saw from the road over the length of our drive, anywhere from one or two at a time to as many as twenty to thirty, most pumping merrily away, with new wells being dug. In fact, there appears to still be so much oil in that region you could even smell it in some places. I thought the continental USA had been pumped dry long ago, but obviously not.
Of all the places we saw and liked this trip, if we had to pick one as our favorite we both feel Rockport, Texas was the best, having the best of everything without having too much of it. A close second would be Florida, but it's just a bit too crowded there for me.

Tentative Definitive Plans

We are scheduled to leave Vicksburg tomorrow morning (Monday) and no doubt will. It is 775 miles from here to Lebanon, Ohio, our next destination. At the rate of travel we are comfortable with when towing it will take 2.5 days to get there from here, so we should be arriving in Lebanon sometime Wednesday, April 6 and will spend a few days there before our next stop near Columbus, Ohio.

Taking a Break in Vicksburg, Mississippi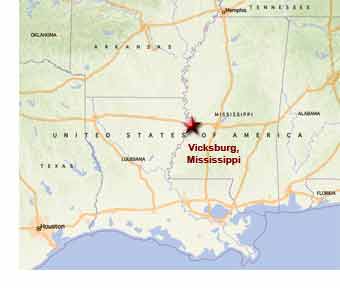 Friday, April 1, 2005 - We left Kilgore, Texas this morning at 9:45am CST and arrived in Vicksburg, Mississippi around 2:30pm for a nearly 5 hour 240 mile drive that was basically across the northern part of Louisiana.
I wish I could say we drove over excellent roads, but about all I can say about I20 thru Louisiana is that it was somewhat better than I10 across the southern part of the state and that's not saying much.
Anyway, we survived the sometimes rough drive and are now situated on a pull-through campsite in the Magnolia RV Park that is right in Vicksburg and just around the corner from a Wal-Mart Supercenter, which of course, makes someone I know very happy.
We are scheduled to be here until Monday morning at which time we'll head out on the first leg of our journey northward after taking the weekend to tour the Mississippi River and take a break from towing.



__________________________

For Older News

To read details of our previous stops and camps, visit the News Archives.


Updated Friday, November 3, 2006

Copyright © 2005 by Gordon L Wolford .
All rights reserved.