The Week in Review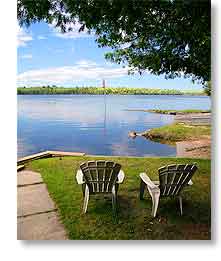 Sunday, May 29, 2005 - Well, another week passed and here's another Sunday morning with me updating the News page.
Like all our current stay here in Ottawa, this week was also fairly quiet, the biggest event being yesterday when we got the results of the medical tests that were done for our annual physical exams. We passed them all, I'm happy to report.
Wednesday, Sandra, her sister Margie, and niece Danica drove over to Westport, Ontario for a girls' day out, seeing the sights, shopping, and having lunch on the terrace of The Cove Restaurant overlooking Big Rideau Lake.
Thursday was a beautiful day and since they were predicting rain for the entire upcoming weekend we decided to take advantage of the good weather while we had it and drive up to White Lake (half an hour or so northwest of Ottawa) to check out the campground situation up there for the next time we're in Ottawa. Pictured here is White Lake seen from one of those campgrounds. Wouldn't be too hard to take.
Then last night, since the weekend of rain turned out to be mostly sunny with one thunderstorm, we celebrated our upcoming departure next Wednesday by having dinner out at Feleena's, our favorite Mexican restaurant (here or anywhere).

Plans

When we leave Ottawa on Wednesday (June 1) we are still scheduled to be heading for a month in Lindsay, Ontario where we will be staying at the Alpine RV Resort. I still love Ottawa and it is still my favorite city, but Sandra and I are both ready to get back out on the road again. I am getting seriously tired of the city traffic. I guess we got spoiled down in west Texas where you can drive for an hour and not see another car.

Weather

This week things were more springlike with the temperatures at night staying well above freezing and daytime temperatures ranging from mild to warm.

Another Quiet Week in Ottawa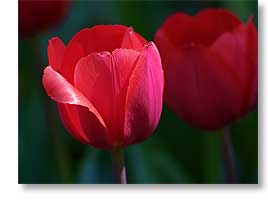 Sunday, May 22, 2005 - Here we are, another early Sunday morning sees me sitting here in the recliner reporting on yet another fairly uneventful week in Ottawa.
The most exciting thing we did all week was to have our annual physicals at the doctor's office on Tuesday, followed by a visit to the lab on Wednesday for them to do the blood tests. We haven't heard back yet on what our blood revealed, but so far it looks like we'll live to see another year.
Then Thursday we met with our finance manager and learned our investments made enough last year to cover our expenses. Hearing this was actually pretty exciting, now that I think about it, so I guess the week was eventful after all.
Otherwise, the most interesting thing Sandra did was to have lunch yesterday with a couple of her friends and the most interesting things I did was to buy a lens hood for my telephoto zoom lens, visit the Tulip Festival site beside Dow's Lake a couple times, and photograph the latest controversial addition to Canada's National Gallery, a huge bronze sculpture of a pregnant spider created by world-renowned artist Louise Bourgeois and titled 'Maman', which is French for 'Mom'. I drove down to the gallery, fully expecting not to like this thing since spiders are not one of my favorite creatures, but found it to be a very striking work of art. If you're curious about it, several of the photos I took are in my Photo Odyssey Ottawa gallery.

Plans

One other thing Sandra did this week was to arrange for our next location. We leave Ottawa on June 1 and will move over to Lindsay, Ontario for a month. You get a much better rate at campgrounds when you stay for a month, so while I'd rather see more of the province, staying at Lindsay for that length of time is a financially good move.
For those who might not know or have forgotten, Lindsay is by Sturgeon Lake in the heart of cottage country, about an hour north of Toronto and about 4 or 5 hours west of Ottawa, and is near brother-in-law Garth's cottages, where I expect we'll be visiting more than once.

Possible Satellite Access

Another thing we'll be doing in Lindsay is checking out a place there that specializes in setting up RVs with satellite internet access. Sandra found an ad for this place in one of our RV magazines and then found a person in one of the RV internet forums she visits who actually bought a system from that place and is quite happy with it.
We've long looked at getting satellite internet access as it is the most logical solution to a mobile lifestyle, but could never find a place that could give definitive answers to our questions or even seemed to know anything about the requirements for setting this up in an RV. We have high hopes that this place will be different. Even with all the wi-fi networks we can access within a very short drive from the campground here in Ottawa, it is still very inconvenient and limiting.

Dinner Out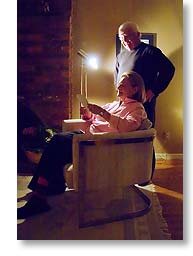 Sunday, May 15, 2005 - Last night Sandra and I did something we very seldom do...had dinner out at the home of a friend. In this case it was a fine fellow named Darrell Eagles and his charming wife Elaine. Also joining us was another couple, James and Sandra (yes, two Sandras in the same place at the same time).
Darrell and James are two of the people I met through attending Ross Slade's SIG, as mentioned in the news item below.
Darrell is also a photographer of some ability who now shoots with a Nikon digital SLR camera and I sometimes accompany him on photo excursions around the area.
The dinner at Darrell's last night was excellent with Elaine graciously accommodating my gluten-free diet and doing it so well that I've experienced no adverse reactions to the outstanding meal she prepared. It was a most pleasant evening and change of pace for us.
Pictured here is Darrell watching my Sandra looking at some of his recent photos.

Also this week

Other than having dinner out at Darrell's and attending Ross's SIG, we haven't done much else exciting this week.
I took night photos in downtown Ottawa. Some of them viewable by clicking here.
Sandra submitted her passport renewal application.
We drove to the RV dealer and made an appointment for them to inspect the RV next month.
Darrell and I shot photos near Old Chelsea and Wakefield, Quebec.
Sandra had lunch out on Friday with some of her former co-workers.
We both visited the chiropractor again.
And we tried to stay warm during what felt like a return of winter with nights dropping to freezing or below and days that were cloudy, rainy, and quite chilly. But the May flowers are out and the trees no longer bare so at least it didn't look like winter, which is something.

Photo Galleries Milestone

Also this week, my photo galleries on pBase reached a milestone by surpassing 1,000,000 hits (page viewings), 800,000 of those hits coming within the last twelve months. This is an amount of traffic that still amazes me and I'm now contemplating some way of turning that much interest in my photography into some form of income. It would be nice if the photography made at least enough to pay for the equipment I buy.

End of an Era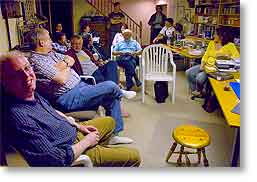 Wednesday, May 11, 2005 - Tonight I attended the last Graphics SIG (Special Interest Group) to be hosted by my friend Ross Slade. It is truly the end of an era. The SIG is a branch of the local Macintosh computer users group and this was Ross's last SIG because he is selling out and moving to Italy.
Ross is something of a local institution when it comes to Macintosh computers and the graphics software for them. There is very little he doesn't know in this field and for years has unselfishly shared his knowledge at the monthly Graphics SIG meetings held in his basement, pictured here. Ross is the fellow on the far left, smiling at the camera, and I am forever in his debt for the things I've learned from him. It is also through this monthly SIG that I've met most of the friend's I've made in Ottawa, so it has been an important part of my life here and Ottawa won't be the same once Ross and his family move away in the near future.

First Lillian Photos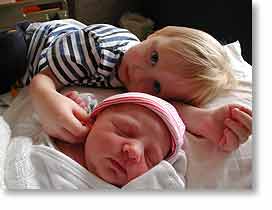 Monday, May 9, 2005 - This morning in emails from my son Ian, I received the first photos of his newborn daughter, Lillian.
Here's one of those photos (click on it to see a larger image), showing grandson Caden (age 2) with his new sister (age at the time the photo was taken was 1 day, I think).
You can't see it because of her little knit cap, but I hear it on good authority (Caden's and Lillian's Aunt Michelle) that Lillian is a strawberry blonde.
I also hear that Caden is quite fond of this new addition to the family, which is a good thing since every big brother needs a little sister, and that little Lillian operates on a four hour feeding schedule, which allows her parents to get a decent amount of sleep.

Spring Finally Arrives in Ottawa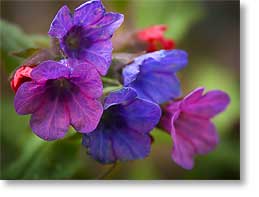 Sunday, May 8, 2005 - Spring has finally arrived in Ottawa. The flowers pictured here were in sister-in-law Margie's front yard. I have no idea what kind they are.
Around the city, daffodil's and tulips are abloom and the tree leaves are coming out. Hard to believe it's been almost two months since Sandra and I saw our first tulips of the year down in Alpine, Texas. Seems like spring has certainly taken its time getting this far north. In any case, I'm happy it's finally caught up with us.
Ottawa's annual Tulip Festival started 3 days ago and runs for 3 weeks, so I have plans to photograph it in the company of a friend who's also a photographer.
Last Wednesday, I met with 3 other friends for lunch at our usual hangout and it was good to see them. Email is no substitute for actually seeing people.
This week I also got the latest update to the software I use most often now that I've retired, Photoshop for editing the photos I take and GoLive for editing internet content like this news page.
Two days ago I finally washed the Texas dirt off the truck and yesterday we cleaned its interior and later today we plan to clean the bugs off that met their demise on the front of our RV as we drove back from New Mexico.
As you can see, life isn't nearly as exciting back home as it was on the road, but we're enjoying the rest.
We've found quite a few open wi-fi networks in the immediate area, eight of which have good parking that is within range of my high gain equipment and allows us to be inconspicuous. This still isn't nearly as convenient as having wi-fi in the campground since I have to go out in the truck to get access, but at least it's a short drive.

This 'n That From Ottawa


Tuesday, May 3, 2005 - As I write this I'm sitting in the waiting area of a nearby Dodge dealer while the truck is having its next scheduled maintenance service. This was last done in Carlsbad, New Mexico, which doesn't seem all that long ago but in looking back through my news archives here I see it was almost a month and a half ago. How time flies. I suppose it's a good thing to have this service done anyway considering most of the driving since then was towing.
The photo here is Sandra enjoying a breakfast special (as was I) at the Ramada Provincial Inn in Gananoque, Ontario, and was taken on the morning of our last full day down in the 1000 Islands.
I'm really missing the wi-fi internet access we had there in the KOA. The campground here in Ottawa doesn't offer wi-fi, but fortunately there's a couple wi-fi networks that are quite close, so close in fact that I'm rather surprised I can't reach one of them with the high gain setup, but at least we don't have to drive several miles for access like we often have had to do. Not surprisingly since Ottawa has so many high tech businesses in the area it refers to itself as Silicon Valley North that wi-fi is fairly easy to find.
Otherwise, we've been doing little but relaxing and staying out of the rain and trying to keep warm. However, if the weather forecast can be believed we're due to warm up a bit over the week and I expect in a week or so we should have the tree leaves coming out and with the tulips in bloom.

Back to Square One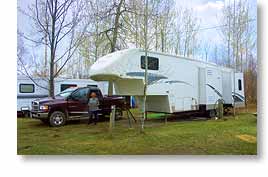 Sunday, May 1, 2005 - Here we are at May Day and it finds us now located in Ottawa, back at the same campground, Rideau Heights, that we departed from six and a half months ago when we left for our winter in the USA.
The weather turned out to be much more cooperative today than they'd been forecasting all week, which was for rain all weekend. When I got up at 4am this morning, it was indeed raining, but by the time the sun came up the sky was clear and remained clear until midmorning when we were getting ready to roll out. Some clouds started to return at that point, but it remained only partly cloudy for the whole drive and didn't rain until we had camp setup here in Ottawa. So I'm happy, even though the temperature is still quite chilly.
Click on the photo above for a larger image of Sandra standing by the truck.



__________________________

For Older News

To read details of our previous stops and camps, visit the News Archives.






Updated Thursday, June 2, 2005

Copyright © 2005 by Gordon L Wolford .
All rights reserved.