Finally, A Break In The Heat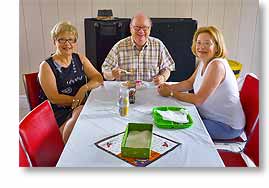 Wednesday, June 15, 2005 - Well, here we are halfway through June already. The time do fly.
We haven't been doing much since Sunday except using the new satellite connection and trying to stay cool. The days have been running in the mid to upper 80sF/ low 30sC with high humidity and the air conditioning has been getting a real workout. Today is the first pleasant day we've had temperaturewise in quite a while, but it's overcast with scattered showers. In fact, as I write this it is pouring and last evening we had fairly violent thunderstorms. Not complaining though because they needed the rain around here.
This photo here is from the campground's pot luck dinner on Saturday evening. Pictured l-r are: Betty, Garth, and Sandra.

Initial Satellite Experiences

We've had the satellite connection for about 3 days now and it has performed much as we expected. Not as fast as our old 2.2Mb ADSL service but magnitudes faster than dialup. On a couple small downloads I've done, the download rate ranged between 60kB to 100kB/s, which is certainly fast enough to be usable. This is also about average to what we got using wi-fi, which of course varied widely, depending on the quality of the connection at the source and our distance from it. I saw wi-fi speeds that ranged from as slow or slower than dialup to faster than DSL or cable. The extremes were rare though.
The only real difference between satellite and wired access I can see is that the satellite connection is effected by adverse weather. Like, we lost contact with the satellite yesterday evening during the thunderstorms, so heavy rain and dense clouds are enough to break the connection. But we were told this before we signed up so it wasn't unexpected and it wasn't out for long and I always unplug everything during thunderstorms anyway (since losing a fax machine once to a power surge from a thunderstorm).
The satellite's sensitivity to weather is far less annoying than the majority of campground wi-fi systems we accessed over the winter, which routinely lost the connection to the internet for no apparent reason and their wireless router had to be restarted to get it back. This, of course, usually happened at the worst possible times, like the middle of the night when no one was around to restart it.
And the satellite isn't as sensitive as I might be making it sound. Like, as I said above, it is raining at the moment and the clouds are heavy and I'm still in contact with the satellite. And if I did lose it, it would be back as soon as the dense part of the cloud passed by, so it's not a big deal.
What has been a big deal is being able to get up in the wee hours and have the internet available in the RV. Just gotta love it.

Back On The Internet Fulltime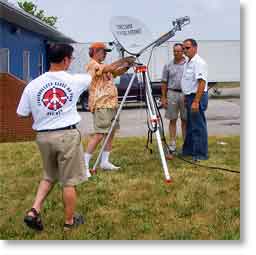 Sunday, June 12, 2005 - Some big news to report because the events of today effect our lifestyle.
As scheduled, Sandra and I arrived at 3i Communications here in Lindsay, Ontario at the appointed time (11am) for our training course on the satellite internet system we bought from them.
Here's a photo Sandra took of me (in the orange shirt and cap) getting hands-on experience aiming the satellite antenna.
Unfortunately, due to a couple hardware failures we didn't complete the course and get our installer certification (required by the US and Canadian governments for anyone setting up these antennas) until rain had moved in late in the afternoon.
This meant that when Sandra and I got back to the RV with all our new satellite gear, I had to go through the setup procedure in intermittent rain and a horde of carnivorous mosquitos.
But...we succeeded! First try! So, like with campgrounds that offered wi-fi (something in the vast minority in the USA and quite rare up here in Canada), I'm able to once again sit here in the RV and enjoy the internet from the comfort of my recliner.
This has not come any too soon either because. even though there are sufficient accessible wi-fi networks in Lindsay, with the arrival of the heat of summer it quickly gets too hot in the truck to sit in it and access wi-fi for more than a few minutes which has greatly limited our internet activity
Now we can enjoy it to our hearts content.

Pot Luck Dinner

And last evening the campground here held a pot luck dinner which we not only attended but Betty and Garth went with us as well. These dinners are always interesting because we meet a lot of our fellow campers that we normally wouldn't otherwise have the opportunity to talk to.

The Girls Are Back in Town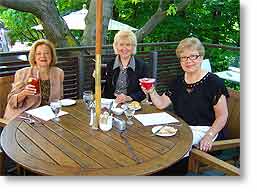 Thursday, June 9, 2005 - Yesterday evening, Sandra and Betty returned to Lindsay from their short two day trip to Toronto, primarily to attend an afternoon tea for breast cancer hosted by Betty's longtime friend Diane and attended by about 30 ladies, including Frankie and Mary, two more longtime friends of Betty.
Sandra and Betty had fun, also dining out (as can be seen here in this photo of their lunch at Toronto's elite Granite Club) and doing some shopping (as evidenced by the new clothes Sandra modeled for me shortly after her return).
Pictured in the photo, taken by their waiter, are: l-r Sandra, Bonnie (another longtime friend of Betty's, the lunch being in belated honor of Bonnie's last birthday), and Betty. As always, click on the photo for a larger view of it.
Bib the wonder dog is happy again and started to eat and drink again, which is an especially good thing since the weather has been hot and I was getting concerned he'd get dehydrated.
And, while Sandra was off enjoying the thrills and excitement of the big city, I completed all the chores and errands she had assigned me to do in her absence

Latest on Our Satellite Internet Access

Among those errands was to sign us up for the satellite internet service, which I did indeed do, so that looks like it is really going to happen! Considering how long we've looked for this and had given up hope of ever finding it, it's still a bit hard to believe we'll actually soon have it.
Our certification class has now been moved to Sunday, June 12, and assuming the schedule doesn't change again, on our return Sunday evening we should have everything we need to access the satellite and get online via it.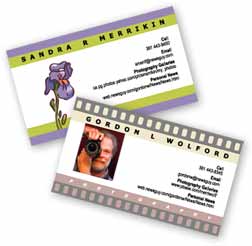 Personal Cards

Also of note, one of the things I've done lately was to design a personal card to hand out, rather than try to give the information verbally and expect people to write it down accurately. This is particularly a problem with internet URLs and I often refer people to my photo galleries on pBase, which I plan to start promoting in the near future.
And since things seem to change often with internet data, I decided rather than to have these printed conventionally, which would have been expensive, time-consuming, and given me far more cards than I would ever use, I had just a few printed digitally from an electronic file at a quick print shop when we were in Ottawa.
I did mine first and Sandra liked it so well she wanted one for herself, so I also did one for her in a similar style (to maintain a family appearance, of course), and had them printed for her at the local Staples store here in Lindsay while she was away in Toronto.
Click on either card above to view a readable version of it.

The Weather

Wow! It's been downright hot lately. It's gone from cool spring to hot summer with almost no transition through a period of pleasant weather. In fact, it's been so uncharacteristically hot and humid the last few days for early June (upper 80sF/low 30sC), it's to the point of making me feel like I'm back in muggy Ohio. Hopefully, the weather will soon return to something more like the beautiful Canadian summers I'm used to.

The Boys Are On Their Own

Wednesday, June 8, 2005 - Yesterday Sandra and her sister Betty left to spend a couple days in Toronto doing girl things and visiting friends, leaving Bib the wonder dog and myself (as well as brother-in-law Garth) to fend for ourselves, so it was a quiet day around here. Of course, Bib hasn't a clue what's happening, so he thinks his 'mama' has abandoned him and is traumatized, not eating or drinking, and is sure his world is nearing its end.
Today though should be interesting as I'm scheduled to go sign up for the satellite service and hopefully will have it up and running sometime late Sunday.

Down the Road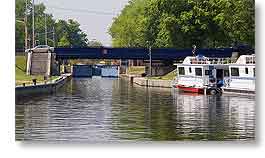 Monday, June 6, 2005 - Yesterday Sandra and I drove over to the Bear Cayge Restaurant that's located halfway between Lindsay and Bobcaygeon where we met Betty and Garth for a late breakfast.
After eating, Garth went to smack some golf balls while the girls and I went on in to Bobcaygeon, them to do some shopping and me to do some shooting (photos).
Here's one of the Trent-Severn Waterway that goes through town with its swing bridge (just beyond the boats) and the canal lock that's opening beyond it in the distance.

Up the River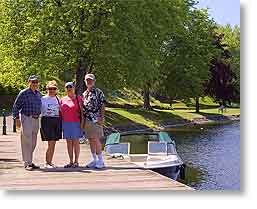 Saturday, June 4, 2005 - Our campground here in Lindsay, actually a few miles north of the town itself, is on the Scugog River and just around the corner as the water flows (so to speak) from Garth and Betty's cottage on Sturgeon Lake.
So yesterday they boated over to the campground's docks, picked us up there, and then continued on up the river for a visit to Lindsay. Along the way we saw quite a few of the more exotic birds, like heron, osprey, and even a swan, plus countless of the more common birds like ducks and geese.
It was a perfect day for boating as can be seen here in the photo of us on Lindsay's landing. That's Garth's boat that's tied up behind us. As always, click on the photo for a larger view.

The Long Wait Might Be Ending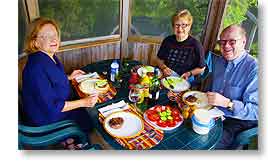 Friday, June 3, 2005 - Before I say just what the wait is that I'm talking about, here's a photo taken of our dinner Wednesday evening in the gazebo on Garth and Betty's dock by the lake. Pictured here l-r: wife Sandra, her older sister Betty, and Betty's husband Garth.
Not only were Garth's grilled hamburgers ambrosial as always, but for dessert we were treated to a pretty good sunset, which can be seen by clicking here. For a closer look at Garth's burgers, click on the photo.

Back to The Wait

As to the wait that will hopefully soon be over, I'm referring to satellite internet access. This is a technology I've longed for because it is ideal for people constantly on the move like RVers, but until very recently we were unable to find anyone who could answer our questions or even had any experience in providing satellite internet access in RVs.
However, that has now changed. Through an ad in one of the RV magazines we receive and then confirmed by somebody in one of the RV internet forums Sandra participates in, we finally found someone who not only knows what he's doing with this technology but specializes in mobile internet access and his company just happens to be here in Lindsay, Ontario!
So yesterday morning Sandra and I visited this place (3i Communications) and the person there was not only able to answer all my questions (a first) but his company also provides everything needed for satellite access, like a training class for effectively setting up and aiming the antenna.
We will now almost certainly be getting set up with this technology sometime around the end of next week when we're scheduled for their training course on Saturday, June 11, which will give us the certification required by the Canadian and US governments for anyone setting up this kind of satellite antenna.
At that point we will have internet access from the RV anywhere in the southern half of Canada, all the mainland USA, and northern Mexico.
The decisive argument was the service will pay for itself in saved fuel costs alone from not having to drive around to find accessible wi-fi hotspots. Wi-fi has served us fairly well, especially since acquiring high gain equipment, and will continue to provide access when we're out driving around, but as an example of the fuel costs of wi-fi, it is currently a 15 mile round trip to the nearest usable wi-fi hotspot. This costs about CAD$3 per trip, so if I only made that trip once a day it would end up costing CAD$90 per month. This is exactly the monthly cost of satellite access which also gives us continuous coverage all day every day, not just once a day. So if I made two trips a day into town for wi-fi, which is more realistic, satellite works out to be far cheaper.
Can't wait.

Now in Lindsay, Ontario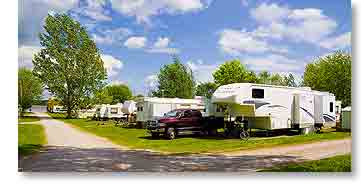 Wednesday, June 1, 2005 - We left Ottawa this morning around 8:30am, heading for a month-long stay in Lindsay, Ontario which is in the scenic Kawartha Lakes district which I plan to explore extensively this trip.
Enroute we drove a bit out of our way to travel along the 1000 Island Parkway of the St. Lawrence River because we can reach Verizon Wireless cell phone towers in New York from there and update the programming of our cell phones.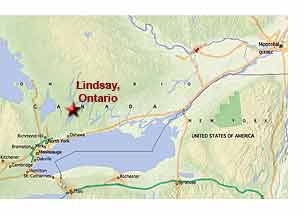 Despite that small detour, we arrived in Lindsay at 1:30pm for a 5 hour drive and a short time later were setup in the Alpine RV Resort which is on the banks of the Scugog River near where it empties into Sturgeon Lake.
As can be seen from the photo above of our campsite, the weather was good although we did drive through a couple small rain showers that sprang up but were of no consequence.
Also in the photo on the extreme left side at the end of the lane but not too obvious you can see the river (click on either image for a larger view). So we don't have waterfront property this time like we did in our visit to Lindsay last September (click here for details of that stay), but the river is only a short walk away.
Once we catch our breath, we will be heading to see Garth and Betty at their cottage and enjoy a supper out in their gazebo on the dock.



__________________________

For Older News

To read details of our previous stops and camps, visit the News Archives.






Updated Friday, June 17, 2005

Copyright © 2005 by Gordon L Wolford .
All rights reserved.