Doings in Kingston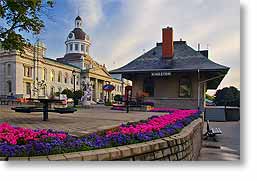 Saturday, August 13, 2005 - Sandra and I have been leading a fairly relaxed life here in Kingston, Ontario spending most of the time involved with activities of the RV rally we're here to attend.
The weather in general has continued to be hot although it hasn't been sweltering like it was the last few weeks. We also had some much needed rain. In fact, while I sit here in my recliner updating this page it has cooled off quite a bit and more storm clouds are brewing.
Nothing spectacular for sunrise or sunset photos yet, but Thursday's dawn was worth heading out early for with camera in hand. I nosed around historic Fort Henry and had the grounds to myself but wasn't allowed inside. Then drove and walked around downtown Kingston as the day was starting for most people. The photo on the left is of the heart of downtown, City Hall on the left and the old train station on the right. Further to the right of the station is a small park and then the waterfront on Lake Ontario. This is a very interesting place.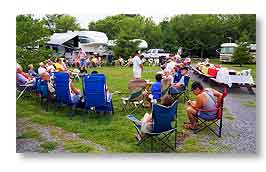 The station is now a tourist information center and is where the Trolley Tour leaves from that Sandra and I took later that day in the afternoon. We like to take such tours when they're offered because one learns a lot about an area very quickly that way.
Then that evening was the rally's pot luck dinner, pictured on the right. We met a lot of people and had some good food. I think there are around 40 Glendale Titanium RVs participating in the rally, with folks from as far away as Florida and Louisiana, so there were a lot of people at the dinner.
This morning was the rally open house where we could look inside other people's RVs and see how they have modified things and made improvements. It is interesting to see how other people do things to adapt to this lifestyle. For instance, while Sandra and I haven't done much modification to the RV itself, there was quite a bit of interest in our satellite internet setup.

Now in Kingston, Ontario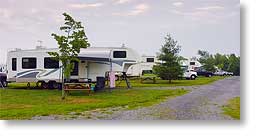 Wednesday, August 10, 2005 - As planned, today Sandra and I pulled up stakes and moved the 75 miles from Carleton Place, Ontario south to Kingston, Ontario.
The day dawned rainy and it looked for a while as though we were going to have a wet departure, fortunately though the skies cleared rather quickly soon after sunrise. However, we still ended up having a wet departure...due to sweat from the heat rather than from cool rain.
Anyway, we hit the road around 10:40am and had a smooth drive with the exception of two short areas of road construction where passage was narrowed down to one lane. As it was, we arrived at the Rideau Acres Campground around 12:20pm for a drive of 1 hour 40 minutes. Not bad considering I was allowing two hours for the drive as it was on two lane road with some small towns along the way.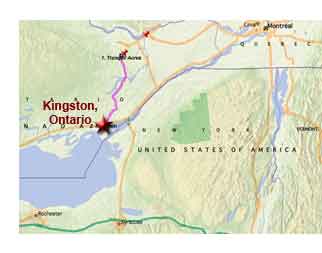 Three hours later we were setup on our site. This time I configured the satellite system without incident. In fact, once I got the coordinates from the computer and did the initial rough antenna alignment using just the compass and my best guess, by some small miracle it was so close to being aimed right at the satellite that even tweaking it later with the digital signal strength meter I wasn't able to improve on the signal.
Then with camp all in place, Sandra and I drove into Kingston on a scouting mission for future photographs. She had been here before, but years ago, and I had only been to one section of the city a couple years ago for a client to shoot photos, but due to the cold that day, I didn't see much else of the city. Today, I especially wanted to get a look at historic Fort Henry which is the primary tourist attraction in Kingston and looks promising for photo opportunities, but we were also pleasantly surprised with the overall look of the city in general which with so many historic looking buildings reminded us in some ways of Charleston, South Carolina. It's hard to believe I lived only two hours away for so many years and never discovered this until today.
Anyway, as I wrote on Saturday, we are here for an RV rally of people who own the same brand of RV as we do, Glendale Titaniums. It's rather surreal to walk around and see little else. Click on the photo above to see a few of them.

Hard Labor Then Dinner Out

Sunday, August 7, 2005 - Yesterday morning, after updating the News page here, I went outside and finished a job I had started the day before - washing the truck (a.k.a. Big Larry).
I'd gotten most of the dirt off earlier by taking it to a do-it-yourself car wash, but back at the campsite I went over it again with some 'waterless car wash' I'd bought a few months ago from a fellow camper. Now that I've used it, I suspect it is little more than car polish, watered down so it can be sprayed on, and marketed as something different so they can charge an inflated price for it. It wasn't cheap and it smelled like car polish and acted like car polish, so next time I'll save myself some money and buy car polish instead.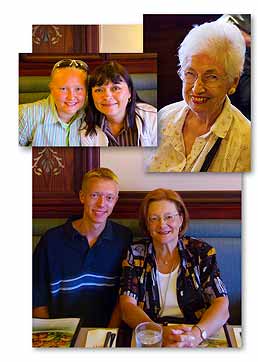 Anyway, getting Big Larry cleaned up proved to be quite a chore. Took two days of hard labor and my arms are complaining at me this morning as a result.
And to heap even more work upon myself, I also applied Armor-All to the plastic and rubber parts, but the truck looks pretty good now. Usually I'm reluctant to clean it, because more often than not, campgrounds have dirt roads in them and often dirt roads to them, which makes it impossible to keep a vehicle clean for longer than a day, but poor Big Larry was starting to look pretty shabby, so his time was long overdue for a bath.

Dinner Out

Then as planned, yesterday evening we met Margie, John, Nicholas, Danica, and Cassie at one of the Swiss Chalet Restaurants in Ottawa for a dinner out. Swiss Chalet, a franchise restaurant chain that started in Toronto in 1954, is known for their rotisserie chicken and is one of the few restaurants I've eaten at that's never upset my gluten intolerant system, not to mention, having the best chicken I've ever put in my mouth. Good stuff.
Anyway, it was a good time and good to see everyone. These photos were taken at the restaurant, l-r, t-b: Danica, Margie, Cassie, Nick, and Sandra. John doesn't like his picture taken, so I respected that for a change. As always, click on the photo to see a larger image.

The Satellite Problem

By the way, the problem I caused with our satellite connection two weeks ago when we first set up camp here near Carleton Place was a result of not stopping the setup procedure at the proper step (passing the Auto-Cross Pol test) but I continued on through the Certification and Registration steps which is where I messed things up and lost our registration and nothing I did after that point returned things to normal. I thought I knew the procedure well enough to not have the instructions in front of me during setup. Wrong!
As it turned out, the problem had to do with the security settings on Sandra's laptop (setup requires a PC due to a helper application given to us by the system retailer) interfering with things and the fix was to restart in 'Safe Mode with Networking' which bypasses the security settings.
However, it took three long phone calls to find someone who actually knew this. Now that I have a better grasp of what's going on, next time I'm going to see if I can set things up from my Mac without the help of the helper application. Not that the helper was the problem, but the Mac handles security a bit more elegantly than Windows and the maker of the satellite system says it can be setup with either kind of computer.

Quiet Week & Future Plans

Saturday, August 6, 2005 - This week was fairly uneventful. Didn't do much but putter around, although Wednesday was a busy day when we combined a lot of errands into one drive to Ottawa and visited with sister Margie and her family while there.
This evening we are heading back to Ottawa to have dinner out at Swiss Chalet with them and Cassie, one of the few remaining members of the family from the previous generation.
Wednesday, we are planning to pull up stakes and move south to Kingston, Ontario for an RV rally being held there for the brand of RV we own, Glendale Titanium. The rally will be at the Rideau Acres Campground where we'll be staying for a week. Should be interesting to talk with other Titanium owners and share RV experiences with them.
After Kingston, it's back to Lindsay for the annual cottage weekend. Then to the Brockville area to see Aunt Ruth, see to banking affairs in New York, visit the tree planted on the banks of the St. Lawrence River at Morrisburg, Ontario to honor the memory of Sandra's parents, and for me to photograph at Upper Canada Village.
From there, it's back to Ottawa to finalize matters before we head out again in mid-September for this autumn and winter's tour of the western mountains and the Pacific coast. Can't wait to get out there and see new sights. Hard to believe it's been 27 years since my one and only trip to that region.


__________________________

For Older News

To read details of our previous stops and camps, visit the News Archives.


Updated Wednesday, August 24, 2005

Copyright © 2005 by Gordon L Wolford .
All rights reserved.