Bikes & Hurricane Katrina

Wednesday, August 31, 2005 - Here we are, last day of August and we've been watching the news of Hurricane Katrina for the last two or three days and now it's here. As I write this the remnants of the hurricane are passing over us, but it's a mere shadow of what it was when it hit the Gulf coast. It started raining here last night around 1:30am and rained steadily through the morning, but now (twelve hours later at 1:30pm) it has slowed to a drizzle.
The worst of it went south of us, passing over Watertown, New York where they had minor flooding in one area and a few trees down. We lost internet access for a few hours this morning due to the heavy rain and dense clouds but it's back again. So while it hasn't been as much rain as Hurricane Frances dumped on us last year around this time, I'm still glad we changed our plans and delayed our departure for Ottawa until tomorrow.
Looks like New Orleans is going to be a long time returning to normal though, if ever, so it's a good thing Sandra and I saw it when we did last winter. Who in their right mind builds a major city on a location that's below sea level yet near the sea? Really really dumb.

Folding Bikes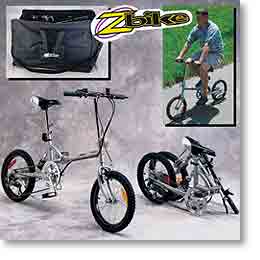 One aspect of Sandra's and my nomadic lifestyle that was a great inconvenience was our bicycles. While they are small, they aren't small enough to be easily manageable. We've been carrying them in the bed of the truck rather than using a carrier because using the truck seemed the least trouble. But they barely fit and are heavy and awkward enough that I can see the day coming when I won't be able to handle them.
Then at the recent RV rally in Kingston, a couple there had a pair of folding bikes that caught our eye, so we got as much information about them as we could and have been on the lookout for that style since then.
We haven't seen many and what we had seen were too expensive, but yesterday on a shopping mission Sandra saw a couple on sale for half price at the Home Hardware store in Brockville and came back and got me so I could look at them. Even at half price, one of them still seemed overpriced since it was scratched and a single speed and cost almost as much as the other one did which was a 5 speed, so we mentioned this to an employee who went to see what their best price might be. I thought they might come down another $10 although Sandra thought it should be $20, so when he came back and said $25 off each one we took them.
The picture above is not the make and model we bought, but it looks very much like them. They are rather strange looking but fold down to something small enough to store almost anywhere and are good enough for our biking needs which is usually to just get around inside campgrounds.

Doings in Brockville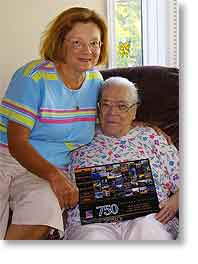 Monday, August 29, 2005 - Friday, Sandra and I crossed the US border at Ogdensburg, New York to take care of one matter we are in this area specifically to do and that was to clear out a couple bank accounts we had there, which will now be used to partly finance our winter tour. So far, we've gotten by without having to tap into our investments, which have been up and down like a yo-yo lately. One advantage to low interest rates is that the penalty for cashing in a Certificate of Deposit before it matures doesn't amount to enough to care about. Interest rates at banks are a joke.
Anyway, after finishing at the bank, we did some shopping for things we can't find in Canada, like that good ol' southern US staple...grits. Over the winter this had become my breakfast hot cereal of choice, but nowhere could we find any in Canada. So now that dire situation has been resolved.
Then yesterday, we did the second and most important thing we are here to do and that was to visit with Sandra's beloved Aunt Ruth. We spent a pleasant afternoon getting caught up on things and reminiscing. Sandra learned a few things about family members she didn't know before. Pictured here is, l-r: Sandra and Aunt Ruth holding the jigsaw puzzle we brought her.
The remnants of Hurricane Katrina are scheduled to move through here Wednesday, which was the day we were planning to move to Ottawa for a week before heading west for our autumn and winter tour, but we're extending our stay in Brockville one more day to let that weather pass before leaving.

Now Near Brockville, Ontario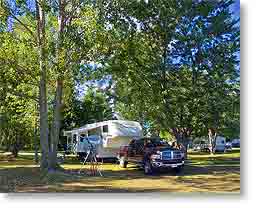 Wednesday, August 24, 2005 - As mentioned below, today we packed 'em up and moved 'em out.
After a parting visit with Betty & Garth yesterday that spanned lunchtime to after sundown, with barbecued chicken and corn on the cob for the midday meal and Sandra's world-class chili for supper, this morning we were up bright and early, but didn't feel a need to rush, so we took our time and didn't get away from Lindsay until around 10:30am.
The day was beautiful for traveling, low 20°C/mid 70°F and mostly sunny. I made one wrong turn, being momentarily confused by ambiguous road signs, but it didn't take us long to get back on track. And, as has seemed to be normal this summer, we encountered two small stretches of road construction, one of which had our side of the 401 freeway narrowed down to one lane at Kingston where traffic was heavy and getting through there had a bad moment or two.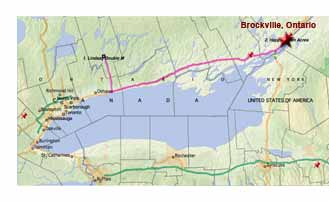 But we made it unscathed with nerves more or less intact and finished the rest of our 188 mile drive in blissful boredom, arriving at the Happy Green Acres Tent & Trailer Park shortly after 2pm for a little less than four hour drive.
Camp was setup and connection to the satellite established by 4:30pm and here we are, once again updating the News page in the comfort of my recliner. A bit tired but no worse for wear.
As can be seen in the photo above, this is a nice looking campground with quite a few trees and the first spot I set up the satellite antenna apparently had one of the trees obstructing a clear view of the satellite, although it looked clear to me. Anyway, the second spot worked fine and here we are.
As always, click on either image above for a larger view.

Heading for Brockville Tomorrow

Tuesday, August 23, 2005 - Our week in Lindsay, Ontario is nearing its end and tomorrow we are pulling up stakes and moving east near Brockville, Ontario. Yesterday Sandra booked us a campsite in the Happy Green Acres Tent & Trailer Park that's just west of Brockville.
Our purpose in this trip is to see Sandra's saintly Aunt Ruth before we head west to start the winter tour of the Rockies and the Pacific coast. Brockville is also near Ogdensburg, New York where we have to see to some banking matters there and do some shopping for things that can't be found in Canada.

Cottage Weekend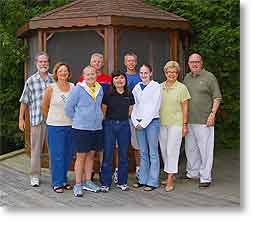 Sunday, August 21, 2005 - This being the annual cottage weekend for Sandra's family, we've naturally spent quite a bit of time at Betty and Garth's cottages the last two days.
Here's a picture of this year's attendees. L-R they are: yours truly, wife Sandra, niece Danica, brother-in-law John, sister-in-law Margie, nephew Nicholas, his girlfriend Becky, sister-in-law Betty, and brother-in-law Garth. Not in the photo is Mr. Tripod.
There were no guests this year and it doesn't seem quite the same without Sandra's mother being with us or the English contingent being present, but life goes on.
Margie and family arrived from Ottawa around midday Friday and that evening we had a spaghetti supper, mine being made with corn pasta.
Both days were cloudy and yesterday there was a bit of drizzle off and on, but for the brave and hearty souls who wanted a ride on the lake, Garth got the boat out anyway. Last night was a steak dinner followed by the usual combined birthday party for those whose birthdays are around this time of year.
The rest of the time was spent lounging around Garth's two cottages and out on the docks, walking in the area, and a shopping trip into town.
Click on the photo for a larger view. Anyone interested in a file large enough to print out at 8 x 10 inches, let me know via email.

Back in Lindsay, Ontario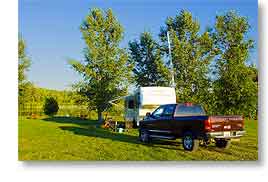 Wednesday, August 17, 2005 - As planned, today we packed up and moved from Kingston back to Lindsay, Ontario.
The day was perfect for a drive, mostly sunny with temperatures in the mid-70sF. The only hitch to the drive, other than the one on the truck, was a delay for road construction where they'd narrowed the road down to one lane.
We said our farewells this morning to those still at the RV rally and were on the road by 10am and arrived here at the Double M RV Resort & Campground a little after 1pm, taking around 3 hours for the 150 mile drive.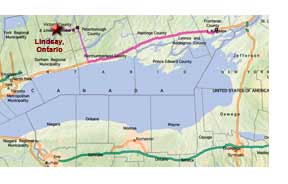 Camp was setup and connection made to the satellite by 3pm at which time I got back into the truck and drove 30 miles back the way we had just come so I could shoot a photo I couldn't live without. This was of a scene I've noticed several times over the years but had never shot due to a variety of reasons and decided today was the day to correct that situation even though I was quite tired from the day's activities.
On my return, Sandra then drove into town to do some grocery shopping, dinner was eaten, and evening TV watched while I do this update.
The only thing on our agenda this time in Lindsay is the annual family gathering at Garth & Betty's cottages over the weekend.
It's hard to see in the small photo above, but our campsite is right by the Scugog River, which is just beyond that row of four trees, so we once again have waterfront property. The map shows our route from Kingston to Lindsay. Click on either image for a larger view.

This 'n That 'n Plans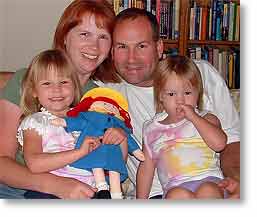 Tuesday, August 16, 2005 - Sandra and I have continued the last few days much as we did the few days before them, doing little but relaxing, being involved in the RV rally, and seeing and photographing the area.
Yesterday afternoon we walked around downtown Kingston and had dinner at a Wendy's. Sunday morning was the RV rally's drawing for prizes and true to form, we didn't win anything, and since it was raining we didn't do much else.
On Sunday I did receive a couple photos from my sister Carol that she'd taken of my daughter Michelle's family who had come to visit and spend the night.
Here's one of those photos showing, l-r: granddaughter Grace, daughter Michelle, her husband Eric, and granddaughter Faith. Always nice to get photos.
Today, Sandra and I are planning to tour historic Fort Henry and take the free ferry over to Wolfe Island, the largest of the 1000 Islands, which even has a village or two on it. Should be a fun day.
Then tomorrow we are pulling up stakes and moving back to Lindsay, Ontario for the annual family weekend at Garth & Betty's cottages. This time we are returning to the Double M RV Resort & Campground where we stayed in Lindsay September of last year.


__________________________

For Older News

To read details of our previous stops and camps, visit the News Archives.


Updated Friday, September 2, 2005

Copyright © 2005 by Gordon L Wolford .
All rights reserved.