Coming At Ya From Wawa, Ontario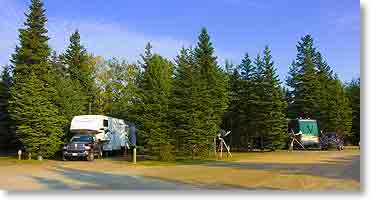 Saturday, September 10, 2005 - Wawa, some name. I think it's native. Anyway, this morning we left Whitefish a little after 10am and arrived here at the Wawa RV Resort & Campground 6 hours later, a little after 4pm.
The 310 mile drive was very scenic in places, traveling along the north shore of Lake Huron for quite a while and then along the eastern shore of Lake Superior.
The Lake Huron shore was beautiful in places; the Lake Superior shore was stunning in comparison. This was the first time I've ever seen Lake Superior (I've now seen all the Great Lakes) and everything I've heard about it's beauty is true. I also had no idea this area was so mountainous and the road was accordingly difficult in places due to some seriously steep grades, but many of the views were breathtaking. One could spend quite a bit of time in this area and I hope to be able to do that some year.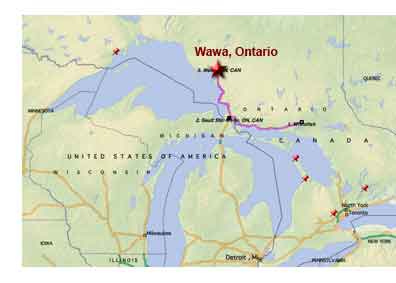 I wish I could have stopped to take some pictures, but there were very few places I could have done that and since it was cloudy for most of the drive, the photos would not have been worth the bother. Perhaps on tomorrow's drive.
Pictured above is our campsite here. Lots of trees, which made it quite a challenge to access the satellite, but I found one place that worked, almost in the next campsite. Glad my cables are long.
Also, you might notice the people in the next site over also have satellite internet. It was most interesting to talk with the fellow, who is quite knowledgeable on the subject and steered me to a couple online forums for satellite internet.
This is another overnight stop. We're continuing on to Thunder Bay tomorrow (that little pushpin on the map to the west of Wawa).

Now West of Sudbury, Ontario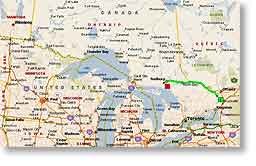 Friday, September 9, 2005 - We left Carleton Place around 10:30am this morning, today being Sandra's birthday (Happy Birthday, most wonderful wife).
Two hours later we stopped for lunch in a church parking lot in Deep River, Ontario and four and a half hours after that we pulled into the Holiday Beach campground just outside Whitefish, Ontario about 10 miles west of Sudbury.
The road (the Trans Canada Highway) was mostly two lanes but with fairly regular stretches of three lane to include a passing lane. The road also bypassed most towns so we actually made pretty good time. In places, it was quite rough, although on average it was okay, just not great.
The highlight of today's drive was Deux Rivieres, which is a very pretty area of the upper Ottawa River valley and was almost exactly at the halfway point of the drive. We plan to go back some day and spend more time there.
The weather today was perfect for driving, sunny with fluffy white clouds and low to mid 70sF.
The green line on the map shows today's drive and how it relates overall to the width of Ontario. As you can see, at the rate we traveled today it will take four days to get across the province.
You also might notice this map is a different style than the one I've been using. The program this was copied out of creates maps with a more road map look. As always, click on the image to see a larger view. Our tentative route is through Sault Ste Marie, Wawa, Thunder Bay, and Kenora, before crossing into Manitoba next Friday.

Heading Out...At Last

Friday, September 9, 2005 - After having to spend 5 months in Ontario, later this morning Sandra and I are packing up and heading out, starting our autumn/winter tour of the Rocky Mountains, Pacific coast, and canyon country of the southwest USA.
We are leaving a day later than we had originally planned due to rain yesterday as well as not being finished getting my software collection reorganized. I take only a fraction of it due to weight and space considerations in the RV and so needed to anticipate what I might need over the winter.
During our stay here this time we mainly took care of personal matters, like dental, medical, chiropractic, and banking.
I had wanted to go to the Gatineau Hot Air Balloon festival that was held over the Labor Day weekend, but when the time came to go it seemed like too much of a bother so I didn't.
We did get the plates on the truck renewed and purchased the prescription drugs for the next six months, which was a bite financially.
The highlight of the stay amid all this boring stuff was dinner Tuesday evening at Margie and John's (and a sumptuous feast it was). Sandra also met a couple of her friends for lunch on Saturday and a couple of her former co-workers dropped by the RV for a visit.
So, now we hit the road. The plan is to take the Trans Canada Highway, which unfortunately looks to be mostly two lane road, and travel about 300 miles per day which will take us 4 days to get to the western border of Ontario and another 3 days from there to get to Banff, Alberta, our first stop of interest in the Rocky mountains. It's already dropping below freezing there at night, so we might not be staying in the mountains any longer than it takes me to shoot some photos before we head on to the coast of British Columbia.
I will, of course, be updating the News page here as often as possible to let everyone know where we are and what we're seeing, but how often that occurs will of course be determined by how often we are in a position to setup the satellite antenna or have wi-fi access, whichever is easier. So check in often.

Now Back Near Carleton Place, Ontario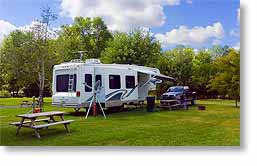 Thursday, September 1, 2005 - Sandra and I arose at the crack of dawn this morning, packed up, hitched up, and left Brockville at 7:36am, heading for our last stay at Ottawa for this year.
We had a 9am appointment scheduled with our RV dealer, Vos Trailers in Stittsville, to fix a couple items under warranty so we drove there first and arrived at the stroke of 9 after an uneventful drive of 71 miles.
We hung around the dealership for the hour and a half it took them to replace the kitchen faucet and the seal in the toilet, then drove to the Tranquil Acres campground near Carleton Place. This campground is starting to feel like home in Ottawa.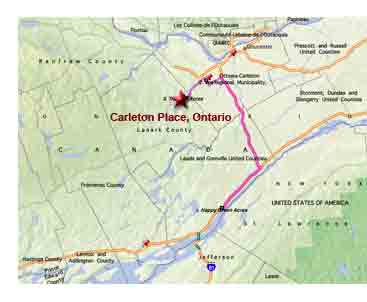 We got here at 11am and had camp setup and satellite connection made by 1pm.
Since we no longer need our original two bicycles, now that we have the folding bikes, we were going to try and sell the original bikes while we were here and get them out of our way. Turns out the campground manager bought them almost as soon as I told him about them. So that worked out well.
The purple line on the map shows our route. The photo shows our camp. It's not really as uninhabited as it looks and by the weekend, being the Labor Day holiday weekend, it will be packed. So I'm enjoying the elbow room while we have it. Click on either image for a larger view.


__________________________

For Older News

To read details of our previous stops and camps, visit the News Archives.


Updated Friday, September 30, 2005

Copyright © 2005 by Gordon L Wolford .
All rights reserved.