Made it to Banff

Tuesday, September 20, 2005 - All went as planned and as suspected, we have no view of the satellite. But it didn't take long to find an open wi-fi network in Banff, so I'll give a more thorough update once I've written it. I'll also be spending most of my time out in the mountains shooting photos anyway, so not having direct internet access isn't much of a problem for now anyway.

Leaving for Banff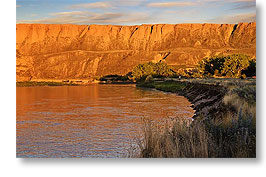 Tuesday, September 20, 2005 - I haven't shot much photography around Medicine Hat, but we did go for a drive around town our first evening here when I took the photo on the right of a bluff along the South Saskatchewan River as seen from Strathcona Island Park.
Yesterday, it was extremely windy, to the point it was buffeting the RV and I thought it necessary to add two more ground straps to the satellite antenna. At times it was difficult just opening the door of the RV against the wind.
But we got our errands done in town and we are planning to leave later this morning for Banff, Alberta, in the Canadian Rocky Mountains.
I'm not sure if the mountains there will block satellite access. Hopefully if that happens we can find wi-fi access somewhere in town. Banff is a pretty 'with it' town, so I'll be very surprised if there's no wi-fi. We also don't know if we'll have cell phone service either. That will depend if Verizon has an agreement with a carrier there.
We are looking at staying at the Tunnel Mountain Campground which is in Banff National Park, so some spectacular scenery should be close at hand. However, the forecast is for the temperature to drop below freezing at night and we've already heard of some snow falling in the passes, so our stay in Banff might be much shorter than I had been hoping for. Stay tuned.

Now in Medicine Hat, Alberta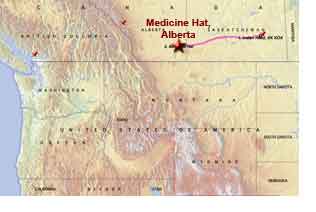 Sunday, September 18, 2005 - We are now in Medicine Hat, Alberta - Canada's sunniest city they claim.
We left Indian Head around 9:15am this morning and arrived here a little more than 6 hours later at 3:30pm after a drive of 330 miles over all 4 lane road, most of it good, some a bit rough but not too bad.
We are in the Ross Creek RV Park which is ajacent to a 9 hole, par 3 golf course. We had planned to stay in a campground on the west side of the city but saw this one from the road on the way into town and decided to give it a try. I like it because it has no trees, so setting up the satellite antenna was no problem, and also because it is close to the shopping area where we will be taking care of a few errands before heading for the mountains, the next leg of the tour, which we should be leaving for on Tuesday.

More from Indian Head, Saskatchewan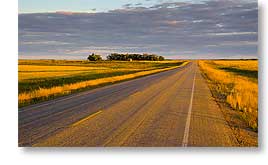 Sunday, September 18, 2005 - Hard to believe that a week ago when we arrived in Thunder Bay, Ontario it was 30°C/86°F and this morning, although still quite early, it is 2°C/36°F here in Indian Head. Got a feeling our upcoming stay in the mountains might be short.
Anyway, we did indeed take yesterday off from travel to get some much needed rest and to photograph some of the prairie. Here's a shot I took last night at sundown. This is a short ways north of town looking south and very typical of the area. On the drive from Kenora, the rolling terrain with lots of lakes and bogs flattened out soon after entering Manitoba. There are areas of the terrain around here than do vary a bit, but they are small. Seven other photos from around here are currently at the bottom of my Westward Trek photo album which can be viewed by clicking here.
One minor note of interest is that Saskatchewan doesn't observe daylight savings time, so for the moment we are on Central Standard Time. That won't last much longer though since we are to leave here later this morning, hoping to reach Medicine Hat, Alberta before day's end and they are on Mountain time there. However, since they do observe daylight savings time in Alberta, it is the same time there as here. Confused? I know I am.

Greetings from Indian Head, Saskatchewan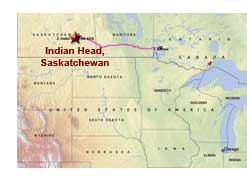 Friday, September 16, 2005 - Betcha never heard of Indian Head, Saskatchewan before. Neither had I until today. The original plan had been to drive west from Kenora, ON to just across the border of Saskatchewan and Manitoba, about 350 miles, and stay at a campground in Moosomin, SK.
But, as plans sometimes do, they didn't work out as expected. The campground office was closed and we couldn't find a campsite that was large enough, so we left and tried another campground a half hour further west at Whitewood, SK and they didn't even have an office that we could find even though I had earlier talked with someone on the phone. Bizarre.
So we left there too and headed for a KOA an hour further west at Indian Head, SK, thinking a KOA had to be good, if expensive. An hour later we arrived, to find a convenience store but no campground other than a KOA sign at the bottom of the store's sign. Turned out the store was the campground's office and the camp itself was down a sideroad. Also bizarre, but here we are, very tired from a 100 miles longer drive than we had wanted but that much closer to Banff. I think we'll stay here tomorrow and rest.
Anyway, today's drive ended up being 458 miles (737 km) and took us 9 hours through sporadic showers and flat as a pancake terrain. The Trans Canada Highway changed from Highway 17 in Ontario to Highway 1 when we crossed into Manitoba shortly after leaving Kenora. 15 km into Manitoba the highway changed to four lanes and stayed that way all the way across the province. That's the good news. Bad news is the road wasn't the smoothest we've traveled along, but being 4 lanes sure made the drive easier than the 2-3 lane road in Ontario.

Leaving Ontario

Friday, September 16, 2005 - Today we are free to leave Ontario, having put in our 5 months of required residency to maintain our provincial benefits, mostly health coverage. We are hoping to make it through Manitoba by evening.
However, some bad weather news is that it looks like it's going to be getting close to freezing at nights in Banff when we get there. Of course, weather forecasters don't seem to be able to accurately predict more than one day ahead, so we're not changing our plans, but some forecasts also included that dreaded four-letter word snow. If it's in the higher elevations, as is to be expected, it's not a problem, but if the snow does come early to lower elevations this year, our stay in the Rockies might be a short one. Stay tuned.

The Tour So Far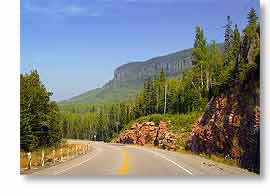 Wednesday, September 14, 2005 - Although we still haven't left Ontario (it's quite a large place with an area equal to France and Germany combined), we've seen some surprisingly beautiful scenery.
I had thought Ontario was essentially flat and boring like the area around Ottawa and along the 401 freeway, which all looks much like the state of Ohio where I grew up, and thought this leg of the tour was just something to get through on our way to the Rocky Mountains where the really good scenery is. I now have a different picture of the province, at least the western part of it along the shores of Lake Superior.
Ontario's Algonquin Park had been my favorite scenic area of the province, but that's now been replaced by the eastern and northeastern shore of Lake Superior where the landscape was not only stunning but surprising. Like in the picture above which shows a mesa that rivals anything we saw in Texas or New Mexico last winter, except this one is surrounded by trees. In fact, I'd rate this area of Ontario as impressive in its own way as Big Bend National Park in Texas was in its way. Two completely different ecosystems and landscapes but both equally beautiful.
I definitely want to return sometime and explore it further, especially the areas north and south of Wawa, Ontario. Sandra found an interesting article describing the area between Wawa and Thunder Bay which puts things into words better than I can. You can read it by clicking here.

Now Near Kenora, Ontario



Tuesday, September 13, 2005 - First of all, we got cell coverage back as soon as we left Thunder Bay. Go figure. Out in the middle of nowhere we had coverage again, but not in the largest city for hundreds of miles. Mystifying.
Also, we are now on Central Daylight Time, having crossed the time line during the drive today, which took 6 hours to go 289 miles. Early this morning there was some doubt as to whether we'd leave Thunder Bay today because it was raining, but it stopped around sunrise, so we packed up and headed out. The drive to Kenora was typical of those we've had lately, except the terrain was much flatter and we drove through one band of rain.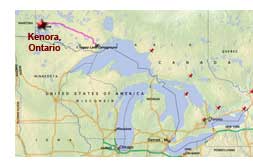 However, upon arrival in Kenora the sun was again out and we drove right to the campground we'd decided on, the Longbow Lake Campground, and were quickly setup including the satellite antenna which for a change, has a clear view of the southern sky.
Above is Longbow Lake. We're across the road from it, but it's a short walk to the beach. The map shows that we've now left the Great Lakes region. We are planning to be here around Kenora until Friday morning, when our mandatory 5 month stay in Ontario will be over and we'll continue westward.

No Cell Phone Coverage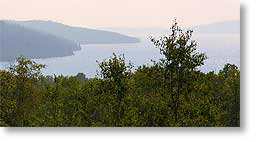 Monday, September 12, 2005 - I forgot to mention below in last night's update, that as evidence to just how remote it is up here on the north shore of Lake Superior, we currently don't have cell phone coverage despite the fact this area along with most the length of the Trans Canada Highway is showing on our Verizon coverage map as being covered, plus we are only 25 miles from the northern border of Minnesota. We haven't gone into the actual city of Thunder Bay yet, having bypassed it on our way in and the campground being 15 miles west of the city, so I haven't given up hope yet, but for now the most reliable way to contact us will be via email.
We haven't taken many photos along the drive, although Sandra is taking some from the truck as we travel along, more as a record of the journey rather than hoping to get great photos, but we did have time to make a couple photo stops yesterday and the picture above is from one of them.

Thunder Bay, Lightning Fast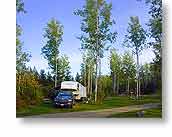 Sunday, September 11, 2005 - We are now near Thunder Bay, Ontario, camped at the Happy Land Park (gotta wonder about some of these campground names). While lightning fast might be a stretch to describe today's 315 mile trip from Wawa, it was mostly uneventful under mostly sunny skies and until we reached Thunder Bay itself, the drive was mostly non-stop, which is quite amazing considering the highway is still basically a two lane road with fairly regular stretches of three lanes to accommodate a passing lane up the grades. It continues to bypass most towns and villages which were few and far between.
The scenery also continued to be stunning, with mountains that brought to mind Kentucky and Tennessee but covered with pine and birch and interspersed with beautiful alpine lakes that made you want to stop and admire them, which we did a couple of times today since we got a bit earlier start to the drive, around 9:45am, as I recall.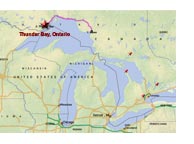 The RV park here is quite nice, except like the campground we had in Wawa, this one is also full of trees, which, while quite scenic, made connecting to the satellite quite a challenge. I was despairing for a while as the trees are quite tall and the first place I tried failed, but by moving the dish to the right by 5 feet got us connected. Go figure.
The truck is going to the local Dodge dealer tomorrow morning for its next scheduled maintenance, so we will be here for a couple days and the break from driving will be welcome. We've towed 934 miles in three days, which would be a fairly leisurely rate in a car and would be even with towing if it had been on a freeway over flat terrain, but unfortunately I doubt we see much freeway on this trip until we cross into the US. Canada has precious few freeways except in the urban areas.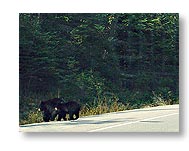 Beyond the 'oh wow' gorgeous scenery, we did have one bit of excitement today when two black bears decided to cross the road right in front of us. There are moose warning signs all along the way, but except for a glimpse Sandra had of one mangy wolf near the trees, we hadn't seen so much as a deer. But these two bears (pictured here in a quick shot Sandra got of them through the windshield) were hard to miss, literally since I had to lay on the horn and hit the brakes to avoid them. We saw them well in advance so there was never any real danger of actually hitting them, but the horn made them pick up their pace a bit.
The pictures are small tonight because I'm tired and don't feel like writing a lot, but clicking on them will bring up the usual larger image. Now it's off to bed for a well earned rest.


__________________________

For Older News

To read details of our previous stops and camps, visit the News Archives.


Updated Friday, September 30, 2005

Copyright © 2005 by Gordon L Wolford .
All rights reserved.