More from Chase, British Columbia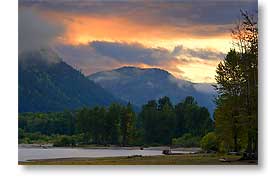 Friday, September 30, 2005 - Well, here we are at the last day of September and we are still near Chase, BC and will be into next week. It turns out that while Sandra and I are out west seeing the Rocky Mountains via our RV, sister-in-law Betty and her husband Garth are going to see the Rockies from the train. We had hoped to connect up with them at Lake Louise in Banff National Park, but that was no longer possible when we left Banff earlier than expected due to the cold weather.
However, all is not lost in that regard. We found out a couple days ago that on Tuesday their train will be stopping overnight in Kamloops, BC, which is only 45 miles west of here, so we will be able to meet them there for dinner instead of Lake Louise.
As I mentioned in the article below, we are camped on the northern shore of Shuswap Lake (shoe • swap) and while the mountains here don't have the snow-capped craggy grandeur of the mountains around Banff, they can still be quite scenic, as in the photo above taken last evening down by the lake as sunset was fading.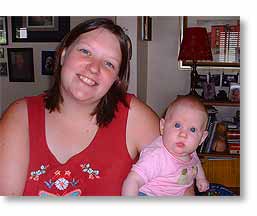 However, it's become mostly overcast and rainy the last couple days and with more to come, so we haven't done much around here except drive into Chase to see what was there (not much) and into Salmon Arm (much more) where we bought groceries.
Also, last evening, during a short break in the cloud cover (it's raining again this morning as I write this), we drove along the north lakeshore to see what it looked like and found several little lake communities, a provincial park, and some pretty good scenery. So, considering it is an interesting area, the campground inexpensive, and the nights well above freezing, I'm in no particular hurry to leave.
And in case you've missed them, I've been regularly adding photos of the trip so far to two of my pBase photo galleries: Banff National Park and Westward Trek. These appear in my Photo Odyssey gallery. Sandra has also been posting photos to her Yahoo galleries.
On a family note, my daughter Michelle sent some photos she took during a recent visit with her brother, my son Ian. Pictured here is one of those photos, showing Ian's wife Tracy holding Lillian, their daughter and newest addition to the family. Lillian looks quite puzzled by what her Aunt Michelle is doing. Of course, I've given Michelle that same look myself from time to time.

Now Near Chase, British Columbia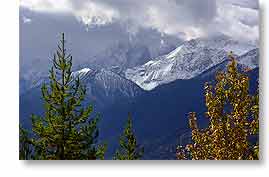 Tuesday, September 27, 2005 - Phew! What a day we had yesterday. Sandra and I think of it as The Great Escape. We had a red sky in the morning and true to the saying, we should have taken warning because we had no sooner packed up and left Banff than we saw snow falling in the distant mountains. Fortunately though, when we got to it and drove through it, what was snow only a little higher in elevation was rain down on the roadway.
However, this did little to ease my concern for what we might encounter further into the Rockies, trying to get over whatever mountain passes were ahead of us.
As it turned out, we had to drive over two passes, Kicking Horse Pass and Roger's Pass, and neither of them had snow falling at the time, so I felt like we dodged a bullet and barely escaped one of my worst fears of this trip and that was to encounter snow while towing through the mountains.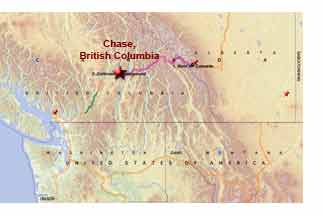 As it was, negotiating these passes while hauling 6 tons of RV was no picnic, especially coming down the pass. Going up the pass, while a bit of a strain on the diesel, was not nervewracking, but coming down the pass where even shifting down in gear wasn't enough to keep the speed down, there was a real threat of losing control. The down grades of these passes were steep and seemed neverending and ateem with rather sharp turns just a guardrail away from a precipice, but by taking manual control periodically of the RV's brake controller, I was able to keep the speed under control without risk of burning out the truck brakes. It was with great relief when we finally saw the snow clouds disappearing and the mountains becoming smaller.
Anyway, the drive was 273 grueling miles (440 km). We left Banff around 10am MDT and I'm not sure what time we arrived here since I was so relieved to have made it through the mountains that I didn't notice the time, but it was something around a six hour drive over road that wasn't the smoothest we've traveled on and it changed from four lane to 2 lane with periodic passing lanes near Lake Louise, Alberta and stayed that way for the rest of the drive.
We are now in the Cottonwoods Campsite about 8 miles (13 km) east of Chase, British Columbia and on the north shore of Shuswap Lake. We again have access to the internet satellite (although that was a close call too, just misses being blocked by a mountain) and since this campground is a Passport America member (which makes it half price for us) and we seem to be beyond the threat of getting snowed-in anytime in the near future, we are planning to spend the rest of the week here. The area isn't breathtakingly beautiful like Banff, but it is still very scenic nonetheless.
And speaking of Banff, Sandra and I were both very impressed with it, not only with the National Park but the town as well, which is very clean and very pretty as towns go. They even run the utility lines behind the buildings on the main street to give it a less cluttered look. What a concept (utility lines and poles are the bane of photographers).
Photo above shows snow falling on the peaks in Glacier National Park, British Columbia and the purple line on the map shows our route from Banff. As always, click on either image for a larger view.

Last Day in Banff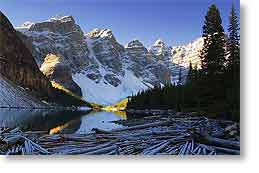 Sunday, September 25, 2005 - Today is our last full day in Banff, heading out tomorrow to continue our westward trek, looking to get beyond the threat of snow.
I took advantage of good photographic weather today and spent most of it out shooting photos, starting before dawn and ending up taking nearly 300 photos before calling it a wrap. The photo here is one of them, taken at Moraine Lake which is near the more famous Lake Louise.
At the moment we are looking at a campground 38 miles east of Kamloops, British Columbia in the town of Chase, BC, but this hasn't been confirmed yet. Wherever we stop next, I'm wanting satellite internet access back. Being limited to wi-fi where we can find it is just too...uh...limiting.

Second Day of Autumn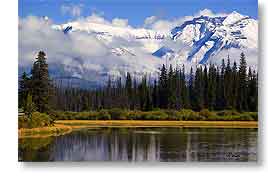 Saturday, September 24, 2005 - Yesterday, our second day of autumn in the mountains, dawned cloudy so there were no sunrise photos to be taken. The day before after posting the article below about snow on our first day of autumn, no sooner had I gotten back to the RV than it started to rain and the clouds stayed with us all night. However, they started to lift around mid-morning yesterday, so thinking we might get some photos with the mountains poking up through the clouds as they dissipated, Sandra and I took off in the truck with cameras in hand and weren't disappointed.
The photo here is one of the last ones I took when the clouds were almost gone, but you can see there's a lot of snow on the mountains. Most of this fell the day before, so what was a light snow at the RV must have been a veritable blizzard up there. When we had first arrived here, there was some snow at the higher elevations but not nearly this much. In the valleys though, only a few thousand feet lower, the snow didn't stick. Mountains are so interesting.
But they've worn me out. Phew! This morning, after having shot 716 photos of them in the short time we've been here, I'm tired and plan to start relaxing a bit more. Tomorrow is our last scheduled day to be here and we will probably move on westward come Monday, looking to reach Kamloops, British Columbia by evening. Once we're through the mountains where there's no risk of getting snowed in, we'll settle in some scenic spot on or near the Pacific coast and start doing things at a more leisurely pace.

First Day of Autumn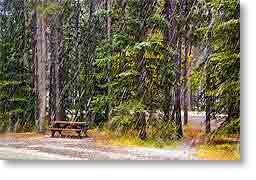 Thursday, September 22, 2005 - The pictures here show our first day of autumn here in Banff. On the left is the view I had a little while ago through the window by my recliner. It's a bit hard to see at this small size but that's snow falling and collecting on the ground. Clicking on the photo for the larger view makes it easier to see. Bleh!
Happily it's melted off since then. We were supposed to have showers today and what we got instead was a sleet and snow squall. Such is life in the mountains. We are, after all, around 4,500 feet above sea level which makes a noticeable difference in the weather.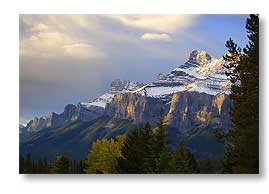 However, it wasn't like this all day. We did have a bit of a sunrise and I was out and about to photograph it.
First thing I saw when I got to the area I planned to focus on was an elk calmly standing in the road. Turned out to be one of a small herd that was grazing just off the road. Nor were they terribly skittish or afraid of me, but simply cautious and maintained a distance of 20 to 30 feet. They were quite interesting to watch at close hand like that.
Then I drove to Johnson Lake to see what it was like, but was delayed several times along the way to shoot scenes like the one on the right. Some awesome scenery that didn't didn't so much as take my breath away, but did make my spirit soar. Words and pictures simply can't convey the beauty, size, and scope of these mountains.
Can't wait until I have good internet access again so I can post a gallery of what we've seen.

More from Banff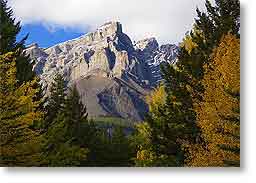 Wednesday, September 21, 2005 - Here's a view from down the lane at our campground, the Tunnel Mountain Trailer Campground of the Banff National Park. Not too hard to look at, is it?
It's an hour before dawn as I write this and the temperature is -2°C/28F, so we've had to go through the routine to make sure the water system doesn't freeze up and do damage.
Anyway, the 263 mile (423 km) drive yesterday went well. We left Medicine Hat a little before 9am and arrived here in Banff a little after 3pm for essentially a six hour drive over nearly all four lane excellent road. We lost some time in Calgary because the Trans Canada Highway went through the city, not bypassing it, and the signage on the road near Banff was confusing so we got in the wrong lane and had to wait our turn through a National Park check-in gate. That turned out all right because we got some useful literature and information for our trouble.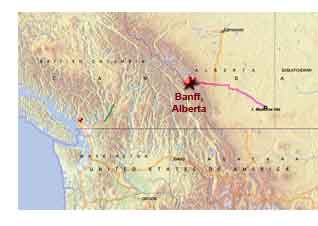 There's so much to see and photograph around here a person could spend weeks in the area, which is what I was hoping for originally, but it's much colder than I was expecting, not being too familiar with the mountains, and the campground is expensive and so is heating with the furnace, which we have to do when it gets down to freezing and below, so I don't know how long we'll be staying. Maybe through the weekend but that depends on a lot of variables, not the least of which is snow in the passes. We saw quite a bit of snow in the upper peaks last evening as we were driving around for sunset.

Later in the day

It's now midafternoon. I went out before sunrise, drove up Mount Norquay on the north side of Banff to get a photo of the city lights as dawn was breaking, thinking it would make an interesting shot, and it did. On the way up the mountain an elk meandered across the road in the beam of my headlights. Fortunately, I was going slowly and saw it well in advance.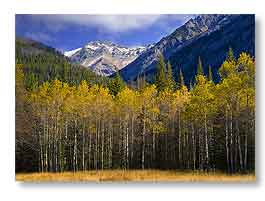 After the cold numbed my hands to the point I couldn't operate the camera any longer, I treated myself to a breakfast out, more to thaw out than because I was starving. While I ate, I downloaded the photos I'd just taken to my computer and afterward went back out on the hunt for photos, this time driving along the Vermilion Lakes Drive, having a most enjoyable time photographing the lakes with the mountains in the background until my breakfast reacted with my gluten intolerance (won't be eating at that restaurant again) and had to scurry home.
Back at the RV, I downloaded the Vermilion Lakes photos and then with Sandra and Bib joining me, we drove the 36 miles (59 km) north to the world-renowned Lake Louise, taking the very scenic Bow Valley Parkway most of the way, photo above one of many taken along there.
We're now back. Sandra's napping and I will be myself shortly, in preparation for going out again this evening to upload this news update and see if the sunset is worth photographing.

Made it to Banff

Tuesday, September 20, 2005 - All went as planned and as suspected, we have no view of the satellite. But it didn't take long to find an open wi-fi network in Banff, so I'll give a more thorough update once I've written it. I'll also be spending most of my time out in the mountains shooting photos anyway, so not having direct internet access isn't much of a problem for now anyway.

Leaving for Banff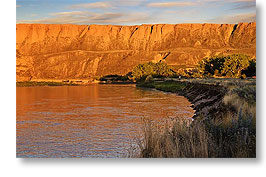 Tuesday, September 20, 2005 - I haven't shot much photography around Medicine Hat, but we did go for a drive around town our first evening here when I took the photo on the right of a bluff along the South Saskatchewan River as seen from Strathcona Island Park.
Yesterday, it was extremely windy, to the point it was buffeting the RV and I thought it necessary to add two more ground straps to the satellite antenna. At times it was difficult just opening the door of the RV against the wind.
But we got our errands done in town and we are planning to leave later this morning for Banff, Alberta, in the Canadian Rocky Mountains.
I'm not sure if the mountains there will block satellite access. Hopefully if that happens we can find wi-fi access somewhere in town. Banff is a pretty 'with it' town, so I'll be very surprised if there's no wi-fi. We also don't know if we'll have cell phone service either. That will depend if Verizon has an agreement with a carrier there.
We are looking at staying at the Tunnel Mountain Campground which is in Banff National Park, so some spectacular scenery should be close at hand. However, the forecast is for the temperature to drop below freezing at night and we've already heard of some snow falling in the passes, so our stay in Banff might be much shorter than I had been hoping for. Stay tuned.


__________________________

For Older News

To read details of our previous stops and camps, visit the News Archives.


Updated Monday, October 3, 2005

Copyright © 2005 by Gordon L Wolford .
All rights reserved.