Now Near Surrey, British Columbia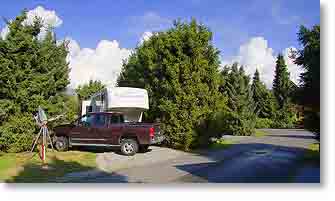 Thursday, October 13, 2005 - Due to a lack of adequate TV channels and a lack of access to our internet satellite, we packed up this morning and moved from Chilliwack to the Peace Arch RV Park a few miles south of Surrey which is less than an hour's drive from Vancouver, British Columbia and only a few miles from the US border.
This will be our most western campsite in Canada this trip. We have signed up to be here for the rest of October, when we head south and cross into the US on November 1.
Pictured here is our site. Notice the trees everywhere. Notice also that the satellite dish is setup. Before signing into the campground Sandra and I walked around the place and found that only this site of those available had a fighting change of accessing our satellite. As it turned out, once again the satellite just misses being hidden by a large tree, but a near miss is as good as a mile in this case, so I'm very happy to have satellite access again. There's also free wi-fi in the campground's main building and while we can't reach it from the RV even with the high-gain gear, it's nice to know it's there within a short walk if ever needed.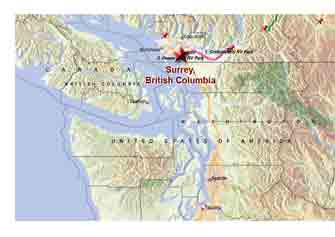 This area also appears to be a really good location, not only near Vancouver and the US border, but near all kinds of scenic and photogenic places. Not the least of which is White Rock, BC, which is only minutes away and on the coast of the Strait of Georgia across from the southern end of Vancouver Island. We drove down there for sunset, which fizzled due to clouds coming in off the water, but we found White Rock to be a very interesting place that brought to mind both San Francisco because of its hilly streets and Bournemouth on the south coast of England.
Anyway, to be thorough, even though the move today was only 48 miles and took only an hour, here's the map showing our location for Granddaughter Grace. As always, click on it for a better view.

Now Just Outside Chilliwack, British Columbia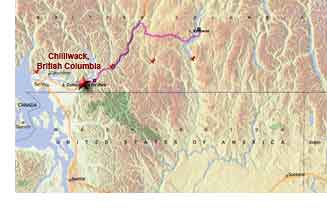 Wednesday, October 12, 2005 - Well, we survived another invigorating drive through the Rocky Mountains today and while the grades up and down were longer and it rained the last third of the 200 mile trip, it was less nervewracking than the drive from Banff to Chase because the road today didn't have the sharp turns at the bottom of the steep down grades, so there was much less risk of the RV going over on its side from entering the turns too fast due to runaway speed, and it was four lanes of smooth surface nearly the whole way.
However, that's not to say this drive wasn't without its concerns. Once it started raining, there was a real threat of it turning to snow or ice because our altitude was so high the temperature had dropped from the mid-50sF at Kelowna down into the 30sF up in the higher altitudes and we actually saw patches of snow by the road in one area. According to my mapping program we went from around 1,100 feet at Kelowna to more than 6,100 feet at one point. I don't know how accurate the program is for altitude data, but that was quite a climb in any case. The grade up into the mountains seemed neverending, going for miles and miles and steep enough we had to climb it in second gear and lucky to hold 45 mph, although the truck did a magnificent job, never missing a stroke and engine temperature rising only minimally. I was quite proud of it.
Signs, warning that because it was a high mountain road weather conditions could change suddenly and pullouts being provided for putting chains on the tires and signs warning not to drive through the area without chains if the amber lights on the signs were flashing, did little to ease my mind, but we made it through without incident, eternally grateful however that the temperature wasn't just a few degrees colder.
Anyway, enough about the drive. As I write this we are through the Rockies and in the Fraser Valley at the Cottonwood Meadows RV Park in Chilliwack, British Columbia, but I don't expect we'll stay here. Trees block our satellite access and their cable TV feed (one of the main reasons Sandra wanted to stay here) is snowy and has no sound and local broadcast TV doesn't carry the shows she wants to watch. The campground has wi-fi but last night it was down, as is often the case with campground wi-fi service. This morning it's working again but I'm hesitant to pay for it since I don't trust it to not go down again. I'll probably make the short drive into town and see if I can find an open network to upload this update.
On a positive note, the Dodge dealer here was fantastic. For the scheduled maintenance the truck was due for (a simple oil change, tire rotation, and overall inspection), they didn't need an appointment. We got there an hour before closing time and they took us in right away, had internet available on a computer in the waiting room, and had us on our way in no time. Great place.
Now to find a campground that we can spend the rest of the month in before we cross into the USA at the beginning of November.

Last Day Near Kelowna...Maybe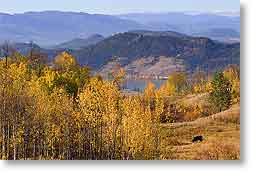 Wednesday, October 12, 2005 - This morning we are scheduled to leave the Kelowna area, but Sandra and I drove down to Penticton yesterday, since it was the first really sunny day we've had here (and looks like the last for a week), and that coupled with a sunrise drive I made up to Vernon earlier that morning has got the truck due for its next scheduled maintenance. So if we can find a campground near Chilliwack, BC and get an appointment with a Dodge dealer there fairly soon, then we'll leave for Chilliwack later this morning. Otherwise, we might have to extend our stay here long enough to have the truck serviced in Kelowna.
A nomad's life shouldn't be this complicated. Stay tuned.
Pictured above is the view from the mountain that rises up behind the campground. Right in the middle of the photo, you can just make out Duck Lake between the tops of those yellow trees and the nearest mountain (click on the photo for a better view). Our campground is by Duck Lake, although you can't see it from this vantage point. You get a pretty good view from up there and it's fairly easy to drive to, so I've been up there several times to shoot photos during our stay here.

Happy Canadian Thanksgiving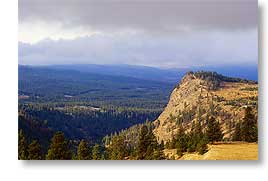 Sunday, October 9, 2005 - This is a long holiday weekend here in Canada with Monday being Canadian Thanksgiving, so Sandra and I wish a happy Thanksgiving to all.
We've done a bit of sightseeing and photography since arriving in Kelowna, but the weather has not been very cooperative as yet. I went for a sunrise drive this morning and the photo on the right of the Okanagan Valley is about the best light I encountered.
Sandra and Bib went with me for a sunset drive but we had even worse overcast, so we settled for mostly sightseeing.
One thing I've noticed about Kelowna is that it's a very clean city. With a population of 100,000, Kelowna is large enough to have evidence of typical urban decay, but such is not the case from what I've seen of the city so far. In fact, I've started looking for something in need of paint or a cleaning and have yet to find anything!
We have signed up to be here until Wednesday morning and we might make one more stop before reaching Vancouver where we plan to spend the rest of the month, but that's undecided as yet.

Now Near Kelowna, British Columbia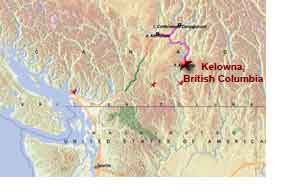 Thursday, October 6, 2005 - Wow, what a day. First of all, it started raining in the wee hours and now in the evening it is still raining. I really detest packing up, towing, or setting up camp in the rain, and today we had to do all three. Normally, we'd have just stayed where we were until the rain ended, but we had an appointment with the RV dealer 45 miles away in Kamloops to repair the wiring problem in the RV's main slideout, so we had no practical choice but to do things in the rain today.
On the bright side, the rain lightened up to just a drizzle while the RV was being worked on and the wiring problem turned out to be a simple corroded connection that was readily accessible and an easy repair that was also covered by warranty thanks to the generosity of the RV's manufacturer which honored the warranty even though it expired in August.
Then via cell phone from Kamloops, Sandra found a campground in Kelowna, the Holiday Park Resort, that had a site available with a fighting chance of a clear view of the satellite and the 95 mile drive down to it from Kamloops, while wet, was otherwise uneventful and quite scenic, even in the clouds and rain.
The site turned out to be a back-in, but it was an easy one and with the expert assistance of my most wonderful wife I nailed it on the first try. We had asked for a site with a clear view of the south and southeast, and got one with two huge trees, one to the south and the other southeast, of course. However, while the space between them isn't great, there was just enough space that I was able to find the satellite after trying 4 different spots for the dish and then a 5th spot to be able to secure it against the wind.
Anyway, more to come when we recover. We plan to be here for a few days, depending on weather and scenery.

Number 5 On The Way

Wednesday, October 5, 2005 - My daughter told me on Monday it is now okay for me to spread the word she is pregnant with her third child, two months along. She told me a little while ago that she thought she was pregnant, but swore me to secrecy until it was confirmed, which has now happened.
So this will be grandchild number 5 for Grammy and myself. A bit of unfortunate timing though as its due date is two weeks after we return to Canada in May.

Train Passengers Finally Arrived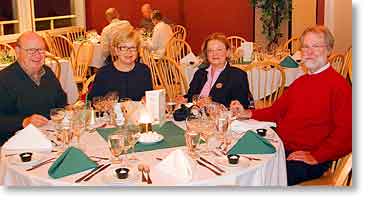 Wednesday, October 5, 2005 - An update to our long day and late night yesterday, Betty & Garth finally arrived at the inn around 8:45pm, delayed nearly 3 hours because freight trains take priority over passenger trains, even the famous and much vaunted Rocky Mountaineer they are taking through the Canadian Rocky Mountains to Jasper, Alberta, so several times they had to pull onto sidings to let a freight train pass.
Anyway, on their arrival we all made a short visit to their room at the inn to drop off their luggage and then went down to dinner, pictured above, photo taken by our friendly young waitress. Click on it for a closer look at our tired faces.
Dinner was good and has caused no ugly conflicts with my gluten intolerance. As you can see in the photo. the dining room was sparsely populated because due to the hour most people opted for a quick drink and simply went to bed.
We hung in until 10:30pm when all decided to call it a day, a long one for us early birds (I'd been up since 2:45am, my body still refusing to adjust for the time zone changes we've passed through), and we were back at the RV by 11:30pm.

Tentative Plans

As mentioned below, we are taking the RV into Kamloops for service tomorrow morning, so we're packing up and leaving Chase and will continue westward from Kamloops when the RV is fixed. Hopefully, it won't take long, but one never knows with such things.
Where we go from there is as yet undecided, other than we'll be heading in the general direction of Vancouver. A friend and fellow photographer there has recommended a scenic route down through Kelowna and the Okanagan region, or we could continue on with the Trans Canada Highway, or take the fastest and shortest way which is a newer four lane road out of Kamloops.
This means our internet access might again become sporadic until we settle somewhere and can access the satellite again.

Waiting in Kamloops

Tuesday, October 4, 2005 - As I write this, Sandra and I are hanging around the South Thompson Inn & Guest Ranch a few miles east of Kamloops, British Columbia, waiting for Betty & Garth to show up. It's 7:45pm and they were to have arrived in the city at 5:30pm, but the train is over two hours late. So we are toughing it out in this rather high-end hostelry that's patterned after a Kentucky horse farm and staffed by very accommodating and friendly people, me sitting in a leather wingback chair, feet on a plush oriental carpet, and facing a fireplace complete with fire blazing away in it. If one has to wait, this is a good place to have to do it. Oh yeah, forgot to mention they have an open wi-fi network here and I have my computer with me, so I'm not suffering too much.
Today, we visited the RV dealer recommended by our RV manufacturer to fix our wiring problem and made an appointment to take Big Harv in for service on Thursday. We also ran a few other errands around Kamloops and I shot over 100 photos on the road out to the inn, so it's been a good day, but it's going to be a long one.

Quiet Stay Near Chase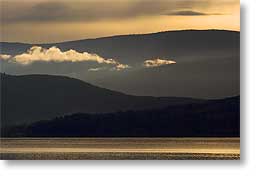 Monday, October 3, 2005 - So far, our stay near Chase, British Columbia has been quiet. We haven't been doing much except puttering around and I'll usually walk over to the lake for sunrise and sunset photos, that is, if there is a sunrise or sunset to photograph. It's been overcast a lot here which isn't good for dramatic photos, but even at that there's usually a clear break now and then. Like this morning at sunrise when I took this photo of the other end of our branch of Shuswap Lake. The day had dawned cloudy after rain during the night and then the clouds started to break up and we currently have a very interesting sky.
About the biggest news to report is bad news. The 12 volt lights in the main slideout of the RV have quit working. I checked all the likely culprits like a blown fuse, but can't isolate the problem so I sent an email this morning to the RV manufacturer asking for help. It's nothing serious, but certainly an annoyance. And maybe a costly one if it isn't something easy I can fix myself or if it's something difficult and not covered by warranty. The Trans-Canada Highway, while generally a decent road, has had long stretches where it was quite rough and we've found several things that have worked lose from it.
Anyway, on a cheerier note, tomorrow the weather forecast looks good for our drive into Kamloops to meet Betty and Garth during their stopover on the train through the mountains.
We are scheduled to be here until Thursday morning and depending on what the situation is with the RV problem, we should be heading on the next leg of the journey toward Vancouver. We haven't determined yet the route we're taking though.



__________________________

For Older News

To read details of our previous stops and camps, visit the News Archives.


Updated Sunday, October 16, 2005

Copyright © 2005 by Gordon L Wolford .
All rights reserved.