Tentative Plans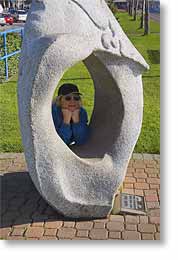 Monday, October 31, 2005 - Here it is, the last day of October, finally, and today is our last full day to be in the Vancouver area and not surprisingly, it is raining. As proof that the sun does actually shine in this region at times, the photo here is of Sandra posing behind a sculpture along the shoreline at White Rock, British Columbia.
Tomorrow we head south, crossing the US border into Washington state. We are tentatively considering staying at the Dunes RV Resort in Copalis Beach, Washington. This is right by the ocean. Unfortunately, it is not far enough south to get us out of the current weather pattern which is calling for rain over the next 5 days, so at this point I don't know how long we'll stay there, if that is indeed where our first stop ends up being.
All in all, our time around Vancouver hasn't been all that bad. Much of the rain they predicted never appeared and we had better weather than it might have been. Hopefully their forecast is just as inaccurate for the next week, but rain or shine, we're leaving tomorrow and neither of us are sad at the thought of moving on. Beautiful country, but too many people around here.

Even More Doings Around Vancouver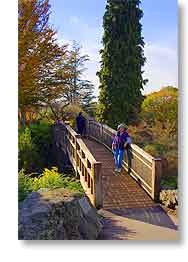 Friday, October 28, 2005 - This morning, Sandra and I got our flu shots, something we were beginning to think we'd have to leave Canada without because they were later than normal this year.
Wednesday morning we took advantage of a bit of sun and visited Crescent Beach, which is near White Rock, British Columbia and just a few miles south of here. It wasn't the most scenic beach we've seen but worth the short drive. The most interesting thing about that trip was a heron we saw fishing out in the water and it caught a fish that was almost too big for it to swallow and it was fascinating to watch it work with the fish until it finally managed to get it down.
Then yesterday, we actually had a sunny morning so we decided to brave the traffic and narrow lanes of Vancouver's streets to go see the Gastown district. But we lost our way, ended up in an area we couldn't find our way out of and had to ask directions. At that point, we bought a map, something we should have done in the beginning, but I've never been in a city before where I couldn't find a major street or road and get my bearings. Traffic flow and control in Vancouver is the least intuitive I've ever encountered. This coupled with the clouds and rain make Sandra and I both glad we're leaving soon.
Anyway, after we got back on track and were nearing Queen Elizabeth Park, home of the Bloedel Floral Conservatory, one of the places recommended by my friend here as a must-see, we decided we'd fought enough traffic and a tranquil stroll through some flora and fauna was more appealing than seeing the Gastown district. Pictured above is Sandra on one of the footbridges in the park.
The conservatory proved to be quite interesting and was essentially a micro-rainforest under a transparent dome. The most interesting thing about it to me was not the plants but the tropical and exotic birds which were free to roam about the place.
After an hour and a half there, we decided we'd regained enough of our composure to try continuing on to Gastown, which we found, parked, walked around the area for a while, bought a waterproof jacket, which had been surprisingly hard to find in a locale known for being so rainy, drove through Chinatown, and it being 3pm by this time decided to leave before rush hour turned heavy traffic into stalled traffic.

More Doings Around Vancouver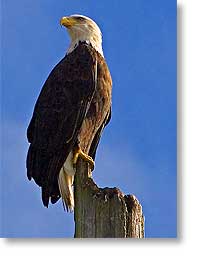 Wednesday, October 26, 2005 - Sunday evening, Sandra and I had the planned dinner with my photographer friend, Dennis, and his charming wife, Shraddha. We had originally planned to meet at some restaurant, but it ended up with Dennis and Shraddha cooking a very fine meal for us.
I am still finding Vancouver confusing and difficult to get around in, but we're managing. Even when I know where I'm going, which is happening more often, the traffic is heavy and lanes narrow.
Anyway, since the weather was supposed to be good on Monday, Dennis had arranged for he and another photographer we both know in the area and me to meet at another bird sanctuary, the Reifel Bird Sanctuary, for another photoshoot. My experience with these places is there's little wildlife to be seen and what's there stays too far away from where you are allowed to walk to get any really worthwhile photographs of it without specialized lenses that cost thousands of dollars. Pleasantly, this sanctuary proved to be the exception and the weather also cooperated.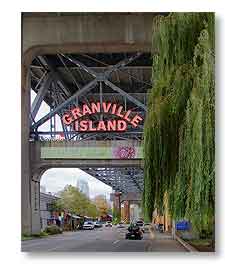 There were thousands of birds everywhere, mostly snow geese and ducks, some of the ducks almost tame, but there were also quite a number of other birds, like hawks, sandhill cranes, herons, and even an eagle (pictured above). So it turned out to be a very interesting and worthwhile afternoon and evening, with me not getting back to the RV until after dark.
Then yesterday, the clouds returned. It's been mostly cloudy here during our stay, with quite a bit of rain and only periods of sun that might last a few hours, but never for an entire day. So, since this is our last week here, despite the clouds and threat of rain Sandra and I drove into the city to see Granville Island, where there's a market of some repute and Sandra was hoping to find some peaches and nectarines there, fruit that's oddly unavailable in all the groceries. She did find some, although not of the quality we get back east, but Granville Island itself was quite interesting, a very trendy artsy place with all kinds of design businesses, art galleries, shops, and restaurants everywhere you look.

Doings Around Vancouver


Sunday, October 23, 2005 - A pleasant surprise yesterday was the forecasted rain didn't develop and we had pretty good weather.
We haven't done a lot that's newsworthy, except Thursday dawned partly clear so I drove up the Fraser Valley in search of sunrise photos and found a few.
On the way back I stopped at the Fort Langley Historical Site, for which our Canadian Parks Pass is good, and took some photos, the one on the right being one of them. She's an employee on the site and was dressed in period attire and I thought the scene had something of a Vermeer look to it.
That evening, my photographer friend who lives in the area and I met at a bird sanctuary on the coast and were fortunate enough to be on hand for the arrival of a large flock of snow geese who flew by and landed most cooperatively within range of our cameras.
Friday, the weather was still pretty good so Sandra and I ran some errands and while out I drug her back with me to Fort Langley (she has no interest in historical things) and took some more photos there and of the village while Sandra hit the shops.
On the way back to the RV we drove on to White Rock, a popular town on the coast, so I could take some photos of the white rock the town is named after and ended up taking a lot more photos than I expected since the view was good and quite a variety of water birds were near the pier I walked out on.
Yesterday, the good weather still held, so out we went again to run more errands and on the way back stopped at a bird sanctuary that's just around the corner from the campground, but saw little more of interest than a couple herons and a lot of ducks, but it was a nice walk.
Rain has returned this morning, so I expect we'll stay close to home until this evening when we're to meet my photographer friend and his wife for dinner.

Another Visit to Vancouver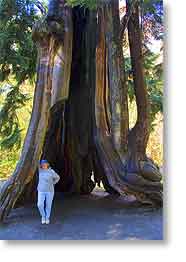 Wednesday, October 19, 2005 - Yesterday we had a break in the weather after two days of solid rain with clouds dense enough to block access to the internet satellite the whole time, so I took advantage of the rare appearance of the sun and drove Sandra around to see some of the sights in the city that I saw on Saturday.
I'm not a fan of big cities and Vancouver qualifies as a big one. Living in Chicago for a year in my early 20s killed any appeal big cities might have had for me and having seen Vancouver twice now, it is not a place I'd want to live either. It's just too big with too many people and, from what I've seen so far, too few freeways! There are several that come to the edge of the city but, with the exception of the Trans-Canada Highway which only cuts through the northeast corner of the city, they end once they are really needed, which means taking surface streets to get anywhere meaningful to a tourist. Translated, that means it takes forever to get anywhere.
Of course, countrywide Canada has only a very small fraction of the freeways found in the US. For instance, Ottawa, the nation's capital and with a greater metropolitan population of just under a million people, has only two freeways. However, Toronto and Montreal are the exceptions, having numerous freeways, so I was quite surprised to find Vancouver itself essentially having none.
All that aside, from what I've seen of Vancouver so far, it is as have been all the Canadian cities I've spent time in, free from the slums, ghettos, and urban decay that plague cities in the USA. It isn't as clean or safe as Toronto, but still far better than anything I've seen of a similar size further south. Vancouver's murder rate is low by US standards, but you see signs of a higher crime rate than normal by Canadian standards, a great many businesses having bars on their windows, signs in parking lots warning to not leave valuables in cars, areas under security surveillance, and so forth. But nowhere have I yet to feel threatened.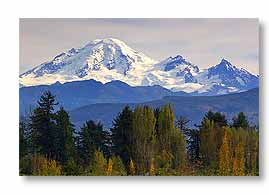 Anyway, back to the subject at hand, we drove into the city yesterday and via a detour through Vancouver's extensive and interesting Chinatown, eventually managed to arrive at Stanley Park, Vancouver's premier city park, which is to Vancouver what Central Park is to New York City. Stanley Park (a name which should appeal to those related to my mother, born a Stanley) is 1,000 acres of beauty at the end of a peninsula which makes it bordered by water on three sides. It is a very interesting place and better described by clicking here than I could do.
Pictured above on the left is Sandra standing at Stanley Park's famous Hollow Tree, a 700-800 year old burned out cedar. Really big tree. Click on the photo for a larger view of Sandra.
From there, we wended our way back through the city and eventually reached the Trans-Canada Highway which we took east to Abbotsford where a large RV dealer is located and where we hoped to find a longer extension to our sewer hose. We did find one but thought the price unreasonably high so we didn't buy it.
The drive was not wasted though because off in the distance we saw this fabulous snow-capped mountain, pictured above on the right, that until that day had been hidden from view by clouds, but on a clear day was plainly visible. As best as I can tell, this is the volcanic Mount Baker in Washington state. On our return to the campground we found we can even see it from here and as the crow flies, it's 50 miles away!
Today, the rain and dense clouds have returned, again blocking satellite access, but we should be seeing some sun again tomorrow before a weekend of more clouds and more rain.

Visit To Vancouver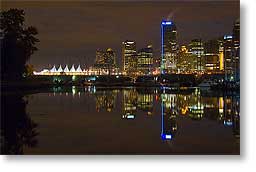 Sunday, October 16, 2005 - Yesterday, being Saturday and the weather clearing enough for decent photography (it's raining again as I write this), I arranged to drive into Vancouver to meet Dennis, a fellow photographer who lives there and who I've gotten to know and become friends with through photography forums on the internet.
Via cell phone, we arranged a meeting place and I left for the city an hour early to give myself time in case I got lost or ran into other delays.
As it turned out, I didn't need the time, located the meeting place (always a thrill in a city one has never been to before, especially a city as large and busy as Vancouver), and then drove on to Stanley Park to while away the time only to get a call from Dennis saying he too had arrived early so he also drove out to Stanley Park and met me there instead.
It's interesting to meet people you've come to know through some means of communication but have never actually seen each other before. This is the second time I've done this, the first being in Montgomery, Alabama on last winter's tour, and both times the people turned out to be just as I expected them to be from the words we had exchanged over time.
So, after our meeting, Dennis drove us around Stanley Park (also nice to have someone else do the driving for a change) where we stopped and walked at numerous places (Stanley Park being quite large) and spent the rest of the day there.
He then drove us back downtown where we enjoyed a very nice dinner of Salmon at a trendy little restaurant serving 'First Nation' cuisine, the food being much better than the service. After we finally got out of the restaurant, we returned to Stanley Park to take some night shots of the Vancouver skyline (photo above) and then Dennis kindly led the way for me back through the city to the street that would take me back to the road that took me back to the campground.
All in all, a very interesting day.


__________________________

For Older News

To read details of our previous stops and camps, visit the News Archives.


Updated Tuesday, November 1, 2005

Copyright © 2005 by Gordon L Wolford .
All rights reserved.