Seeing Some Sights


Saturday, November 19, 2005 - With all the beautiful weather we've had here in Port Orford, Sandra and I have been seeing some of the local sights. The clouds, cold, rain, and wind of the recent past have moved east (good riddance) and now seem like distant memories after two days of clear skies and mild daytime temperatures.
One place we saw early on was the nearby Cape Blanco Lighthouse which is now part of the Cape Blanco State Park. The first time we saw the lighthouse, a gate was across the access road to it and I didn't know if I was allowed to walk in on foot or not. Next day, the fellow at the visitor information center here in town told me I was indeed allowed to walk in, just not on the grounds immediately around the lighthouse itself. So that evening, I walked in and got close enough to get some decent photographs, including one showing deer that wandered by as I was shooting. Click here to see it..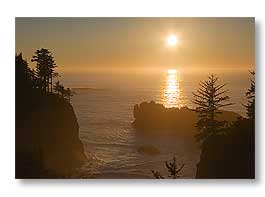 Then yesterday, we decided to take a daytrip down the coast, not only to see it but to visit the nearest car wash which is at Gold Beach, a half hour south of here (this is a fairly remote area). With all the rain we'd had for weeks I'd been reluctant to wash the truck (big job), but with the return of the sun for the foreseeable future there was no good reason not to scrub the accumulated filth off of it.
The day was so beautiful and mild (nearly 70°F/21°C) we treated ourselves to a picnic lunch by the beach, pictured above with the aid of Mr Tripod. This was by the Gold Beach Visitor's Center, where the helpful person there told us the most photographed part of the Oregon coast was just a few miles further south near Cape Sebastian. It was good he mentioned this because otherwise I wouldn't have driven any further.
As it turned out, the rock formations along the coast there are indeed awesome, so we stayed in the area for sunset photos, one being the photo on the right.

Now in Port Orford, Oregon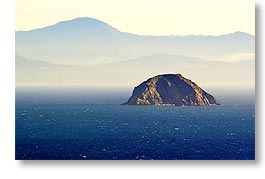 Thursday, November 17, 2005 - As planned, we left Woodburn, Oregon yesterday and moved to Port Orford, Oregon.
The morning dawned clear but fog moved in by the time we actually got on the road at 9:40am and the fog stayed with us for about 80 miles until we were south of Eugene. Fortunately, it wasn't a dense fog so it didn't impact the drive except to obscure distant scenery and after the torrential rains we towed through on our last two moves a little light fog was nothing to deal with.
The drive was basically south on I-5 for 100 miles, west for 56 miles on a two lane state route through the coastal mountains to the Pacific, this road proving to be excellent and scenic, then south another 88 miles on US Route 101, the Pacific Coast Highway, another excellent two lane road. Both segments of two lane roads had a third lane for passing when needed so we made good time on them. The most serious slowdown we had was having to drive through Coos Bay, the only real city we encountered after leaving the Interstate highway.
We arrived in Port Orford a little before 3pm, so the 244 mile (393 km) drive took around 5 hours, pretty good time for a trip that was more two lane than four lane.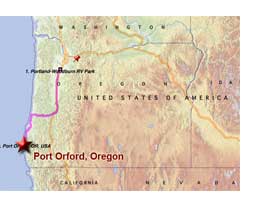 As I write this, it is 1:30am and we are in the Evergreen RV Park, from which we cannot see the internet satellite and the park has no wi-fi although we did find a couple open wi-fi networks around town. However, on the way back from seeing some of the local sights for sunset we stopped at the Camp Blanco RV Park which is only a few blocks from here and found a campsite there which should allow access to the internet satellite and if not, they have wi-fi in the campground. So we signed up for 5 days with them and will be moving there later this morning.
Port Orford has proven to be a very scenic spot. The photo above was taken from town and shows a view of across the bay. The shoreline in town has many rocks out in the water as well, one large enough to have trees growing on it. There's a lighthouse just a few miles north, plus beaches and overlooks of the coast, so we don't have to go far for a scenic view.
Despite the serious problem with the RV and being in a heavily populated area and having less than ideal weather most of the time, we had a good stay in Woodburn, seeing Mount Hood, the Columbia River Gorge, Oregon's north coast, and some of the local sights like Silver Falls State Park, but it's good to once again be in a more out of the way place in the midst of some spectacular scenery.

Update

We have just moved to the Camp Blanco RV Park and are now fully setup, including access to our internet satellite. The signal strength is lower than I was expecting, but we're at the westernmost location from the satellite so I guess it's not surprising. Just glad to have it, although the campground's wi-fi signal is very good, even in the RV without help from the high-gain gear. Always nice to have options.

Problem Resolved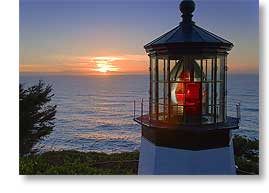 Tuesday, November 15, 2005 - The problem with the RV's slideout has now been resolved, so we are once again looking at leaving tomorrow morning for Port Orford on Oregon's south coast.
Turns out the problem was a sheared bolt on one of the main slideout's gear drives. This was isolated and fixed by a very knowledgeable technician from Mobile RV Technical Services, who not only showed up for his appointment but was actually a few minutes early...most impressive for a repair person in my experience. Also impressive was how quickly he found the problem and fixed it.
We didn't waste our forced extended stay here though. Yesterday, the weather started to clear so to get our minds off being stranded we headed for the Pacific coast, this time seeing the sights north from Lincoln City to Tillamook and as good fortunate had it, we were at the Cape Meares lighthouse as the sun was setting (photo above).

Still At Woodburn, Oregon

Tuesday, November 15, 2005 - We are stuck in Woodburn, Oregon. Friday as we were getting raady to leave we encountered the first major problem of the Odyssey...the main slideout of the RV wouldn't slide back in, which means the RV can't be towed and to make it worse, there are no Titanium RV dealers out here.
However, we found an RV repair service that claims they can fix it and they are due here this afternoon, so hopefully we will be able to continue on our way tomorrow. Stay tuned.


__________________________

For Older News

To read details of our previous stops and camps, visit the News Archives.


Updated Wednesday, November 30, 2005

Copyright © 2005 by Gordon L Wolford .
All rights reserved.