This 'n That

Saturday, December 10, 2005 - Nothing exciting to report, but we did take care of some mundane matters lately.
The bathroom wash basin repairman dropped by yesterday and said it would cost more to fix our broken wash bowl than to replace it with a new one, so we're going to live with my patch job until we get back to Ontario in the spring and see what the RV manufacturer can do with it.
The basic problem is the wash bowl is ceramic, i.e. breakable, so after moving the RV over rough roads and then the medicine cabinet door is opened, things tend to fall out and into the wash bowl. We hadn't considered this to be a real problem until a can of something fell out recently and it was heavy enough to crack the bowl. Dumb of us not to think of this happening, but also a stupid design to use ceramic in an RV where things falling out like this is a common event after a move, rather than using something unbreakable like plastic or stainless steel.
Yesterday, we finally took the truck to a tire shop and had the slow leak in one of the rear tires plugged. We'd picked up a nail somewhere along the way.
As I write this, the Weather Channel is on TV and it looks like winter has arrived in the US midwest and northeast. For those who are enduring this, be comforted in knowing that while our weather is fairly mild at the moment, the air quality is abysmal. In fact, the Weather Channel rates it as being unhealthy and if you could see it you'd know why.
Of course, you shouldn't be able to see the air you breath, but with California smog, such is not the case. I'm glad we're seeing California and we've seen some spectacular things, but considering the less than wonderful weather we had in the northern part of the state and the lousy air quality in the central, we're not planning on rushing back here anytime soon. Perhaps it's just the time of year, but this is the only time of year that's practical for us to be here.

First Full Day In Bakersfield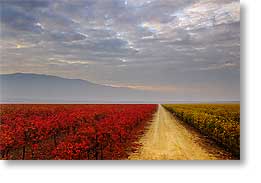 Thursday, December 8, 2005 - This morning, as usual, I was up well before dawn and as I watched the day breaking I decided to see what the sunrise looked like over the mountains to the east of here.
Turning right when leaving the campground, the road runs straight as a die and flat as a pancake for miles, the last few of them with wide packed sand shoulders which makes it very easy to pull off the road and get photos of the orchards, orange groves, and vineyards that line both sides of the road.
Also, there was almost no traffic or utility lines or poles out there among all the fields. No traffic or unsightly obstructions along with ease of getting off the road in an area with something worth photographing is almost like heaven for a photographer. Unfortunately, this is an all too rare set of circumstances, Oregon's Pacific coast being a notable exception.
The sunrise this morning didn't develop into a spectacular one, but I did manage to take advantage of the shooting situation described above and got some usable photos of the area, like the one above of a two tone vineyard. As always, click on the photo for a larger view.
Otherwise, it's been a relaxing day for me, after trying to do my own mending job on our broken wash basin. Later, Sandra set off to do her own exploration of the area, except in her case it was in search of a Wal-Mart.
There is a Sequoia National Forest not too far from here, so I expect we'll be taking a look at that in the near future.

Now Near Bakersfield, California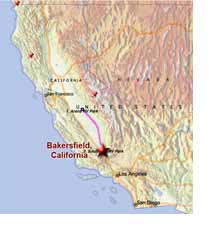 Wednesday, December 7, 2005 - Today we made the 154 mile move from Chowchilla south to Bakersfield, California through our first experience with California smog. It moved in last evening and stayed with us for the whole day, but was starting to clear out around sunset.
Our reason for being in Bakersfield is not just because it's further south (only a two hour drive north of LA) and hopefully a bit warmer and further from Pacific Northwest weather, but Sandra had also made arrangements with an RV dealer here to look into repairing or replacing our bathroom wash basin which met with an unfortunate accident a couple weeks ago.
So on our way into town around noon today, we stopped at the aforementioned RV dealer, who, as it turned out, was unable to fix the wash basin. We then went to Lowe's and Home Depot, both of which look to have something that might work. If so, the RV dealer will install it for us.
We are now in the Southland RV Park which is 8 miles south of Bakersfield and just off the freeway. We signed up to be here for a week.

A Day In Yosemite National Park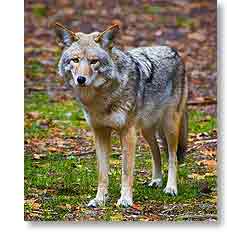 Wednesday, December 7, 2005 - Yesterday, bright and early I made the two hour drive back to Yosemite National Park to spend the day there shooting photos. We're planning on moving to Bakersfield, California later this morning, so yesterday was my last realistic chance to see more of Yosemite.
The weather cooperated too...sort of. It was a beautiful clear day, but cold in the mountains where I encountered black ice on many of the mountain curves.
Fortunately, the road crews had been out sanding the road or it could have been real ugly, but as it was I still briefly lost traction twice during the day which was a thrill I could have done without.
I otherwise had a great day roaming around the park. One of the highlights of the trip was seeing my first ever coyote (photo on the right). Actually, I saw it on two occasions, both near parking areas and in both cases people got out of their cars to look at it, which seemed like a stupid thing to do. Don't know what they could see being out of their cars they couldn't have seen through an open window. Having a healthy respect for wild animals, especially carnivores, I stayed in the truck.

Whirlwind Trip Back To The Pacific Coast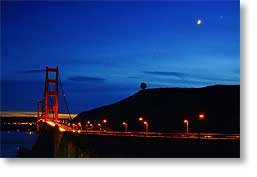 Monday, December 5, 2005 - Yesterday, being another beautiful day, we headed off for the coast to see a few sights, mainly around Monterey, Carmel, and San Francisco.
On the way however, we had a bonus as we happened across the Mission San Juan Bautista, one of the original Spanish missions built along or near the California coast and connected by El Camino Real. An original section of this famed highway has been preserved at the mission.
We then took the 17 Mile Drive that runs along Monterey Bay between Monterey and Carmel-By-The-Sea. The famed Pebble Beach Golf Course is along this drive, as is the also famed Lone Cypress. We took a restroom break at one of the Pebble Beach facilities, which I'm sure is all we could afford to do there. Some of the houses along the 17 Mile Drive were mansions surrounded by Monterey Cypress trees. Fascinating excursion.
Then it was a rushed two hour drive up to San Francisco to get there before sunset. We drove around the city a bit, saw Lombard Street (America's Crookedest Street), made a stop at the Coit Tower on Telegraph Hill, and then spent the end of the day driving around the Golden Gate Bridge and photographing it.
All in all, a very long, busy, exhausting, but enjoyable day.

Visit To Yosemite National Park


Saturday, December 3, 2005 - Yesterday, which was supposed to be cloudy and rainy according to the forecast, turned out to be a very nice day.
So we drove down to Fresno, 40 miles south of here to look into a couple things that need to be done to the RV. The RV dealer we visited there turned out to be too large for comfort (the place was huge, as was their service department's hourly rate), so we decided we'd visit another dealer on another day and thought we'd take advantage of the nice day and already being out in the truck to have some fun by seeing some sights.
We started out driving northeast toward Yosemite National Park, my plan being nothing more than to see the foothills of the Sierra Nevada Mountains and maybe get some information on the park, not really intending to actually drive into the park because they were supposed to have had a heavy snowstorm there overnight and I doubted the roads would be open.
So much for plans. What ended up happening was that we did indeed see the foothills (very pretty and interesting) and did get information on the park at the Visitor Information Center in Oakhurst, the last town before entering the Sierra National Forest and then the park itself, but then I thought we'd just drive to the park's entrance booth to find out if tire chains were really required as there was some question to this, and to also get an admission pass while the booth was manned since I was planning on going back to the park bright and early the next morning when the booth wouldn't be manned.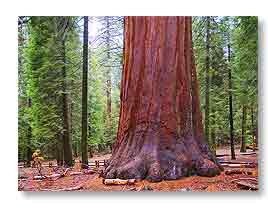 Well, we did indeed visit the entrance booth, found out we didn't need tire chains yet (snow had only fallen at the highest altitudes), so I thought we'd just nip into the park far enough to see the Mariposa Grove of giant sequoia trees that was only a short drive away. We did this and found the trees to be quite impressive (photo on the right) even after having recently seen redwoods of equal size. Fences surrounded the trees beside the grove's parking lot (which was as far as we went), the fences being there to protect the trees from people crawling all over them which makes it hard to get a feel for just how huge these trees are without a person in the photo as a size reference, but you can get an idea of this from the trees in the background of the photo which are normal size pine trees. And these aren't the largest sequoias either.
Then we were on our way out and figured as far as we'd already driven, it would be a shame not to drive on to Yosemite Valley, reputed by many to be the most beautiful valley in America and the centerpiece of the park, even though it was 35 miles of mountain driving away. What we had no way of knowing was we'd gain so much in altitude on that drive, much of it would be in the clouds (in other words, fog) which were dense enough they made the road damp and with altitude, the temperature drops and the further we went, the more it dropped, until it was getting precariously close to freezing. At one point we were over 6,000 feet up with the temperature having dropped to 1°C/34°F. This all turned what should have been a most scenic drive into a most hazardous one. Had I known this before starting it, we would not have gone.
However, we made it to the valley unscathed except for frayed nerves and were rewarded with a truly stupendous vista of the clouds we'd driven through now swirling through this incredibly beautiful valley (photo above left). It was breathtaking and almost made the hair-raising drive worthwhile. Words nor even photos can adequately convey the sheer awesome grandeur of what we saw.
Unfortunately, by then it was late enough in the day we could only spend an hour in the valley or risk driving out of there at night in fog over slippery and unfamiliar mountain roads. But I'm extremely glad I finally saw the place. It deserves its reputation.

Now in Chowchilla, California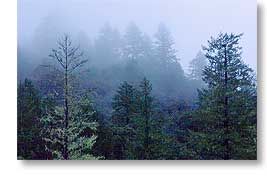 Thursday, December 1, 2005 - We left Willits, CA yesterday morning around 8am (photo on the right shows a nearby view at 7am) and drove 300 miles southeast to Chowchilla, CA, arriving here around 2pm.
One bonus of the drive was that the road through the coastal mountains (State Route 20) was absolutely beautiful in many places. These mountains are fairly low, like the Appalachians in Kentucky, but high enough to have had low lying clouds in them (not to mention a 7 and 8% grade or two). At the moment I can't think of words that can adequately describe what we saw and unfortunately I have no photos to show it either since I hate stopping when we're towing.
Once we were through the coastal mountains and entered California's Central Valley, which is flat as a pancake and mostly one orchard and vineyard after another with palm trees occasionally dotting the landscape, the weather cleared and the sun warmed us, a rare event of late.

We had originally planned to not stopover anywhere on our way to San Diego, but the more I thought about driving by so close to Yosemite National Park and not taking at least a day to shoot some photos there the less I liked the idea.
So we are now in the Arena RV Park which is right in town off the freeway exit and near shopping. We originally booked for two nights to give me today to drive to Yosemite, but true to form for the last two months, the weather has interfered and yet another Pacific storm is moving in today with high wind and heavy rain and is forecasted to last today and tomorrow.
To make matters even worse, what's to be heavy rain here in California's Central Valley will be heavy snow up in the mountains at Yosemite. They typically close mountains roads until the snow is cleared, so it's unlikely I could get in even if I was foolish enough to try.
On the bright side, this weekend is supposed to be sunny, so I'm hoping to get into Yosemite on Saturday. If I can, at least the fresh snow might make for some better photos than I'd have otherwise gotten. Stay tuned.
What all this means is that now we will be here until at least Sunday morning. Unfortunately, we aren't enough further south to make much of a difference in the weather we were having in Smith River, but at least we don't have to worry about tsunamis here. Seriously, this was a concern along the coast which has tsunami evacuation routes marked just like they have hurricane evacuation routes marked on the Atlantic coast. Crescent City, near where we were staying in Smith River, was hit hard by a tsunami in 1964. So while one wasn't likely, it was definitely possible.


__________________________

For Older News

To read details of our previous stops and camps, visit the News Archives.


Updated Thursday, December 22, 2005

Copyright © 2005 by Gordon L Wolford .
All rights reserved.