WWe See Still More San Diego Sights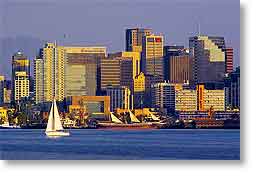 Monday, December 19, 2005 - Yesterday, both of us being tired and the weather cloudy most of the day, we took a day off from our sightseeing and left the RV only for a short shopping trip to a nearby Wal-Mart.
We were tired because the day before we were out later than usual since it being Saturday, I figured we wouldn't have rush hour traffic to contend with. Other days we returned to the RV early, before we would get mired in traffic.
So we finished the last of the 59 Mile Scenic Drive and then took photos around the harbor (photo on the left) and Point Loma as the day ended and the sun set. Click here to see the sunset from Point Loma.
Yes!!! We actually had a sunset, a fairly rare occurrence during our Pacific trek due to so much cloudy and smoggy weather. The air quality and weather in San Diego, while not clean crisp mountain air, has definitely been the best we've had since leaving Banff back in late September.
Click here to see the gallery of photos I'm taking in Southern California. I will be adding to this gallery until we move to Arizona. And don't forget Sandra's California Photos on Yahoo.

We See Some More San Diego Sights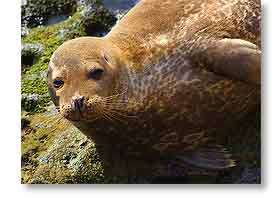 Saturday, December 17, 2005 - Yesterday, being another nice day, we picked up on the 59 Mile Scenic Drive where we'd left off the day before.
This time we saw a lot of Mission Bay and had a picnic lunch at one of the many parks along its shoreline.
We also saw quite a bit of La Jolla (pronounced locally by its Spanish pronunciation – La HOY-yah). La Jolla is the upper crust area of San Diego. In driving around, it was obvious there is a lot of money in the area, so it's a bit amusing that near the La Jolla Cove, in a spot called the 'Children's Pool' even though it isn't a pool, is where we saw a group of wild animals hanging out. These were harbor seals lounging around on the sand and rocks within flipping distance of high-end hotels and shops. Obviously, although they were wild, they had expensive taste. The photo shows one of the more cooperative of them. So cute.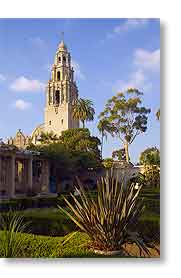 Then the Scenic Drive took us back to the city where we saw Presidio Park, site of not only the first Spanish settlement in California, but the first permanent European settlement in the Pacific.
From there we went to Balboa Park, which is not only a park in the traditional sense but also contains many of the city's museums and its world famous San Diego Zoo, which we might visit since Sandra is interested in seeing their baby Panda and I, of course, would like to photograph the animals.
Most of the buildings we saw in Balboa Park were in the Spanish Colonial Revival style of architecture, although it looked more like something out of the Arabian Nights than it did Spanish. The photo on the left was taken from the Alcazar Gardens, showing the tower of the Museum of Man.
As by this time it was nearing rush hour, we headed for home where we signed up to extend our stay here to December 23 because there's just too much to see in the area. Actually, one could probably spend a month here, but campgrounds around here are very expensive. The park we're staying at is a Passport America member so it's half price for us and even at that it costs more per day than nearly all the parks we've paid full price at..

We See Some San Diego Sights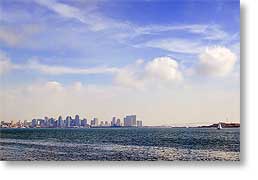 Friday, December 16, 2005 - Yesterday, being a nice day, we decided to drive around San Diego a bit and see what we could see.
First thing we did was drop in at a Visitor Information bureau we found down at the harbor. The very helpful person there (and knowledgeable - I mean this guy even knew about Stittsville, Ontario) answered all our questions and supplied us with a self-guided tour package of the 59 Mile Scenic Drive that uses an audio cassette and sold for 50 cents, a real bargain.
Following its directions we saw some sights around the harbor, the Cabrillo National Monument up on Point Loma, and along the Pacific coast as far as the Sunset Cliffs before calling it a day and heading home.
Today we are planning on taking up the 59 Mile tour where we left off yesterday. From the little we've seen of the city so far, it is very interesting and except for heavy traffic, easy to get around in.
The photo above was taken from one of the parks along the harbor, looking back toward downtown.

Now Near San Diego, California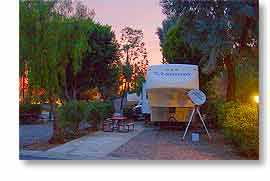 Thursday, December 15, 2005 - We left Bakersfield yesterday morning at 9:15am and pulled into the Circle RV Resort in El Cajon (22 miles east of San Diego) at 3:15pm after a drive of 320 miles (515 km), one of our longer ones. We signed up to be here 4 nights.
As planned, we drove east out of Bakersfield on Route 58 to Barstow in the Mojave Desert and then south to San Diego via I-15 and I-215, which was to bypass the worst of Los Angeles traffic.
I guess it did since we encountered only one backup which was caused by road construction at Riverside, California, but it was still harrowing enough to wear me out. When traffic did move through there, it was the usual situation of bumper to bumper traffic, being in the truck lane that had concrete barriers right up against the edge of the lane and 18 wheelers surrounding me, one of which drifted into my lane from the left and I thought we'd come to a premature end of our road. However, I managed to avoid the jerk although I don't know how many years it took off my life.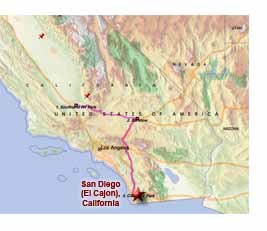 But we're here, safely and in one piece. My guardian angels must still be riding with us though. Hopefully this will be the last of the major metropolitan areas we'll have to tow through for quite a while. At least it wasn't raining this time.
We were on our campsite and setup by 5pm. The campground looks nice from what we've seen of it. Quite a few trees, as can be seen in the photo above, but we found the internet satellite easily.
We did see some interesting things on the drive today. Not the least of which was an absolutely huge wind turbine farm just east of Tehachapi, where we also saw our first Joshua Trees, the Mojave Desert (which was the only smog-free place we saw the entire day, although nowhere was it as bad as what we left behind in Bakersfield), Edwards Air Force Base (which is where many new planes are tested and the alternate landing site for the space shuttle), and a huge Borax mine near Barstow.
Before leaving Bakersfield, I asked the lady in the campground office if it was always smoggy there and she said it would be like that all winter, so while it was an interesting place and area, and very easy to get around in, I wouldn't recommend Bakersfield as a place to go for a winter getaway.
Today, we'll start our tour of the San Diego, which bills itself as America's Finest City.

Heading Out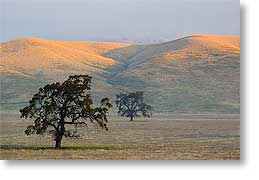 Tuesday, December 13, 2005 - Tomorrow we are planning to leave Bakersfield and move south to San Diego.
We've had a pretty good week here, but we've seen all we're interested in seeing around this area. Well, I should say we've seen what we could through the incessant smog. We arrived in smog, every day has been smoggy, and looks like we'll be leaving in smog. Not complaining though. Better than snow and ice, but I won't miss it.
Today I was out at the crack of dawn on a photo hunt. I wanted to get up on Bear Mountain, the tallest peak around here, but the road up the mountain became a ranch lane and marked 'Private - No Trespassing' so I had to turn around and go back. I had wanted to get up there in the hopes of getting above the smog in the valley, thinking the mountains rising up through the smog and lit by the rising sun would make an interesting picture, but alas, such was not to be. (sigh)
So I had to console myself with shots like the one above of the foothills lit by the dawning sun. That's not grey sky above the hills, but smog. There are actually mountains back there that are being obscured by the smog. Tiresome stuff when one is trying to photograph landscapes.
We are planning to go through Barstow to get to San Diego, thus bypassing the worst of LA, even though it adds an hour to the trip, but will keep us from having to go through LA in the middle of the night, which was our original plan to avoid its horrendous traffic. Hopefully, with the revised plan we can make the trip in one day during daylight hours.

Couldn't See The Forest For Lack Of Trees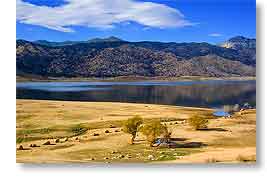 Sunday, December 11, 2005 - Yesterday we headed out in the truck for the Sequoia National Forest in the Greenhorn Mountains.
The 'forest' starts about 25 miles (40 km) northeast of here. However, what we found when we got there was no Sequoia trees and not even a forest, but barren rock mountains.
The road snaked its way through the Kern Canyon, running beside to the Kern River and quickly rising above and away from the smog of the Central Valley.
After several miles we did start seeing a few trees, but at its best calling what we saw a forest is being extremely generous.
We continued to climb into the mountains until 25 miles (40 km) later we reached the village of Lake Isabella and then just beyond town, Isabella Lake itself, a reservoir.
The lake was fairly interesting, but we never did see any sequoia trees we could recognize as such. Perhaps they were all young and could only be seen for what they are if viewed close up. The nearest thing we saw to a forest was on the mountain seen in my photo above of Isabella Lake.
But it was an interesting drive nonetheless and it was good to get out of the smog for a while.


__________________________

For Older News

To read details of our previous stops and camps, visit the News Archives.


Updated Thursday, December 22, 2005

Copyright © 2005 by Gordon L Wolford .
All rights reserved.