Next To Last Day Of 2005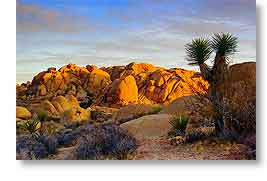 Friday, December 30, 2005 - Well, tomorrow is the last day of 2005, a good year for Sandra and me. She thinks it has gone by quickly, but to me it has been so eventful that for once in my life the year actually feels like it took a year.
Anyway, so far we've spent our time here in Twentynine Palms essentially seeing the sights in nearby Joshua Tree National Park and yesterday morning I took the truck in for its scheduled maintenance at a Dodge dealer in Yucca Valley, a town about 20 miles west of here.
Late Wednesday evening, the clouds started breaking up as Sandra and I were driving around the park, hoping to see something worthwhile. What we ended up seeing was a spectacular sunset, which we both photographed extensively. It was totally unexpected, so therefore a real bonus.
Then yesterday, after getting back from the Dodge dealer, we returned to the park and saw a great deal of it, actually the majority of what can be seen from the road.
So using what I learned from yesterday's exploration, I was back in the park this morning before the crack of dawn and was treated to a sunrise almost equally spectacular to the sunset we saw Wednesday night. The photo above was taken after the clouds lost their color but the sun was clearing the horizon, turning one of the park's renowned rock formations red. When I'm out walking in the desert as I was when I took this photo, I'm glad the rattlesnakes and scorpions are inactive during the winter.
Anyway, it's been a very productive two days for me photographically. And as another bonus, the weather forecast has changed (big surprise) and what had earlier in the week looked like rain from Saturday through Monday is now looking like a 40% chance of showers on only Monday. At the rate they're changing the forecast (can't get it right more than one day in advance, if that) we'll have good photography weather for our week here. Of course, the forecast can change again without warning, and probably will, so it's anyone's guess what the weekend weather will actually be like.

Now At Twentynine Palms, California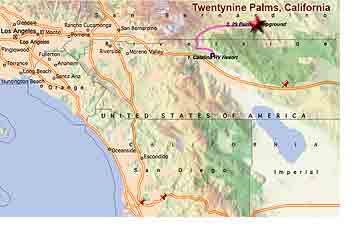 Wednesday, December 28, 2005 - Late this morning, as planned, we moved from Desert Hot Springs to Twentynine Palms, California where we've signed up at the Twentynine Palms Resort for a week and will therefore be here over New Years.
Today's move was one of our shortest, 54 miles (87 km), and took only an hour.
Before leaving the Catalina Spa & RV Resort this morning, a nice couple we met during the pot luck dinner arranged for us to return there for a week under their sponsorship after our time is up here. This was very kind of them since that campground is members-only and you can't simply drive in and get a campsite like in most campgrounds. So it looks like we'll be in this area for a while longer. Could do worse.
Today was a rare cloudy one, with even a spatter or two of rain. We're supposed to see some sun the next two days but now the weather forecast is calling for rain over the weekend and into Monday. Hope it's wrong, because we moved here to shoot photos and rain would definitely put a damper on that.

Moving On Tomorrow

Tuesday, December 27, 2005 - Tomorrow we have to move on, our deal here being for 5 days and no more, so we're moving around to the north side of Joshua Tree National Park to where its main entrance is located. Actually, the RV resort here is quite close to the southwestern boundary of the park which we can easily see from here, but the only southern access into the park is 50 miles to the east and then another 30 to 50 miles inside the park to get to its main points of interest and this is simply too much driving to make regular visits.
So we found a nice campground in Twentynine Palms, California, the Twentynine Palms Resort which is only 6 miles from the park's main entrance and we'll probably spend a week there so I can make daily visits to the park for early and late light photography as I did in Big Bend National Park last winter.

Christmas in the Desert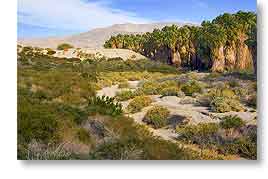 Monday, December 26, 2005 - Today, Boxing Day, had such a strong wind as a cool front moved through we had to add a third strap to the satellite antenna which still got blown around enough it had to be repointed after losing contact with the satellite.
While the wind blew and buffeted us about, we made a short drive (12 miles/19 km) up the valley to see the Thousand Palms Oasis, a real honest-to-gosh desert oasis (those palms in the photo on the right).
The water that feeds this oasis rises from a crack in the earth that's the Mission Creek Fault, part of the San Andreas Fault system. It felt a little odd to be walking along a geologic feature with such an ignoble history. Not to mention the fault line runs along the entire valley and we're camped in it. So far, no earthquakes though. Actually, this part of the fault has been stable for eons, so no worries.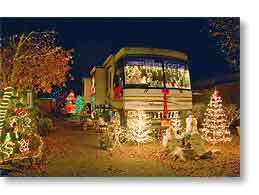 Yesterday, Christmas, we spent a quiet day around the campground, umm, I mean RV resort, and then in the evening attended its pot luck dinner, something we've gotten to rather enjoy at these places. Sandra has a multi-bean dish she fixes that is always quite popular (kind of like baked beans on steroids) and something we know I'll be able to eat if nothing else. But there always ends up being plenty that meets my Celiac diet, so her bean dish is a bonus. Good stuff.
After dark, we walked off dinner and I shot photos of some of the RVs that are decorated for Christmas, one of the more lavishly done up seen here on the left, which just goes to show you don't need snow to be in the Christmas spirit. In fact, when you think about it, it's unlikely the first Christmas had snow.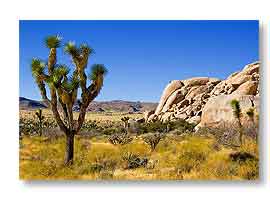 The day before, Christmas Eve, I was up early and on my way to photograph Joshua Tree National Park. Unfortunately, due to taking longer to find diesel fuel and the drive to the park being longer than I'd expected I missed the early light, but it was still most interesting to see the place and I did manage to find a few photos waiting for me there, like the one on the right.
Apparently, the park is almost as well known for its rock formations as it is its 'trees', which are not really trees but a species of the yucca plant. The rocks are well suited for rock climbing and I did in fact see quite a number of people climbing them.
Sadly, the air is not as pure as it once was, even though it looks pretty clear. The grass you see in my photo is a recent development in the area due to higher nitrogen levels from pollution from LA. You might think the grass is a good thing, especially in a desert such as this, but now when lightning strikes one of the 'trees', rather than effecting just that one tree and having no way to go further, with all the grass around the fire spreads and becomes a serious problem.
We have to leave here Wednesday morning, so we are looking at moving closer to one of the park entrances, maybe at the village of Joshua Tree or Twentynine Palms. Stay tuned.

Now Near Desert Hot Springs, California


Friday, December 23, 2005 - Today, as planned, we moved from El Cajon, California near San Diego to Desert Hot Springs near Palm Springs.
To avoid having to go back north via I-15 and I-215, the shortest and fastest route, we took a longer more scenic and much less stressful route through El Centro and around the Salton Sea. The trip was around 220 miles (350 km) and took a little over 4 hours.
We now reside in the Catalina Spa & RV Resort which, as the crows fly, is 5 miles from the center of Desert Hot Springs and 7.5 miles from the center of the more famous Palm Springs.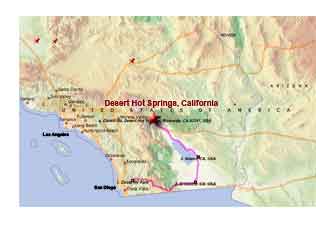 It is an interesting area and I look forward to looking around it. The photo is a small section of what we can see out our back window. Zillions of palm trees around here, a large number of them in date groves, but most interesting to me is the Joshua Tree National Park.
However, we are at this particular RV park because someone Sandra met online is camped here and got us in for 5 days at a very inexpensive rate. How long we stay in the area beyond that will be determined by how long it takes us to see things and if the weather continues to be good. During the drive today it got as warm as 81°F/27°C.

Holiday Greetings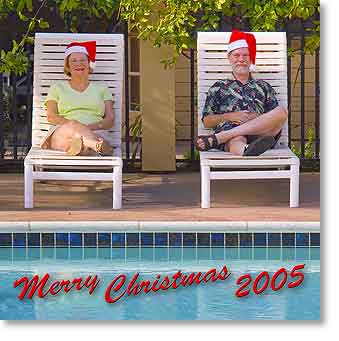 Friday, December 23, 2005 - As I write this, we are still in San Diego and there are still 2 days until Christmas, but since we're moving to Desert Hot Springs in a few hours and there will be things to be done at the new location in preparation for the holiday pot luck we'll be attending, I thought I'd take a few minutes while I have them to wish everyone a Merry Christmas, Happy Hanukkah, Happy Holidays, Seasons Greetings, or whatever flavor of holiday it is each of you reading this are planning to celebrate at this holiday time of year. Merry Christmas works for me.
So, here we are, Sandra and I pictured by the pool in San Diego (Bib wanted to be included but dogs weren't allowed by the pool).
Unlike last year when we were dressed in similar attire in Lakeland, Florida, this year it was actually warm enough for this to be quite suitable.
It looks like an amost certainty that the white patio furniture seen here is going to be the white in our Christmas this year, rather than that other much colder and slippier white stuff that is already blanketing much of the upper midwest, northeast, and Canada, that white stuff we were staying just one step ahead of as we moved through the Rockies and down through Washington, Oregon, and Northern California. The thoughts of a White Christmas are romantic, but I'll be quite happy to have a Palm Christmas instead.
However, that said, we will miss all of those near and dear to us we'd like to have otherwise been spending the holidays with. Know that our thoughts will be with you.

We Do The Zoo & The Zoo Did Us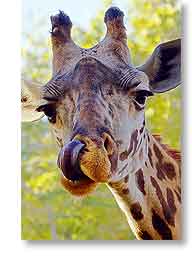 Thursday, December 22, 2005 - San Diego has more than sun and surf. It is also home to a highly regarded zoo, the San Diego Zoo., claimed by some to be the best zoo in the US and one of the best in the world.
So yesterday, with high hopes Sandra and I paid them a visit, she hoping to see their baby panda, me hoping to get some good animal photos without having to go on an African Safari to get them.
The tone of the day was set when I saw on the back of the ticket that photos taken there could not be used for commercial purposes. So anything I shot there, I couldn't later sell. This was an immediate wet blanket for me, but I tried not to let it dampen my day, which by the way, was warm and mostly sunny after some morning clouds cleared.
Then, in keeping with the mood set by the notice on the ticket, after waiting in line for a half hour to see the giant pandas, the baby Sandra had wanted to see was nowhere in sight and only one of the adults was out and was never in a position I could get a good shot of it. So, while it was interesting seeing a panda, the experience was a disappointment for both of us.
Then there were people everywhere, getting in our way, forcing us to wait in more than one line to do something, and a great many of the animals and birds were kept in wire cages that not only made photos impossible to take but impossible in a lot of cases to even get a good look at what was inside.
So, to keep this short, we ended up leaving early, not bothering to see much of what was there, and feeling our money wasn't all that well spent. The photo above was one of the few I got there that I'm happy with (titled by the way, Don't Need To Pick It, If You Can Lick It!)
Personally, after having been there I don't quite understand how it has achieved its reputation. I've been to quite a few zoos over my lifetime and this one doesn't even rank in my top ten. I had a much better time last winter at the much less regarded and much smaller zoo in Montgomery, Alabama. Hmpphhh!!!

Travel Plans

Tomorrow we are scheduled to leave San Diego and are heading for a four night stay at the Catalina Spa & RV Resort in Desert Hot Springs, which is near Palm Springs where many of the rich and famous from Hollywood and LA hang out. Might prove to be interesting. Stay tuned.

Welcome to Winter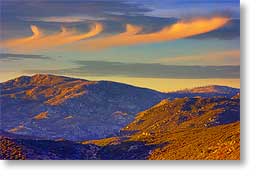 Wednesday, December 21, 2005 - Today is the first day of winter, but I prefer to look on the bright side of it – the days will now start to get longer.
From the weather reports we get, it looks like winter weather came early to the east and north. For once, Sandra and I are enjoying good weather.
Anyway, Monday afternoon we decided to take a drive east of the city and see some mountain scenery. We ended up taking the Sunrise Highway into the Laguna Mountains of the Cleveland National Forest (named for US President Cleveland, not the city in Ohio).
These mountains don't look terribly impressive but we reached 6,000 feet (1,829 meters) elevation at one point, which is only several hundred feet lower than the highest elevation in the Appalachian Mountains.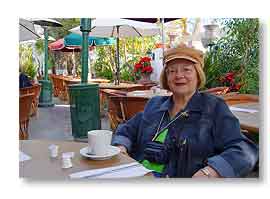 The forest was also another one (like the Sequoia National Forest near Bakersfield) that started out with barren rock mountains (photo above) that eventually did get some tree coverage. Apparently half the trees in the forest were lost in two forest fires. As it was, it was still an interesting drive and we saw a very pretty and unobstructed scenic sunset.
Then yesterday while the dog was being groomed, we visited San Diego's historic Old Town, which is actually a state park and one of San Diego's main attractions. It, and the area immediately around it, are interesting with some authentically old buildings, but it was also very commercialized. Pictured here is Sandra in the courtyard of Old Town's El Fandango Restaurant where we enjoyed a relaxing cup of coffee.
Parking was free too, as it has been everywhere we've visited in San Diego except by the harbor downtown. So far, I'm very impressed with the city and as far as I'm concerned, it deserves its claim of being America's Finest City. I could live here...if I could afford it.
As always, click on the highlighted links for further information and on the photos for a larger view.


__________________________

For Older News

To read details of our previous stops and camps, visit the News Archives.


Updated Saturday, December 23, 2006

Copyright © 2005 by Gordon L Wolford .
All rights reserved.