Quest For The Old West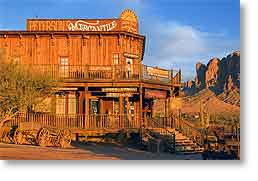 Sunday, January 29, 2006 - In my ongoing quest to find some of the old Wild West in today's western USA, Sandra, Bib, and I headed east last evening after catching our breath from the move from the Quartzsite area and we found more than I had expected...sort of.
My original goal was to simply get a good look at Superstition Mountain, which is only a few miles east of here and famous in the Old West for being the site of the Lost Dutchman Gold Mine.
So we drove a few blocks north of the campground and turned east on the Apache Trail, drove through Apache Junction, which is nothing like the mental image that name brings to mind but merely an extension of greater Phoenix, and drove as far as the Lost Dutchman State Park located at the foot of Superstition Mountain.
There we found a parking spot and walked around the immediate area for a few minutes taking some preliminary photos, but we couldn't stay long because they let us in without paying the fee because I said we just wanted to look around the park.
On the way there we had driven by the entrance to Goldfield Ghost Town, so on the way back I decided to see if it was really the cheesy tawdry tourist attraction it looked like from the road.
It was, but it was also interesting. Apparently it is something of a reconstruction of the town that once was, but is certainly nothing like a ghost town now as it is very commercialized and has a bit of the feel of an amusement park. But interspersed with all this are enough artifacts and remnants of the past that one does get the feel of an Old West town. Pictured above near sundown is the mercantile store with Superstition Mountain in the distance to its right.
To read Sandra's account of the day, click here.

Now In Mesa, Arizona


Saturday, January 28, 2006 - As planned, we left Brenda, Arizona this morning, hitting the road at 9:50am and driving east 148 miles to the Silveridge RV Resort in Mesa, Arizona, a very large suburb of Phoenix on its east side, arriving here sometime around 12:30pm.
We both lost track of our exact arrival time because, while we had called ahead and made reservations, when we actually got here the site marked for us had a seasonal resident on it, as did the next one they showed us! Fortunately, there was an empty site near it which I talked the rather slow-witted park employee into letting us have, even though he'd said it was probably assigned to someone else. I pointed out to him that so had been the site we were supposed to have, besides which we were here first.
So here we are, now in Mesa in a nice but very disorganized campground. Yeesh! The joys of travel. Camp was setup and satellite accessed by 2:00pm.
The weather today was ideal for towing and the drive wasn't bad, although almost a third of it was through the greater Phoenix metropolitan area where traffic was fairly heavy, but well-mannered, which was good because lanes joined the freeway and ended far too often, which meant a lot of lane changing in traffic, something not always easy to do with a long rig.
Now to catch my breath and maybe go get a closer look at the nearby Superstition Mountains for sunset.
To read Sandra's account of the day click here.

Last Full Day Near Quartzsite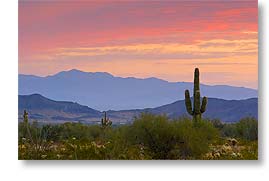 Friday, January 27, 2006 - This morning Sandra took advantage of a 'Stay One Week, Get The Second Week Free' coupon she picked up at the Quartzsite RV Show on Tuesday and signed us up for a two week stay at the Silveridge RV Resort in Mesa, Arizona. We are to move there tomorrow.
Pictured here is a photo I took during this morning's sunrise, one of the few we've had with some clouds, which are needed if one wants a colorful sky at sunrise or sunset.
This was taken 4 miles down US Route 60 from the campground, which you could see in the distance if it wasn't hidden from view by that bush beside the large saguaro cactus.
To read Sandra's account of the day click here.

Nothing Too Exciting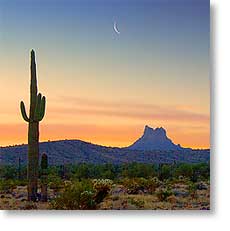 Thursday, January 26, 2006 - We haven't done much that's exciting the last couple of days.
For instance, at sunrise yesterday I drove into Quartzsite to get the truck fueled up before traffic became unbearable and then drove a few miles south in search of new photo ops. I found a road, such as it was, dirt and rock, that went into the Kofa National Wildlife Refuge and bumped and bounced my way for a mile or two into the refuge before giving up and leaving, having seen little there that can't be seen in the area around the campground here. No wildlife unfortunately.
Today, again heading out at sunrise but this time driving south on the nearby Ramsey Mine Road (another dirt and rock road as nearly all of them are around here, where there are roads at all, US Routes 60 and I-10 being the exceptions) and took the shot here of the moon over Twin Peaks.
Then seeking new sights, later in the morning Sandra and I and Bib drove west to Blythe, California on the banks of the Colorado River (the Arizona/California border) and again saw nothing of great interest, so it's starting to look like we've seen most of what there is to see around here and time to move on, which we're planning to do Saturday morning, probably moving to Mesa, Arizona near Phoenix.
To read Sandra's account of Wednesday click here, and for Thursday click here.

We Do A Show & Cross A Famous Bridge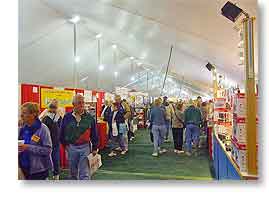 Tuesday, January 24, 2006 - Sunday we took advantage of the free shuttle service offered by the campground to take residents to the RV show in Quartzsite. This show is the second reason we're in the area, the first being the mammoth flea market.
It was great to let someone else do the driving through the townwide traffic jam that is Quartzsite. The shuttle dropped us off right at the main entrance to the show tent, which has to be the largest tent I've ever seen personally (photo on the right).
There were a few things we were looking for, like a small shop-vac, a watchband and a digital thermometer, none of which we saw, but we did get a couple other things, like a beater-brush Sandra has been wanting for the RV's central vacuum. Exciting stuff.
For Sandra's more detailed account of the day click here.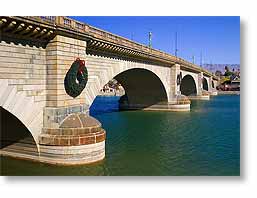 Then yesterday we did a day trip, heading north to Lake Havasu City to see the relocated London Bridge (photo on the left). This was the previous bridge in a long line of bridges known by that name which cross the River Thames in London, England at approximately the same location, the first bridge having been a wooden one constructed almost 2,000 years ago by the Romans.
When it was still in London, the bridge we saw began sinking an inch every 8 years, so to help pay for a replacement bridge, this one was auctioned off and ended up in the hands of an American who moved it to its current location in Lake Havasu City, Arizona.
Actually, it's an entirely new structure that's clad with the surface stones of the London Bridge. The guts of that bridge stayed in England and were sold piece by piece to add further to funding the new bridge.
However, what most people think of as the London Bridge is actually the much more famous, elaborate, and interesting Tower Bridge, so I expect people who don't know the difference are disappointed in what they see at Lake Havasu.
While we were out and about, we also saw the Parker Dam, which forms Lake Havasu by damming the Colorado River, saw the Bill Williams River National Wildlife Refuge, found a watchband and indoor/outdoor digital thermometer at Wal-Mart, and found a small shop-vac at Home Depot.
Also, along the Colorado River between Parker and Lake Havasu City, there were some very interesting mountains that brought to mind the walls of the Grand Canyon, so all in all it was quite an interesting day.
To read Sandra's account of it, click here.

We Move But Go Nowhere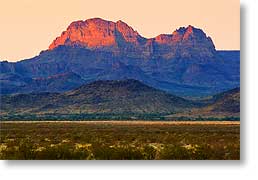 Saturday, January 21, 2006 - As planned, this morning we packed up and moved, but only to a different campsite here in the Black Rock RV Village where we'll be for a week longer.
As moves go, this was about as painless as it gets, since things don't have to be battened down nearly as tightly to go only a short distance over smooth laneways at 5 mph as they do for high speed travel over long distances down open and often bumpy and rough highways.
Before the move though, I was once again out shooting photos for sunrise. The picture posted below shows what it looks like around here during the day (pretty drab), but things generally get quite colorful during sunrises and sunsets as seen in the photo above, taken this morning as the sun was coming up. By the way, that mountain is called appropriately enough, Twin Peaks.
Also, before moving, we had to get one of the propane tanks filled. Last night was quite cold, 25°F/-4°C as best I could tell, and it finished off one of the tanks. Days warm up nicely here when the sun's up, but the last two nights have gotten almost wintry. We may be moving south again once our week here is up.
Otherwise, Sandra did the laundry and I've just been processing the photos I took.
To read Sandra's account of the day, click here.

We See More Of Quartzsite & The Area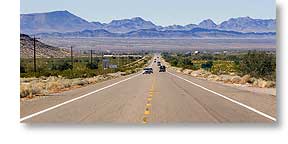 Friday, January 20, 2006 - We originally could only stay here at the Black Rock RV Village until tomorrow morning, as the campground is quite full, but yesterday we were able to extend our stay for another week beyond that. We have to move to a different site on the grounds but that's a much simpler move than having to tow for hundreds of miles out on the open road.
Three days was simply too short a time for Sandra to see what she wanted to in Quartzsite and for me to photograph what I wanted to. The immediate area around the campground is fairly scenic and I don't like to leave a place until I feel like I've run out of things to photograph.
So we went into Quartzsite yesterday and today, seeing different areas of what has turned out to be a huge flea market. The area indicated as the Main Event wasn't that impressive but we've now seen a whole lot more of the flea market areas that are scattered around town and it is indeed a mammoth thing.
Be that as it may, even though there are hundreds if not thousands of vendors, what they are selling is still 99% junk and it's hard to believe people actually buy that stuff. We have a few small items we're looking for, but as yet haven't seen them although they'd no doubt be readily available at any Wal-Mart. We have however found a couple things we weren't looking for, so the effort hasn't been a total waste.
And, as we did yesterday, after wearing our feet out sufficiently we hopped into the truck and drove around the area some, today driving east on I-10 to the next exit, then north on that road to US Route 60, this time taking it east to Salome. Seeing nothing too exciting, we turned around and headed back to the RV. Pictured above is Route 60 heading west into the Ranegras Plain. The campground is 14 miles ahead up in those mountains. Quartzsite is beyond them in the next valley.
To read Sandra's account of the day, click here.

Now In Brenda, Arizona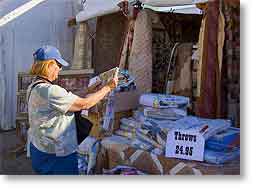 Thursday, January 19, 2006 - As planned, yesterday we made the 90 mile move north from Yuma to Brenda, Arizona, leaving at 10:06am and arriving here at the Black Rock RV Village two hours later (and there actually is black rock around here). Brenda itself has little more than 3 RV parks, a cafe, a country store, a scattering of seedy mobile homes, and a few abandoned buildings.
Slower than normal traffic on the move cost us some time, but being such a beautiful day and such a short drive and having made reservations, we were in no big hurry.
It wasn't long after leaving Yuma that we started seeing Saguaro cacti, the symbol of Arizona, and something I've long wanted to see in my camera's viewfinder.
Camp was setup and satellite connection made by 2:30pm, so still being early and us bounding with energy and ambition we decided to make the 15 mile drive back to Quartzsite and to get a better look at what was there.
The first thing you notice about the town is the ten zillion RVs that are camped, parked, and being sold everywhere. There has to be more RVs per square mile in this area than anywhere else in the world.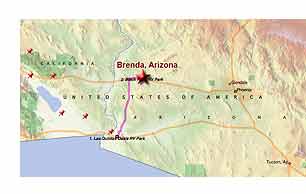 The second thing you notice is the bumper to bumper and often gridlocked traffic from having hundreds of thousands of people in a town designed and built around a permanent population of 3,500!
Despite the traffic, we did manage to arrive at the flea market Sandra wanted to see, called The Main Event. We parked, walked around, and quickly discovered the flea markets around Ottawa we've been to were far better, except this one seemed to specialize in rocks and gemstones.
After seeing the place and Sandra buying only a pillow sham (photo above is her checking them out) and being tempted by a pair of binoculars, we drove through the center of town (crept actually, considering the snail's pace the traffic moved at) to see what else was there and then headed back for the wide open spaces where I at long last photographed some Saguaro (click here to see one of those shots) and drove down US Route 60 beyond the campground to see what was there (not much).
We are planning to go back to Quartzsite later today to walk around town, and the area around the campground is fairly scenic so I expect to be out shooting more photos as soon as the sun comes up.
As always, click on the photos and links above for larger images and more information, and to read Sandra's account of the day, click here.

I Go To Prison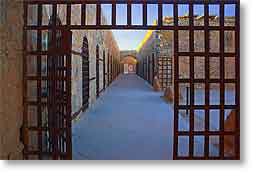 Wednesday, January 18, 2006 - And to add insult to injury, I had to pay to get in!
But it's not as bad as it sounds. What happened was that yesterday, bright and early as the sun was rising, I visited the Yuma Territorial Prison State Historic Park and the fee to get in was $4.
Like Boot Hill in Dodge City and the OK Corral in Tombstone, the prison at Yuma is one of those iconic locations of the Old West and for anyone with a modicum of interest in American history, a visit to Yuma wouldn't be complete without a trip to the prison. It's also one of the few places out here where some of the original structure still remains. Pictured in the photo is what's left of the main cell block.
We had tried to visit here a couple days ago, but it was too crowded. So by getting in yesterday when it opened at 8am, not only was it not crowded but I actually had the place to myself for a while.
Then it was back to the RV to get Sandra so we could have breakfast out at the local Cracker Barrel Restaurant, the first one we've seen since leaving Ohio on our return to Canada last Spring.
After breakfast, we found and walked around downtown Yuma, which was surprisingly small for a city of this size. As it happened, they were holding a farmer's market on the main block, which made the visit more interesting.
To read Sandra's account of the day, click here.

Travel Plans

And that's about it for our stay in Yuma. Photographically, I wasn't expecting much and that's what I found. Sandra got what she wanted, which was good weather, but it's time to move on.
Next place Sandra wants to see is Quartzsite, which is about 80 miles north and a hotbed of RVers who love the area for its cheap camping on public lands overseen by the Bureau of Land Management, a.k.a. the BLM. These areas have no facilities at all, simply large flat open areas of desert you can park on, however we've decided we like our creature comforts too much to live without them when possible, so Sandra signed us up for 2 days at the Black Rock RV Village in Brenda, 15 miles east of Quartzsite.


__________________________

For Older News

To read details of our previous stops and camps, visit the News Archives.


Updated Wednesday, February 1, 2006

Copyright © 2005 by Gordon L Wolford .
All rights reserved.