Back On The Trail Of The Apaches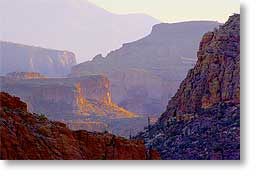 Sunday, February 12, 2006 - I've done a lot of driving and shot a lot of photography the last couple of days, mostly along the Apache Trail (aka State Route 88) or near it.
Friday, I was out at sunrise to see what this end of the Apache Trail looked like in early light. The day dawned cloudless so the sunrise wasn't spectacular, but I did get a few shots I was happy with, the one on the left being one of them.
This time I took the Apache Trail beyond Tortilla Flat to where the pavement ended and the road became hard-packed dirt. I stayed on it until a short distance later I saw a sign saying it was going to be 'One Lane Next Two Miles' and decided I had no interest in taking a one lane dirt road through mountains like those pictured above. I later found out this was a wise decision.
Friday evening, I was out again, driving around the base of Superstition Mountain. I had noticed the day before that the moon was rising a little before sundown and the moon rising over Superstition Mountain looked like it would make an interesting photo. You can judge for yourself by clicking here.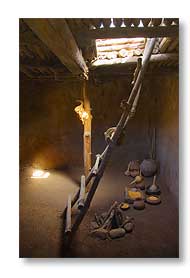 Then yesterday, since I was unwilling to brave the perils of a one lane mountain dirt road, we decided to take good but less interesting highways to the other end of the Apache Trail at Roosevelt Dam. This involved a 60 mile drive along US Route 60 to Globe, Arizona, where the Apache Trail once ended, but the 30 mile stretch of it between there and the Roosevelt Dam has been replaced by the excellent State Route 188.
In Globe we noticed a Visitor Center, so we dropped in there first to learn what we could about the area and, as always, we learned a lot, not the least of which was that beyond the Roosevelt Dam the Apache Trail was not only a one lane dirt road for about 17 miles, it only had pullouts every two miles where it was wide enough for two vehicles to pass. So if you did encounter an oncoming car between these wide spots in the road, one of you had to back up to the nearest pullout before you could get around each other. Well, folks, driving forward on that kind of road is harrowing enough, let alone having to backup for a mile. Yeesh! No thanks. Apparently a lot of people drive it for the spectacular views, but not this boy. No way.
We also learned about an archeological dig right in Globe of the ruins of an ancient Native American pueblo called Besh-Ba-Gowah, so we took a look at that while we were there. I find these things fascinating while Sandra has absolutely no interest in history. So she stayed in the truck while I looked around the place. Pictured above right is a photo of the inside of one of the chambers.
While at the Visitor Center, we also learned about the Tonto National Monument which has a couple Native American cliff dwelling sites and is on the way to the Roosevelt Dam where we were going to look at the other end of the Apache Trail. These are not the more famous cliff dwellings further north in Mesa Verde, Colorado, but since we were driving right by these I had to stop and take a look, especially since I've never seen any cliff dwellings at all and my National Parks Pass was valid there.
I'm glad we stopped. Only the lower cliff dwellings were open but seeing these involved a half mile hike up the side of a mountain and after that climb I wasn't interested in an even longer one, so I was just as glad the higher ones weren't open to tempt me. The climb to the lower dwellings was worth the effort though. Again, Sandra having no interest in history stayed behind in the truck, so she missed out on the fabulous views you get of the Tonto Basin and Roosevelt Lake from up on the mountain. You can see a photo of the cliff dwellings I took along the hike up by clicking here.
From there, we drove on to Roosevelt Dam and took that end of the Apache Trail to an overlook of the dam since the road was paved that far. Roosevelt Dam has the distinction of being the highest masonry dam in the world, although a few years ago its height was increased and concrete poured over its exterior, so I'm not sure how that effects its record.
For Sandra's account of these days, click here.

We Take The Heat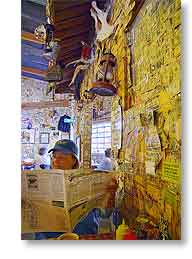 Thursday, February 9, 2006 - Yesterday was the first day we've had since last summer that I'd call really hot. It got up to 89°F/32°C. One more degree and I would have turned on the air conditioner for the sake of the electronics, but as it was we had two fans running for a while and they kept things bearable.
The nice thing about the desert though is that while it can get quite warm in the afternoon, the heat doesn't last long, with things cooling off rapidly as soon as the sun starts going down.
Yesterday morning, while the dog was being groomed, we returned to Tortilla Flat on the Apache Trail up in the mountains. The first time we were there I thought it was little more than a tourist trap, which it is, but I later learned there's some history there. So on our return visit we stopped, walked around, took some photos, and had some expensive coffee in the saloon, as seen in the photo on the right.
Sandra is reading the saloon's menu, cleverly designed as a newspaper, the Tortilla Flat Telegraph, which was actually informative, interesting, and useful.
Also, the photo shows one of the traditions of the saloon, and that's for patrons to stick a dollar, or whatever bit of currency they choose, along with a business card on the wall. To see this better, click on the photo.
The thing is that after being in business for over 100 years, the walls are now nearly covered and it takes a ladder to reach what little available wall space is left. At $2 per coffee, we felt we'd left enough money behind so we didn't add any more to their walls. Interesting place though.
Also interesting is that while the village has a population of 6, and about that many buildings, it also has a post office! I expect this has to be a record.
Otherwise, about all we've done since my last update is enjoy the nice weather, relax, and tour more of the area, taking photos of what we see.
The only notable exception was the RV park's Canada Day potluck dinner on Saturday night. We shared a table with two other couples, both very nice, but as usual for these things, it was so noisy with everyone in the room talking that it was difficult to understand what anyone was saying. The food was good though and I found enough that was gluten-free I was able to fill my plate.
Yesterday, we also signed up to stay here another week. There are still things to see around here.
As always, for Sandra's account of our time, click here.

I Walked...and Walked...and Walked Some More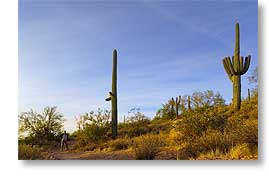 Saturday, February 4, 2006 - I walked so much yesterday, surely I'm an inch shorter and my feet bloody stumps. Of course, I'm not and they aren't, but it sure feels like it this morning (groan).
It started out that with enough clouds in the predawn sky to make it look promising for a colorful sunrise, I rushed over to the good view of the eastern sky I'd found the other day on the Lost Goldmine Trail at Gold Canyon.
But I only just made it in time and once I came to a screeching halt in the trailhead parking lot, I had to hurriedly climb the trail to the top of a ridge to get the view.
I got a few photos as the sun came up and then hiked down the far side of the ridge to get a closer look at some very tall Saguaro cacti I saw down below, a couple of which are pictured above. It's hard to see in this small view (as always, click on it for a larger view), but that's me in the lower left (I set the camera on my camera bag and took this with the self-timer) and considering, in shoes, I'm almost 6 feet tall, I calculate the cactus closest to me is 25 feet high and the one by the right edge is 24 feet high! Big stuff.
Then it was rush back to the RV to get Sandra and drive into Phoenix to take her to the Swapmart she wanted to see. This is essentially a large indoor flea market now occupying what looks like was formerly a K-Mart or something like that. As I had expected, the place was filled with a lot of booths and stalls, but as in the flea market at Quartzsite, 99% of what they were selling was cheap, tawdry, tacky junk although not all of it was priced cheaply.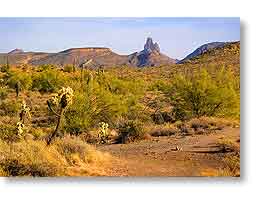 Then it was back to the RV for lunch and a break before heading out again, this time to the Superstition Mountain Museum on the Apache Trail near Goldfield. The museum's sign claims they have tourist information, but it turned out what they mostly had were things for sale.
So, while we were out and not far from the Weaver's Needle Viewpoint a few miles further down the road in the Tonto National Forest, I thought I'd see if I could get a better view of the Needle. From the Viewpoint, most of the Needle is obstructed from sight by hills and ridges in the terrain, not to mention a plethora of ugly high-voltage power lines. There is a short paved path to a vantage point beyond the power lines, but even less of the needle is visible from there. The first time we were there I noticed a trail worn into the desert by people trying to get a closer look, but didn't have the time then to check it out. This time I thought I'd see where the trail led.
As it turned out, it led down to a wash (dry creekbed that only has water in it during a flash flood after a rain). I followed the wash which was loose gravel and rock, not the easiest thing to walk on, and took it beyond the ridge that was hiding the Needle from view, only to find another ridge beyond that one, which I also walked around, only to find another ridge. In frustration, I climbed that ridge and still couldn't see more of the Needle than I had from the Viewpoint. Arrrrgghhh!!!
Eventually, after about a half mile in the wash I found an ATV trail running out of it and took that for perhaps another half mile until I had the view in the photo above. The spirelike geological formation on the horizon is the elusive Weaver's Needle, which is still mostly hidden behind yet another hill there in the distance, but by this time, I was hot, sweaty, tired, and my heart pounding from the exertion, so I settled for this view and went back, not wanting Sandra to get worried because by this time I'd been gone for quite a while. For a telephoto look at Weaver's Needle, click here.
Today, I think I'll give my feet a rest and not walk any further than the Canada Day Potluck being held this evening in the Recreation Building of the RV park here. Lots of Canadians here.
To read Sandra's account of yesterday, click here.

On the Trail of the Apaches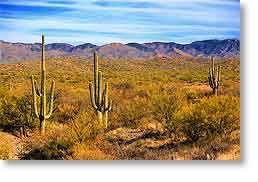 Wednesday, February 1, 2006 - Monday, I dropped Sandra off in Apache Junction at a Wal-Mart Supercenter (her store of choice when available) on my way to see what was further east on US Route 60, since it's unlikely we'll go that way when we leave here.
After a few miles the highway entered the Tonto National Forest, another one of those 'forests' out here with no trees, although there were quite a few saguaro cacti in places on the hillsides.
I drove as far as the town of Superior, about 30 miles, before heading back to the city, having seen nothing that really blew me away, although I did pull off the road a few times to take some photos anyway (above left being one of them).
Then yesterday afternoon we all packed into the truck and drove east on Apache Trail, continuing our exploration of it from where we left off the previous time at the Lost Dutchman State Park.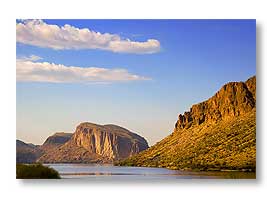 Not far beyond the park one again enters the Tonto National Forest (it's is a very large place) and the terrain became more mountainous.
Along the way, we pulled out at a scenic viewpoint for Weaver's Needle, a huge eyecatching spire of rock off in the distance that many people think is the remnant of a volcanic plug but apparently it isn't. It's easy to think it is though since Superstition Mountain was created from the 7 mile wide caldera of a cataclysmic volcanic eruption over 20 million years ago that was hundreds of times more violent than the eruption of Mount St. Helens.
We drove Apache Trail to just a little beyond the tiny village of Tortilla Flat (isn't that a great name?), passing incredible, and indeed awesome, rugged mountain vistas along the way, including Canyon Lake (pictured on the right). A fellow photographer back in our last campground near Quartzsite told me about this area and to be sure to see it and I can now see why he said this.
Sadly, this magnificent scenery was marred the entire way by high-voltage power lines that ran near the roadway. I can understand why they routed them that way, considering the ruggedness of this wilderness, but it is a shame nonetheless. There are several dams in the region on the Salt River and the power lines feed hydroelectric power from them to Phoenix.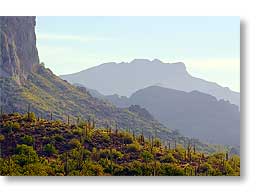 Then this morning there were enough clouds it looked like the sunrise might be interesting, so I headed east on Route 60 to explore some of the side roads I had noticed on Monday's drive and found that the first few ended up in housing developments that are spreading like a cancer around here. In some places houses are even being built up to the base of Superstition Mountain itself. To me, this is a heartless rape of nature and heritage and it is a great pity these areas weren't included in the protected territories.
However, I did manage to find a trailhead at the far end of one of these developments and got a pretty good panoramic view after a short hike to the top of a ridge (photo to the left). Unfortunately, the sunrise was long gone by the time I found it, so I'll have to go back there another dawn.

RVers of the Month

Sandra told me yesterday that the website RV Resources has named us their RVers of the Month for February 2006! I don't know what we did to earn such a distinction, but there it is. This is currently featured on their home page with a link to her blog and will continue to appear internally in their RV Travelogues section after our time on their home page is done. Fascinating.

As always, click the links for further info and for Sandra's account of Monday click here and for Tuesday click here.


__________________________

For Older News

To read details of our previous stops and camps, visit the News Archives.


Updated Thursday, February 16, 2006

Copyright © 2006 by Gordon L Wolford .
All rights reserved.