Now At Tucson, Arizona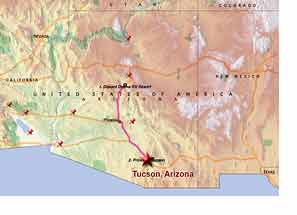 Sunday, February 26, 2006 - We left Camp Verde at 8:45am this morning, having had enough of the cold nights there, and headed south for Tucson, Arizona, the next stop on our itinerary.
We had extended our stay in Camp Verde by a day so we could tow through the Phoenix megalopolis on Sunday morning, hopefully a time with low traffic on the freeways. We got to Phoenix about two hours later and while the traffic wasn't as light as I'd been hoping for, it was manageable.
The only wrinkle in the trip was a notice on one of the overhead freeway signs that an accident had closed the freeway 56 miles ahead, but fortunately by the time we got there the road was open and there was no evidence of an accident.
At 12:15pm, three and a half hours and 200 miles (320 km) after leaving Camp Verde we arrived without incident at the Prince of Tucson RV Park conveniently located right off I-10 in Tucson. Two hours after that we had camp set up and the satellite accessed.
Although I was tired from the thrills of towing through Phoenix, my curiosity to see Saguaro National Park West won out and I made the relatively short drive over there and looked around until exhaustion won out and I returned to the RV without waiting for the sunset.
For Sandra's account of the day, click here.

Our Week Near Sedona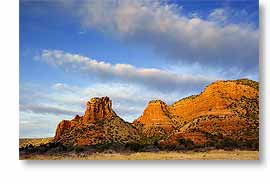 Friday, February 24, 2006 - I haven't updated this News page all week due to being out shooting photos most of the time, mostly in and around Sedona, Arizona, which is the reason we're in Camp Verde (because it has the nearest campground to Sedona, about 25 miles south, that met our numerous requirements).
Sedona has turned out to be the bonus surprise of the trip so far. It is far more scenic and interesting than I had imagined it, stunningly beautiful at times, and has supplanted Big Bend National Park as the most scenic area we've seen since retiring, including the Grand Canyon which we saw yesterday.
The Grand Canyon is awesome due to its vastness, but for pure jaw dropping beauty, it doesn't compare to the red rock monoliths, spires, buttes, and mesas of Sedona and Big Bend. The only pity about Sedona is that it wasn't made a national park in order to protect it, because the ugliness of human activity (buildings, etc) have seriously encroached on the natural beauty of the place and this is only getting worse.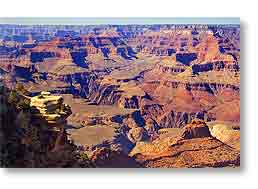 Two days this week I spent the entire day being shown around the area and shooting photos with Fred Parsons, a master photographer from New Hampshire I met via the internet who spends his winters in Sedona, and thanks to his most kind help I got to know the area very quickly.
Another day, Sandra and I drove into Sedona so she could hit the shops and boutiques there. All this, combined with my own driving around here in search of photos, has been fun but exhausting, so I've fallen behind in keeping this page updated.
Anyway, I've decided to give myself a break today and relax and get caught up on things around the RV.
Tomorrow we'll probably start getting ready to head south to see new sights around Tucson where we will return to warmer weather. Sedona (photo above right taken one frigid morning at dawn) and the Grand Canyon (photo above left taken yesterday around noon), while beautiful places, have been quite chilly at night, and not all that warm during the day either, although it's supposed to warm up this weekend and and did hit 70°F/21°C today. The weather forecast for the next week is for warmer weather so we haven't completely decided if we're leaving just yet or not. Stay tuned.
On our drive to 'The Canyon' yesterday, we took the more scenic eastern route and made a side trip through Sunset Crater Volcano National Monument where areas of the landscape even 900 years after the volcano's eruption still look like the lava just flowed yesterday and the Wupatki National Monument that protects several ancient native pueblos only a few miles from the volcano.
We entered the Grand Canyon at it Eastern entrance and spent the day going from one scenic overlook to the next along the South Rim until we reached Mohave Point as the sun was close to setting.
On the way back just as twilight's last light was fading, we took the road through Williams, Arizona looking for a Taco Bell which we didn't find, but did find ourselves on the section of Historic Route 66 that runs through the town and I found this quite interesting.
As usual, Sandra has covered the week in greater detail in her blog. Read it by clicking here.

Now At Camp Verde, Arizona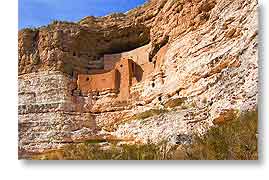 Saturday, February 18, 2006 - As planned, this morning we pulled out of Mesa, Arizona after a very pleasant 3 week stay and moved 122 miles (196 km) north to Camp Verde, Arizona.
We left the campsite in Mesa at 9:15am and arrived here at the Distant Drums RV Resort in Camp Verde around noon. Camp was setup and satellite accessed by 1:30pm.
Traffic through the Phoenix megalopolis was lighter than it was on Monday afternoon but still heavier than I would have preferred. This time though it only took us only an hour to clear the city instead of an hour and a half.
Once out in the wide open spaces the drive was most pleasant – the weather ideal, the road smooth. Most of the drive we climbed in altitude as we left the flat desert behind and the terrain became mountainous and we eventually left the saguaro cactus behind to be replaced by trees, something we hadn't seen much of since arriving in the desert at Southern California.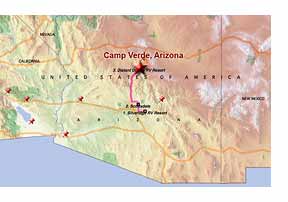 As an example of how far I've come in being able to back this 38 feet of RV into a campsite, this time I had the choice of a back-in campsite or a pull-thru and actually opted for the back-in because it's $30 cheaper for the week than the pull-thru!
Then after we caught our breath and had a bite of lunch we decided we had enough energy left to drive over to the nearby Montezuma Castle National Monument, an Indian cliff dwelling (photo above).
This time Sandra joined me in seeing it because it was an easy short walk (a stroll actually), but unfortunately they only allowed the dwellings to be seen from the valley floor, unlike the cliff dwellings I saw at the Tonto National Monument where anyone willing to hike up a half mile mountain trail could walk around in the ruins. These we saw today were still quite interesting though.
Yesterday, Sandra dragged me to a huge flea market, aka swap meet. It was much better than the one at Quartzsite with a lot less dirt and higher quality products. Afterward we enjoyed a bonus sunset which took place totally by surprise as it had been cloudy all day, up until just before the sunset itself.
To read about all this in more detail, visit Sandra's blog by clicking here.

Finally...A Bit of the Old West!

Thursday, February 16, 2006 - I haven't updated the News page here since Sunday because there's been little news to report. Life for me has mostly been reading, relaxing, taking photos in areas I've already described, and enjoying some ideal weather.
A notable exception to this idyllic life was Monday afternoon when we decided to see what was north of Phoenix along the route we'll be taking Saturday morning when we leave here to move to Camp Verde, Arizona, which is near scenic Sedona and within daytrip driving distance of the Grand Canyon.
What often happens is we don't see the part of a region we see when leaving until we're actually leaving and towing the RV and we then see things I wished I'd seen earlier to photograph, but when we're towing I never stop to shoot photos due to the difficulties and risks involved.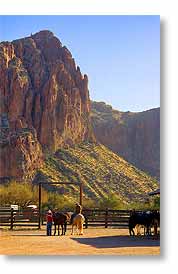 So this time we thought we'd see beforehand what the route out of town looked like and if there was anything worth photographing along it.
What we found was bumper to bumper traffic for three hours. I thought we must surely have been teleported to LA because the traffic was as heavy as I imagine it is there. Never seen anything like it on an early Monday afternoon. Can't imagine what it must be like at rush hour. Far too many people around here.
By the time we got back I was worn out and we'd driven a long way with no photos to show for it. Once we had cleared the city, which took an hour and a half, the only thing we had seen worth stopping for was a pioneer village and it was closed on Mondays!
Hopefully, the traffic is lighter on Saturday mornings.
Then last evening, Sandra decided to go with me on a sunset photo excursion to an area of cliffs I wanted to photograph in evening light. The cliffs are in the Tonto National Forest just south of Saguaro Lake. We were a bit early so we drove around the lake and the cliffs for a while to kill some time, risking a parking ticket at each stop since I saw no point in paying a $4 day-use fee at every parking lot just to be there for a few minutes to shoot photos.
While we were doing all this, I decided to pull into the Saguaro Lake Ranch which is right at the base of the cliffs and the Stewart Mountain Dam which forms the lake, hoping someone there could tell me the name of the cliffs, since I like to have proper names for my photos. As it turned out, the ranch's office was closed for cleaning, but the stables for the trail rides were open and the kind lady there answered my question...the cliffs are called the Bulldog Cliffs.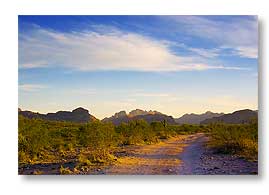 A bonus of this visit though was the trail ride facilities gave me my first view of a scene that actually looked like how I had always pictured the west. Finally! The photo above is what I saw. This is the only shot I took, because I was on private property and didn't feel right about asking permission to shoot more without taking one of their trail rides, the cheapest being $40 for 90 minutes in the saddle, which seems a bit pricey. But I saw a lot of photos I could have taken there, so I haven't ruled out going back for a ride.
After the ranch, another interesting thing we saw, happening across it purely by accident, was the Great Western Trail (photo on the right).
This trail is 3,100 miles long, traverses 5 states, and goes from the Canadian border south to the Mexican border. I had never heard of it before, but it's an interesting concept and if I was a serious hiker I'd be sorely tempted to try it. We found it at one of our stops, which was a no-fee trailhead parking area by the road, and walked along it for a short ways.
To read Sandra's account of the week so far, click here.


__________________________

For Older News

To read details of our previous stops and camps, visit the News Archives.


Updated Thursday, March 2, 2006

Copyright © 2006 by Gordon L Wolford .
All rights reserved.