First Few Days Around Las Cruces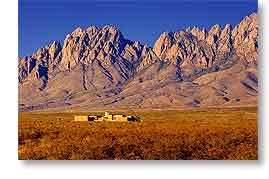 Thursday, March 16, 2006 - Monday evening after catching our breath from the move, we headed out for our first look at Las Cruces.
We drove around the village of Mesilla (Meh-see'-yah), which is just a mile south down the road from here and in all we've seen since then, Mesilla has been the most interesting and picturesque.
From Mesilla, we drove into Las Cruces itself, found the nearest Wal-Mart Supercenter then drove though downtown, which is even more forgettable than Yuma's.
The only interesting part of the area scenically are the Organ Mountains which are just east of the city. Pictured above is a photo I took of them that evening near sundown. As with Superstition Mountain near Mesa, Arizona, houses are being built right up to the foot of the mountains here so it's a bit of a challenge to get a photo of them without houses showing. There are a few other mountains around Las Cruces at a distance, but it's otherwise pretty flat around here.
Tuesday, we did more exploring, driving south of Mesilla along state route 28 (a.k.a. the Oñate Trail) and saw huge groves of pecan trees and a series of small villages that looked more Mexican than American.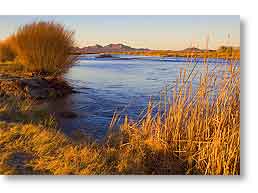 We also drove over to see the Rio Grande (photo on the left) which is only about a mile west of Mesilla and at this point along its course is not yet part of the border with Mexico.
Yesterday, we continued our exploration by taking Sandra downtown to the Farmers & Crafts Market which is held Wednesday and Saturday mornings on the Downtown Mall. This mall is several blocks of the downtown core along Main Street that they closed to automobile traffic and turned into a pedestrian mall. It was a good idea, but since most of the stores and shops have gone out of business it clearly isn't flying. This was also evident by the small and poorly attended Farmers & Crafts Market.
From there we drove out to another crossing of the Rio Grande then back to Mesilla to walk around its historic plaza, where we found a couple things I'd been looking for. Since we live in an RV we obviously don't have room to accumulate a houseful of mementos like we did in our former life, but we both really like the US southwest so I thought it would be nice to take a little of it back with us in the form of a couple southwest-styled lap blankets to replace the plain boring ones we had been using, and after 17 years I've long since gotten bored with the coffee mug I bought in Bar Harbor, Maine but was never able to find one I liked as much.
Well, we found these things at Del Sol, the first shop we stopped at on Mesilla's plaza. The campground store here had small southwestern blankets (made in India of all places!) but they were $50-75 each, far more than I wanted to pay. However, the Del Sol shop had exactly what I was looking for and priced at $6 each and made in Mexico, so not only affordable but authentically southwest! Plus the shop had a whack of coffee mugs and one design was exactly what I'd had in mind! Bonus!
Today we are planning to drive down to El Paso and give it a look.
I'm also happy to report the cold weather has retreated and we're once again enjoying daytime temperatures reaching the low to mid 70sF/20sC and nightime getting nowhere near freezing.
As always, click on the links for further information and on the photos for larger images and for Sandra's account of the week so far, click here, here, and here. I've also started a gallery of New Mexico photos which can be seen by clicking here. I'll be adding to this daily during our stay.

Now In Las Cruces, New Mexico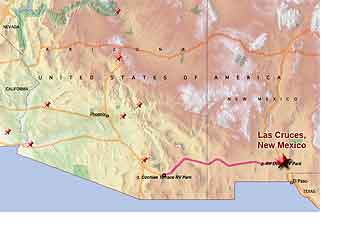 Monday, March 13, 2006 - We pulled up stakes this morning and left Benson, Arizona at 9:06am under beautiful clear blue skies but quite chilly temperatures (just above freezing) and drove the 231 miles (371 km) to Las Cruces, New Mexico in exactly four hours, with only one pit stop, arriving here at 1:06pm.
We now reside in the RV Doc's RV Park in a nice pull-through campsite. We had camp all setup and satellite accessed by 3pm, even though the campground has free wi-fi, which we'll probably use as well, but it's still nice to have the satellite for secure connections.

Good Thing We Stayed Put

Sunday, March 12, 2006 - Well, here it is, Sunday, the day we had originally planned to leave Benson, Arizona and head for Las Cruces, New Mexico, but decided to stay here at least one more day due to the possibility of having to tow through snow since they were forecasting a winter storm with snow and ice as low as 5,000 feet elevation.
As I sit here writing this, kicked back in my recliner, savoring the day's first cup of coffee, it is 5:30am, still dark, 31°F/-0.5C outside (it's warmer in Ottawa!), wind buffeting the RV, and snowing! Yes, you read that correctly – snowing!!!
As usual, the forecast didn't get it right, or at least completely right, because the campground here is at 4,000 feet elevation and it wasn't supposed to snow this far down in altitude.
Life in the mountains and high desert.
So, if it makes everyone feel better back in snow country, Sandra and I didn't escape winter completely unscathed.
And for the first time that I can remember since we left behind the rain and dense clouds of the Pacific northwest, we have lost satellite access due to the weather.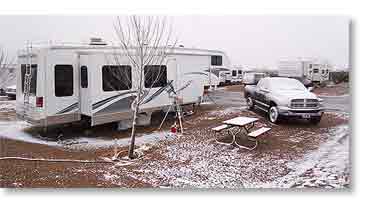 On the positive side of this disgusting situation, I am happy for the people in this part of the country because it's been very dry for months, to the point there was no snow pack in the mountains and that is vital for them having water later in the year as the snow melts, so they really needed this.
Also on the bright side, I see the internet is trying to return, so maybe I'll be able to post this soon.

UPDATE

Just for posterity's sake, I took a photo of the campsite as soon as it was light out and have posted it above. The snow will no doubt melt off within a few hours, but it's sure a good thing we stayed put.

Return to Tombstone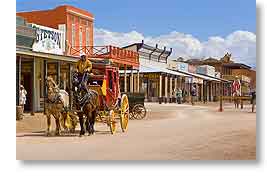 Saturday, March 11, 2006 - Yesterday, Sandra and I returned to Tombstone, she to hit the shops, me to shoot more photos.
The weather turned out not to be all that favorable although it looks pretty good in this photo. I had wanted to attend the staged shootout at the O.K. Corral but it clouded up too much before show time for photos and it was downright chilly, both of which cooled my enthusiasm to pay to see the Earps nail the Clantons again (as happens every day there), so we headed back for Benson.
With the photos I've taken at Tombstone and Mescal, I finally feel like I've at last gotten enough photos of the 'old west' to satisfy me.
We were planning on leaving here tomorrow for Las Cruces, New Mexico, but the jetstream's recent plunge southward actually has a threat of snow around here down to 5,000 feet elevation and since part of our route reaches 4,850 feet (as best I can tell) we decided that was cutting it too close for comfort and will stay safely ensconced here in Benson until this winter storm has passed.
For Sandra's account of the day, click here.

More of the 'Old' West


Thursday, March 9, 2006 - This morning at 9:30am, Sandra stayed at the RV while I drove over to the nearby Mescal film set, where I was first in line (actually the only one in line) as the lone attendant opened the gate at 10am for the day's tours.
Except for Tombstone, Arizona, which is flagrantly commercialized, the only thing I've found out west that looks like the old west has been film sets and the one I saw today was the best of the lot (so to speak).
Pictured here is Frank Brown (if I recall his name correctly) the set's tour guide and lone resident, sheriff, custodian, electrician, plumber, carpenter, and whatever else he needs to be, posing for me on Mescal's Main Street.
While Mescal is part of the Old Tucson Studios, it is 50 miles to the east in a much more remote location and access to the public is limited, since this has become the primary filming location for old west themed movies, TV shows, and commercials and is still active in that role. For instance, Frank said I came at a good time because next week the BBC is filming there and the set will be closed to the public until they were done, however long that takes.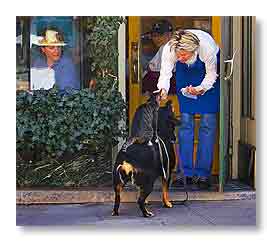 For most of the time I was there, somewhat less than an hour, Frank and I were the only people there, so I didn't have anyone getting in my way and the place looked very much like a ghost town, which was very interesting in itself.
Then yesterday, Sandra and I drove to Bisbee, Arizona which was famous at one time as a mining town, home of the Copper Queen Mine, one of the richest copper mines in history. It's open pit mine (the Lavender Pit) is still very much in presence there and an awesome hole in the ground.
To us though, the most interesting part of the down was 'Old Bisbee', which still retains a bit of the turn-of-the-century feel from when the town was in its heyday.
It was interesting, as I believe it is the only town in Arizona built within a canyon, and probably worth the drive, but not much more than that.
Probably the most interesting thing we saw was the dog in the photo above, which belonged to a man who appeared to be a panhandler who had trained the dog to allow a cat to ride on its back and the cat trained to allow two white mice to ride on its back. In the photo, the cat on the dog's back is getting a treat from a friendly shop owner.
Yesterday evening, we actually had a touch of snow mixed in with rain. The jetstream has taken a dive south over the western US and at one point during the afternoon the temperature was only 46°F/8°C, or 40°F colder than it was only two days before. Brrr!
For Sandra's account of our trip to Bisbee, click here and here.

We Move To Benson, Arizona & Visit Tombstone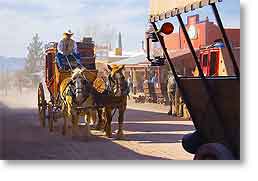 Sunday, March 5, 2006 - This morning we moved from Tucson 50 miles east to Benson, Ariizona. The drive took an hour and we had camp setup by 12:30pm. Of all our tows, this one had to be the easiest - beautiful weather, light traffic, all freeway, easy campground to get into, and expert assistance helping me back in. This is also a very nice campground and has cable TV (Sandra's joy!).
A short while later we went on a scouting mission, driving through Benson and finding little there of interest other than having a Taco Bell and diesel fuel at the freeway interchange and a grocery in town, such as it is.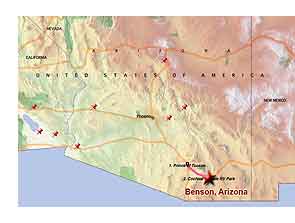 We drove through town and saw we were on the road to Tombstone, a town of old west fame and legend (remember Wyatt Earp and the O.K. Corral?) and since it was only 23 miles away we decided to get it over with and see what it was like. I have to admit some skepticism at what we would likely find since so far none of the cities and towns in the west have preserved much of their heritiage.
So we drove through Tombstone and from the highway it fulfilled my expectations of looking much like any other modern western town. Then for some unknown reason I decided to take a back street on the drive back out of town and that is how we found the real Tombstone (photo above).
While it is the tourist trap of all tourist traps, the place takes great pride in presenting an old west look, complete with people walking around in period attire and the main street being closed to cars and in their place are stagecoaches, wagons, and horses taking visitors on guided tours. Despite the fact nearly all the shops cater to the tourist trade, Tombstone is probably the closest thing we'll find to the old west preserved in the modern world. We plan to go back. I'm hoping to see the gunfight in the O.K. Corral.

I Witness A Bank Robbery & Hanging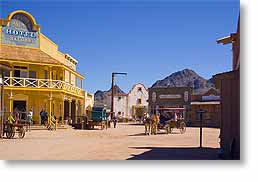 Saturday, March 4, 2006 - Thursday around noon I couldn't stand it any longer and drove over to the Old Tucson Studios to see what they were like, hoping to find something that looked reasonably authentic to what the old west was like.
The Old Tucson Studios is yet another movie set, but this one charges admission ($15) and is more like an old west entertainment park since they have a couple shows in the saloon and a couple shows outdoors. Those involved a bank robbery, followed by summarily hanging the surviving bad guy (frontier justice is swift, very swift), and a stunt show that involved a lot of shooting and explosions.
Being a movie and TV set, nearly everything was fake and facade, but it was still interesting and at least gave one the illusion of being in the old west, of which I'm finding very little has survived.
It was probably worth the price of admission and I took a lot of photos (288), including the one here of the town square. I had planned to stay out for the sunset too, but after 4 hours of walking around I'd had enough and returned home.
Yesterday, I then spent doing little else than processing and posting some of the photos I'd taken at the studios. They can be viewed in my Southern Arizona photo gallery on pBase.com.
Tomorrow, we are moving the short 45 miles east for a week at the Cochise Terrace RV Resort in Benson, Arizona.

Some R&R - Rest and Rain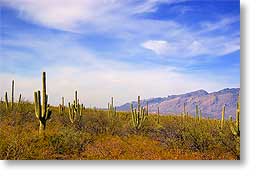 Thursday, March 2, 2006 - We've been getting some rest the last few days, or at least I have. I've been rather tired from all the photography I've been shooting the last few weeks and decided to take a bit of a break.
This has been fairly easy to do since the Tucson area hasn't turned out to be as scenic as I was expecting. Not that there's no scenery, but for example, Saguaro National Park. While it does have quite a few Saguaro cactus (by the way, the 'g' is pronounced as a 'w' - sa-war'-o), the stands of them aren't as thick as I was expecting and the best stand of them I've found is in Tucson Mountain Park, a large county park that's next to the national park. The photo above is the only one I've taken in the national park that I'm even halfway happy with.
We also drove around the downtown area one evening where I took some photos of an older section of buildings called the Barrio Historico and I located Old Tucson Studios (another old west movie set where I plan to try again to get some old west photos) and yesterday I drove out at dawn to a scenic viewpoint in the mountains with a view overlooking the city and took a few shots of the sun rising beyond Tucson. Otherwise, I've been getting a lot of sleep and doing a lot of lounging and reading (a western novel, of course).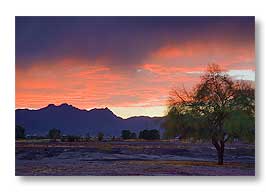 The biggest news yesterday was probably the rain we got. Not a downpour, but a nice shower. It was cloudy most of the day with rain threatening and then it actually started to fall, the first rain we've seen in two months, the last being a shower in 29 Palms, California. Around sundown I was once again napping when Sandra woke me up to say I'd probably like to see the sunset. And she was right. Heavy dark clouds with rain falling from them were off in the distance with the sun turning the sky on fire beyond them as it was setting. The photo of it here was taken from the desert beside the campground here.
Also yesterday, since it was cloudy, we treated ourselves to a breakfast out at a Cracker Barrel Restaurant that's not too far from here. That meal pretty much wiped out the last of the gift certificates Sandra's co-workers gave her when she retired a year and a half ago. I'll miss those gift certificates. There was also a Wal-Mart Supercenter nearby, so while Sandra did her shopping thing I replenished my supply of blank DVD-R for backing up photos onto and bought a pair of noise-cancelling headphones to lessen the noise from the TV when I'm trying to concentrate on other things.
For Sandra's account of the week so far, click here.


__________________________

For Older News

To read details of our previous stops and camps, visit the News Archives.


Updated Friday, March 17, 2006

Copyright © 2006 by Gordon L Wolford .
All rights reserved.