We Find Our Way to Santa Fe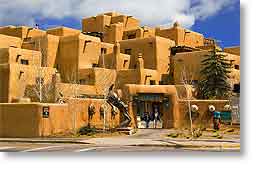 Friday, March 31, 2006 - Yesterday morning, we all climbed into the truck and headed north on I-25 for a day in Santa Fe, the capital of New Mexico and according to many accounts, the most picturesque city in New Mexico.
The scenery on the drive was pretty but not spectacular, going through one Indian reservation after another, which was nice because the landscape had no buildings or power lines cluttering it up.
An hour's drive put us in the city and we found Santa Fe's central plaza without too much fuss, decided to walk around, parked, and had to pay for parking for the first time since we hit the southwest!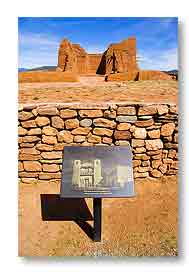 I've always heard that Santa Fe was the epicenter for southwestern architecture and this proved to be the case. The photo above of the Inn & Spa at Loretto was probably the most striking example I saw during my walk around the center of the city. Technically, this is the Pueblo Revival style of architecture, based on the old Indian pueblo construction.
Since we had different goals, Sandra hitting the shops, me shooting photos, we went our separate ways, but met for lunch at the Plaza Café, a diner-style restaurant right on the plaza where the service was fast and the food surprisingly good.
Afterward, we left town and drove 25 miles southeast to the Pecos National Historical Park, so I could see the ruins of what was once the largest Indian pueblo in the southwest and its Spanish mission, all of which have fallen into ruin by the ravages of time, weather, and vandalism after the village was eventually abandoned. The park service took over the site a few years ago and stabilized the decay, but there isn't really much left except what remains of the mission (photo on the right), several subterranean kivas, and some low walls of the pueblo.
Sandra, having no interest in these things, stayed in the truck while I hiked the 1.25 mile trail through the ruins, which are on top of a ridge where the wind was quite strong. The ruins were interesting but I was glad to get back to the truck. It was noticeably cooler in the Santa Fe area than Albuquerque, so the windchill on the trail was biting.
For Sandra's account of the day, click here. For larger versions of her photos, click here and here.

We See A Bit Of Albuquerque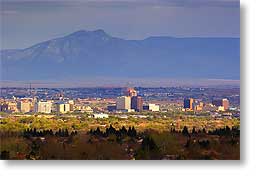 Wednesday, March 29, 2006 - Yesterday, despite it being mostly cloudy, we headed out in the afternoon to see some of Albuquerque. The campground is not only right off an exit of I-40, but the frontage road, Central Avenue, is also old Route 66, so we took that into the city to see if there was anything remaining of nostalgic interest from the days when this was the most famous road in America.
It turned out there is and the drive was fairly interesting, especially downtown.
From there we drove through the city's Old Town district, which looked much like Mesilla's Old Plaza, and then back out of the city and found our way to the Petroglyph National Monument where I finally saw some Indian petroglyphs, something I've been trying to see on this winter's tour but hadn't succeeded until now. To view them required climbing a 115 foot boulder-strewn hill, which surprisingly, Sandra did with me (she does not like heights at all). From the top of that hill, actually the top of West Mesa and a rim of Boca Negra Canyon, one has a panoramic view of the city, valley, and surrounding mountains. The photo above was taken from there and shows downtown Albuquerque brightly lit by the sun while everywhere else is under clouds.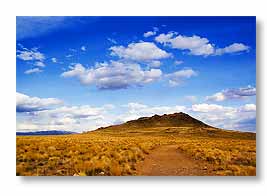 Then this morning I was up before the sun and drove to another vantage point just down the road from here that also overlooks the city where I took photos of the city lights and the mountains in the predawn and while the sun rose.
I then retraced much of the drive yesterday and took photos in the early light while there was very little traffic or parked cars getting in my way.
Then this afternoon, after Sandra returned from a grocery trip to our nearest Super Wal-Mart, we all piled into the truck and took I-40 west to see what was out there. Turned out there isn't much but Indian reservation for 50 miles and since they don't like people taking photos or sketching or videotaping on their land without permission, we didn't spend much time out there, and drove back.
Before returning to the RV though, I took Sandra out to the volcanoes I'd driven by this morning but couldn't get in because the gate was locked. I was curious to see if the gate was open by that time of day and it was, so we drove in and while Sandra waited in the truck I climbed to the top of one of them. They aren't that tall, but I can now say that I've climbed a volcano.
For Sandra's account of the day, click here.

Now Near Albuquerque, New Mexico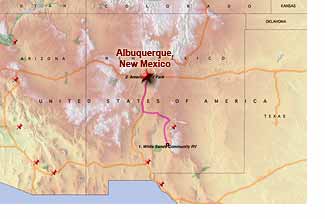 Monday, March 11, 2006 - This morning we packed up and left Alamogordo shortly after 9am and had to stop at a truck stop on the northern edge of town to correct the tire pressure on the truck because the bozos at the Dodge dealer in Alamogordo didn't get the tires properly reinflated, as per my instructions, when they rotated them as part of the warranty service work they did on it. Sure hope they didn't screw anything else up.
However, the reason for the truck stop was that since I had to do the truck tires I had also been needing to top up the RV tires but had been putting it off because most places don't have room for the rig by their air compressor, but that's not a problem at a truck stop and by using the air at one I could take care of all the tires at one time. And let me tell you, the truck stop air compressor didn't fool around. It increased tire pressure on the RV from 85 to 100 lbs in a matter of seconds! Most impressive.
The drive to the American RV Park on Route 66 in the western outskirts of Albuquerque was 223 miles, taking a little over 4 hours due to a backup on I-40 in west Albuquerque caused by road construction that closed the freeway from four lanes westbound down to only one lane!
But we made it unscathed and had camp setup in a couple hours. The RV park is nice although more expensive than we've been paying and has no cable TV, but there are quite a few local stations so there's no shortage of TV nonsense to watch.
Of note on the move today, we drove through the Valley of Fire, a volcanic lava bed, and as close to the Trinity Site (where the first atomic bomb was detonated) as you can get by public road. Apparently radiation levels are low enough 60 years later that you can visit the site without too much radiation exposure. I personally have no desire to see the place, which can be viewed by the public on only two days of the year anyway.
For Sandra's account of the day, click here.

Last Day in Alamogordo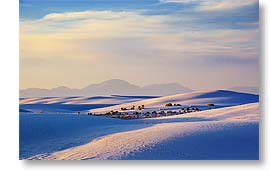 Sunday, March 26, 2006 - Tomorrow we are moving from Alamogordo, New Mexico to Albuquerque, which will likely be our last major stop of this winter's tour before we start heading back east and north in earnest.
Our stay here near White Sands has been everything I had hoped for photographically and I feel I've made up for the photos I was not able to shoot during last year's short visit due to the sandstorm we encountered then.
This time I've taken 630 shots, 48 of which can viewed by clicking here. I normally would have taken even more in an area like this, but unfortunately it was not possible for me to photograph sunrise photos in White Sands because the park didn't open until an hour after sunrise, by which time the light was not all that good, so I lost half my shooting opportunities. But I'm not complaining at all since I got some photos I'm quite happy with and my knees and lower back are just as happy I didn't subject them to anymore exertion than I did.

Spending Time In White Sands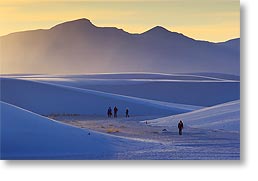 Friday, March 24, 2006 - I've been remiss in updating the News page here this week, so I better get with it.
One reason I haven't posted anything is because about all I've done this week is drive out to the White Sands National Monument to take photos, sometimes twice a day since it's only a 15 mile drive from the campground.
The photo on the left was taken one evening at sunset and is fairly typical of what I've been seeing. What it doesn't show is the wind – which has been incessant out there, especially when standing on top of a dune as I usually do in order to get a better view – and the cold. Once the sun gets low in the sky, the temperature drops dramatically, as is typical in the desert, and with the high winds, the windchill makes it quite an ordeal at times to persevere. But I've managed and have gotten some photos I'm happy with. I've started a gallery of them which can be viewed by clicking here.
Another reason I haven't updated the news this week is because my lower back went out on me while packing up to move here on Monday and it's taken all my energy just to do the things I'm here to do. Usually I can get it back in place without a chiropractor, but this time it has been stubborn, although I think yesterday I might have finally gotten it realigned. Getting old is a pain.
Yesterday, I also drove Sandra up to Cloudcroft in the mountains so she could look through the shops there. Last year when we visited Alamogordo we drove through Cloudcroft on the way from Carlsbad, but didn't stop, so now we've seen it. It was interesting to me because it is at 9,000 feet elevation, which is nearly a mile higher than Alamogordo but only 16 miles away, so the drive there climbs one mile in sixteen, which makes it a very long fairly steep grade.
For more details of the week, check Sandra's web page by clicking here.

Now In Alamogordo, New Mexico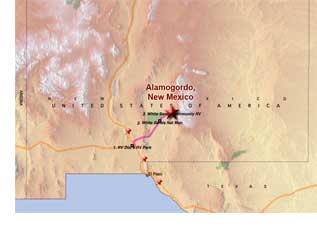 Monday, March 20, 2006 - As planned, we pulled up stakes this morning and left Las Cruces, New Mexico at 9:30am, after fighting high winds and cold, made all the worse by the windchill, to get packed up.
After the effort it took to get on the road, the 75 mile drive to Alamogordo was almost relaxing, the only wrinkle was having to get up and over the San Andres Pass which separates the Organ Mountains east of Las Cruces from the San Andres Mountains to the north of them.
Once over the pass, the road was flat and smooth all the way to Alamogordo where we pulled into the White Sands Community RV Park at 11:00am and were setup with satellite accessed by 12:30pm, once again in fairly high winds although the day had warmed up a bit by then. I'll probably drive over to the White Sands dunes later.

Last Day In Las Cruces, New Mexico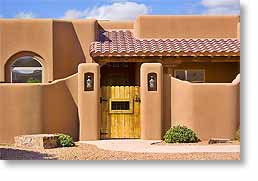 Monday, March 20, 2006 - Later today we are moving to Alamogordo, New Mexico so I can be within easy driving distance of the White Sands National Monument, the last of my major photo destinations on this tour.
We were there briefly last year, being in the area for less than a day, but as luck would have it, high winds blew in just before we arrived and kicked up a dust storm that ruined any chance for serious photography.
So this year, we'll be staying in the area long enough that hopefully we can outwait any windstorms they might have.
Yesterday, our last full day in Las Cruces, we drove through a housing development across the road from us to shoot some photos of the Southwest architecture there (photo above). Sandra and I both really like this style of design. We then drove through the plaza in Mesilla where a market was supposed to be setup, but wasn't.
So we drove north of the city to see some of that area. It was not terribly interesting with the most notable thing we saw being the Leasburg Dam State Park. The dam itself is on the Rio Grande and being a low dam, was uninspiring and didn't create much of a lake behind it. The campground in the park was nice though, with the campsites being pull-throughs.
On the way back to the RV we stopped by Soledad Canyon in the Organ Mountains and then drove through the plaza in Mesilla again. This time the market was setup, such as it was, but we didn't stop since there wasn't much to the market and the place was crawling with people.
So, to summarize our stay in Las Cruces, the village of Mesilla is the most interesting place in the area and the Organ Mountains the only thing of scenic note. Otherwise, it was basically a week of escaping the northern winter cold.

Mission to El Paso, Texas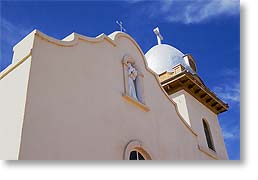 Friday, March 17, 2006 - Although we're camped in New Mexico, the campground here in Las Cruces is only 25 miles (40 km) from the Texas border, which is only 20 miles (32 km) from downtown El Paso, and seeing that city was one of the things we wanted to do while we're here and yesterday afternoon we did just that.
We left after lunch. The drive along I-10 was uneventful except for passing the largest stockyards I've ever seen. Thousands upon thousands of cows in huge pens. All of this, of course, could be smelled from some distance away, if you get my drift.
At the Texas border, we stopped at the visitor information center, which was the first one we've been to where the person on staff knew less about the area than we did after having done only a bit of research on it via the internet before leaving.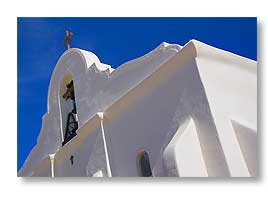 From this research, I'd learned that the only thing interesting to me about El Paso were three old Spanish missions that still existed a few miles south of the city along the Mission Trail.
Anyway, we found the missions (still active and well maintained churches), photographed them, which was quite fun for me, then drove back to downtown via the Border Highway. El Paso is where the Rio Grande becomes part of the border with Mexico but all we saw along the Border Highway was mile after mile of dual-row barbwire-topped chainlink fence with regularly spaced floodlights on tall poles, patrolled by an occasional Border Patrol vehicle. It looked like driving by a prison, not the scenic drive along a river one would expect.
El Paso was much larger than I had thought (5th largest population in Texas, 20th in the US), but with the exception of the old missions we saw little about it that was notable. Glad I can say we saw it, but saw nothing there compelling me to go back.
For Sandra's account of the day, click here.


__________________________

For Older News

To read details of our previous stops and camps, visit the News Archives.


Updated Friday, March 31, 2006

Copyright © 2006 by Gordon L Wolford .
All rights reserved.