Over To Carol & Rick's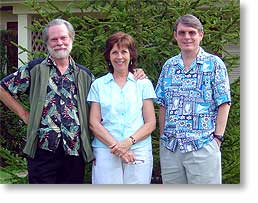 Friday, April 14, 2006 - As planned, Sandra and I drove over to my kid sister Carol's mid-afternoon yesterday for a visit and a sumptuous supper of something resembling chicken cacciatore, although she claimed it was just something she threw together and that it had no name.
Pictured here in a photo taken by Sandra is l-r: yours truly, Carol, and her husband Rick.
In looking at this picture (click on it for a larger view) it's hard to imagine Carol is less than two years younger than me if one judges age by how much gray is in one's hair. I don't know how this could be.
As it is every time I visit Carol and Rick, it's as if no time as passed since my last visit.
On a completely different topic, something about the signal strength readings I got when failing to access the satellite through a very tight window of clear sky between the nose of the RV and three trees had been bugging me, so I tried it again yesterday morning and after playing around with the cable connections I was able to find the satellite. So now I'm suspecting perhaps one of the connectors is no longer making solid contact.
For Sandra's account of yesterday, click here.

Back On Track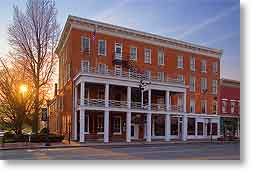 Thursday, April 13, 2006 - Well, shortly after posting Tuesday's entry below, I had to take Sandra to the local medical emergency services (Bethesda Care Warren County) as her breathing problem and chest pressure had gotten worse.
Since the emergency medical staff couldn't diagnose the problem they sent her by ambulance to the parent medical facility, Bethesda North Hospital in Cincinnati, where she spent the rest of Tuesday and yesterday having tests done which also failed to result in a diagnosis, but did show her heart appears to be in excellent shape, which is very good to know.
While medical tests are never a walk in the park, Sandra did enjoy being waited on hand and foot, and the general consensus at the moment is her breathing and chest problems were a result of her acid reflux condition (GERD). Doubling her medication for that seems to have removed the other symptoms.
So, things are back on track here and so inspired by having my wife back, I went out yesterday evening to shoot some late light photos around town (like the one above of Lebanon, Ohio's famous Golden Lamb Inn) and today we begin seeing family by having the postponed visit with my younger sister and her husband.
For Sandra's account of the her stay in the hospital, click here.

Now in Lebanon, Ohio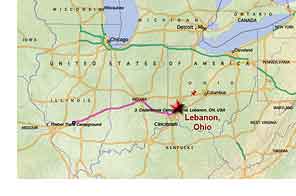 Tuesday, April 11, 2006 - Yesterday, we left Mulberry Grove, Illinois around 7:30am CDT (earlier than normal to avoid hitting Cincinnati at rush hour) under clear skies and drove the 307 miles to the Cedarbrook Campground in Lebanon, Ohio in a little under 6 hours, arriving shortly after 2pm EDT, making it a week since we left Albuquerque.
This is the campground we stayed at two years ago when we were in the area and tried to stay at last year as well, but they had been booked solid. This year we got in, but we aren't as thrilled with it as we were the first time when we were impressed because they had free wi-fi in the lounge. In the interim, they've expanded the wi-fi to being campgroundwide and it's still free, which is great, but we now have the internet satellite and can't access it because there are too many trees around the only sites they had available.
The site is also quite narrow, which made it very difficult to get situated onto, and it's not very level, which also complicated getting setup, but at least we had good weather and free wi-fi is always good, so I'm not complaining. We'll probably look for another campground in the area while we're here though to see if we can find one with fewer trees for the next time.
Later today we're to have lunch with my younger sister Carol and make arrangements to see my son and his family.
For Sandra's account of the day, click here.

Overnighting in Mulberry Grove, Illinois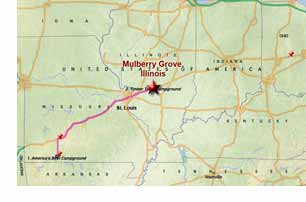 Sunday, April 9, 2006 - We left Branson, Missouri a little before 9am under clear but cold skies (near freezing) and drove 311 miles to Mulberry Grove, Illinois, arriving at the Timber Trails Camp Inn a little after 2pm for about a 5.5 hour drive that involved getting through St. Louis. Fortunately, it being Sunday, the traffic wasn't too bad.
On arrival here, we were confronted by a fellow RVer who had also just arrived and had found no one in the office and no instructions on what to do in that event.
He had me blocked and didn't seem inclined to move anytime soon, so I backed up and took another lane to get around him (nice guy but clueless) and decided to try the other campground in town, although this one is Passport America and half the price.
As it turned out, as we were leaving we saw a row of empty pull-through sites near the edge of the park with a clear view of the satellite and decided to simply take one of those spots and let them come to us if they wanted our money. This event, of course, didn't take long.
Anyway, there's nothing to recommend this place but it's a lot better than spending the night in a freeway rest area. We'll be leaving bright and early tomorrow for the last leg of our trek to Lebanon, Ohio where we're scheduled to be for 7 days.

We Do The Strip, Branson's Strip That Is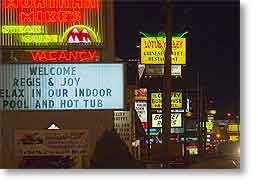 Sunday, April 9, 2006 - Last evening, our final night in Branson, we headed out just before sunset to shoot photos of the neon along Branson's entertainment strip, State Route 76.
To me this epitomizes the town and the only thing that makes it unique from thousands of other US towns.
It's and interesting place, but I much prefer the scenery of the Ozarks to the glitz of 'The Strip'.
We are leaving here a little later this morning to continue our trek east and northward, hoping to get beyond St. Louis, Missouri into Illinois before our next stop, then on to Ohio on Monday.
For Sandra's account of the day, click here.

Seeing Some Ozark Sights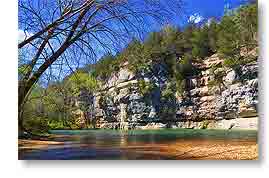 Saturday, April 8, 2006 - Thursday evening, after recovering a bit from the ordeal of our move here, between storms we drove around Branson to see what was here and get a feel for the area.
Branson is basically a small Ozark Mountain village of 6,000 people that has had all kinds of country and bluegrass music entertainment establishments built up along a couple roads south of town.
What it looks most like to me is a Bible-belt Las Vegas without the casinos.
Fortunately for me who has very little interest in entertainment glitz, the Ozark Mountains are here, so yesterday we drove further into them, going south into Arkansas so Sandra could add that to the list of US states she's been to. We stopped at the Harrison, Arkansas Visitor Information Center and learned a little about the area, including the Buffalo National River, which I'd never heard of before. It is fairly scenic with rock cliffs and bluffs and is administered by the National Park Service, but to see a lot of it one needs to hike for miles or go down the river in a canoe and that looks like it would be a fun thing to do.
We drove as far as the bridge at the river's Pruitt Landing, took some photos around there (like the one above), and then drove back to Branson, stopping a few times along the way to take some photos of the Ozarks from the road, US Route 65.
As always, click on the photo for a larger image and on the links for further information and for Sandra's account of the day, click here.

Now in Branson, Missouri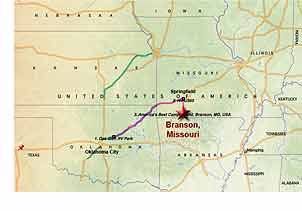 Thursday, April 6, 2006 - After towing nearly 300 miles through thunder, lightning, wind, and rain, some of it torrential downpours that limited visibility to under 100 feet a couple times, we are now setup in Branson, Missouri, famous for its country & bluegrass entertainment (much more interesting to Sandra than me) and located in the Ozark Mountains (much more interesting to me than country music).
The drive today was only marginally less horrendous than those we endured through Seattle and Portland months ago. While it was less intense because traffic was lighter, the awful weather lasted for far longer. Normally we would have stayed where we were and simply waited out the bad weather, but they're talking about this system lasting at least through tomorrow and maybe into the weekend, which would have made it a very long wait in Chandler, Oklahoma, a very boring and uninteresting area, so I decided if we're going to sit through bad weather we might as well do it in a nice spot.
Anyway, we made it, we're setup, and it's a very nice RV park called America's Best Campground and it might just be. It's close to Branson, large level pull-through sites, lots of them, free wi-fi, exceptionally friendly staff, and enough trees for good landscaping but not so many to block access to the satellite, although I'm waiting for the better weather before setting up the antenna.
Despite all the weather problems, we miraculously were able to pack up and leave and then arrive and set up with no rain. We've signed up to be here until Sunday.
For Sandra's account of the trip, click here.

Stopover in Chandler, Oklahoma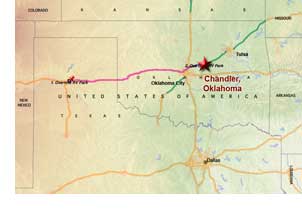 Wednesday, April 5, 2006 - As planned, we pulled up stakes this morning and left Amarillo, Texas at 9:15am driving eastward as far as Chandler, Oklahoma 299 miles away, enduring very high winds that rocked and buffeted the truck and RV for more than half the drive, and arriving here at the Oak Glen RV Park around 3:30pm.
Oak Glen is small, only 22 campsites, but a Passport America supporter so very reasonably priced and a nice place run by nice people.
The day turned quite warm, 89°F/32°C at one point this afternoon and still windy, but the heat felt good.
Chandler is small town of around 3,000 people and looks like one of those places that aren't too exciting for visitors just passing through but are a good place to grow up and live in.
About the only thing of real interest I saw on the drive here was a wind farm at Weatherford, Oklahoma. Otherwise, the terrain varied from flat plains to rolling hills.
We are undecided at this point whether we're moving on to Branson, Missouri tomorrow or staying here for a day of rest.
For Sandra's account of the trip, click here.

A Short Stay In Amarillo, Texas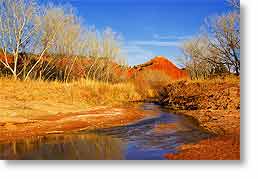 Tuesday, April 4, 2006 - Yesterday, around 9:15am MDT we left Albuquerque, New Mexico and drove 302 miles east on I-40 to the Overnite RV Park on the east side of Amarillo, Texas, arriving a little over 5 hours later at 3:30pm CDT.
The drive was under cloudy skies and uneventful once we got through the construction zone on I-40 in Albuquerque with those dreaded narrow lanes lined by concrete barriers and once we got over and through the Sandia Mountains to the east of Albuquerque.
Those were the last of the mountains and the terrain quickly flattened out into the plains.
The plan was to only spend the night here, but while we were signing in at the office I saw a painting on the wall of a very interesting rock formation and learned it was in the Palo Duro Canyon State Park about 15 miles south of here as the crow flies, 35 miles by road, so since the sun had come back out, once we had camp setup we hopped back in the truck and drove down there and were so amazed with the place we drove around the canyon until nearly sunset.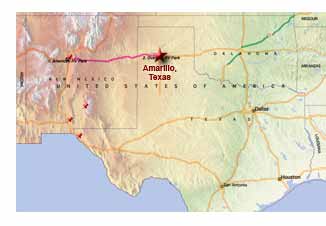 We never did see the rock formation as it was a rather long hike to reach and we simply didn't have enough time, but the rest of the canyon more than made up for this loss. The photo above was taken at one of the water crossings on the floor of the canyon which is accessible by going down a very good road but with 10%.grade (quite steep).
We were told that Palo Duro Canyon, the Grand Canyon of Texas, is the second largest canyon in the US and I can believe it. What I can't believe is that I had never heard of this place.
Anyway, we decided to stay here another day in order to recover from being out past sunset last night, having pulled off the road on our way back to photograph the sunset, and then treating ourselves to dinner out at Taco Bell. We also decided that we will have to return here some day when we can spend more time and actually camp down in the canyon for a week. There were quite a few big rigs camped down there and if they could make it down that road, so can we.
For Sandra's account of the day, click here.

We See A Bit More Of Albuquerque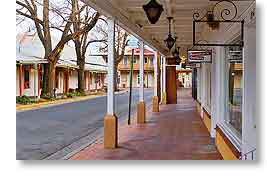 Sunday, April 2, 2006 - Yesterday, we took a drive out to the east side of Albuquerque on the freeway and drove back though town on old Route 66 (Central Avenue) and ended up parking in Albuquerque's Old Town district since Sandra wanted to get a firsthand look at the shops there and I wanted to take more photos. The one here shows the main street into the area, although there are any number of streets that also go into it. This photo is also not indicative of all the southwest-style architecture that's present, but does show the rather French Quarter with Spanish influence feel the place has.
Today, we didn't do anything too exciting. Sandra did the laundry and I vacuumed while she was gone. Later we drove over to the new Camping World that's just across the freeway from us and bought a couple water-related items.

Tentative Plans

And that's it for our western tour (sobs interspersed with wails of anguish!!!). We are leaving tomorrow to head back east, with the next major stop being in Ohio to visit my family there for a couple weeks. We don't have a fixed timetable for how long the eastward trek will take, something around a week to ten days probably, but I expect after two days on the road we'll be ready to take a day off from travel, plus Sandra would like to get a look at Branson, Missouri, so stay tuned.


__________________________

For Older News

To read details of our previous stops and camps, visit the News Archives.


Updated Sunday, April 16, 2006

Copyright © 2006 by Gordon L Wolford .
All rights reserved.