Back in Canada! Now near Kingston, Ontario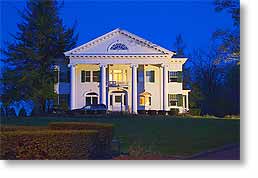 Sunday, April 30, 2006 - We're now back in Canada, crossing the border a little after noon yesterday, so ending Winter Tour 2 of the Photo Odyssey and starting Ontario Tour 3.
We had a nice stay in Clinton, New York, visiting there with my photographer friend Jim and his wife Wendy and son James.
Jim and I went out a couple of times in search of photos but didn't find a lot. No doubt because at the moment I'm rather burned out with shooting photography, having taken 17,800 photos since we left the Ottawa area early last September. To put that number into perspective, that would have been around 500 rolls of 36 exposure 35mm film had I been shooting with the old cameras.
On this winter's tour we also towed the RV a total of 12,200 miles (19,600 km) and drove an additional 11,400 miles (18,300 km) while we were in the various camps (40 of them) for a total of 23,600 miles (38,000 km) miles driven, or nearly around the world at the equator.
So, some fairly impressive numbers there (to me anyway) and while I miss the southwest, I'm just as happy to be back home to get some rest. One thing I did gain additionally from this tour was in becoming more comfortable towing a large RV. We encountered so many hazardous situations and survived them unscathed that now routine towing is not much more nerve-wracking than normal driving. However, I don't want to get so complacent and comfortable with it that I let my guard down, but I'm just as happy I no longer dread the next tow.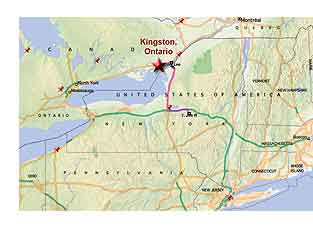 Anyway, yesterday around 9:30am we bid farewell to our friends in Clinton, NY, managed to get out of their driveway without doing any damage to their property and through the narrow streets of Clinton without doing any damage to the RV and arrived at the border around noon.
There we sat in line for the 15 to 20 minutes it took the border guard to clear the two or three cars ahead of us. Never saw such a slow moving line, so we expected to also be given the 3rd degree but surprisingly were passed through after answering only a handful of questions. Go figure.
We arrived at the Rideau Acres Campground just outside Kingston, Ontario about an hour later where we were again delayed for about a half hour due to confusion at the gate and even slower service at the office than we'd experienced at the border. This is the same campground we were in last August for an RV rally so we're familiar with it, like it, especially since it's a Passport America campground and therefore reasonably priced, and knew we could easily access the internet satellite.
We finally pulled onto our campsite around 1:30pm after a trip of 165 miles and basically had camp setup in an hour, although we later put out the RV's awning for the first time in months and did a few other things before being completely settled.
We've declared today an official day of rest and I don't plan to do much but relax and lounge about.
The photo above is of Clara Barton's house in Clinton, NY, Clara being the founder of the Red Cross as I'm sure everyone remembers from their history classes in school. Clinton had quite a number of very pretty houses from this era, all well-maintained. In fact, Clinton was quite nice everywhere, including the town square and local college. If I'd been in the mood, I could have shot quite a few photos there.
For Sandra's account of yesterday, click here.

Now Near Clinton, New York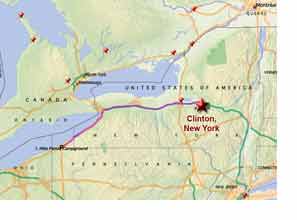 Friday, April 28, 2006 - We heard via email two days ago that my Aunt Virginia Wolford died. Sandra's and my heartfelt sympathies go out to Aunt Virginia's family. She was married to my father's brother Clem and was the last of my father's generation in his family.
On a brighter note, our stay in Erie, PA was interesting in that we've driven by it on the freeway numerous times over the years but had never actually driven into the city, which we did do this time.
Presque Isle, a very large sand spit of land that's fortunately been made into a state park and juts out into Lake Erie, was the most interesting thing there to me because it has two lighthouses. My photos of them can be viewed in my Eastward Trek Gallery on pBase.com.
Otherwise, Erie was rather featureless and drab although fairly clean as eastern US cities go. Lots of closed down mills though, so it looks economically depressed and probably is. I'm glad we saw it, but saw nothing I want to see again.
Then yesterday morning, we left Erie and continued on the next leg of our return trek to Canada, driving the 289 miles to Clinton, New York in about 5.5 hours. Clinton is about an hour east of Syracuse and just west of Utica. The photographer friend of mine we visited in Montgomery, Alabama last year now lives near Clinton and he invited us to spend a couple days here on our way back. They're renting a large old farmhouse on 4 or 5 acres of land and it has a large horseshoe driveway that we're currently parked on and being fed electricity from the house.
Last night they treated us to a Lobster dinner, so Sandra was in dining heaven, and he and I are planning to go out this morning for some sunrise photography.
For Sandra's article on Aunt Virginia, click here. For Sandra's view of our stay in Erie, click here, and for her take on yesterday, click here.

Now At Erie, Pennsylvania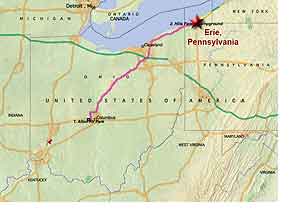 Tuesday, April 25, 2006 - Bright and early yesterday morning, I took the truck in for its scheduled maintenance and since the dealer was near my daughter's house I stopped in to see her for a while on my way back to the RV.
Later, as the sun was setting we drove downtown to shoot some long-postponed night photos of downtown Columbus, something I'd never done before.
Then this morning Sandra and I packed up and headed out at 9:30am on the next leg of our return trek to Canada, making it as far as Erie, Pennsylvania, a drive of 238 miles and only 4.5 hours, before stopping for the day at Hills Family Campground just off I-90. The trip was fairly uneventful until just before the I-271 turnoff west of Akron, Ohio when an 18-wheeler that was passing me in a construction zone decided to come into my lane while I was still in it. We just barely managed to miss being hit. I don't know what his problem was but a little further down the road he also nearly ran a car off the road, twice. Maybe he was fighting falling asleep. Should have reported the jerk, but it happened too fast and I was too shook to think about getting his license number.
Anyway, the day started out fairly sunny and mild and is now cold and cloudy with drizzle off and on and possibility of sleet tonight. Neither of us are particularly thrilled to be back in Great Lakes country with weather like this, but I'm extremely happy we survived the trip unscathed. We have signed up to be here two days. Presque Isle is nearby and I want to give that a look..

All Of Us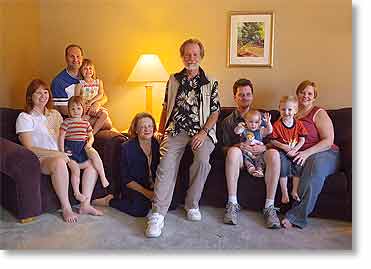 Sunday, April 23, 2006 - First, today is my son's 31st birthday. So Ian, if you read this, Happy Birthday. He's now 3 years older than I was when he was born.
Yesterday was the big gathering (in my mind anyway) of my progeny at my daughter's house. She should be nominated for sainthood for hosting the event, considering she's due to give birth to her third child in two or three weeks.
It was good to have all of us together at the same time in the same place. I can't remember offhand the last time that happened. Perhaps at my sister Carol's a couple years ago. Anyway, in addition to Michelle doing this at a less than convenient time in her life, Ian had to juggle his work schedule to make the visit as well, so I greatly appreciate the effort everyone went to for the event.
I had a great time, especially playing with all the grandchildren and watching them at play with each other. It's fascinating to watch young cousins getting to know each other and forming bonds that are likely to last a lifetime.
Pictured in the photo, where all cooperated with pleasant expressions and were looking at the camera and no one blinking, all on the second attempt, are (l-r) my daughter Michelle carrying soon to debut grandson Luke and holding granddaughter Faith, Michelle's husband Eric who's holding granddaughter Grace, Sandra (aka Grammy), myself (aka Grandpa), my son Ian holding granddaughter Lillian, and Ian's wife Tracy holding grandson Caden.
I've created a gallery on pBase.com of family photos I've taken during our two week visit to Ohio. Click here to view it, and as always, click on the photo above for a larger view, and for Sandra's account of the day, click here.

We Do The Dayton Area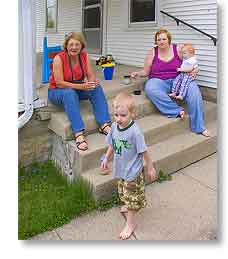 Friday, April 21, 2006 - We had a busy day on the road yesterday, driving two hours over to the Lake Loramie State Park, an hour north of Dayton, to meet up with my long-time friend Mel and his wife Janice to see their new RV, a Jayco Jay Feather LGT 25 Z (if memory serves correctly).
After seeing the RV, they took us to lunch at The Grille in the nearby village of New Bremen. It was a very nice restaurant with dark paneling and some rather nostalgic decor.
After eating and walking around town a bit taking photos, we parted company with Mel and Janice and taking the scenic route through Minster and Fort Loramie, where we also took a few more photos since those villages were also surprisingly clean and picturesque much like New Bremen, we headed south to Dayton to see my son Ian's family, although sadly he had to stay at work.
At Ian's house, we met granddaughter Lillian for the first time and I was amazed at how much she looks like my daughter Michelle did at that age, except Lillian has blue eyes and Michelle's are brown. Lillian's big brother Caden was in the midst of his afternoon nap when we arrived but Lillian, after getting to know us a bit, decided her brother should be enjoying the moment too and proceeded to wake him up. She is such a doll.
After spending a most enjoyable hour or two with the kids and their mother Tracy we called it a day and headed back to Alton.
The photo above shows l-r: Sandra (aka Grammy), grandson Caden, daughter-in-law Tracy, and granddaughter Lillian. As always, click on it for a larger view and for Sandra's more detailed accounts of the day, click here.

Grandpa Surviving...So Far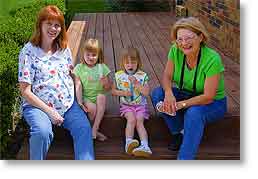 Thursday, April 20, 2006 - We've visited my daughter's family a couple times since arriving near Columbus and so far after trying to keep up with her two young daughters during the day, at night I've slept like a baby myself. Phew! Such energy.
My daughter also spoiled me, despite her being near to giving birth to her third child (a boy who has already been named Luke) and despite me telling her not to do so, went ahead and baked me a gluten-free butterscotch pie, to my mother's recipe, one of my most favorite things to eat.
Today, we are heading over to the Dayton area to visit with my long-time friend Mel, who has just taken possession of a new RV, and to visit my son's family, although he'll have to be at work. We're looking forward to seeing them, particularly since this will be the first time we'll see his daughter Lillian.
Photo above l-r: my very pregnant daughter Michelle (best daughter in the world), her daughters Grace & Faith (two of the four cutest kids in the world), and Sandra (aka Grammy and most wonderful wife in the world)
For Sandra's more detailed accounts of the days, click here and here.

We Move Near Columbus, Ohio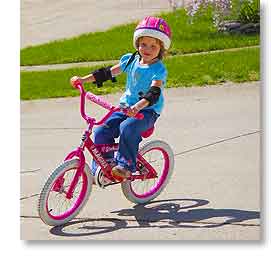 Monday, April 17, 2006 - Last evening, as planned, we joined my younger sister's in-laws for an enjoyable Easter supper. It was good to again see people I haven't seen for quite a number of years.
Then this morning, having only an 85 mile move from Lebanon to Columbus, Ohio, we went about packing up at a much more leisurely pace than normal and didn't leave until around 10:30am, having done the last of the outside work in rain that moved in.
Fortunately, it didn't last long and while we traveled north on I-71 the skies cleared and by the time we neared the Columbus vicinity the weather was sunny and beautiful.
However, the drive ground to a screeching halt just before we reached the Columbus bypass which we were going to take and had to resort to surface roads through Grove City, Ohio to get around the backup on I-71 before arriving at the Alton RV Park around 12:30pm.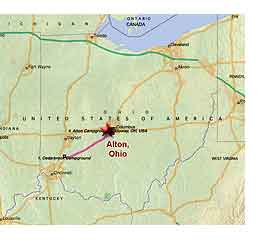 We have a very clear view of the internet satellite so accessing it was a snap and the new camp was setup before 2pm.
Shortly after that, leaving Sandra at the RV to rest from the move, I headed for my daughter Michelle's to see her and her family. I was greeted by Michelle and soon after that by Grace and then Faith, two of my grandchildren.
Both were quite excited to see me and had to show me their new bed arrangement (bunk beds that are now stacked rather than each being on the floor). They thought the stacked beds were just too cool.
Then Grace took me to the garage to proudly show me that laying on the floor of the garage, discarded because she no longer needed them were the training wheels from her bike.
Following this, both granddaughters tried their best to tire out their grandfather in play before all of us moved to a court across the street to let the girls ride their bikes while the adults sat and watched and grandpa caught his breath.
Photo above is of Grace riding her bike in the court. As always, click on it for a larger view.
For Sandra's account of the day, click here.

Visit to Cincinnati's Krohn Conservatory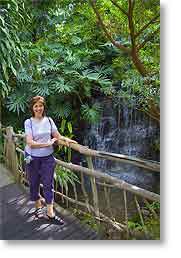 Sunday, April 16, 2006 - First, let me wish everyone a Happy Easter. It doesn't seem to be the holiday it was when I was a kid, but maybe that's my perception of it as an adult who no longer has any interest in the Easter bunny.
Anyway, yesterday Sandra opted to stay at the RV and my younger sister Carol's husband Rick stayed at home while I spent part of the day with Carol, visiting the Krohn Conservatory in Cincinnati's beautiful Eden Park.
I can't remember the last time Carol and I did something together, just the two of us, and since I've also been wanting to visit the conservatory for several years, having never shot any digital photos there but always seeming like too much of a chore to drive into the city to bother with it, yesterday was a special day, made even more special because Carol drove.
The conservatory was much as I expected, being essentially unchanged since my last visit, so I was able to take many of the photos I had wanted to. Pictured here is Carol by the conservatory's little rainforest waterfall.
After we walked through the conservatory and strolled around the grounds a bit, we then drove around Mount Adams some (my favorite area of Cincinnati) before departing the city and having lunch at a Wendy's back out in the 'burbs.
Tonight, Sandra and I have been invited to an Easter supper with Rick's family at his brother Jim's house. It will be good to see his family again because, like the conservatory, it has been many years since I've seen any of them.
Tomorrow, we pack up and move to Columbus.
For Sandra's account of yesterday, click here.


__________________________

For Older News

To read details of our previous stops and camps, visit the News Archives.


Updated Thursday, May 4, 2006

Copyright © 2006 by Gordon L Wolford .
All rights reserved.