End of an Era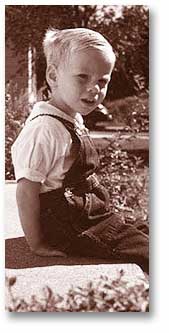 Friday, September 15, 2006 - Sixty years ago tomorrow I was born, nine months to the day after my father returned home from World War II. You only need one guess to figure out what my parents were doing that day, my father handsome and virile, my mother beautiful and sexy, now both passed away.
Back then, the war had just ended so optimism ran high, Harry S. Truman held office as the 33rd US President, nuclear power and television were in their infancy, telephones were wired to the wall and used rotary dials and calls of more than just a few miles required going through an operator and were billed as long distance, amateur radio was popular, photography was shot on film, semiconductors and the miniaturization of electronics were the stuff of science fiction so computers and the internet were unheard of, as were satellites and space travel. Shopping centers, ATMs, banking fees, CDs, DVDs, stereo, rock 'n roll, freeways, interstate highways, and jet airliners didn't exist. Air travel was not threatened by terrorists. Family and the church were the two most influential factors in the lives of most people and divorce, cancer, and illicit drugs were rare, while sexually transmitted diseases were all curable.
My, my, my. How things have changed in my lifetime. Some for the better, some not. Would I want to go back? Probably not, but there is a great deal from that era I miss, while having insulated myself from most of the maladies of today. I don't consider the current world a better or worse place, just different.
Anyway, turning 60 years of age tomorrow is a milestone to me as it's the end of an era. I felt like I changed from being a boy to being a young man when I graduated from high school and two weeks later left home to attend electronics school and live by myself. I felt like I had become fully adult when seven years later my first child was born. From then on I basically just felt adult, not particularly young or old, just slowly aging but feeling middle age, even through my fifties.
Tomorrow that changes. I know I'll only be one more day older out of the 21,915 days I'll have lived and most likely won't feel any different than I do now, which in many ways is better than I felt 40 or 50 years ago since the medical condition I've lived with all my life was finally diagnosed correctly only 5 years ago, but while 59 years old still sounds middle aged to me, there is no way that 60 years old sounds like anything other than old age. Sigh!
Oh well. Life goes on...albeit with less hair, fewer teeth, and more aches and pains than when I became an adult.

The Stay In Ottawa So Far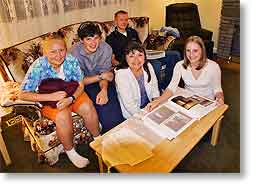 Wednesday, September 13, 2006 - The most exciting thing we've done so far in our return to Ottawa was Sunday supper Margie held at her house as a joint birthday party for Sandra and me. Turkey and mashed potatoes. Yum! Presents. Yay!
Danica had invited a young fellow, Jeff, to join us for the celebration. She evaded and danced around questions and suggestions of a romantic involvement with him, but I suspect behind the scenes there is a torrid and steamy romance going on.
The newlyweds, Nick and Becky, also joined us for the dinner, so Margie had a full house for a while.
Pictured here are (l-r): Danica, Jeff, Nick, Margie, and Becky. Sandra was just out of the frame taking her own photos and John was in the kitchen. As always, click on the photo for a larger view.
Otherwise, I had blood tests done on Monday to see if the Lipitor I've been taking the last three months for cholesterol control is destroying my liver or not. I learn the results of the blood test later today.
Also on Monday, I paid a surprise visit to my dentist to have yet another abscessed tooth taken care of. Last summer I tried to make an appointment with her and couldn't have gotten in until after we headed south, so since she'll take emergencies without an appointment, the tooth was bothering me enough this summer I decided it had become an emergency.
Since I already have partial dentures, I opted to have the tooth removed and a new one added to my lower plate in its place, rather than a root canal and fillings done to it, which was done to my last bad tooth and still ended up having to have it removed, so this time I didn't bother with the added pain and anguish to myself and bank accounts.
On the technical side, the only thing of interest we've done is move the TV dish from the ladder on the RV to a tripod on the ground. Sandra found the tripod at our nearby 'The Source' store (formerly Radio Shack) and I went back to make sure it would work before buying it. Having the dish on a tripod gives us much more flexibility in locating the satellite and ease in peaking the signal. I left the mounting hardware on the ladder, because there are times we might need the height, but I expect we'll use the tripod most of the time.
For Sandra's account of our latest stay in Ottawa so far, click here.

Now Back In Ottawa, Ontario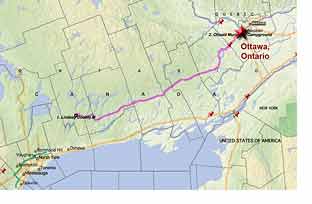 Friday, September 8, 2006 - Today we packed up and moved back to the Ottawa Municipal Campground and are in the same campsite we had here 3 months ago.
We made the 186 mile (300 km) drive from Lindsay to Ottawa in 4 hours and enjoyed a strong tailwind, which accounted for our mileage on arrival being a record 14.8 mpg, amazing for having traveled the whole way on two lane roads, which normally drops the mileage like a rock.
The most noteworthy thing about setting up camp today was that this was the first time I had to locate the TV satellite myself. The TV dish and its associated hardware are smaller and much lighter than those for the internet satellite, but they are also less convenient for adjusting and there's no signal strength meter, so Sandra had to call out over our walkie-talkies the signal strength displayed on the TV. But, I managed to find the satellite and get an adequate signal, although a tree is partly obstructing a clear view of it.
Having to setup a separate dish for the TV was not something we were supposed to have to do since the original plan was to have the TV receiver share the internet dish, but the people in Lindsay couldn't get it to work, so until they figure it out we will have to be setting up two dishes. Oh well. I don't really mind the extra effort since TV from the satellite is so nice.
For Sandra's more detailed account of the day, click here.

Daytrip to Peterborough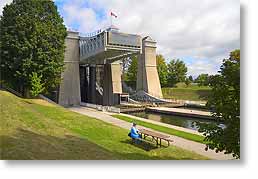 Monday, September 6, 2006 - Yesterday, for Labor Day Sandra and I drove the 25 miles (40 km) east to Peterborough, the region's largest city, to see the lift lock there, lock in this case being the canal lock variety and this particular one being a special kind.
It wasn't until recent years that I'd ever heard of lift locks, not surprisingly since there are only 8 of them in the world, 2 in Canada, the rest in Europe, and the one in Peterborough on the Trent-Severn Waterway is the largest and tallest of the hydraulic kind, lifting or lowering a boat 65 feet (19.8 meters).
And as it turned out, we got there at an opportune time because they were just preparing to lower a boat as we arrived and at the same time the sun came out through a small break in the overcast. Pictured here is Sandra at one of the picnic tables below the lock.
The lock was quite interesting, but while there we saw a bit of the city and learned they have a zoo, surprising since Peterborough is about an eighth the size of Ottawa and Ottawa has no zoo.
Peterborough's isn't a large zoo, but not only was parking free, so was admission. Can't beat that even if they didn't have the usual lions and tigers. They did some interesting animals though, like camels, reptiles, and small primates to name just a few, however they made it very difficult to photograph them since the enclosures were mostly chain link, but since this discovery was a bonus and it cost us nothing, it's hard to complain about it.
For Sandra's account of the day, click here.

Seeing Some Sights, Sitting In Some Rain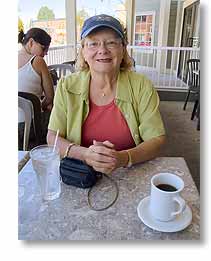 Sunday, September 3, 2006 - As I write this, the remnants of Hurricane Ernesto are passing over, giving us a wet Labor Day weekend and keeping us from going to an outdoor corn roast last night held by neighbors of Betty and Garth's. After all the trauma and trouble rain caused us in the Pacific Northwest on last winter's tour, I no longer will go out in it unless there's no choice.
As hurricane remnants go, Ernesto is proving to be a non-event, although we did put up the awning last evening as the wind gusts were blowing it around enough I knew I wouldn't sleep well worrying about it.
Otherwise, mostly what we did last week that's worth reporting was a couple sightseeing outings through the Kawartha Lakes region.
The first was on Monday when Sandra and I drove northeast as far as Petroglyphs Provincial Park, where we had to pay almost $10 to get in only to then find out we weren't permitted by the local native tribe to photograph the rock carvings, so we won't be going back.
The second outing was on Wednesday when Garth and Betty took us around the same area in Garth's Cadillac, only via a more northerly route. They had originally planned to take us in the boat to Crocodile Bill's Restaurant on Big Bald Lake near Buckhorn, but the lakes turned out to be too choppy and the weather just a bit too nippy for that. Disappointing not to have gone in the boat, but there are worse ways to go than being driven around in a Cadillac.
On Monday's tour we had lunch in the town of Lakefield at the Thirsty Loon, a restaurant/pub located downtown in the Village Inn. Pictured here is Sandra at the table we had on their outdoor terrace which gave us a good view of pedestrian and automobile traffic on the main street.
On Wednesday's tour we had lunch near Lakefield at the Six Foot Bay Resort & Golf Club where Garth has played golf before. Betty paid for our meal as an early gift for Sandra's and my 16th wedding anniversary coming up November 5th, a date we won't be able to see them. At Six Foot Bay we again dined on an outdoor terrace, this one overlooking a pond and the golf course's 18th hole, fortunately far enough away there was no hazard from errant golf balls.
For Sandra's account of the week, click here.
To view my gallery of photos taken around the Kawartha Lakes, click here.

__________________________

For Older News

To read details of our previous stops and camps, visit the News Archives.


Updated Monday, September 25, 2006

Copyright © 2006 by Gordon L Wolford .
All rights reserved.