Another Busy Touring Day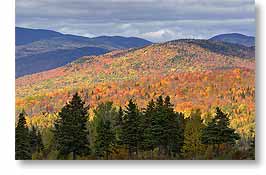 Saturday, September 30, 2006 - Today dawned bright and sunny, so we decided to head north and see what Jacques Cartier National Park in the Laurentian Mountains looked like.
However, as is often the case, the mountains had their own weather pattern and were sitting under overcast skies and since traffic at the entrance to the park was backed up and not moving, we turned around, went back to the city and as we did on Tuesday, we went northeast along the north shore of the Saint Lawrence River.
One little note here, while Quebec calls Jacques Cartier Park a national park, it is in reality a provincial park. There are also signs along the highways into Quebec City that refer to it as the national capital when it too in reality is only a provincial capital. No wonder the residents there are confused as to their status within Canada. The older I get, the more I despise politics, but that's another subject for another day.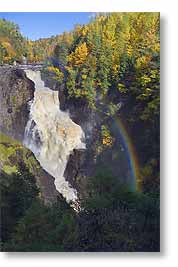 We again drove through the village of Sainte Anne de Beaupré in search of the Sainte Anne Canyon. However, as has happened all too often during my excursions in Quebec, their ambiguous signage sent us off on a tangent and we ended up driving along the wrong road. It was a scenic diversion, but a waste of time from a photography point of view since there was nowhere to pull off the road to take shots of what we were seeing. This reminded me of the roads through the Fraser Valley in British Columbia where I encountered the same problem. Beautiful scenery but no way to capture it.
Photo above right of the autumn colors in the Laurentian Mountains was taken from the main road, once we got back to it, which at least had shoulders we could pull over onto.
Anyway, that road we soon discovered was the one that actually went by the entrance to Sainte Anne Canyon. So we pulled in, parked, paid through the nose for their entrance fee, and were rewarded with a shuttle to the top of waterfalls that plummet into the canyon, so at least we were saved that much of a walk, which as it turned out, we needed the energy for to get around the canyon itself.
The falls (photo above left) wasn't the Niagara, but still impressive and we had a good time walking around the rim of canyon and descending the 187 steps of the stairway down into it, although it felt like at least twice that many on the climb back up.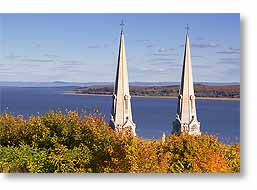 One of the more interesting things we saw there was a group of rock climbers who were climbing the walls of the canyon and sliding above the canyon on a couple of wires strung across it.
By then we'd seen enough for one day and headed back for the city, but on the way stopping again in Sainte Anne de Beaupré to take more pictures of the basilica there, this time though, since it was sunny, taking them of the exterior more from a distance. One of these shots (photo on the left) involved driving to the top of the escarpment that runs along the St. Lawrence river valley there, where we encountered a grade in the road of 24°, the steepest grade I can remember ever driving up. Wouldn't like to try that one in the winter.
For Sandra's accounts of the day, click here.

Seeing Some Quebec City Sights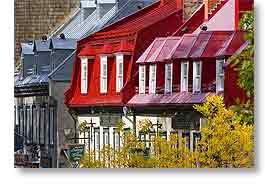 Thursday, September 28, 2006 - We didn't waste much time getting out and seeing some sights.
Tuesday, even though it was overcast with scattered showers in the area, Sandra and I drove into the city, basically as a scouting mission for later when the weather was more conducive for photography.
My intent had been to just drive around and refamiliarize myself with the city, having forgotten much about it from my visit there 19 years ago, but when we found street parking in Old Quebec, we got out and walked around a bit, even managing to find some photos to take despite the less than favorable conditions, photo on the right taken during a brief sunny break.
But then, we decided to drive over to the cathedral at Saint Anne de Beaupré (photo below right), a sight highly recommended by Margie and John, and got hopelessly turned around in the can of worms that is Quebec City's street layout. There is no grid pattern to it and we didn't have a good map with us and their signage is nearly useless and if it wasn't for the truck having a compass we'd probably still be trying to find our way out of the city. I say their signage is nearly useless because several times we'd see a sign for a route we wanted, follow the direction it pointed us in, only for that street to end and there not be another sign at that point telling you which direction to turn. Duh!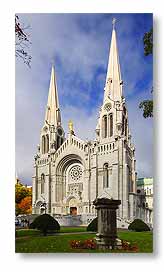 Anyway, we did eventually find the cathedral. Fortunately, we had rain coats and umbrella with us because we needed them as it was raining when we arrived there. The church is quite impressive, probably moreso than Winchester Cathedral which we saw on one of our trips to England, although that church is impressive for the size of it for its age, parts of it dating back to 1079.
By the time we'd toured the interior of Saint Anne de Beaupré the rain had stopped and the sun was trying to shine, so we walked around the exterior as well.
Then on our way back to the city we stopped at the Montmorency Waterfalls, which we'd seen on the drive to the cathedral. This too was quite interesting, but apparently there's an even more impressive falls further beyond the cathedral in Saint Anne's Canyon.
Maybe we'll drive back out to it, but there's also the Jacques Cartier National Park to see, less than an hour north of the city, as well as taking the drive along the coast of the Gaspé Peninsula, which we did 12 years ago, but would now like to shoot some digital photos of it.
Wednesday, I was up and out for the sunrise, driving over to the Terrasse de Lévis, a park atop a cliff in the nearby town of Lévis that overlooks the Saint Lawrence River and Quebec City across the river. I had originally planned to take the ferry over to the city, but it was quite cold at that point and I hadn't dressed well enough for it, so I went back to the RV.

Then midafternoon after the day had warmed up, we did ride the ferry over so I could take some late light photos in the city and Sandra could visit some of the shops. The ferry was a fun ride and they always make me nostalgic for the cruises Sandra and I used to take.
After landing, we went our separate ways, Sandra to the shops and me deciding I'd see the Citadel and walk along as much of the city's wall as I could, Quebec City being the only walled North American city with its wall still remaining. The gates through the wall (photo left) definitely add to the European feel that Quebec City has, as do the narrow streets and general look of the architecture.
So I made the climb up to the Citadel, walked along the top of it and then followed along the top of the wall as it made its way around Old Quebec City. I don't know how long the wall is, but I'd guess I walked about 3 miles in total. My feet still hurt, but it was quite an interesting hike, during which I took 210 photos.
In due course, I met up with Sandra and just as the sun was setting we took the return ferry back across the river.
I've started a gallery of Quebec City photos which can be found by clicking here.
For Sandra's accounts of Tuesday and Wednesday, click here and here.

Regained Satellite Access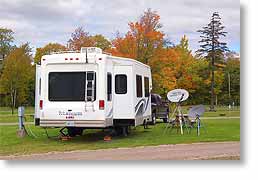 Monday, September 25, 2006 - We were given our money back at Camping Juneau Chalets campground this morning, so we packed up and moved to Camping Transit as hoped.
The move was about 20 miles and took only a half hour or so. The road construction and huge backup we encountered yesterday, Sunday, were gone today, Monday. Go figure.
Once at the new campground, we were soon checked in and on our site, as seen here in the photo. Camping Juneau was a campground; Camping Transit is an RV park. Big difference. This is more like the RV parks we encountered out west last winter. Nice open areas with clear views of the sky, but with enough trees scattered about and around the periphery of the grounds so you don't feel like you're in nothing more than a big open field. The facilities we've seen so far are quite nice.
And, oh what a joy to have satellite access back. The prospect of being without both satellites for a week was discouraging, but all's well that ends well.
I had the internet dish setup within minutes and then setup the TV dish purely by eye, guesstimating the TV satellite's location based on it being 30° further west than the internet satellite, and we had TV without resorting to anything else, although we did tweak it later for better signal strength.
Now to relax a bit and catch my breath. It's been a trying two days.

Now in Quebec City, Quebec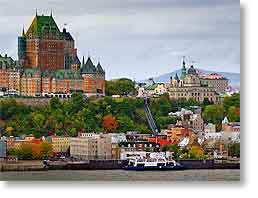 Sunday, September 24, 2006 - Wow, what a day. As I write this we are in the Camping Juneau Chalets campground a few miles west of Quebec City, Quebec.
Annoyingly, the woman at the campground we had made the reservations with a couple days ago hadn't actually grasped the concept of 'clear view of the southern sky for satellite access' or more likely, had simply chosen to ignore it because on arrival here, and signing up for a week's stay, we found all campsites are surrounded by trees, as in, the place was carved out of a forest. So we are currently without internet and TV access.
The woman had told us they had wi-fi and satellite TV, but it turned out to be in only a small area of the campground and the wi-fi costs $40/week which is highway robbery for wi-fi and based on that, I doubt the TV is free either.
So, once we got the RV backed into a very difficult site, we headed out and located another campground, Camping Transit, that does indeed have a clear view of the southern sky, as well as being half the price, and we will be moving there tomorrow, if we can get our money back here for the unused six days.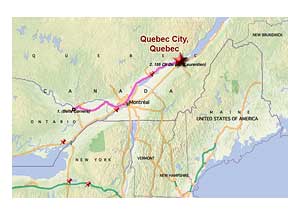 That's the current situation, which won't be posted until we move because during the drive to find the new place we also tried to locate an open wi-fi network, but were unsuccessful even with the high gain gear.
Anyway, that's the bad news. The good news is that it was supposed to rain all day, even with morning thunderstorms, but it turned out to be a great day for travel. After watching the weather forecast all week, I had been thoroughly stressed out at the prospect of towing 284 miles in driving rain, a trip that also included passing through two major metropolitan areas. The weather was to clear on Monday, so my decision had been whether to make the drive in bad weather but with light Sunday traffic through Ottawa and Montreal or leave on Monday with better weather but heavy weekday city traffic.
Despite our ordeals last autumn in similar situations driving through Seattle and Portland, I eventually decided to go with rain and light traffic which proved to be a good decision because the rain quit at dawn and by the time we started packing up, the clouds broke, blue sky started to appear, and by the time we left the campground there was a huge area of blue sky right over us.
We also had very high wind which was fortunately going our direction, so we ended up getting 15.4 mpg for the trip, an all-time record while towing, and the blue sky stayed with us the whole drive, although clouds ringed the horizon so the blue was like the eye of a storm that kept pace with us.
The photo above is of Quebec City, taken from across the St. Lawrence River at Levis, Quebec. For Sandra's account of the day, click here.

Ontario Tour 3 Winding Down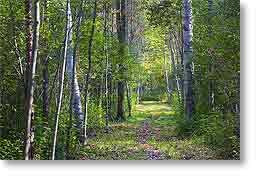 Friday, September 22, 2006 - I think of Sandra's and my odyssey in terms of Winter Tours and Ontario Tours, since we have to spend 5 months of the year in Ontario to keep our provincial benefits, and this year's Ontario Tour, our third, is nearing its end. So since we also have to spend another month in Canada to keep our federal benefits, this year we decided to spend that month east of here in Quebec (last year seeing the western provinces).
So yesterday Sandra made arrangements with a campground just west of Quebec City, 300 miles to the east, for us to spend a week there. However, considering that Quebec City is unique by North American standards, in that it looks more European than American and has some of the oldest buildings in North America, we might be spending more than a week there.
Then the plan is to spend some time at Montreal on our way back to Ottawa, where we need to finish up some more personal matters before we head south for the winter at the end of October. After our campsite was reserved in Quebec City, we drove over to the Rideau Heights campground here in Ottawa and reserved a spot there for that last return.
On the way back to the RV we stopped at a hiking trail I've been wanting to explore that's just down the road from our current campsite and we walked for quite a ways into the woods (photo above), taking advantage of the last sunny weather we're supposed to have for a while.
For Sandra's account of the day, click here.

Birthday Activities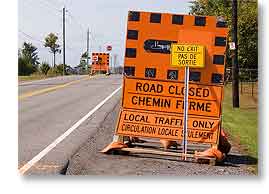 Sunday, September 17, 2006 - Yesterday, for my 60th birthday Sandra made me go shopping!
Actually, that's not as bad as it sounds since the shopping I refer to was a visit to the Carp Farmers' Market. In this case, Carp is the name of a nearby village, not the fish.
We went to the Farmers' Market to buy some farm fresh eggs, a breakfast item I've been talking about for a number of years since the eggs we get in the grocery have almost no flavor, unlike the eggs my mother used to cook and I'm pretty sure she used to buy her eggs from a farm, so I've been curious if there's a difference or if it was just in how she cooked them. I'll let you know what I find out next time I cook breakfast.
From Carp (pronounced by many locals as Cairp, as with a Scottish accent) we decided to drive to Elgin Street in downtown Ottawa for breakfast. Elgin Street is a trendy place with a lot of shops and restaurants and Sandra and I liked to go there now and then for Sunday breakfast when we lived in Ottawa, but hadn't since we started traveling. It's a very interesting place to have breakfast if you can find a restaurant with a window table available because Elgin Street has a lot of pedestrian traffic which makes it an excellent place to people-watch.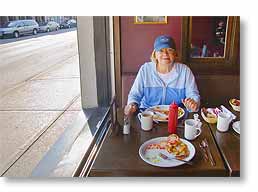 However, we almost couldn't get there. The photo above tells the tale. Road construction. Everywhere! When I first came to Ottawa 19 years ago, its streets and roads were among the smoothest I'd traveled on. Now, they're among the worst and I guess they're trying to rectify that, but not in a well managed way. Nearly all the major east-west arteries in the city have road construction being done to them at some point, backing up traffic everywhere. Really ignorant planning or lack of planning at all. Morons.
And unfortunately, the way the city is laid out, most residential areas have no through streets, forcing people to use main arteries to get from one area of the city to another. This is good for keeping traffic out of residential neighborhoods but bad when the main arteries are clogged, as they were yesterday.
But, we perservered (and me even doing so without losing my temper) and eventually arrived at Elgin Street, easily found a parking spot on the street (no doubt because most of the cars in the city were stuck elsewhere in backups), and even found a restaurant (Woody's) with a window table available (photo above left). The food and service were good and after eating we eventually managed to get back to the RV where we spent the rest of the day quietly.
For Sandra's account of the day, click here.


__________________________

For Older News

To read details of our previous stops and camps, visit the News Archives.


Updated Sunday, October 1, 2006

Copyright © 2006 by Gordon L Wolford .
All rights reserved.