Last Full Day In Montreal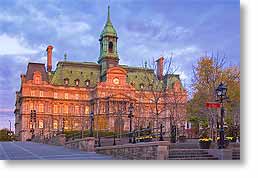 Sunday, October 15, 2006 - I've finally gotten a feel for the major roads and streets in and around Montreal and this morning was able to end up in Old Montreal for the sunrise, which didn't last long before clouds moved in again, but I did manage to get a few photos, like this one of Montreal's City Hall (Hôtel de ville).
There are still places in Montreal I wanted to see, but it will have to wait until next time because we leave tomorrow to return to Ottawa for our last week in Canada before heading south for the winter.
This afternoon, Sandra and I drove along the route we are planning to tow along tomorrow and hopefully it is the path of least resistance. At least today it had no construction zones backing up traffic and much lighter traffic than the highway we took through Montreal on our way to Quebec City 3 weeks ago, but what traffic will be like tomorrow is anybody's guess.

Our Montreal Week So Far


Saturday, October 14, 2006 - So far our week in Montreal has been less than memorable. This is due to the continuation of the cold wet cloudy weather we had in Quebec City.
We did have a fairly nice day yesterday, so i was able to get out and take some photos, and this morning we had sort of a sunrise to start the day, but it clouded over soon afterward and it is now raining again and quite chilly.
The photo here was taken this morning before dawn, as I was waiting for the sun to come up. I finally found a good clear view of the skyline that has easy access and convenient parking, this being taken from the Parc Jean Drapeau that's on an island in the Saint Lawrence River.
I've always found Montreal to be somewhat confusing to get around in and this time has proven no different, if not worse. I criticized Vancouver for having no freeways within the city proper, but I could always get to where I wanted to go. In Montreal though, there are freeways and ramps onto and off of them everywhere and even with detailed street maps in the computers to refer to, I have found myself being forced onto freeways I didn't want to take and having freeways end unexpectedly and dumping me onto surface streets that I didn't want to be on. Very annoying and frustrating. We need a better paper map, but all of the tourist info bureaus have closed for the winter. Should have bought a paper map somewhere. Oh well, next time.
Of course, the problem with getting around is complicated by the signs all being in French and many of them being misleading or missing, which drives me nuts. For instance, I was trying to find Old Montreal, a district I've visited a number of times in the past and never had trouble finding it, but this time I haven't yet. I know where it is, but due to streets being blocked for one reason or another, I couldn't simply just drive there. Very frustrating. I even saw a sign pointing to Vieux-Montréal (Old Montreal), followed it and the ensuing ones, then there simply were no more and I was nowhere near Old Montreal. Perfect example of my experience with signs in Quebec. I'm sure it would be less of a problem if I learned French, but I'm slowly learning my way around despite it. Quebec is very interesting and quite beautiful in places and I'm glad we're seeing it, but I'll be very happy to return to English North America.
For Sandra's accounts of the week, click here.

Now Near Montreal, Quebec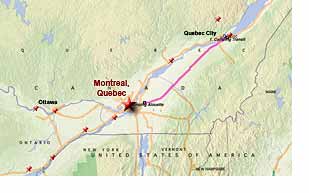 Monday, October 9, 2006 - We left Lévis, Quebec, near Quebec City, at 10:36am this morning and arrived here at the Camping Alouette campground near Montreal (in St-Mathieu-de-Beloeil actually) at 1:15pm after an uneventful and almost leisurely 145 mile (233 km) drive, all along Quebec Highway 20, which is equivalent to a US interstate.
We were setup and with satellites accessed by 2:45pm.
Our stay in Quebec City went very well, despite many days of less than wonderful weather. I photographed everything I'd expected to, plus a great many things that I hadn't, taking a total of 1,421 shots during our two weeks stay. Since there was no shortage of things to photograph around there, the count would have been much higher had the weather been more cooperative, but I'm not complaining. That's still a lot of photos.
We are to be around Montreal for a week before one last visit to Ottawa before heading south for the winter. Yay!!!

Two More Days Of Touring

Sunday, October 8, 2006 - The last two days, Friday and Saturday, were sunny and bright so Sandra and I headed out to see as many sights as we could, especially the ones we had wanted to see but hadn't bothered due to the long period of cloudy rainy weather we'd experienced.

Friday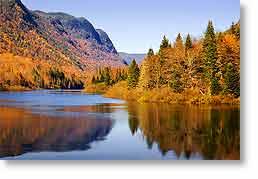 On Friday we made the 75 km (45 mile) return trip to Jacques Cartier National Park in the Laurentian Mountains because I felt it was worth persisting in trying to see.
This time, the weather remained good even into the mountains and the visit started out on a very positive note when we not only encountered no traffic backup at the entrance gate, but the girl in the booth there told us the park was not charging an entry fee that day, saving us $3.50 each. Not a large sum of money, but still a bonus.
We stopped at the park's visitor center, 10 km (6 miles) into the park, to get oriented and then headed out on the road along the very scenic valley of the Jacques Cartier River.
Unfortunately, the road was narrow (but at least paved, at that point), lined with trees and overgrowth on both sides for much of the way which obstructed a lot of the view, and with few places to pull off the road so one could take photographs the few times one actually had a clear view of the scenery.
Then, a few kilometers beyond the visitor center, the road turned to cross a somewhat insubstantial-looking wood beam bridge over the Sautauriski River (a tributary of the Jacques Cartier River) and became unpaved from that point on.
The truck, with its heavy-duty suspension, does not do well on rough dirt roads in dire need of grading, as this road was, but we persevered and drove on a few more kilometers. On the way, out of desperation to get a photo, a time or two I had no recourse but to simply stop in the road, put on the flashers and hope no one rear-ended us (fortunately traffic was very light), and climb onto the top of the truck to get a shot over the underbrush and growth lining the road.
We eventually reached a good clear unobstructed view at the Pont Banc picnic area, 18 km (11 miles) into the park (photo above). At that point, we decided we'd had enough being bounced and jarred over the rough road and turned back, stopping at one more picnic area that also had some good views.
With persistence, we did manage to get some good photos, but only a fraction of what could have been taken had the park been more photography-friendly.

Saturday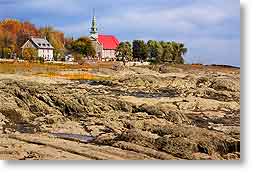 Yesterday, we made the 51 km (32 mile) drive to the Ile d'Orleans, a 34 km (21 mile) long by 8 km (5 miles) wide scenic and historic island in the Saint Lawrence River where it's estuary begins.
While the island is very picturesque with kind of a blend to its look of maritime, Quebec, and New England architecture and terrain, as well as coastal, since the river is quite wide there and also subject to Atlantic tides, it was also very difficult to photograph since the road around the island is narrow with no shoulders and lots of traffic, all of which made stopping for a shot a hazardous endeavor. Plus the road is lined on both sides much of the way with power lines and cables and utility poles. Such a pity and such an example of bad taste for a locale that prides itself on its quaintness.
But that's from a photographer's point of view. The average tourist would be impressed with the wide variety of well-maintained houses, scenic vistas, and island ambience. There were many little art galleries (none we stopped at though), vineyards, farms, and six little villages, all with their own historic and picturesque church (like the photo above and all of which we did stop at). So, even if frustrating for a photographer, it was still a very pleasant, interesting, and worthwhile drive.
On the way back to the RV, we took a short detour up to the former Charlesbourg, now part of Quebec City, to see if we would could find the Trait-Carré historic district I'd been told about. I think we found it, but it isn't real obvious to the casual uninformed observer.
I parked and walked around the area a little, took a few photos, and we then continued on to the RV, happily not encountering a traffic jam on the bridge over the Saint Lawrence River, as has usually been the case late in the afternoon like it was by that time. Quebec City needs at least two more bridges over the Saint Lawrence.

Sunday

Today, we are planning to take it easy (all this sightseeing and having fun can sure wear out a person) and start preparing for our move to Montreal tomorrow, where we are planning to spend a week, probably at the Camping Alouette campground. I want to photograph Old Montreal, Mount Royal, and in the Biodome, Botanical Garden, and Insectarium, so should be another busy but rewarding week photographically.
For Sandra's accounts of Friday and Saturday, click here and here respectively.

Sun Returns & Cold Nights Arrive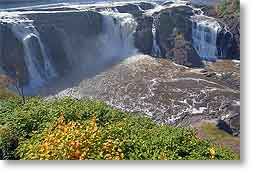 Friday, October 6, 2006 - Wow! As I start to write this just before dawn, the temperature outside the RV has dropped below freezing for the first time in a long time. Can't remember the last time it did, but it's 29°F/-1°C. Definitely time to head south. Yech!.
Anyway, yesterday during the night the clouds and rain departed, but not before giving us one last kick in the...uh...posterior Wednesday evening with winds so high they moved the satellite dishes off their satellites. I was able to get the internet dish repointed, getting quite wet in the process despite the rain gear I wore, but the TV satellite eluded me.
Then yesterday dawned clear and bright and without the howling wind and driving rain I was able to relocate the TV satellite. Then in celebration of having sunny skies once again Sandra and I hit the road to see a few of the off-the-beaten-path points of interest someone told me about who lives in Quebec City and is a frequent visitor of my pBase photo galleries.
The first place we stopped was Les Chutes de la Chaudière (Chaudiere Falls) on the Chaudiere River (pronounced in English as shoddy-air), a short distance upstream from where it flows into the Saint Lawrence River and in the former city of Charny, now amalgamated into Lévis, Quebec. The falls themselves (photo above) were nice and while as spectacular as any we've seen in this area, the best part about them was the park they are located in charged no admission fee. What a concept! It pays, literally, to get information about an area from someone who lives there. The falls are also convenient because they are on our way to Quebec City, before one has to cross the bridge over the Saint Lawrence.
Next stop was the Parc de la Plage Jacques-Cartier (Jacques Cartier Beach Park) in the former city of Sainte-Foy (now amalgamated into Quebec City) on the north shore of the Saint Lawrence River almost due north of Chaudiere Falls and only a short drive from them. The scenery at Plage Jacques-Cartier was pretty and it offered a great view of the two bridges over the Saint Lawrence (in fact, the only Quebec City bridges over the Saint Lawrence and therefore something to avoid at rush hour as we've learned the hard way). Click here to see my photo of these bridges. The beach, while well groomed and long, wasn't sand but very fine gravel mixed with dirt, so it wasn't all that visually pleasing. But the view of the Saint Lawrence and the walkway through the park were quite nice, and again, there was no admission fee, so can't complain.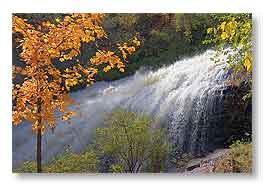 We then ran into a bit of trouble finding our next stop, Kabir Kouba Falls in Old Wendake, which is actually a Huron (Wyandot) First Nation reservation, but you'd never know it just driving through the town. Thanks to Quebec's ambiguous, frustrating, and often incomplete road signage, we almost couldn't find this place, but obviously did since that's my photo of it on the right. Because I'd had the foresight to bring along my computer for its map software, we persevered and found what we thought were the Kabir Kouba Falls (despite the street names in that area having been changed) only to learn what we found was a long stretch of rapids in the Saint Charles River above the falls. The view from the walkway beside the rapids was quite lovely (click here to see my photo of it), so it wasn't a wasted effort, but we found the actual falls purely by accident as we were leaving town on the way to our next stop, another example of the incomplete road signage. Drives me nuts! While we're enjoying our stay here and seeing a lot of new and interesting things, I'll be glad to get back to English North America.
Anyway, our last stop was to have been the historic square (Trait-Carré) in the former town of Charlesbourg, also absorbed by Quebec City, but incomplete signage once again bit us in the drive train, so we missed it, and by this time we were tired, exhausted actually, from having climbed up and down at least a zillion stairs in our previous stops, and it was getting perilously close to rush hour, so we decided to call it a day and return to the RV before the bridges got clogged. We might return to Charlesbourg, but we still want to see Jacques Cartier 'National' Park and tour the Ile d'Orleans, so since we're scheduled to leave on Monday for Montreal, I'm not sure if we'll have the time or energy to return to Charlesbourg.
We had also planned to spend a couple days on the north coast of the Gaspé Peninsula, but having lost so much time to the clouds and rain making sightseeing and photography pointless, we've decided to go there another year.
For Sandra's account of the day and some of her beautiful photos, click here.

Nothing Much But Cloud & Rain


Wednesday, October 4, 2006 - Due to nearly incessant cloud cover with frequent drizzle and rain, we haven't done much since our outing on Saturday except take care of chores and sit around the RV.
I've been wanting to take the ferry into Quebec City and shoot some night photography and cloud cover is actually good for that since the clouds reflect back a lot of the city light, but I haven't felt like I could do so without risk of getting caught in rain, which wouldn't be much fun trying to keep the camera gear dry. However, last evening I decided to drive to the nearby overlook in Lévis and if it did start to rain, at least the truck would be close at hand.
When I got there though, I was confronted with nearly all the parking being taken. Fortunately, someone left just as I arrived, but the lack of parking puzzled me because usually there aren't many cars there.
I was even more puzzled when I got out of the truck and noticed quite a number of people milling around in the overlook's park and even more puzzled still when I got to the railing that overlooks the Quebec City skyline across the Saint Lawrence River and discovered there was almost no room to stand at the rather long railing due to the large crowd there, standing almost shoulder to shoulder. I did manage to find a spot with a decent view of the skyline and enough room to setup the tripod, but it was a squeeze.
Shortly after that I figured out the place was so crowded because the cruise ship Queen Mary 2 was docked at Quebec City and the people were no doubt there to watch her sail, since these ships usually leave port in the evening so they can arrive at the next port the following morning.
Such proved to be the case because I hadn't been there long before the grand ship sounded her most impressive horn a couple times and shortly afterward slowly left the dock and sailed out into the Saint Lawrence. The ship being there was a surprise, but definitely a bonus for my photography session.


__________________________

For Older News

To read details of our previous stops and camps, visit the News Archives.


Updated Monday, October 16, 2006

Copyright © 2006 by Gordon L Wolford .
All rights reserved.