WE ESCAPED!!!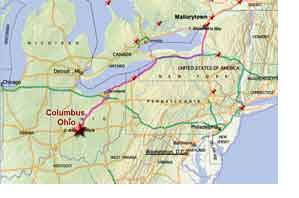 Tuesday, October 31, 2006 - And an escape is exactly how it felt to get out of Canada without encountering snow or freezing rain. In fact, yesterday proved to be almost ideal for traveling, sunny nearly all the way and at one point hitting 74°F/23°C, this as we neared Cleveland, Ohio.
Things went so well, in fact, we drove the entire 600 mile first leg of our trek southward in the one day, 11 hours on the road, the longest non-stopover distance we've ever towed...and probably never will again because I'm feeling the effects of it right now and have no desire to repeat it, but at least we're clear of the miserable weather system that's plagued us for weeks and the imminent threat of getting snowed in.
However, the trip wasn't without its hurdles. We breezed through Ontario, the border crossing, and New York before encountering our first serious zone of road work, this in Pennsylvania. From then on it seemed like one area of road work after another the rest of the way to Columbus, Ohio, complete with the dreaded concrete barriers lining the travel lanes for miles at a time. But I'm actually getting used to these and don't break into a cold sweat now when I've got about a foot of clearance between me and that wall of concrete on one side and an 18 wheeler on the other. Keeps one awake is what it does.
We got through Cleveland just before the evening rush hour, but hit the tail end of it in Columbus, which gave us an interesting moment or two, especially since it was dark by then, but we are very familiar with the roads here so it wasn't too heartstopping.
We are spending today seeing my family in Ohio, which will be another whirlwind day on the road, and then getting out of here Wednesday, just ahead of a cold weather system that's to move in and bring weather like we left behind in Ontario. Hopefully we can stay one step ahead of it before reaching the first major stop of this winter's tour, San Antonio, Texas, a city neither Sandra nor myself have ever seen.
For Sandra's account of 'the escape', click here.

Heading Southwest

Monday, October 30, 2006 - As I write this, it's still several hours before sunrise, but stars can be seen so the clouds have cleared as predicted, and the forecast is still looking good from here to Columbus, Ohio (i.e. no hint of snow), which means we will be leaving Canada this morning.
Good thing, because the campground has shut off the water to the campsites and blown the water out of the lines in preparation for winter. We are the last campers still in the park and the park is closing for the winter tomorrow with the owners heading for Las Vegas the day after, so we have little choice now but to leave.
We had a fairly good summer though, except we didn't do as much traveling around Ontario as I would have liked, having too many medical and dental appointments that kept us chained to Ottawa. The most worthwhile thing that came from the summer, from a personal and lifestyle point of view, was getting the satellite TV. Other highlights of the summer were Nick & Danica's graduations, Nick & Becky's wedding, my longtime friend Mel and his wife Janice visiting from Ohio, and my week of photography at Upper Canada Village. It all seems so long ago already.
At this point, once we reach Texas I don't see us doing a lot of traveling this winter either, probably finding a nice place (perhaps Rockport) and staying there for a while. However, with the freedom of the nomadic lifestyle to follow one's whims, one never knows where the sun might be rising tomorrow.

Trying To Stay Upright In Mallorytown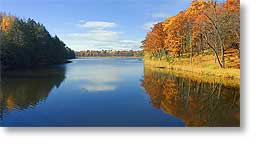 Sunday, October 29, 2006 - Today the rain has stopped, although rain and possible snow were predicted, so it ain't over til it's over, but we are being assaulted by high winds that are buffeting the RV.
These winds were also forecast, so since we have campground wi-fi to use, I went out early this morning and took down our internet satellite dish, since there was little point putting it at risk from the wind. Gusts are supposed to reach near hurricane force. I have no way of knowing if they are or not, but they are as strong as I'd like to see.
Hopefully the wind is coming from a high pressure system that is blowing in a clear day tomorrow before the clouds return the following day. But one good day should be all we need to get us safely away from the threat of snow. We have to travel through Watertown and Buffalo, New York, both notorious for receiving heavy lake effect snows, so if there's even a hint of snow possible we will wait before driving through there. The worst snowstorm I ever had to drive through was near Watertown one year, when we drove through miles of white out, keeping on the road only by staying between the posts beside the road that we could see only briefly off to the side as we drove by them. Happily we encountered no one stalled or stopped in the road or it could have been ugly. I certainly don't want to risk getting caught towing in something like that.
Stay tuned.
The photo above is another view of Jones Creek, taken from the 1000 Islands Parkway during our brief sunny period two days ago.

Trying To Stay Dry In Mallorytown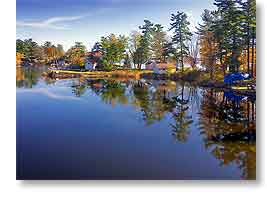 Saturday, October 28, 2006 - Rain! Yeesh! It is raining today, again, still, after a very brief respite yesterday morning from it and the dreary overcast.
To take as much advantage of the all too brief 5 or 6 hours of mostly sun we had, Sandra and I drove into Brockville along the very scenic 1000 Island Parkway after we checked road conditions in a work zone that we'll be towing through once we leave here.
The parkway, which runs along a section of the Saint Lawrence River is still one of my favorite stretches of road, even after having seen all the beautiful locales we've visited during the odyssey.
Pictured here is Jones Creek just before it empties into the Saint Lawrence, taken from a bridge on the parkway.
In looking at the weather forecast, it looks like Monday is now the day to leave, the only day in the next 5 days from here to Buffalo that is not calling for rain and snow! Hopefully, we'll be able to get out of this region of the continent in one long day.
For Sandra's account of last two days, click here and here.

Now In Mallorytown, Ontario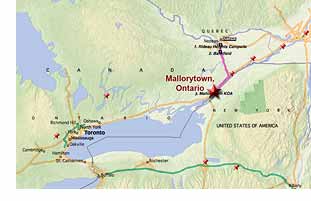 Thursday, October 26, 2006 - We moved out of Ottawa this morning, leaving around 11:20 under cloudy skies and very chilly temperatures, not much above freezing. So what else would we have had? Much the same story as the last month it seems, or longer.
Anyway, we had made arrangements to spend our last few days in Ontario at the Mallorytown KOA near the Saint Lawrence River before crossing the US border Sunday morning, so we arrived here around 1pm after a leisurely move of 75 miles (120 km).
This campground was the second camp of our nomadic lifestyle and the first away from the Ottawa region, so it holds a special place with Sandra and me, although it's much colder and muddier now than when we were here in mid-September, 2004. Otherwise, not much has changed here except they've added wi-fi in the interim and it's free (what a concept!) and we can reach it from the RV, so that's a bonus, although we still accessed the internet satellite.
Actually, today was one of those rare days where I guessed the satellite location so well we had access without having to do anything else, but I still tweaked the dish to get the maximum signal we could. The TV satellite was also accessed fairly easily as well, so by 3pm we were all setup and ready for the 3 day wait for Sunday's border crossing.
For Sandra's account of this day, click here.

Final Winter Plans...Final For Now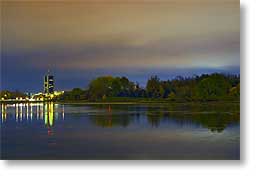 Monday, October 23, 2006 - Due to having had so much cold, damp, cloudy, rainy weather recently, Sandra and I have changed our plans from taking our time heading south and seeing the sights down the US east coast, starting at New York City and ending up in Florida, to instead be making a beeline for Texas, where we hope to find some sun and warmth and hopefully have less chance of encountering a late season hurricane than in Florida, although Texas has had its share of those in the past, so it's no guarantee in that regard but the odds are better.
The route to Texas, since it passes through Ohio, will also give us the opportunity for a quick visit with my family there, although due to the potential even there for snow and freezing rain, it is unlikely we will be staying in the area for more than a day or two before we continue our trek for the sun.
We leave Ottawa in two days, assuming it's not snowing or freezing rain falling, and will move down to the Saint Lawrence River so we'll be close to the border for when we cross it early on Sunday, which is when our six month mandatory Canadian residency will be fulfilled for this year.
Assuming we stay in Texas, which will depend on the weather they get there, we plan to then move over to Florida late in the winter since Betty and Garth are planning to spend some time there at that point. This then, on our return to Canada next year, gives us a straight shot back north through Ohio when hopefully we'll be able to spend more time with the family than we will next week.
The photo above illustrates my attempt at joining what I can't beat...cloudy weather. Overcast days are not good for the kind of photos I like to shoot, but oddly enough, cloud cover is actually good for night photography in cities because the city light is reflected back from the clouds and illuminates scenes that would otherwise be pitch black. This photo was taken at Dows Lake in Ottawa one night recently.
For Sandra's account of this day, click here.

Was To Have Been A Nice Sunny Day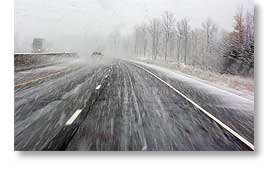 Friday, October 20, 2006 - Because the weather forecast for today had called for it to be sunny and nice, Sandra had made arrangements with Aunt Ruth for us to drive down to Brockville to see her. However, what we got when today actually arrived was rain.
Okay, no problem, we said. We could deal with 68 miles (110 km) of rain. We be seasoned travelers. So, undaunted, we headed on down there, leaving just before 1pm with the temperature at 37°F (3°C) and arriving in Brockville at the appointed time of 2pm with the temperature still at 37°F (3°C) and the precipitation still rain.
As always, Aunt Ruth greeted us at her door with a big smile and kisses and hugs for us both, but within minutes of us all sitting down in her living room to get caught up on the news in our lives, the rain started to turn to snow. I could hardly believe it and was even more surprised when it started to accumulate on the ground and street. This was not some dainty little flurry. This had rapidly become a quite heavy snowfall.
So after an hour with Aunt Ruth, we decided the prudent thing to do was bid a hasty farewell and reluctantly head back to Ottawa. It turned out to be a good thing we did because within that hour the temperature had dropped 5°F (3°C) to the freezing point at 32°F (0°) and highway 401 had become quite slushy with the threat of freezing (photo above).
Driving conditions were quite treacherous for more than half the drive back, but the snow eventually turned back to rain as we got further from the cold front that was moving into the region and we arrived safely back at the RV, glad to have seen Aunt Ruth even for a short visit, but not at all glad to see snow. Yeesh! I can't start heading south soon enough.
For Sandra's account of the day, click here.

Now Back In Ottawa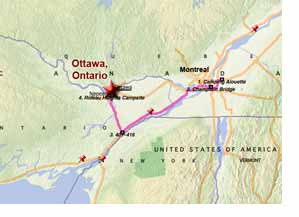 Monday, October 16, 2006 - Under a clear blue sky, we left Montreal, Quebec a little before 11am this morning and followed the route through the city we had scouted out yesterday. We encountered no problems, although towing through a major city is always very stressful.
To avoid potential road construction problems in Ottawa and having to drive through two major cities, we took the longer way (178 miles / 287 km) via Highways 401, 416, and 16, compared to Highway 417 (150 miles / 240 km). Highway 16 comes in from the south, so it puts us at the Rideau Heights Campsite with almost no city driving at all.
We arrived a little after 2pm, for a 3.5 hour trip. Setting up camp this time took a bit longer than normal because I had trouble finding the TV satellite. Fortunately, the little signal strength meter I had bought, but never needed before, made the difference this time.
We are to be here for a week and a half and can then head south for the winter. Can't wait.
For Sandra's account of the day, click here.


__________________________

For Older News

To read details of our previous stops and camps, visit the News Archives.


Updated Wednesday, November 1, 2006

Copyright © 2006 by Gordon L Wolford .
All rights reserved.