Saw More Of San Antonio, Texas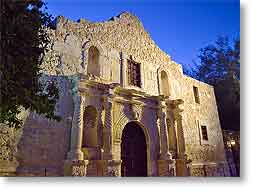 Sunday, November 19, 2006 - Last evening, as I was hoping to do, I drove back into downtown San Antonio to take some twilight and night photos.
I focused mainly on the Alamo since it's the only thing about downtown San Antonio that's truly unique to the city, except for Riverwalk, which is also something I've never seen anywhere else.
As could be expected on a beautiful Saturday evening (weather was absolutely perfect), the area around the Alamo was crowded with tourists milling around, enjoying themselves immensely but getting in my way, so most of my time was spent with the camera set up on a tripod waiting for breaks in the almost non-stop tourist flow.
There's a nice little plaza around the Alamo, but otherwise it's surrounded by all kinds of modern downtown buildings, which as far as I'm concerned, diminishes a lot from the Alamo's impact, but it was still quite a thrill to see such an icon of Texan and American history up close and personal. With the encroachment of modern times though, it was difficult to envision the pivotal battle that was fought there since much of that took place on walls that surrounded the mission's compound and they, along with nearly everything else, are gone. For instance, if I remember correctly, the spot on that wall that Davy Crockett defended is now under the Post Office or some such building.
Then this morning as the first light of day was dawning, I returned to the Alamo, hoping to get a shot with a good balance between the sky light and the artificial light they shine on the building at night. The photo above is one I shot this morning showing that balance.
For Sandra's account of the day, click here.

Saw Some Of San Antonio, Texas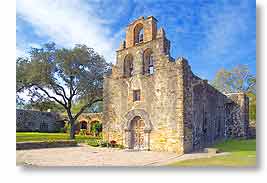 Saturday, November 18, 2006 - This morning we felt well enough to do a little sightseeing and since I'd discovered there are a total of five old Spanish missions in San Antonio and the fifth one being fairly close to us, we started there, photo on the right being it, Mission San Francisco de la Espada, or known more popularly as simply Mission Espada.
The four southernmost missions of the five are overseen by the US National Park Service and are incorporated in the San Antonio Missions National Historical Park. The northermost of the five is the Alamo, as it's popularly known, official name is actually Mission San Antonio de Valero, and it's overseen by Texas.
We also saw Mission San Juan this morning and then skipped the next two as Sandra was getting bored with all the historical things and wanted to see downtown. We took surface streets through obviously Hispanic neighborhoods and eventually ended up in the city center, driving by the Alamo but not stopping, and then parking further away and taking a short stroll along San Antonio's famed Riverwalk.
I'll probably be going back this evening for photos of the Alamo and whatever else looks interesting downtown.
For Sandra's account of the day, click here.

Now Near San Antonio, Texas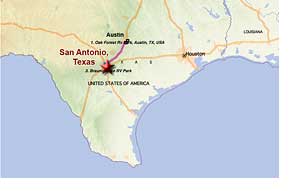 Friday, November 17, 2006 - This morning we packed up and left Austin, Texas at 10:30am, making the relatively short 96 mile (154 km) drive to the Braunig Lake RV Resort just southeast of San Antonio, Texas in two hours, arriving at 12:30pm.
This is another very nice and clean RV park, but doesn't have quite the class of the one we left in Austin and it costs more. It also has wi-fi, but it's not free.
We are signed up to be here for a week and will probably then head down to Rockport on the Gulf coast where I expect we'll spend a fairly long period of time.
For Sandra's account of the day, click here.

Seeing Some Of Austin, Texas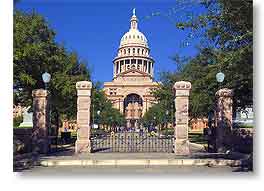 Monday, November 13, 2006 - Yesterday, we did little but relax and enjoy a beautiful sunny mild day.
I did setup our satellite TV dish though, using the metal pole we bought here at a Lowe's store to replace the plastic pole we'd bought in Ottawa that flexed too much, and tried to get a stronger signal than we had been able to get in Memphis, but were still unable to get anything above 62, so maybe that's all we can get this far south. That's still enough to get an excellent picture, but a heavy storm could interrupt it. Fortunately, those don't last long.
On Saturday, we signed up to extend our stay here at the Oak Forest RV Park from two days to a week and then hopped in the truck, drove to the nearest Wal-Mart Supercenter (a 7 mile/11 km drive), and bought some needed items, like groceries for Sandra and blank DVDs for my photo archives.
After dropping off our purchases back at the RV, we then headed out again. This time to scout out the city of Austin and things went much better than previous drives since it was Saturday and the traffic was much lighter.
We drove around downtown, parked and walked along part of East 6th Street which is the entertainment district (Austin's equivalent of Bourbon Street), dropped in at the Visitor Center there to get maps of the city, drove to the Texas State Capitol building where I got out and walked around a bit while Sandra opted to stay in the truck. I took some photos of the capitol building, both exterior (photo above) and interior, and walked across the street and took a couple more shots of the governor's mansion. There were almost more Texas Rangers milling around the area than there were visitors. Guess they aren't taking any chances with wackos.
Before returning to the RV, we also found our way to the top of Mount Bonnell, a high point in the area with a locally famous view of the city skyline in the distance.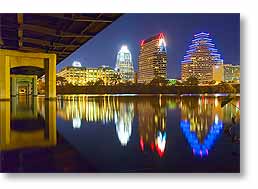 Then later that evening at sunset, I drove back into the city and found an area across Town Lake from downtown that afforded a good view of the skyline and took some photos of that as twilight faded, photo on the left being one of them. Town Lake, although a reservoir, is really just a wide spot in the Colorado River and this is not the same Colorado River that flows through the Grand Canyon.
While I was walking along the shoreline of the river, which has a very nice hiking path cleverly called the Town Lake Hike & Bike Trail, it was quite dark and secluded for most of its length that I walked on, but most of the people I saw using the path were individuals, including females, and none seemed to have any concern for their safety. So after our uneasy experience in Memphis and learning it was such a dangerous city, when I got back to the RV I checked on the internet to see how dangerous Austin might be, or not, and learned it is considered to be the fifth safest major US city of those with populations over half a million. So, while they do have crime here, it apparently isn't enough for a woman to feel threatened to be out alone at night. Nice to know. Reminds me of Ottawa in that respect.
For Sandra's accounts of Saturday and Sunday, click here and here respectively.

Moved Within Austin, Texas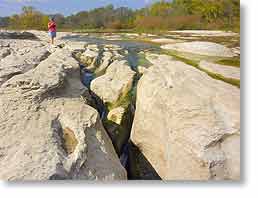 Saturday, November 11, 2006 - As mentioned below, yesterday we had to pack up and move from the McKinney Falls State Park since they had only one night available for us.
So Sandra, from what she could tell from online information, thought the Oak Forest RV Park looked like a good choice to move to. It was only 14.4 miles north and didn't require having to get back onto Austin's freeways, although the roads and streets up to it were excellent, even considering we made one wrong turn due to misleading signage.
But we arrived in due course and I'm quite impressed with this RV park. Actually, I can't think of a better RV park or campground we've ever stayed at. This place has almost everything an RVer could expect - free cable TV, free wi-fi (although only around the office and pool areas), level concrete pads on fairly large pull-through sites, concrete laneways, landscaping, clear view of the satellites, 50 amp electric service, very clean, an office that's actually staffed and open during the day and more luxuriously decorated than many people's houses, pool, hot tub, large unisex showers (always nice for having one's wife around to scrub one's back and...ahem...front, and vice versa), just to list what readily comes to mind and on top of all that, is a member of Passport America so we can stay here for a week at half price! Amazing place that sets the standard as far as I'm concerned.
What it's missing (other than wi-fi accessible from the sites) is the secluded scenic beauty we had in the state park, although it's close to some. Before leaving the state park around 1:20pm yesterday, which we didn't have to do until 2pm, we finally found the falls, although we had to ask for directions. This was because of incomplete and ambiguous signage, probably the worst signage of any state park I've ever been in.
However, once we did find the falls it was worth the effort. The falls themselves, on Onion Creek, were far from impressive due to the dry summer they had here reducing the water levels, but the rock formations the creek flows through were quite pretty and interesting. Pictured above is Sandra photographing the lower falls. Click on it for a larger view of her.
So, Austin is looking like a good place to spend some time and relax and catch our breath from the journey down here. Although a cold front moved through yesterday evening and It's cooled down considerably from the high we registered at the RV yesterday afternoon of 93°F/34°C, the coolness is refreshing. It is also not supposed to last long, although tonight is predicted to drop to a downright cold 39°F/4°C before things warm up again.
Anyway, now to do some leisurely exploring and see if there's anything around Austin worth photographing.
For Sandra's account of yesterday, click here.

__________________________

For Older News

To read details of our previous stops and camps, visit the News Archives.


Updated Sunday, November 26, 2006

Copyright © 2006 by Gordon L Wolford .
All rights reserved.