Goose Island So Far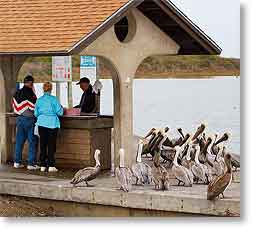 Sunday, January 14, 2007 - From a personal point of view, probably the most interesting thing I've done since my last report is that I've been riding my bike quite a bit here. The state park isn't that large, but things are still a farther walk than I usually want to make, yet still too close to justify taking the truck, so the bike is just about right. My legs are sure feeling it though.
Except for yesterday morning, which was too cloudy for a sunrise, I've been down at the fishing pier every morning to photograph the sunrise. Usually I'll have a place to myself because few people except fishermen are up and about at that hour, but here I shared the pier with another photographer who I got to know a bit as we talked each day while waiting for the sun. Turns out his forté is photographing orchids and has a book published on them, and even has a variety that he discovered named after him. He was also one of those people who can name every bird they see and there are plenty of birds around here to know the name of. He was camped here too, but left Friday to head farther south for a few days before returning home to Virginia. Very interesting fellow.
The photo above is a familiar sight around here...pelicans looking for handouts from the fishermen. This is the fish cleaning station by the boat ramp here in the park and during the day it is always lined with pelicans waiting for the boats to return, in hopes of getting an easy bite of food. Apparently, there's a $200 fine for feeding the wildlife and I've seen very few people doing that, but obviously the birds get enough scraps to make it worth their wait. Pelicans are such funny birds.
Other than that, we've been into town a couple times to run errands and yesterday we drove back to Port Aransas to pick up some late arriving mail and dined out for lunch while there, getting a table on Fins Grill & Icehouse's outside deck that overlooks the marina.
I've also started a gallery of the photos I'm taking at Goose Island and around the area. Click here to view it.
For the daily details of the week, visit Sandra's blog by clicking here.

Now At Goose Island State Park, Texas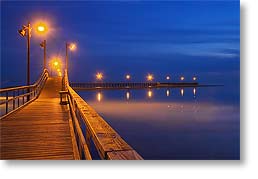 Tuesday, January 9, 2007 - As planned, we left Mustang Island this morning after a most pleasant 6 week stay there and moved from Port Aransas to Goose Island State Park just north of Rockport, Texas. leaving around 10am and arriving around 11am after a 28 mile (45 km) journey.
MAP - Click here to see the map of the drive.
Originally, I had figured we'd go the long way, driving through Corpus Christi to avoid having to take the ferry because I thought it would be too risky trying to get the RV onto it. However, once I realized they were giving large vehicles two lanes on the ferry I lost my apprehension and it turned out to actually be easier getting the RV on and off the ferry than just the truck by itself, because they only give it one lane and that is such a squeeze with a one-ton truck Sandra never felt like trying it herself.
Camp was setup in a couple hours. Click here to see our campsite. As we were hoping, we got one that backs against the shore of the water, Aransas Bay, and have a very lovely view out our back window. Click here to see it and click here to see our backyard, where I expect Sandra will be spending as much time as she can.
Once we had caught our breath, we rode our bikes along the park road that runs parallel to the bay and got some pictures of the shore and water birds that were hanging out near the pier at the end of the road. The pier is pictured above, the photo taken later at twilight when I returned to the pier to see how it looked with its lights lit.

Quiet Week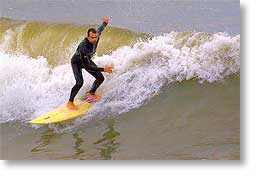 Saturday, January 6, 2007 - Nothing terribly exciting to report for our first week of 2007. All was fairly quiet. The weather generally mild to warm with everything from sun to clouds, rain, and fog.
Probably the most interesting thing to me that happened was the surf came up over the New Year's weekend, which being a holiday, was perfect timing for the surfers.
There are a lot of surf shops around here and I was beginning to think there was no real reason for them, but for a couple days we actually had some fairly impressive waves rolling in and the water was littered with surfers.
Most of them were obviously rank amateurs, who couldn't catch a wave and when they did, they couldn't get on or stay on their boards, but a few of them knew what they were doing and it was quite fun to watch them. They seemed to prefer being near the big pier at the beach, which was good for me since it afforded a good vantage point to photograph them from, photo above being one that I took (as always, click on it for a larger view).
Otherwise, we've driven around town and the area quite a bit and I feel like we've seen most of what's here worth seeing. I quite like Port Aransas, a fun and interesting place if one likes a fishing, boating, beach, and resort atmosphere as I do, but we're ready to move on, which we'll be doing Tuesday when we relocate 20 miles (32 km) north, 30 miles (48 km) by road, to Goose Island State Park, where we've made reservations for a two week stay and should have a campsite right by the water, giving us a view of Aransas Bay out our back window.
For the daily details of the week, visit Sandra's blog by clicking here.

Happy New Year 2007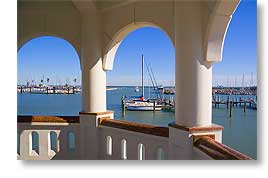 Monday, January 1, 2007 - Let me first wish everyone reading this the best in 2007. I slept through the arrival of the new year. Some party animal.
Yesterday, for the last day of 2006, Sandra and I decided to drive into Corpus Christi, the nearest large city, about 20 miles (32km) as the pelican flies or about 30 miles (48km) by road to reach the city proper.
Sandra's main interest was in shopping – mine, to see and photograph some of the downtown. For all the times we've driven through this city we had never driven into its heart and I felt it was time to do that.
So I dropped Sandra off at the first mall we saw and I continued on to downtown and as it turned out I still didn't see much of it because I ended up spending all my time there walking along the seawall which essentially is that area's harborfront and is quite interesting, if one likes walking along marinas and watching boats and birds while basking in a balmy tropical breeze. We will need to go back to see more and are planning to do a dinner there soon.
Pictured above is the view of part of the marina as seen from one of the seawall's miradores, which are essentially gazebos, but that's not what they're called. Mirador is Spanish for a viewpoint or overlook.
For Sandra's account of yesterday, click here.
For Sandra's summary of our year 2006, click here.

__________________________

For Older News

To read details of our previous stops and camps, visit the News Archives.


Updated Monday, January 29, 2007

Copyright © 2007 by Gordon L Wolford .
All rights reserved.