A Really Roseate Day

Monday, January 29, 2007 - Yesterday, being sunny and mild, as well as being Sunday, we decided to go for a Sunday drive. So we headed west around the southern end of Copano Bay to the little village of Bayside, where we had been told roseate spoonbill birds liked to hangout.

Bayside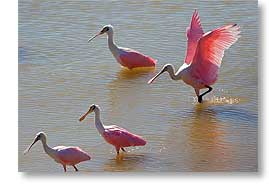 It's a 23 mile (37 km) drive to Bayside. The village turned out to be little more than a large cluster of seedy little houses, but it was worth the drive because the information we'd been given about birds in the area proved to be accurate. One of the first things we saw on arrival there was a group of five or six roseate spoonbills feeding in the water near the village's pier, four of those birds being pictured here.
Unfortunately, except for all the birds we saw along the southwestern shore of Copano Bay there isn't much else to recommend Bayside, except maybe fishing.
But, since we were out and about and having been bitten by the exploration bug, we decided to continue on 18 Miles (29 km) farther and see what the town of Refugio looked like.

Refugio

Once away from the gulf coast, Texas in this region is flat and nondescript, which also describes Refugio. The town looks to have fallen on hard times and has no real town center, basically being little more than a wide spot on US Route 77 for fast food places, which is surprising considering the town has a population of around 3,000 and is a county seat.
When I say there was no town center, I mean we drove through the town without realizing we'd actually driven through it until we entered farm country again. It looks like they might have once had a downtown but tore it down building by building as the fast food places at the edge of town put the downtown out of business.
But they did have a surprisingly nice little campground in a town park along the Mission River and they have a Wal-Mart Supercenter, which might account for the demise of their downtown, if they'd ever had one. There isn't much to Refugio, but it's the only thing for miles around so I guess that's what supports a Wal-Mart of the supercenter size.
The drive to Refugio was interesting as something to see once, but we saw nothing I would ever want to drive back to see again.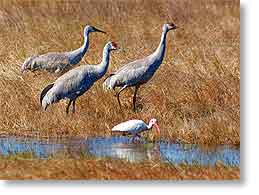 On our return to Fulton we saw more shore and wading birds along Copano Bay and then also along a back road we took to Rockport instead of the main highway, we saw even more large birds, including some sandhill cranes (pictured here with a white ibis) and a large flock of snow geese.
Sandra then decided she needed to do still more exploring, so after returning to the RV for a quick bite of lunch while hastily downloading to the computers the bird photos we had just taken, we then headed north and made the 49 mile (79 km) drive to Port Lavaca, another port town on the Gulf Coast of Texas.

Port Lavaca

One of our former neighbors at Goose Island had told us about their stay at the Lighthouse Beach RV Park in Port Lavaca where they'd had a campsite that backed on Lavaca Bay, so I'd been wanting to see the place.
Turned out the RV park was the best thing in Port Lavaca. Unlike Refugio, this town did have a real downtown, but it was fairly seedy. It did however look interesting from an artistic viewpoint since old buildings with peeling paint make for some interesting photographs, although I didn't take any on this visit. It also, being a port, had a harbor and waterfront, but what we saw from a quick drive through town showed the waterfront to be equally as seedy as the downtown area.
The Lighthouse Beach RV Park though was quite nice, being clean and well maintained and having several fishing piers and an actual beach (unlike the Marina Beach RV Resort in Port Aransas which had neither marina nor beach itself) although the lighthouse's sites were rather cramped. There was even an actual lighthouse nearby, the former Halfmoon Reef Lighthouse, but it had been moved to a location along the highway and right next to the town's community center and was surrounded by power lines and utility poles, so what could have been a charming structure in its proper place now had all the esthetic appeal of having been moved to a Wal-Mart parking lot. Sad. There's so little art is the souls of people who make this kind of decision.
Probably the most interesting thing we saw on the drive to and from Port Lavaca was the large amounts of water standing in the ditches and fields from all the rain we've had lately. Normally, even the creeks are dry in most of Texas, let alone seeing standing water on the ground, so this was quite unusual for what we're used to seeing out here.

Anyway, if you've managed to read through all of this, you can no doubt tell from the tone of my writing that while we saw some beautiful birds, our Sunday drive, which ended up being a 180 mile (290 km) excursion, had some otherwise less than stellar sights. Click here for a map of our route. Bayside, Refugio, and Port Lavaca are nothing compared to Port Aransas, Aransas Pass and Rockport, which remain Sandra's and my favorite places on the gulf coast of Texas
Click here for Sandra's account of the day.

Now In Fulton, Texas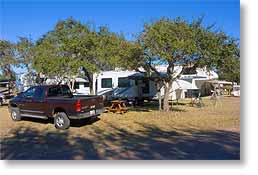 Thursday, January 25, 2007 - As planned, we packed up this morning and relocated to the Fulton Oaks RV & Mobile Home Park in Fulton, Texas, the northern suburb of Rockport.
The 7 mile (11 km) move was leisurely and uneventful and done under the first clear blue sky we've seen in so long I can't remember when the last time was. It has also warmed up again to mild temperatures. A generally perfect day.
We left Goose Island around 10:45am and arrived here around 11am and were setup by 1pm.
MAP - Click here to see the map of the drive.
The photo shows how our campsite looks.
We also discovered a bonus when we got the computers running and saw the campground has free wi-fi that is easily reached from the comfort of our recliners. Even though we have our own internet access via the satellite, it has a bandwidth limit, which normally doesn't get in our way, but it's still nice to have access without that limit. Especially since Adobe Systems has made a preliminary edition of the next version of Photoshop available free for the download, but it's much too large to download through the satellite, so now I can get it through the campground connection.

Still Raining, Chill Returns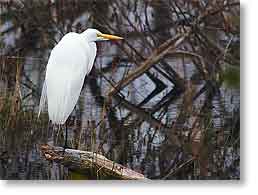 Wednesday, January 24, 2007 - This weather pattern – incessant overcast with frequent rain for more than a week now – is starting to remind me of the same weather pattern we had two years ago when we stayed in Harlingen, Texas. It's becoming obvious why Florida is called the Sunshine State and not Texas. At least we've been staying enough above freezing where that hasn't been a worry, but it's been far from warm this week, chillier than the electric heater alone can keep up with.
Unfortunately, it isn't possible to stay on the bayfront here in the state park past tomorrow morning since these sites are booked solid for the next two weekends and the park can't assure us we'll be able to get a site in the wooded area with a clear view of the satellites, so we've been looking for another RV park around Rockport and until yesterday hadn't found one that really clicked with us. Actually, we had found only one that had any campsites available at all, but as things often do, yesterday things unexpectedly came together when we saw a sign in Fulton, Texas (Fulton essentially being the north end of Rockport) for the Fulton Oaks RV & Mobile Home Park.
This is an RV park we'd never noticed before, so we dropped by to give it a look and liked what we saw enough to stop at the office and see if they had a campsite for us, even though the place looked full. Turns out they had one site that was going to become available, but one site is all we need and since it had a clear view of the satellites and met all our other requirements, we signed up to be there for a month. We will be able to receive traditional mail and deliveries there also. Email us for the proper mailing address if there's anything anyone wants to send.
The new location is just a 7 mile drive south of here, so the move tomorrow should be a short one.
The photo above is of an egret studying a small swampy area near the entrance to Goose Island State Park. As always, click on it for a larger view.
For Sandra's account of yesterday, click here.

Could Be Worse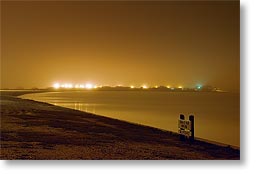 Monday, January 22, 2007 - We've now had a week of overcast and sporadic rain, mostly drizzle but sometimes actual rain. Not great weather, but it could be worse, as I keep telling myself. That doesn't help much, but it's true. Parts of Texas inland from us took a real pounding, rain, sleet, snow, freezing rain, the whole winter weather enchilada, but the silverlining to that cloud is they needed the precipitation very badly. Hopefully their reservoirs will be more full now.
Yesterday, we did have a brief period of some hazy sun, so we disconnected the RV, pulled in the slideouts, hitched up, drove over to the dump station, and emptied the RV's tanks. We went 12 days since last emptying them and we could have gone a couple days longer, but the forecast for this week is for more of the same cloud and rain (sigh), so we decided to take care of that nasty chore without having to do it later in nasty weather as well.
About the only thing of note we did over the weekend was to attend a bird identification slideshow Saturday evening in the park's recreation building. The show focused on identifying the birds that can be seen around Goose Island and was hosted by a couple of our fellow campers who are bird enthusiasts, known as birders, and there are quite a few birders visiting here. The show was interesting although the presenter, while being a very nice person, was not too good at public speaking because half the time neither Sandra nor I could understand what he was saying and we were sitting in the front row. We still learned enough to have made it worthwhile, but it could have been better. Couldn't beat the price though, since it was free.
I took the photo above from behind the RV before daybreak one morning while it was still dark. The lights are on the fishing pier at the other end of the island, so you can see Goose Island is not a large one. Lots of birds though.
Check Sandra's blog for her account of the weekend by clicking here.

A Dreary But Still Roseate Day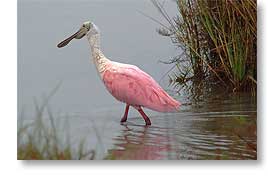 Friday, January 19, 2007 - Yesterday, we finally saw something we'd been looking for ever since arriving on the Gulf Coast of Texas, a close view of a Roseate Spoonbill, which is a large wading bird that is pink like a flamingo and has a long flat bill with a tip shaped like a spoon.
They are a fascinating bird and look very bizarre, like a throwback to the age of dinosaurs when there were all kinds of weird looking creatures, and while these birds aren't rare around here, they certainly aren't common like pelicans, herons, and egrets are.
Roseate spoonbills that I've seen seldom come near man, normally being very skittish, so it was quite a surprise when my most wonderful wife called me on the phone while she was out on her morning walk and told me she was at that very moment looking at a roseate spoonbill in the small wildlife viewing area just across the road from the park's boat ramp and maybe I'd want to rush over there with my camera, which I did, even though I was sure the bird would be gone by the time I could get there.
Miracle of miracles though, not only was it still there when I arrived on the scene, but it even moved closer to us, apparently totally indifferent to the fact we were there, something unheard of in my experience with these birds.
After a few minutes, it flew off and I thought we'd seen the last of it, but surprisingly it circled around and returned right back to the same pond and we got even more photos of it and it was still there when we left. The photo above is one I took (click on it for a larger view) and several more can now be viewed in my Goose Island - Rockport, Texas photo gallery.
A truly amazing event all around that really brightened my day.
For Sandra's account of this momentous event, click here.

Winter Arrives On The Coastal Bend of Texas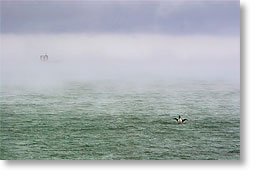 Wednesday, January 17, 2007 - As I write this it's a little after midnight, 31°F (-0.5°C), and light snow blowing! I just got back inside from having to wipe ice off the feedhorn of the internet satellite dish in order to get access back. The high temperature yesterday reached only 37°F (3°C), so even with the electric heater running on high, the furnace was off and on all day and emptied one of our propane tanks, so I had to go out to get that refilled because in this kind of weather we can't risk running out of propane.
I had gone out at daybreak in search of photos but due to the cold, few birds were around and only one truck in the boat ramp area, which is usually full by that time as this is a very popular fishing area, so not much was happening, so I wasn't out long.
The only consolation in this wintry weather is that it's much worse not all that far further north. Like, San Antonio which is only 120 miles (200 km) northwest of us is under a winter storm warning and as cold as it is here, we're still 39°F (21°C) warmer than back home in Ottawa.
However, Florida has been escaping this weather pattern, so we are trying to decide whether to stay in Texas or move over to Florida where RV parks are much more expensive, assuming one can be found with a vacancy. Not a happy camper at the moment.
The photo above shows the view out our picture window as the cold front was moving in two days ago, the cold air causing mist to rise of the warmer water of Aransas Bay. There's a duck in the lower right corner (click on the photo for a larger view) who wasn't happy with the weather either and seemed confused, obviously thinking he'd flown south to escape this kind of cold and not understanding why it wasn't warm any longer. I could sympathize with it.


__________________________

For Older News

To read details of our previous stops and camps, visit the News Archives.


Updated Friday, February 2, 2007

Copyright © 2007 by Gordon L Wolford .
All rights reserved.