I See An Armadillo!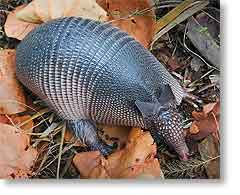 Thursday, 29 March 2007 - After another evening with Betty & Garth last night, this time with them taking us to their club for a buffet dinner, today I had the urge to see something new around here and decided on giving Barefoot Beach Preserve a look. Sandra, being tired, stayed back at the RV and missed something she's been wanting to see ever since we started the Odyssey and that's an armadillo (photo on the left), but I get ahead of myself.
From the road, Barefoot Beach Preserve looks like nothing more than one of those housing/condo developments with a misleading name, so I never bothered to drive into it. However, I recently saw on the internet that there actually is a beach/park/nature preserve beyond the development and one can only reach it by driving through the development.
So, that is exactly what I did, and sure enough, after driving past quite a number of very upscale houses and condos I came to the preserve, paid my $6 admission, and got started exploring the place by first talking with one of the helpful staff to get oriented quickly.
The preserve is on the southern end of Little Hickory Island, a barrier island in the Gulf of Mexico, and the preserve is covered with tropical and subtropical plants and trees. A beach of fairly white sand runs the length of the island on its Gulf side and a hiking trail loop runs through the preserve's plant growth to Wiggins Pass at the end of the island (about a mile away) or one can also walk there along the beach.
I did both, which means I hiked for at least 4 miles (6.5 km) and the most interesting things I saw in addition to the armadillo were a couple of red-bellied woodpeckers getting very friendly with each other and quite a number of osprey, gulls, pelicans, and shore birds.
It was worth the price of admission just to see the armadillo, a creature I too had never seen before, so everything else was a bonus.
For Sandra's account of the day, click here.

Too Many People, Too Many Cars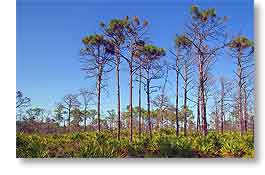 Tuesday, 27 March 2007 - Yesterday afternoon, we decided to brave the traffic around here and go for a drive. We headed south on US Route 41, the road this RV park is on, to see if it was like I suspected, it being solid city along the 35 miles (56 km) of coast from Fort Myers to Naples, and indeed, that's exactly what we found – just one long procession of stoplights, wall-to-wall businesses, and gated communities with oh so scenic and misleading names, like Such 'n Such Preserve, when it's anything but a preserve.
We didn't feel like we had really left the city and entered countryside until we were 16 miles (25 km) beyond Naples.
And it's like rush hour all day around here. It often takes as long to get out of the RV park and into the traffic flow of Route 41 than it does to get from there to where we're going. Too many cars and people around here. I can't wait to leave.
Anyway, before turning around and heading back yesterday, we drove as far as Collier-Seminole State Park which is 45 miles (72 km) south of us and just west of the Everglades.
On the way back, we stopped in at the Estero River Scrub entrance to the Estero Bay State Buffer Preserve, photo above, just to get a short respite from all the city that's around us. They bill the parks around here as "The Real Florida". This is also one of the few parks in this region that has free entry and free parking. I suspect this is because the parking area is so small they'd never get their money back for the cost of the ticket machine alone.
On the other hand, I'm viewing our stay here at Fort Myers purely as one whose only interest in being here is to shoot photographs. If one likes to be in the midst of solid humanity and bumper-to-bumper traffic, as obviously many people do, this is actually a very nice area. The businesses all look to be thriving, which is amazing in itself, and they are building more and more all the time. It is clean and at least in the areas we've been in, it appears to be safe. I haven't seen any slums. In fact, along Route 41 south of here, everything is beautifully landscaped with palm trees, shrubs, and flowers, and for all the shopping plazas and malls they have, they have even more gated communities of what look to be fairly high-end homes. None of which is suitable material for my camera, unfortunately. Oh to be back in Texas.
For Sandra's account of the day, click here.

Welcome To Spring 2007

Thursday, 22 March 2007 - Winter's over! Welcome to Spring. Actually, Spring arrived 2 days ago on March 20, so a belated Happy Spring to all. Did you know Spring arrives more often on the 20th of March than on the 21st?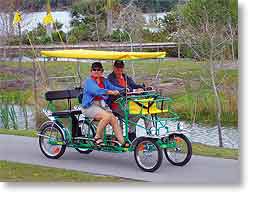 Picnic In The Park

Tuesday, day before yesterday, Sandra and I met Betty and Garth at Lakes Regional Park here in Fort Myers to have a picnic in the park.
Lakes Park has become one of Sandra's and my favorite places around here and surprisingly, Betty and Garth had never been there, so we felt it was time to correct that.
Unfortunately, the problem with scheduling ahead for such an event, as we did, is the weather doesn't always cooperate, even here in the Sunshine State. So, rather than sunshine, we ended up with clouds, a very stiff wind, and a looming threat of rain. The wind made the picnic a challenge in keeping things from blowing off the picnic table and into the lake.
But, despite the less than ideal weather we still had a good time. The wildlife in the park cooperated (even if the weather didn't) and showed up in good number, with an alligator making an appearance as well as quite a number of the more interesting birds, like egrets, herons, anhingas, white ibises, plus quite a number of the less interesting birds like grackles.
Probably the highlight of the day though was after we'd finished the meal Garth rented one of the park's surrey bicycles (a covered bicycle built for four). Photo above of the surrey with Betty & Garth on the pedals was taken by Sandra. We pedalled around much of the park. Well..at least Garth and I, in the front, pedalled. It was up for some debate as to how much Sandra and Betty in the backseat...ahem...cough...cough...contributed to the effort.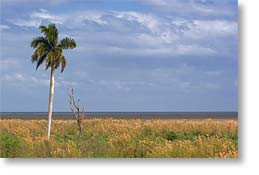 Lake Okeechobee...sort of

Then yesterday, Wednesday, dawned clear and warm so Sandra and I headed east to see Lake Okeechobee, one of the largest freshwater lakes in the US and only a little more than an hour's drive from here.
I had originally wanted to spend some time around the lake during our stay in Florida this time, but then learned the entire lake is girded by a 110 mile (177 km) long, 20 foot (6 m) high dike which was built after a couple hurricanes in the late 1920s killed several thousand people by storm surge flooding from the lake, so knowing this dike would seriously interfere with scenic photography of the lake, my enthusiasm to spend an extended period of time there cooled.
However, I still wanted to see the lake, just because it's there and I'd never actually seen it before, even though I'd driven by it years ago. So yesterday we drove east to Clewiston, which is the nearest access point for us to the hiking trail that runs atop the entire dike.
As has become our habit when visiting a new place, we first stopped at the visitor information center, the Clewiston Chamber of Commerce in this case, to get a quick course in what was worth seeing (i.e. photographing) in the area and how to get there. The woman we talked with, while informative, wasn't what you'd call overly friendly and answered our questions with the attitude that we should have already known the answers before we asked. She also seemed to be at something of a loss as to where there might be photos to take.
Well, we followed her directions to the access point, climbed to the top of the dike, and it then became apparent why she'd had difficulty coming up with a place to take photos. Pictured above is what we saw from the dike. If you click on the photo to get the larger view you'll see that dark band above the foliage isn't water as it looks in the small view. The water is a very narrow band of dark blue way out by the horizon itself. The woman at the visitor center had said the water level was low, but didn't say it's so low you could hardly see any of it.
That foliage in the foreground of the photo is a marshy area that's across a channel that runs parallel to the dike, so even that tree and the marsh were at some distance from the dike.
This view of the lake was quite disappointing, even though I hadn't expected much, so we tried what was supposed to be another access point in Clewiston, but couldn't find it. We then left town and drove south a few miles where we found another access point at the John Stretch Park, but the view from there was no better. I'm sure with a 110 mile shoreline, there must be some scenic areas of the lake, viewable from land, but they weren't where we were.
At that point, we gave up and returned to Clewiston to see more of the town, which due to all the sugar cane that's grown in the area, calls itself America's Sweetest Town (a pity the woman in the visitors center didn't share that sweetness), and found the place unremarkable except for one short but beautiful boulevard that was lined with Royal Palms, appropriately named Royal Palm Avenue.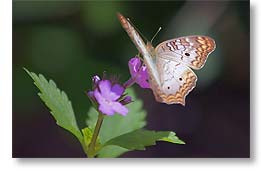 Manatees & Traffic Jams

We then returned to Fort Myers, stopping at Manatee Park since it was on our way. We didn't see any manatees, although we heard some were around that day. I did see periodic disturbances in the water, including one very large splash that was likely from a manatee, but never actually saw one. I think even if we had, the sighting would have been little more than a nose breaking the surface. One almost has to go underwater to actually see those things.
The park itself was quite nice though and we did see quite a number of sometimes cooperative butterflies in the park's butterfly garden, like the White Peacock butterfly shown here. In the past, we've had about as much luck seeing butterflies in butterfly gardens as we have in seeing wildlife in wildlife refuges, but this time it was different and we both enjoyed a pleasant time photographing several varieties of butterflies.
We then entered the city proper and I decided to see some of it, rather than take the interstate back to the RV park. It's debatable whether that decision was a mistake or not. We ran into horrendous traffic in town, but due to major construction at our freeway exit I'm not sure we would have done any better going that way.
In any case, we can hardly go anywhere around here without running into very heavy traffic and it's quite tiresome. What used to be a nice quiet two lane rural road along here twenty years ago is now six lanes with usually bumper-to-bumper traffic past wall-to-wall shopping plazas. People used to come Florida's west coast to escape the traffic and development along its east coast, but it looks like now there's no escape without going inland, which is painfully boring for the most part.
For Sandra's accounts of the last few days, click here.

We Party For St. Patrick's Day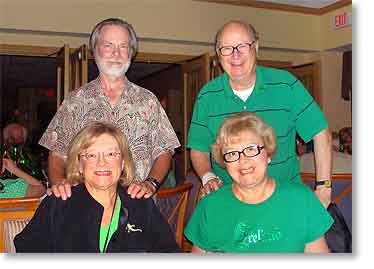 Sunday, 18 March 2007 - About the only thing of note I've done since my last report (other than Sandra and me attending a strawberry social put on by the RV park here on Thursday afternoon) was last evening when we were invited to celebrate St. Patrick's Day with Betty & Garth at the country club in their compound (for lack of a better word).
The party included a buffet dinner, music, and dancing. At our table were two other people, a charming couple from Chicago, Frank & Jane, who we got to know over the course of the evening. I lived and worked in Chicago for a year when I was 21, so I had that in common with them as a basis of conversation, and as it turns out Garth knew someone they knew, which gives some credence to the Six Degrees of Separation theory. I think the person they knew in common was through the Sherlockians, but not sure because as the evening progressed it got progressively noisier and therefore harder to hear conversations across the table.
Anyway, except for the noise level, it was a very pleasant and interesting evening. The photo above (click on it for a larger view) was taken with Sandra's camera by our table companion Frank.
Yesterday, another blast of cold weather blew in from the north. As I write this before dawn, it is only 48°F/9°C and the heater is running. This is quite a change from the hot weather we had been having with daytime temperatures reaching the mid-80s F (30°C) range and staying warm enough during the night to leave the windows open. Fortunately, the cold is to be shortlived with things warming up again over the next day or two.
For Sandra's account of St. Patrick's Day, click here.


__________________________

For Older News

To read details of our previous stops and camps, visit the News Archives.


Updated Monday, April 2, 2007

Copyright © 2007 by Gordon L Wolford .
All rights reserved.