A Day At The Zoo...And The Zoo Was A Zoo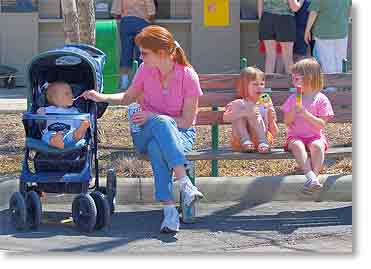 Sunday, 19 April 2007 - Sandra stayed home in the RV yesterday while at midmorning I headed for the Columbus Zoo & Aquarium, mainly just to see the place, since I'd never been there before, and to take what photos I could of it (zoos are actually not all that conducive for serious photography) before Michelle and her kids met me there around noon. She and Eric bought a season pass, so she likes to take the kids there.
Unfortunately, it turned out to be a less than ideal day to go there because although it is quite large, the place was packed, hence the zoo was a zoo. It was holding an earth day celebration, the weather was absolutely perfect, and the fact it was a Saturday all collaborated to fill the place with not only big and small people, but strollers, my own daugther contributing to this babies-on-wheels mayhem, as can be seen in the photo above of her feeding Luke while Grace and Faith cooled off with popsicles (click on it for a larger view).
Michelle said she'd never seen the zoo so crowded, but we still managed to have fun, and before they arrived I did manage to get a few decent photos, although due to restrictions placed on photography taken in the zoo, I'm not permitted to sell them, as was the case a year ago with the San Diego Zoo. And like there, between chain link enclosures and fences obstructing clear views, low grade glass or plastic in the viewing windows, and animals not in clear view or with their backs or back sides to the camera, there were very few opportunities to take photos of high enough quality to be marketable anyway, so the restriction on selling them isn't too much of a limitation.
But that's how a photographer saw the place. As a parent and grandfather, it was great to do something with my daughter, watch the grandchildren having fun, and simply enjoy being in an interesting place on an absolutely gorgeous day.
A few of the photos I took there can be viewed in my Northward Trek gallery by clicking here.
For how Sandra spent the day yesterday, click here.

The Week So Far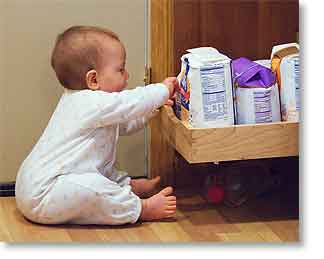 Thursday, 19 April 2007 - Tuesday, Sandra and I had recovered enough from the move north and playing with grandchildren to visit with Michelle and her children. Eric was away, working.
Pictured here is Luke, the newest grandchild helping his mother by rearranging a drawer for her.
That afternoon, Michelle drove all of us around to some scenic places she'd found in their area, like Hayden Falls in the Griggs Nature Preserve, a gorge at the mouth of Hayden Run where it empties into the Scioto River, and Indian Run Falls and Scioto Park, home of the Leatherlips Sculpture and an excellent playground the kids instantly fell in love with.
Yesterday, we spent recovering from all the exercise we got on Tuesday, plus did some chores and ran some errands.
Today, we are heading back to Michelle's where my sister Carol is meeting us this afternoon.

Now Near Columbus, Ohio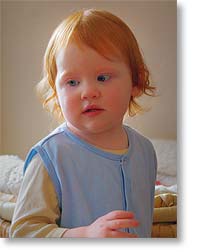 Monday, 16 April 2007 - Early afternoon yesterday, we drove up to Dayton from Lebanon to visit with my son Ian and his family at their home.
It was good to see them again, especially since it didn't work out for us to stop in that part of Ohio on our way to Texas last autumn. It's always interesting to see the grandkids in their own environment.
The photo here is one of granddaughter Lilly taken during the visit.
Then, this morning we packed up and moved out of Lebanon a little after 11am under sunny skies, which was a relief because the forecast had been calling for a chance of rain mixed with snow.
We made the short 85 mile (137 km) move to Columbus in a leisurely two hours, encountering only high cross-winds on an otherwise beautiful day for traveling.
On arrival at the Alton RV Park just west of Columbus though, I learned the spot they had for us required parallel parking of the rig, something I've only had to do with the RV on very rare occasions and didn't do too well at it, but did manage this time to get the RV on the site without embarrassing myself.
The advantage of this RV park, besides being the closest one to my daughter Michelle, is we have a clear view of the entire southern sky, so finding the satellites is a piece of cake and the only problem I had to contend with was the continuing high wind that made setting up the satellite dishes a bit interesting, but by 3pm we were all setup and ready for a well-deserved nap.
We are here to see Michelle and her family and while here this time I hope to be able to make the drive down to Hocking Hills State Park, one of the most scenic areas of Ohio and my favorite in the state, to take some photos. It's been far too long since I've been there.
For a map of today's move, click here.
For Sandra's account of the day, click here.

First Family Visit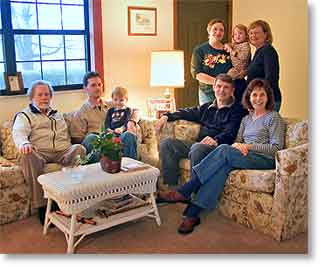 Sunday, 15 April 2007 - Yesterday, we had the first family visit of those we'll have during our scheduled week and a half in Ohio, meeting my son Ian and his family at my younger sister Carol's place near Cincinnati.
Due to unfortunate circumstances, we were not able to see all these folks on our way south last fall, so it's been a year since we'd seen them. It's always amazing how much young children can grow and develop in that length of time.
We all had a wonderful time and I had a particularly great time getting down on the floor and playing with the grandchildren, Caden and Lilly, much to their delight and my knees, surprisingly, didn't even complain.
Pictured here are (L-R): myself, my son Ian, his son Caden; (standing) Ian's wife Tracy, Lilly, Sandra (a.k.a. Grammy); (seated) Rick, and Carol, my younger sister. As always, click on the photo for a larger view.
For Sandra's account of the day and more photos, click here.

Now At Lebanon, Ohio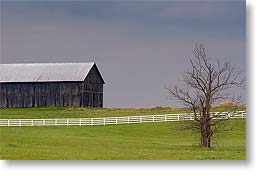 Friday, 13 April 2007 - With only a 121 mile (195 km) move to make today, we took our time packing up and heading out, leaving Lexington, Kentucky a little after 11am and arriving at the Cedarbrook Campground in Lebanon, Ohio a little after 1pm.
Today's was the first absolutely stressfree move we've done since leaving Bushnell, Florida weeks ago.
Rather ironically, from just a few hours after arriving in Lexington we had almost non-stop cloud cover, that is until this morning as we were packing up and the sky began to clear. The photo shows what it looked like for the time we were there. We did take some time before leaving this morning to take some sunny photos, but we'll have to return to really do the place justice. It should be phenomenal in autumn around there.
Today's sunny break is to be shortlived though as they're talking about not only clouds and rain all weekend, starting tonight, but even snow mixed in with the rain. Joy.
For a map of today's move, click here.

Latest High-Tech Gadget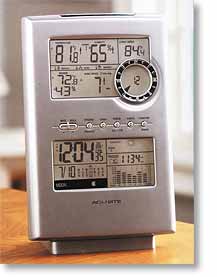 Friday, 13 April 2007 - Yesterday, prompted by our little indoor/outdoor thermometer biting the dust and us going in search for a replacement, I saw something I've been wanting for quite a while and bought it - a complete weather station.
I've wanted one of these since we first experienced extremely high winds out west and it was frustrating not to know exactly how fast the wind was blowing.
The one I bought is a Acu-Rite 00594W Wireless Weather Station and it's a marvelous thing for all it tells you and how it operates.
For instance, unlike all the other weather stations I had seen, this one not only gives wind speed and direction, but it even receives the atomic clock time standard signal transmitted from Boulder, Colorado, so its clock display is always accurate to the split second. Features like that just amaze me.
Plus, it displays the usual weather data like indoor and outdoor temperature, humidity, and barometric pressure. From that data it calculates wind chill and gives a rudimentary forecast, which, cynically speaking, is probably as accurate as any of those from professional forecasters who can't seem to get it right even a day ahead many times.
Plus, all the outdoor sensors are connected to the main unit (pictured here) via wireless transmissions so we can place the main unit anywhere within the RV. Just so cool and only cost $80 at our nearest Wal-Mart Supercenter.
UPDATE - we later returned this unit to Wal-Mart as the wind speed indicator proved to be inaccurate.

Ohio

We are scheduled to leave Lexington in a couple hours and should arrive at our normal location in Lebanon, Ohio at the Cedarbrook Campground by early afternoon.

Now At Lexington, Kentucky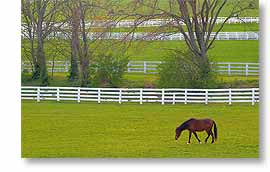 Tuesday, 10 April 2007 - Hard to believe that just a few days ago we were sleeping at night with the bedroom windows open and had to run the AC during the afternoons.
Anyway, we left Cartersville, Georgia this cold (just above freezing) but sunny morning bright and early, had a fairly stress-free move for a change, although the day started with our credit card being rejected at the gas station where we filled up. Sandra then had to spend some time on the phone to confirm the problem had been with the station and not our card.
Today's drive was mostly through the southern end of the Appalachian Mountains. As we did when driving through Georgia, we encountered frequent road work zones (much needed in Kentucky since their highway engineers must have graduated in the same class as those who built the bone jarring Interstate highways in Louisiana), but unlike many of the road work zones we've gone through in other areas of the country which were lined with the dreaded concrete barriers positioned right at the edge of the lanes, in Georgia, Tennessee, and Kentucky they were lined with the much more driver-friendly orange plastic barrels and set back from the lane edges.
That's not to say we didn't have to deal with some of the concrete barriers, but they were few and only for short distances. I can appreciate how the concrete barriers provide more protection for the road workers, but that still doesn't make those things any easier to deal with and in the vast majority of cases, there's no need to crowd the lanes with them.
That said, a little over six hours and 339 miles (546 km) later, we arrived at the campground in the Kentucky Horse Park, which I'm fairly sure is a state owned and operated facility, and while there are no sewer or cable TV hookups at the sites (typical for state parks) and no pull-through sites (so I had to back in, but nailed it the first try), in addition to a swimming pool, there are basketball, volleyball, and tennis courts (tennis courts being something I've never seen in any other campground or RV park) and this has to be one of the cleanest and best groomed campgrounds we've stayed in, if not the best. All laneways and sites are paved. The architecture of the campground facility buildings are in the Kentucky horse farm style, so they match the rest of the structures in the park. It's a very neat place, except for a lack of hot water in the showers. Warm is the best I could get.
Unfortunately, the weather forecast for the two days we're to be here is for clouds and some rain, but it will still give me the opportunity to spend some time around the beautiful horse farms this area is famous for, something I've never done before.
The photo above was taken in the park here. Click on it for a larger view.
For a photo of our campsite, click here.
For a map of today's drive, click here.
For Sandra's account of the day, click here.

Overnighting At Cartersville, Georgia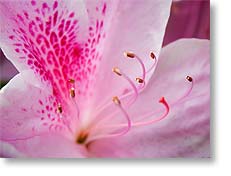 Monday, 9 April 2007 - Well, we're now at the Cartersville / Cassville-White KOA which is about an hour north of Atlanta just off I-75, but getting here was one of our more brutal moves.
Everything was rolling along smoothly, my biggest concern trying to figure out what lane I needed to be in to make the next change of routes. Then just before 1pm with only 6 miles to go before we were to get off the Atlanta bypass and get back onto I-75 for the last 30 mile leg of the trip, traffic on the bypass ground to a crawl and then to a stop.
Eventually, I could see that the exit ramp to I-75 was backed up as well so I figured I-75 was also stalled and got over into one of the through lanes that was moving, confirmed as we went over I-75 that it too was backed up as far as the eye could see, and took the next major exit which put us onto a US route and then to a state route that eventually got us here.
So instead of a 5 and a half hour 330 mile (530 km) all freeway drive, it ended up being an 8 hour 380 mile (611 km) ordeal, requiring a refueling stop at a small town gas station along the way that had a canopy high enough for the RV to fit under and enough maneuvering room I managed to get the rig in and out of the station without doing damage to anything.
We later learned an 18-wheeler had overturned on I-75 which had been the cause of the backup.
Anyway, here we are and hopefully will be continuing on northward tomorrow before rain moves into the mountains.
The photo above is of an azalea we saw in a freeway rest area near Macon, Georgia.
For a map of today's move, click here.
For Sandra's account of the day, click here.


__________________________

For Older News

To read details of our previous stops and camps, visit the News Archives.


Updated Thursday, May 3, 2007

Copyright © 2007 by Gordon L Wolford .
All rights reserved.