We Actually Do Something Fun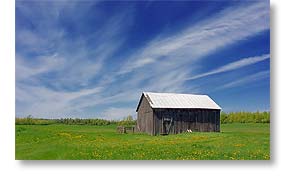 Tuesday, 22 May 2007 - Yesterday, being the actual Victoria Day holiday itself, we decided to do something fun and go for a drive in the country and thought we'd see if we could find the headwaters of the Canadian Mississippi River that runs by the campground here.
So after lunch we headed southwest then west, driving through the town of Lanark and then through a few small hamlets until 35 miles (56 km) after we started, we turned around at Elphin, never having found the Mississippi's headwaters, but it was a beautiful day for a drive anyway. Photo here was taken along the way.
We retraced our route back to Lanark, where we then drove south to Perth, held by many to be Ontario's prettiest town, and it is quite lovely, but I'm not sure it's any nicer than Lindsay, Ontario, near Garth's cottages where we've been spending a month each summer since starting the nomadic lifestyle.
Click here for Sandra's account of the day.

Happy Victoria Day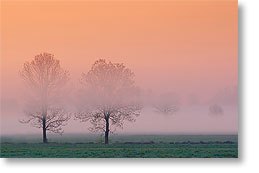 Saturday, 19 May 2007 - This is the Victoria Day holiday weekend here, a Canadian holiday that takes place in mid to late May and celebrates Queen Victoria's birthday as well as the reigning monarch's.
This holiday is generally viewed up here as the practical start of summer activities, which many people observe by going camping, a number of them having selected this campground, so as I write this the place is virtually full.
Unfortunately, since it is also right by a river, the Canadian Mississippi River, with lots of unavoidably wet ground around, it is also full of mosquitoes, which have come out in force with the return of warmer weather, so today we had to dig out our can of Deep Woods OFF insect repellent.
I say warmer weather, but that's only been during the day. Most of the last few nights saw the temperatures drop down to freezing or near freezing.
The photo above was taken this morning, only minutes before sunrise just down the road from the campground.
I also washed the truck this morning. I don't do this often because it's a big job and a futile one at that since due to its dark burgundy color it shows dirt almost the minute the soap and rags are put away. So I usually just ignore the film of dirt it always has as a consequence of the color we had no choice but to accept when we bought the truck as it was the only one available at the time we needed it that was big enough. However, because of the road work being done to widen Highway 7 on the way to Ottawa, along with the rain we had during the week, the truck had become so filthy even I couldn't ignore it. Hopefully, the truck will stay reasonably clean for at least a little while, but the odds of that actually happening look slim since the lanes in the campground are gravel and dirt, so the truck will get dusty just sitting here, even if it doesn't rain and we don't drive it through construction zones.
Click here for Sandra's account of the last few days.

Nothing Much Happening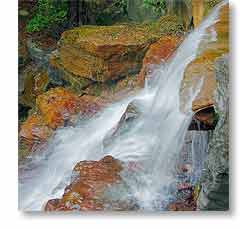 Thursday, 17 May 2007 - I haven't posted anything here since we arrived in Carleton Place more than a week ago because we haven't done much that's noteworthy, but I thought I'd better report in and let everyone know we're still alive and doing well.
Of course, if you also read Sandra's Blog, you already know this.
Yesterday, while still boring, was the most eventful day we've had during our current stay near Ottawa. We started our battery of doctors visits, the main reason we're here, by having our annual physical exams done at our GP's office, followed by having our blood tests done that she had prescribed, then stopping at our pharmacy to drop off the prescriptions she had written for us, followed by a late breakfast to end the 14 hour fast we had observed for the bloodwork, then a stop at our chiropractor's, another at Wal-Mart, one more stop at Andrew Haydon Park so I could take my Photo of the Day, and the last stop as we were leaving the city was at Henry's Camera Store for me to buy something for cleaning the sensor in my camera.
Exciting stuff.
The photo here is one I took of Keeley Falls while we were in Andrew Haydon Park.
While the weather was pretty good and springlike for a few days, winterlike weather has returned for a couple days just to remind us that we are no longer in the subtropics, so my big event of the day today was to fill the propane tank that ran out last night.
Even more exciting.

Back To Where It All Began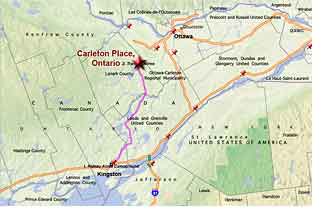 Tuesday, 8 May 2007 - This morning we packed up and moved from Kingston, Ontario to Carleton Place, returning to Tranquil Acres Camping RV Park where our nomadic lifestyle began nearly 3 years ago. This is now the 125th camp of our Photo Odyssey. That's a lot of campgrounds to have moved in and out of.
Tranquil Acres officially doesn't open for another week, but the hosts, David and Shonagh, fine people that they are, allowed us to arrive early.
We left Kingston around 10:20am, made the 75 mile (120 km) drive in perfect weather and without incident, nearly all of it along Highway 15 that passes through the scenic Rideau Lakes district, and arrived here around noon, and were all setup a couple hours later. Now to catch our breath.

A Busy Weekend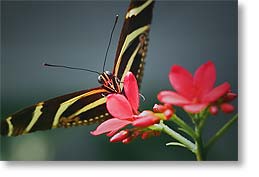 Sunday, 6 May 2007 - As I write this, I'm sitting in our room at the Best Western hotel in Cobourg, Ontario, where we spent the night after spending Friday night at Betty's condo in Toronto on our way to the wedding Saturday of Sandra's longtime friend Laura.

Friday

So a busy weekend of travel, which started early Friday morning when we picked up a rental car at Enterprise in Kingston. It's a Hyundai Accent and so far it's gotten 34.5mpg, which is good but for the size of car it is, I was expecting better. Our much better and more powerful former Saturn Sport Coupe SC2 did that well, but it's still about 50% better than we could have expected in the truck, which couldn't have gotten into the parking garage at Betty's condo anyway.
Getting to Betty's from Kingston requires driving through Toronto, something I avoid if at all possible due to always encountering backups and stalled traffic, and true to form, the 401 Freeway from 2.5 miles east of Yonge Street to miles beyond was either stopped or moving at a crawl. Without the traffic delay I had estimated we would reach Betty's by 12:30pm, but didn't get there until just after 1pm, so basically we lost only a half hour to traffic although it seemed like forever when we were sitting in it (the world's largest parking lot).
Garth and then a longtime friend of Betty's, Bonnie, showed up shortly after we arrived and shortly after that we all enjoyed a tasty roast beef dinner. It was good to see Betty and Garth again, even though it hasn't been that long since we were with them in Fort Myers, Florida, and it was good to finally meet Bonnie after all I'd heard about her from Betty over the years.

Saturday

Then Saturday morning we were up and out of Toronto early, encountered no traffic problems, and so arrived in Kitchener for Laura's wedding with time to spare.
The wedding itself was quite interesting. Most of it was a traditional wedding service, but had some unique features, like the happy couple (Laura and Steve) are closely associated with the Kitchener/Waterloo Symphony, so for music they not only had an organist and pianist, but a string quartet from the symphony as well and they were quite good. And since one of Laura's cousins is a minister, he co-officiated the service with the minister of the church. Laura and Steve also apparently sing in choirs from two difference churches, so both choirs were there as well and both Laura and Steve split their time between their part of the wedding ritual and singing in the choirs when it was the choirs' time to sing in the service. Lots of music and singing.
From the wedding, we had planned to drive down to the butterfly conservatory near Niagara Falls, Ontario, because I've been wanting to shoot some photos of butterflies, which are quite difficult to find out in nature and even more difficult to photograph there. Conservatories such as that one though are full of butterflies who are used to having people around and it's much easier to photograph them in that environment.
However, on the way to the wedding I'd seen a sign for a butterfly conservatory that was just a few miles north of the freeway at Cambridge, Ontario, so on our departure we stopped at a nearby tourist information bureau to see if this closer conservatory, Wings of Paradise, was worth seeing or should we go on to the one at Niagara Falls, which would have been 4 additional hours on the road. The people in the bureau told us that while the local one was smaller than the one at Niagara, the local one was still quite good.
So, we went there instead and had a great time. There were plenty of butterflies and they were cooperative as well (photo above being one of those taken there).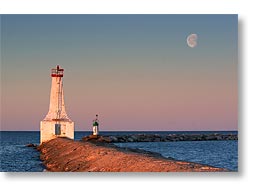 From there, the plan was to drive back through Toronto (joy of joys) – which, surprise, surprise, had another traffic backup on the freeway, but not nearly as bad as we encountered on Friday – and then drop down to the shoreline of Lake Ontario at Port Hope, which we did and found Port Hope to have a very nice downtown and we plan to go back there sometime to give it a closer look.
Then came the town of Cobourg along our lakeshore drive and found that the RV park they have there will take large RVs the size of ours and it's right by the beach and harbor (photo on the left) and quite a lovely setting, not to mention convenient since it's right in the heart of town. This was exactly the sort of thing we were hoping to find along this drive, so I fully expect we'll be spending some there sometime.
Since it was getting late and we were tired from all out unaccustomed activity, we then checked into the Best Western hotel there, ate dinner in their restaurant, spent the rest of the evening in our room, which didn't have wi-fi but did have high-speed ethernet access to the internet, which meant only one of us could use it at a time, which didn't matter much since we were both so tired.

Sunday

We ate a leisurely breakfast in the hotel restaurant and then checked out and toured the parks in Cobourg that are along the lake.
From there we stayed on Highway 2 which runs along Lake Ontario, seeing the towns and sights along the way, and detouring down to the Presqu'ile Provincial Park, hoping to be able to see it, but they wanted an $8 admission fee just to drive around in it, so we settled for getting a brochure and will do some research on it, but I think we'll be going back there as well.
From there, we drove the rest of the way straight back to the RV, which we happily found as we had left it. Busy weekend.

Returning To 'Normal'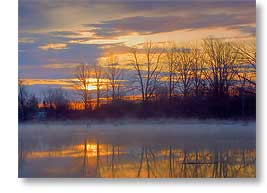 Thursday, 3 May 2007 - Whatever normal for us might be. At least the truck is back and we've seen some sun and mild temeperatures lately. Not actually warm, but pleasant during the day, although still quite cold at night, to the point the electric heater can't keep up and the furnace has to run.
Monday, we returned the rental vehicle and got our truck back. The extended warranty covered all costs, including the rental, so this episode ended up costing us only the warranty's $100 deductible and more than paid for the initial cost of the warranty when we bought the truck. I've always been glad we had that warranty, but now we're really glad.
Then Tuesday morning we got a call from the Dodge dealer to say our new tires had come in. So we drove back into town after lunch, dropping Sandra off at a mall near the Dodge dealer so she could get a haircut and shop while I went on and saw to the new tires.
Since I was impressed with the tires that came with the truck (BF Goodrich Rugged Trail T/A), I had them replaced with exactly the same thing. Not cheap, but worth the peace of mind after the fiasco we suffered with our first RV (a 25' class C) when it blew a tire on the New York Thruway a few years ago. One of its previous owners had put some cheap off-brand tires on it, made in Korea. We talked with the person who bought that RV off of us the year after he'd bought it and another of those tires had blown out on him too, so it doesn't pay to go cheap when it comes to tires.
We also now have a campsite lined up near Ottawa at Tranquil Acres just east of Carleton Place. While this is my favorite campground in the region (and the first one we stayed at when starting out on the Photo Odyssey three years ago), it's not the most convenient since it's a half hour drive from the city, so we usually don't stay there until we are done with the medical and dental appointments. However, this year there's no room at the two campgrounds in the city itself, so we have no choice.
The photo above is of the sunrise yesterday. If it weren't for the undergrowth along this little inlet of the Cataraqui River, this would be the view I'd have from the window beside my recliner. As it is, I have to walk along a short path through the foliage to see this. Not too hard to look at.
Click here for Sandra's account of the week so far.


__________________________

For Older News

To read details of our previous stops and camps, visit the News Archives.


Updated Sunday, June 10, 2007

Copyright © 2007 by Gordon L Wolford .
All rights reserved.