A Gut Wrenching Week


Sunday, 24 June 2007 - Hard to believe a week has gone by since my last report and it was a good news/bad news kind of week. The bad news is that I thought I seriously injured myself.
Without going into too colorful a description and giving more detail than people would really want to know, I'll just say that I was in a certain position one morning, Wednesday as I recall, and had to sneeze a few times and something that simple appears to have wrenched and inflamed some of the scar tissue left inside my gut from the surgery I had more than 25 years ago. In fact, things got so bad at one point afterward, I thought I might have to go to the hospital, the pain was so bad. The problem is they did so much cutting on me back then, they had to reconfigure things inside me and I have absolutely no idea what goes where now and what is attached to what by scar tissue, and, of course, the doctors never tell you much. So I had no idea what sort of actual damage the sneezing fit did, but the pain was such that it brought back very bad old memories I'd just as soon forget.
To make a long story short, after a progressively worsening day and a very bad night, things inside me started to calm back down and it now looks fairly certain that no serious damage was done, which is, of course, the good news.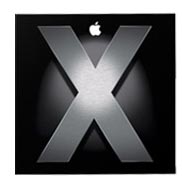 So, I didn't feel like doing much for the rest of the week and took advantage of that by making two backups of the data on my computer, erasing its hard drive, and doing a clean fresh installation of the latest version of the Mac operating system, Mac OS X 10.4, something I've been putting off for two years.
The reason for the delay is complicated, so I won't bore you with those details either, but essentially for that period of time the new system didn't really give me anything worth the effort.
However, that changed with the recent release of a new version of Adobe Photoshop, which is one of my primary computer programs and one I use for hours nearly every day, and that new version of Photoshop has some features I really wanted but requires the latest version of the system in order to run it, so I had no choice but to upgrade things or get left behind technologically.
While I was at it, I upgraded all the software on my computer and didn't reinstall anything I hadn't used since starting the nomadic lifestyle. The actual system upgrade itself took only a few minutes, but making two backups of 50 gigabytes of data and then restoring much of it, as well as collecting the other updated software packages and installing those and having to reenter countless user IDs and passwords, took the better part of two days, but the end result was worth it. It almost feels like I have a new computer now.
The photo above of the partial rainbow was taken Friday evening after a thunderstorm. The storm was a result of a cold front passing through. The weather earlier in the week had been hot enough we had to run the air conditioning in the afternoons, but it has now cooled off dramatically.

Happy Father's Day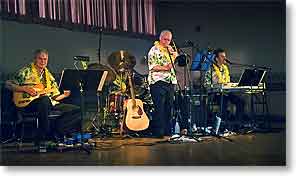 Sunday, 17 June 2007 - First, let me wish all the fathers reading this a happy Father's Day. It is celebrated as such today in the US, Canada, the UK, and Ireland.
When I was young my mother always made sure it was a significant holiday in our family, but with the passing of all the parents and being long distance from my own children, the day no longer holds the significance it once did.
However, life goes on and as I write this shortly after daybreak, it is raining here near Carleton Place, Ontario, but we had a very good week of weather, even having to run the air conditioner at times, so a little rain is actually a nice break for a change.

Monday

We did several things of interest this week, not the least of which was on Monday when Sandra became only the third person in my life to bake me my favorite pie – my mother's butterscotch pie recipe.
Calling it butterscotch is really a misnomer because it doesn't actually taste like butterscotch, but how it does taste is quite unique and I've never had anything like it anywhere else outside the family. A couple years ago, my daughter Michelle took it upon herself, much to my delight, to fill in for my mother after her passing and surprised me one day with a pie baked to mother's recipe, albeit a gluten-free but equally tasty version of the recipe. I had thought the recipe had been lost with my mother's death, so it was triply special to not only get the pie but to learn the recipe had survived and that it worked equally as well with gluten-free ingredients.
And now Sandra has successfully baked this recipe as well, so I'm surrounded by capable women. I'm sure mother would be happy to know this family tradition lives on. The only problem with Sandra's pie was that she ate as much of as I did! I suppose, I say grudgingly, that's only fair though, since she did all the work.

Tuesday

Probably the biggest day of the week though, for me personally, was Tuesday when I got my camera's repaired main lens back. It took six weeks from the time I dropped it off in downtown Ottawa at Canadian Camera until I got it back, which seems like an excessively long time but is actually fairly normal from what I hear. That, plus the month the lens was dead before we got back to Ottawa, means I was without it for 2.5 months. I kept my previous camera, a Konica-Minolta DiMAGE A2, for just such a circumstance, but as good as that camera is, it still isn't in the same league as my Canon EOS 20D, so I felt very photographically handicapped during that 2.5 months.
The camera shop had originally thought they could fix it there and it would only take at most 2 to 3 weeks, but apparently the problem turned out to be more serious than they had thought, so they had to send the lens to Canon Canada's repair facility in Toronto. From what I was told, I simply wore out the lens. It is image stabilized which means there are a lot of moving mechanical parts in it and after more than 40,000 photos taken with it, I guess it just got tired. The repair cost CAD$300, which seems a bit pricey, but the same lens new costs CAD$800, so I guess it was worth it.
Anyway, I took some quick test shots before we left downtown, just to confirm it did indeed work before leaving our parking spot, and then went to one of my favorite places in Ottawa, the Ornamental Gardens, to give it a more thorough testing on some of the beautiful floral displays there before we left the city completely. I'm happy to report the lens seems to be as good as it once was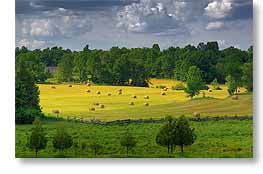 Thursday

Then late Thursday afternoon we drove back into Ottawa, this time to attend the free Hawaiian Luau that was being held at the Hellenic Banquet Centre and sponsored by our financial advisors, Canada Retirement Information Centre.
Of course, nothing in life is actually free and we indirectly paid for our share of the event since it is paid for with money made from Canada Retirement's clientele, like us, but we enjoy going to these events even though we never know anyone there except the people who handle our retirement fund.
The theme for the event this summer was a Hawaiian Luau, so Sandra and I put on some our Hawaiian-design wardrobe and left early, thinking we'd beat the crowd and get some good seats this time, however such proved not to be the case. The event ran from 3-8pm and when we got there at 3:40pm the parking lot was already nearly full, as was the main banquet hall. So we again sat outside under the large tent they erect for overflow seating, and outdoor seating isn't all bad anyway.
The food was excellent and it agreed with my sensitive digestive system, the entertainment good (photo above left is of the Hawaiian Jazz Quartet who played for us), but once we were done eating and we'd taken some photos, we didn't hang around. And if I had thought it crowded when we arrived, when we left a short time later the parking lot was completely full and the hired security staff was parking new arrivals on the street and even there, there wasn't many spaces left, so it's a good thing we had gotten there when we did.

Saturday

The next thing of note we did was to attend a breakfast put on here in the campground by its owners, Shonagh and Dave, Shonagh waiting tables and Dave serving as chef. The food at this event was also excellent as was the service and as usual for such things, we found it interesting to talk with a few of our fellow RVers.
Then it was back into Ottawa to attend a Gluten-Free Day event at Rainbow Natural Foods, a health food store that normally has a large, but not cheap, selection of gluten-free foods, however for the day's event there were also quite a number of their suppliers who had set up displays of their gluten-free products and offering samples. From this we found an outstanding gluten-free bread mix that, unlike all gluten-free breads I've tried before, was actually better than most regular breads I once ate. We also found a frozen gluten-free pizza that was equally as good, so I expect we'll be giving these products a try in the future.
Afterward, on our way back to the RV, I decided to take a scenic detour and try to find a nature trail I'd read about that's located southwest of nearby Almonte, Ontario. We couldn't find the trail since I hadn't remembered all the directions, but it was still a very nice day for a drive through the countryside and I got some interesting photos of a hay field that was being baled (photo above right).
For Sandra's account of the week, click here.

A Walk On The Wild Side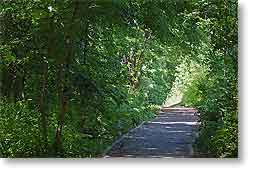 Sunday, 10 June 2007 - Well, as wild as it gets around good old Carleton Place, Ontario anyway.
Yesterday afternoon, Sandra and I decided to drive into town (Carleton Place, not Ottawa since Ottawa is the city) to see if we could find the Arklan/Stone Water Gate Trail that runs for a half mile (1 km) along or near the southern banks of the Canadian Mississippi River where it flows through town.
Amazingly enough, we found the trail fairly easily and I've now learned from research on the internet that we actually parked in the best place. Of course, it isn't that amazing considering Carleton Place isn't all that large (population 9,453), but it seems like every time we go into town we discover new things about it, so neither is it all that small. Actually, until we started staying near town my only impression of it was what one sees from Highway 7 which bypasses it and shows absolutely nothing of the real town that's just to the north of it, which we are learning is a very nice place as towns go.
The photo above is of one section of the Arklan/Stone Water Gate Trail that we walked along. It seemed to be a fairly popular place to bike and walk one's dog. We also saw quite a few birds as well as flowers and It even has a short section of boardwalk through a small soft maple swamp that reminded both of us of Six Mile Cypress Slough swamp in Fort Myers, Florida, except here there are no cypress trees and, of course, no alligators.
Click here for Sandra's account of the day.

Just Checking In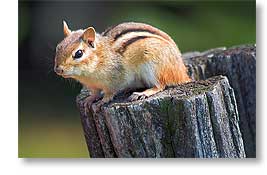 Tuesday, 5 June 2007 - Well, it's been two weeks since my last entry here, so I guess I'd better check in, even though there's little to report, other than Sandra and I are both doing well. Hopefully though, you already know that from reading Sandra's blog, which she updates daily.
About the most exciting thing we've done during the last two weeks was to attend a Hot Dog Social last Saturday evening here in the RV park. It was put on by David and Shonagh, the owners of the park, and like the pot lucks we often attend at the various campgrounds we stay at, we met some of our neighbors here in the park and got to know them a bit. And since I couldn't eat any of the desserts, due to all of them contained gluten, Shonagh, angel that she is, fixed a fruit salad just for me.
We signed up this week to stay here another two months. In the past, I've chomped at the bit wanting to get away from Ottawa and see new areas of Ontario, but this summer I'm tired of all the driving and towing we've done over the last 3 years (75,000 miles/125,000 km, or equivalent to 3 times around the earth) and am happy to just sit here, catch my breath, let my nerves calm down, and just generally relax and do as little as possible. However, I do still go out and shoot photos every day, even if it's just to walk down the road for sunrise or walk around the RV park photographing the flowers or whatever else pops up in front of me. Like our little neighborhood chipmunk, pictured above, who in a rare moment of critter cooperation hopped up on that fence post just behind our RV and posed so nicely for me.
And the weather has finally gotten nice, except we've had quite a bit of rain and cloud, but also our fair share of sun, even having to run the AC a couple of days. So, it was quite a shock to see in our current weather forecast that tonight and tomorrow night it's supposed to drop down to only a few degrees above freezing with a risk of frost! This is June for crying out loud! Whatever happened to global warming?


__________________________

For Older News

To read details of our previous stops and camps, visit the News Archives.


Updated Sunday, July 1, 2007

Copyright © 2007 by Gordon L Wolford .
All rights reserved.