A New Angle On Sleeping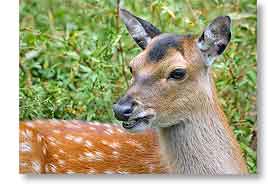 Friday, August 24, 2007 - Wow! What a day we had yesterday. If you read Sandra's blog regularly you know that in recent years she's begun suffering from Gastroesophageal Reflux Disease (or GERD as it's often called) which became so severe at one point last year it put her in the hospital briefly. Her problem with GERD is no doubt a result of the hiatus hernia she's had since I've known her and in the last four or five weeks her GERD condition has once again gotten worse and if something can't be done to alleviate it, we will likely have to give up our nomadic lifestyle since good health is an absolute must for that.
So, having done some research on the internet, she learned that raising the head of the bed by six inches (a little more than a 4° angle) will often keep stomach acid from rising into the esophagus during the night while one is prone and sleeping, an inactivity Sandra spends a lot of time at. Thinking that raising the head of the bed was certainly worth a try and a very simple matter with normal beds, we decided to do this with ours, but couldn't figure out how to accomplish that since our bed in the RV is built into the unit and an integral part of the structure.
Then, while we were at Peterborough RV a couple weeks ago looking for a better sewer hose system, we asked them if raising the head of the bed was something they could do. They thought they could, but needed to look into it further. They are a Glendale Titanium service center, so they discussed our request with Glendale, worked out a plan, sent us a price quote, which we agreed to, and had an appointment made for yesterday to have the work done, which would take all day.
Of course, although the area around here had been in a dry spell for quite a while, the weather turned stormy and rainy Wednesday night, but at least the rain stopped long enough Thursday morning to get the RV packed up and ready to roll, rained on us periodically during the 30 mile (50 km) drive to Peterborough, then continued to rain periodically during the day, quit raining on the drive back to Lindsay and while we got camp set back up again, then rained again shortly after that, but we stayed dry when it counted so things could have been worse.
While they were doing the work on the RV, giving us the day to kill, we ran a few errands in Peterborough, taking advantage of being in a much larger city than Lindsay, and ended up visiting Peterborough's little zoo, which has the big advantage of being free and where the animals were generally cooperative and happy, as can be seen by the photo above of a Sika Deer 'smiling' for the camera.
As to the bed, they did a fantastic job on it and even looking at it I can't see how they did it, but everything looks and works like it did before (the lower end of the bed raises to gain access to a storage area that's under the bed), except the bed now tilts downward by six inches. Only time will tell though if the effort proves to be effective in alleviating Sandra's GERD.
Click here for Sandra's account of the day.

Cottage Weekend 2007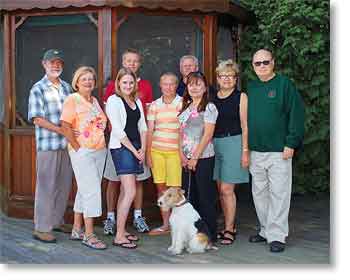 Sunday, 19 August 2007 - Today saw the end of this year's annual Cottage Weekend my wife's family celebrates at Garth and Betty's cottages. The event was a fairly low key this year with no guests outside the immediate family.
The biggest excitement came from a very brief but intense storm night that blew in off Sturgeon Lake on Friday at sunset and forced Sandra and I to make an early departure to rush back to the RV to see if the storm had hit there as well, which it had.
My main concern was the RV's awning, which we had left out and those things can take off like the sail on a sailboat if high wind catches them in the wrong way, but all that had happened was one of the awning's tiedown stakes got pulled out of the ground, but awning's arms had still held and neither the awning nor the RV suffered any damage.
The worse thing that happened was the wind blew so hard against the internet satellite dish it partially collapsed one of the tripod legs, enough to move the dish off the satellite, so I had to get that repointed, which was not a big deal.
Otherwise, it was the usual Cottage Weekend, with a lot of food, lounging around, taking photos, Garth taking anyone who was interested out in his boat for a run around the lake. The weather was too chilly for me to be out on the water, so I stayed on land this year. We also had frequent scattered showers early in the weekend. Unfortunately, none of them lasted long enough to break the dry spell they've had in this area for quite some time this summer.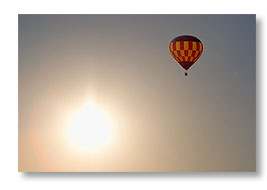 Pictured above in the traditional Cottage Weekend photo taken out on Garth's dock are (l-r): me, Sandra, Becky, Nick, Danica, Jasper (being such a good dog), John, Margie, Betty, and Garth.
Other than the Cottage Weekend, our stay in Lindsay so far has been fairly quiet and unremarkable, with a couple trips to the nearby city of Peterborough (21 miles/34 km away) to buy some things, like a new sewer hose for the RV, finally finding a hose system (Prest-o-Fit) that appears to actually work without complications (only took 3 years), a couple visits with Betty and Garth at the cottage, a couple drives around the countryside in search of photos, including a visit to the Windy Ridge Conservation Area which was nice but not exceptional although free, and making the short walk down to the Scugog River early each morning to take sunrise photos.
The biggest excitement we've had was when a hot air balloon flew over the campground one evening, photo above right, and another evening when Sandra fixed me a gluten-free pizza, the first actual pizza I've had in quite some time.
Click here for Sandra's account of the last 12 days.

Ordeal At Cobourg - Now At Lindsay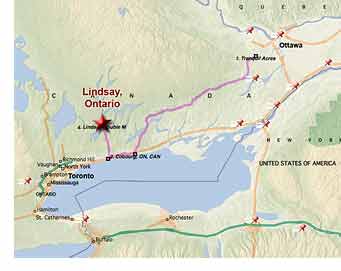 Tuesday, August 7, 2007 - What was to have been, and should have been, a leisurely move yesterday of 155 miles (249 km) to quaint little Cobourg, Ontario, turned into a 215 mile (346 km) ordeal, seeing us end up at Lindsay, Ontario instead, a week earlier than planned.
Cobourg is a scenic town on the shores of Lake Ontario and we had driven through it back in the spring and had seen its campground, which is right downtown behind the beach and a fabulous location, and decided it would be a very interesting place to spend a week.
When we were there then, that part of town had been nearly deserted and while things looked tight (not the widest street in the world) with limited maneuvering space for a 38 foot 5th wheel RV (just past the campground entrance the street turns into a narrow parking area and pier), I figured we could manage it.
But what we encountered on arrival yesterday was completely the opposite. It's now summer and hot, which makes the beach a very popular place, plus yesterday was Ontario's Civic Holiday so the area around the campground (a city park, marina, beach, and pier) was absolutely packed with people and cars, and that's no exaggeration, turning a tight situation into a nearly unmanageable one, especially when considering that even under normal circumstances there is no space to park for registering at the campground, with the office and security gate being right at the street.
Stupid arrangement! Stupid! Stupid! Stupid! I don't know who plans such things but they've obviously never done any RVing themselves.
And to make matters worse, it turned out there was only one employee at the campground, who was nowhere near the entrance gate, and was a college student who turned out to be essentially clueless, so I ended up having to pull past the campground entrance, managed to get the rig over into a no parking zone along the curb where I at least was no longer blocking traffic.
So, what we were faced with at that point was one of my worst nightmares of towing a 38 foot 5th wheel RV...I couldn't go forward, since there would have been no maneuvering room at all on the pier, couldn't turn anywhere, and could only back up, but traffic was bumper to bumper interspersed with shoulder to shoulder pedestrian traffic milling around all over the area.
The joys of travel.
While I was managing to at least get out of the traffic flow, just hoping a cop would show up to try and give me a parking ticket so I could tell him what I thought of Cobourg's city planning, Sandra found the campground's lone employee cleaning the toilets, brought her back to the office, where we discussed the situation.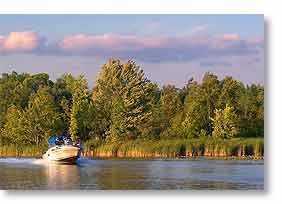 Sandra then bravely got out into the street, directed and stopped traffic long enough for me to back the rig up far enough to make the turn into the campground, where we then discovered there was no way I could get the rig into the campsite they had assigned us, and the only one available. If I could have approached it from the other direction I might have been able to get between the massive tree that blocked part of the campsite's entry (as did the site number sign) and the motorhome in the adjacent campsite, but there was absolutely no way I could have gotten the rig turned around to make that approach and no way I could get the rig backed in from the direction it was pointing.
Whoever laid out this campground should be jailed. Being that stupid certainly can't be legal.
And then, on top of all this, I discover there's no way we can see either the internet or TV satellite. When Sandra had called and made the reservation months ago, she specified we had to have a clear view of the southern sky. I don't know what is so difficult to understand with the phrase 'clear view of the southern sky', but that person obviously had a language problem because we didn't have a clear view, our view of the satellites blocked by a large group of huge trees.
By this time, I'm fed up with the whole situation and just want to get out of there, which we managed to do, and if I never see Cobourg again I'll be quite happy.
Sandra then called the Double "M" RV Resort & Campground in Lindsay, which was to have been our next stop after our week at Cobourg, and made arrangements for us to arrive early.
So here we are on the banks of the Scugog River in Lindsay, rather than behind the beach in Cobourg, for a 6 week stay, rather than 5 weeks.
We are setup on the same site we had here last year and after getting things in order, we took an evening stroll along the Scugog River (photo above) to unwind a bit.
Click here for Sandra's account of the day.

Some Interesting Things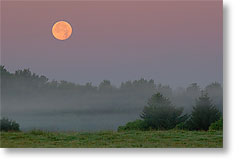 Thursday, August 2, 2007 - Well, here we are into August. July ended with some very warm weather, but generally this July was quite pleasant, being cooler than normal, It is typically the hottest month of the year around here.
If you've been reading Sandra's blog, you'll know we've done a few things of interest since my last report.
The biggie, of course, is her new computer, an Apple 13" Intel MacBook laptop, one I've been lusting after myself since it not only runs the Macintosh operating system, but it also runs the Windows operating system equally well and such a computer would simplify our computer life. Unfortunately, since my own computer, an Apple 12" PowerBook G4 that only runs the Macintosh operating system, keeps plugging along I can't justify the expense of replacing it.
Anyway, since we picked up Sandra's new computer we've been getting things installed on it, including a separate partition for Windows XP to run in, which also needed things to be installed in it as well. So that has kept me busy.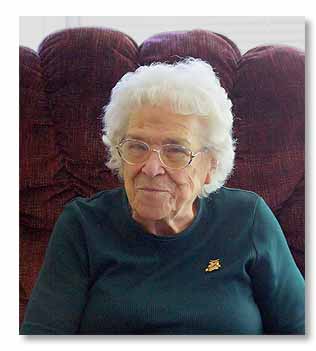 My biggest concern with the new computer was whether we could set up the internet satellite from its Windows partition and I just tried it and it worked, so that should make that task a little easier the next time we move, which will be this Monday, when we pull up stakes after being here at Tranquil Acres for three very enjoyable and, well, tranquil months and move to Cobourg, Ontario for a week before moving on to Lindsay for a month.
We also drove down to Brockville on Aunt Ruth's birthday to see her. She was a popular girl that day, no one showing up during the hour and a half we were there, but her phone ringing at regular intervals with people calling to wish her a happy birthday.
Pictured on the right, she is being good and giving me one of her 'Aunt Ruth' looks. I have other photos of her misbehaving, but thought I'd better keep those to myself.
I also finally got Nick & Becky's wedding video done. Better late than never, but at least it was done for their first anniversary.
Otherwise, about all I've done is to continue getting the software collection updated in preparation for the upcoming winter tour, along with also updating the software on my own computer, now archaic by some people's standards, but with the software updates it almost feels like a new computer itself in some respects.
I also shot quite a bit of photography a couple days ago as it was the full moon, which most non-photographers might not realize makes for some dramatic moonrise and moonset photos, since the sun during that phase of the moon is rising as the moon is setting and is setting as the moon is rising, which presents opportunities like the photo above left. This situation occurs roughly once a month (every 29.5 days actually), but for various reasons, like it's cloudy or I'm simply not paying attention or being in the wrong place at the right time, I seldom get to take advantage of it. Not so this time though, happily.
Click here for Sandra's account of the last couple weeks.


__________________________

For Older News

To read details of our previous stops and camps, visit the News Archives.


Updated Saturday, September 1, 2007

Copyright © 2007 by Gordon L Wolford .
All rights reserved.