Now at Sherkston Shores, Ontario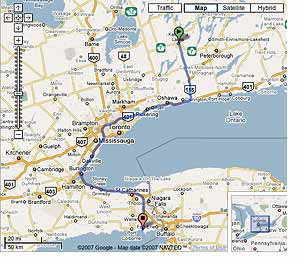 Sunday, 14 October 2007 - This morning, with the temperature at dawn having plunged to 34°F (1°C) at ground level but freezing on the roof of the RV as I found out the hard way to my surprise when taking down the wind speed sensor (although even at 61 years of age my reflexes are still cat-like when need be, so no harm done), we packed up and were leaving Lindsay shortly after 9am and drove the 174 miles (280 km) to Sherkston Shores Resort south of Niagara Falls, arriving shortly before 1pm.
Even though we had to drive through the megalopolis of Toronto-Mississauga-Hamilton (about half of the drive) and an area I avoid towing through unless there's simply no choice, as was the case today, the trip was uneventful with only moderate traffic due to it being Sunday morning, the only time I would ever consider such a thing, and no road construction closing down lanes.
The drive was actually enjoyable until I missed a turn on the back road we were taking after leaving the freeway, and had to go several miles out of our way, only to then miss the turn on the road to the campground and going several miles out of our way the other direction. As it turned out, places on the back roads we were on where one can do a U-turn with a 38 foot fifth wheel were few and far between.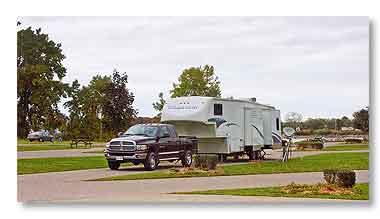 But we did eventually arrive at the RV park thanks to the mapping software we have in our computers and we found it to be the quite large resort its advertising claims. It's very much like those we've seen in southern and southwestern US that are home to many snowbirds during the winter.
However, it turned out to be so large and the layout so complex and convoluted that even with the almost indecipherable map they gave we had great difficulty finding our site, which we did do with the assistance of a fellow RVer. The place really does need to have a staff member lead you to your site as many of these places do.
Anyway, our site itself is wide and long, paved, and has a clear view of the satellites which we easily accessed. As RV sites go, it has everything we want, so now all we have to do is learn how to get around in this place. It's as large as a town.
It feels great to be in a new area, something we took the summer off from. After 3 tours around North America my nerves had become frayed from all the close encounters we'd had and I was in dire need of a break, which I got and my nerves feel recovered and what better way to test them than tow through one of worst traffic areas in eastern North America, 82 miles (132 km) of non-stop city.
With the map above I'm trying something different. It shows our route as past maps have, but rather than a screen capture of my mapping program, this one is from Google Maps on the internet and if you click on this one it will take you to the internet map itself, so if one wants to see the route in fine detail that's now possible.
Click here for Sandra's account of the day.

Leaving Lindsay Tomorrow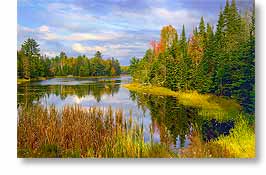 Saturday, 13 October 2007 - After nearly 10 weeks here at Lindsay, Ontario, tomorrow we are pulling up stakes and moving to Sherkston Shores Resort, 5 miles (8 km) east of Port Colborne, Ontario on the shores of Lake Erie, 16 miles (26 km) south of Niagara Falls and 13 miles (21 km) west of Buffalo, New York, our point of entry into the US this time.
Our move to Sherkston Shores will be the first time we'll be seeing a new area since we arrived back in Canada almost six months ago, so it's kind of exciting.
We haven't done much since my last report, the biggest event being a drive Garth and Betty took us on. She wanted to show us a scenic road near Haliburton and to get there we went through Bobcaygeon and just outside Buckhorn took a road Sandra and I had traveled a short way on last year, but this time we took it the rest of the way and ended up in Haliburton, where we had lunch and I walked around the town and tried to get some photos but was frustrated by all the power lines and utility poles that seemed to line both sides of every street there, so I gave up.
The weather had been heavily overcast with scattered rain, but cleared now and then so I did get a few photos on the drive back, like the one above, showing one of quite a number of wetlands, marshes, and lakes we saw along the way. We'll definitely have to go back when we're in the area again and the weather is better.
Click here for Sandra's account of the week.

Canadian Thanksgiving Weekend 2007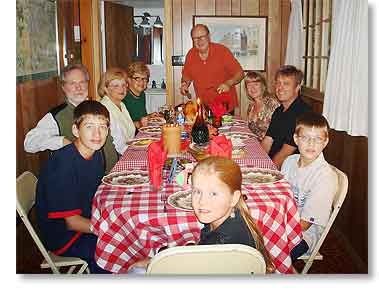 Monday, 8 October 2007 - Today is the Canadian Thanksgiving holiday, celebrated very much like the American holiday of the same name, except a month and a half earlier in the year, so Happy Thanksgiving to any Canadians who might be reading this..
In honor of the holiday, Betty and Garth hosted a family feast of turkey with the usual Thanksgiving trimmings.
Pictured here is the event. Starting with the nearest person and going clockwise around the table are Garth's granddaughter Tess, grandson Gareth, me, Sandra, Betty, Garth (carving the turkey), Garth's daughter Melinda, her husband Doug, and Garth's grandson Duncan. The photo is courtesy of Mr. Tripod and Sandra's little camera and, as always, click on it for a larger view.
Melinda and Doug had recently gone on a cruise of the high Arctic, starting at Resolute Bay on Cornwallis Island in the Northwest Passage and ended up at Kangerlussuaq, Greenland. It sounded like a fascinating cruise and the scenery looked so stunning in their photos of the trip that it made my shutter finger itch.
Before the feast, I was finally able to spend some time with one of the cottage neighbors, Robert, who I've met a couple of times. He is also an avid photographer as well as an astronomer (one of my other interests, although it's been a long time since I had a telescope), so we have quite a bit in common. He has the same camera and lenses that I do, plus he just bought the newest model in the class of camera we own, as well as a big hunk of a new lens for better photographing birds, so we had a lot to talk about. He had been wanting to get together and go for a photoshoot ever since I arrived in Lindsay, but unfortunately I'd been too sick for most of the time to do that. Next year.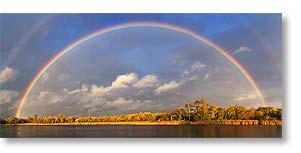 Otherwise, about the biggest event that happened since my last report was a fantastic rainbow we had after a storm on Friday, 28 September. I love rainbows, but for some reason don't see very many, and when I do they are either only partial rainbows or occur over nonphotogenic scenes or I don't have the camera with me or we're on the road and can't stop. It's been decades since I got a good shot a rainbow, but that changed on that Friday.
I was sitting in my recliner late that afternoon. A storm was just winding down and when I looked out the window I saw one end of a rainbow forming. So I rushed out with camera in hand and ran down to the river, hoping to gat a shot of it across the river, a fairly scenic setting for such an event, but knowing in my heart of hearts that like all the other rainbows I've tried to photograph, this one would also fizzle.
Well, it didn't. In fact as time passed it got better and better until I got the photo shown above left, which is the best rainbow shot I've ever taken. I've seen a few better rainbows, but not for a great many years, so I'm quite happy to have actually photographed this one.
The only other thing I've done worth mentioning was last Thursday I went out for a sunrise drive to take photos, the first time I felt well enough to do that for several weeks. And it turned out to be a beautiful morning with just the right amount of fog to make the photos more interesting, but without obscuring things too much. I had a great time.
For Sandra's account of our Thanksgiving feast, click here.


__________________________

For Older News

To read details of our previous stops and camps, visit the News Archives.


Updated Tuesday, October 23, 2007

Copyright © 2007 by Gordon L Wolford .
All rights reserved.