Now at Columbus, Ohio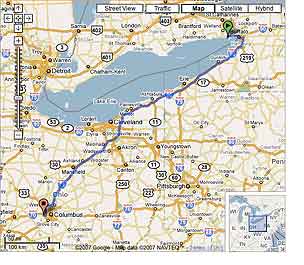 Thursday, 25 October 2007 - This morning, with the temperature chilly but at least still well above freezing, we packed up and left Sherkston Shores at 9:30am, after having had a most enjoyable stay. I expect we'll repeat this stop in following years. I already miss the beach on Lake Erie.
Anyway, by 10:00am we had crossed the border at Fort Erie, Ontario/Buffalo, New York, but not before the border guard had wanted to see inside the RV. About his only question had been if there was anyone in the RV, so I think that was what he was checking for because his inspection was quite cursory.
The 355 mile (572 km) drive was under mostly sunny skies and otherwise blessedly uneventful, except for the inevitable road work zones in Ohio. However, I must be getting used to the dreaded concrete barriers they jam right up against the edge of the narrowed-down lanes because I didn't break out in a cold sweat with white knuckles this time while driving by them, my palms getting just a bit clammy being my only reaction. As Sandra described my lack of reaction, I didn't poo my pants this time.
At 4:15pm, we arrived at what has become our home in Columbus, Ohio, the Alton RV Park just west of the city, for a 6.75 hour drive on which we averaged 53 mph (85 kph) and got 14.5 mpg, well above average due to a very nice tailwind nearly the whole way, and were on site and setup an hour and a half later at 5:45pm.
The RV park now has wi-fi, which is free and has good signal strength at my recliner, so we're using that, although I did setup our own internet satellite system as well, mainly due to the track record of unreliability many, if not most, campground wi-fi systems have that we've encountered. However, using someone else's internet access is always good when we can, if for no other reason than we don't have to deal with the satellite's barely manageable and very annoying bandwidth cap.
So we've made arrangements to see all my family (kids, grandkids, and younger sister) over the course of the next two days and are looking to leave here Sunday, heading for, hopefully, a long awaited stay at Palo Duro Canyon near Amarillo, in the panhandle of Texas. From there, we haven't decided yet what we'll see next.
Click here for Sandra's account of the day.

We Finally Get Some Good Weather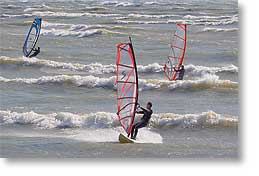 Tuesday, 23 October 2007 - If I thought it was windy on Friday, that was nothing compared to the wind we had on Saturday and the windsurfers and kitesurfers were out on Lake Erie in full force to take advantage of it, as seen in the photo here.
Trying to photograph in that wind made me feel like those lunatic newscasters who stand out in raging hurricanes to make their reports, hardly able to stand against the wind and risking their lives from being fatally struck by flying debris that would kill them in an instant. Fortunately the only thing blowing in the high winds on the beach here was sand, but while not potentially fatal, it was painful and certainly wouldn't have done the camera any good if I hadn't kept it shielded, so I didn't stay there long.
To give you another idea how strong the wind was, a few people were out in the water trying to board surf, but they couldn't paddle against the wind to get out to where the bigger waves were. But at least it was sunny and very pleasantly warm, the first real sun we had during our stay here.

Sunday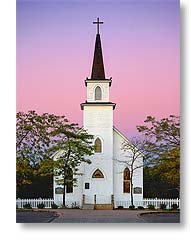 Since it was clear as a bell Sunday morning, I made the short drive (20 miles / 32 km) up to Niagara Falls well before dawn, hoping to get some sunrise shots of the falls, one of my favorite places. However, the city around the falls has changed a fair bit since my last visit a few years ago, especially where I wanted to shoot from, so I decided to return to the RV park and instead photograph the quaint little church there in dawn light, which I did as seen here.
The church is at the head of a plaza in the RV park (I said this is a very large place, over 560 acres). The plaza is also home to a number of vacation and recreation-related enterprises that are now closed for the season, as well as a convenience store, laundromat, and restaurant that are open until the end of October when the park closes completely for the year.
Anyway, I decided to try breakfast in the restaurant since I was their first customer and their grill hadn't been contaminated with gluten yet. It turned out to be quite enjoyable and the food caused me no problems.
After returning to the RV, Sandra decided this would be a good day to visit the butterfly conservatory in Niagara Falls, so we did that and had a great time. It's somewhat larger than the one at Cambridge we visited in the spring (Wings of Paradise) and had more butterflies, but overall it wasn't significantly better and felt less personal, although you can't beat the Botanical Gardens along the Canadian side of the Niagara River for pure beauty. I've always loved butterflies though, but don't see that many of them in the wild, so visiting one of these conservatories is like being a kid in a candy shop for me.
From there we drove along the Great Gorge of the Niagara River, stopping at a couple of the sightseeing places along there, like the Whirlpool Aerocar, but the city was very crowded anywhere near the falls, so we left. From the crowds we saw you wouldn't have known this is off-season.
Then in the afternoon, we had a surprise visitor at the RV, Jim Watson, a reader of this page and Sandra's blog who I've exchanged a few emails with in the past and who lives in this region. Jim has just retired and he and his wife own a motorhome and are planning to spend the winter in Florida after visiting family in Minnesota. It's always a thrill to meet someone in person who you've already met through the internet, something that wasn't possible not so many years ago. It's also always interesting to find out there are actually people I've never met outside my circle of family and friends who read this page. I can't imagine how they find it, but they do. In the last year, I've had almost 17,000 visits which accounted for over 300,000 hits.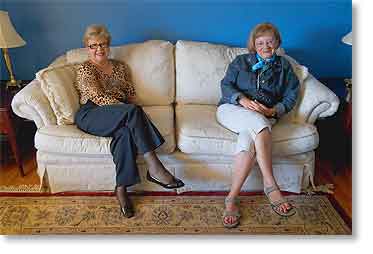 Monday

The next day we made the 30 mile/50 km drive up to the ritzy, posh, upper-crust town of Niagara-on-the-Lake to meet Betty and Garth where they were staying for the weekend at the B&B a former co-worker of Sandra's, Sue Pound, had retired and bought to run, 40 The Promenade. Betty and Garth were in town to visit the famed Shaw Festival that's held there.
Photo here is of Betty and Sandra, lounging about in the B&B.
It was a pleasure to finally meet Sue, after hearing so much about her when she and Sandra both worked for Nortel, and after an enjoyable and leisurely spot of coffee at the B&B, we bid farewell to Sue and went downtown where Betty and Garth went their own way while Sandra and I had lunch at the Irish Tea Room, which offers a small gluten-free menu. The tea room food was okay, but not worth its price. Ambience was also somewhat lacking and their outside patio, which had been our first choice to sit, had a sulphurous aroma wafting by, so we ate inside. Considering the lack of other patrons during what was lunch hour in a very busy town, Sandra and I apparently weren't the only ones less than impressed with the place. At least the food didn't cause any problems with my digestive system, so the food was indeed gluten-free.
From there, I went my own way in search of the photos that were waiting for me to find, having absolutely no interest in the trendy overpriced boutiques Betty and Sandra were going to visit while Garth relaxed by himself over a newspaper in the lobby of the elegant Prince of Wales Hotel, that made you feel like you'd just traveled back to the Victorian era as soon as you walked in.
I ended up walking to the Fort George Historic Site and had a great time immersing myself in the War of 1812, which is viewed considerably differently up here than it is from the American point of view. I watched a musket-firing demonstration (twice actually) and took the guided tour through the buildings and learned a lot about the life of a British soldier back in those days.
At the appointed time, I left the fort, happy to have found an abundance of photos there, and rejoined the other folks in the hotel lobby.
From there Betty gave us a driving tour around town before we parted company until next year and Sandra and I returned to the RV.

Tuesday

Today, it is again cloudy and rainy as a cold front is moving in, chasing out the unseasonably but very enjoyable warm weather we've been enjoying here on Canada's 'south coast'.
We are scheduled to leave on Thursday, October 25, cross the border, and head for our first US stop, Columbus, Ohio. How long we stay in Ohio and what direction we go from there will depend entirely on the weather and availability of open campgrounds. If the long-range forecast is for decent weather, I'd like to head west to see the Badlands of South Dakota before heading south. However, if like last year, we are having to stay ahead of freezing weather, we'll head south directly from Ohio.
Click here to see the gallery of photos I've taken so far in this region.
Click here for Sandra's account of the last few days.

Our First Six Days at Sherkston Shores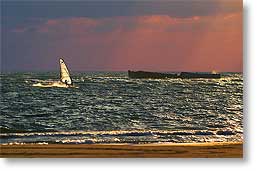 Saturday, 20 October 2007 - So far, our stay at Sherkston Shores Resort on Canada's 'south coast' has been pleasant, but not photographically great due to it being mostly cloudy the entire time with quite a few periods of rain, which is good for the area, since it was a dry summer, but not too good for tourists.
We did have a few periods of partial sun, but they were brief and fortunately, at least for the first couple days, were at sunrise, so I did manage to take a few photos despite the weather. And last night we had some spectacular atmospheric conditions between storms and a real honest-to-gosh sunset. The photo here of a windsurfer on Lake Erie was taken a while before sunset. It was quite windy, so he was zipping right along, and there were actual waves on the lake, the first we've seen and high enough that a couple people were trying to surf on them. Those dark blotches ahead of the windsurfer are a shipwreck but as yet I haven't been able to find any details on it.
During our stay, we've familiarized ourselves with this very large camping, RV, and mobile home park and in the process of that discovered why we had so much trouble finding our site when we arrived. The young girl in the office sent us the wrong way into the pull-through area, which is why I was so confused by all the direction arrows pointing against us. She wasn't even close and that was the first time a staff member of an RV park didn't know the park well enough to give us accurate directions. Bonehead.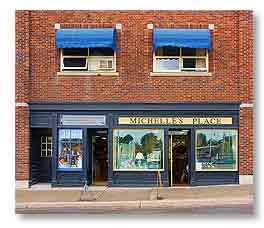 Anyway, we now are able to find our way around here quite well and learned where the access points are to the long strand of beach the park has on Lake Erie, one of them being a fairly easy walk from our site and close enough we've been able to hear the surf breaking, now that we have one. Earlier during the week, the lake was quite calm.
Several other access points are far enough away it's easier to drive to them, although still walkable if one is very energetic, but this beach is quite photogenic in an area that otherwise isn't. Once one gets away from Lake Erie itself, the terrain is flat as a pancake and looks like mid Illinois.
So far, we haven't ventured out of the immediate area, which goes from Port Colborne to the west to Fort Erie to the east, with its view across the Niagara River of the Buffalo, New York skyline, which has been the only other thing of interest I've photographed besides Lake Erie.
Port Colborne's only claim to fame is it being the southern terminus of the Welland Canal that bypasses Niagara Falls for Great Lakes shipping. There's one block of some moderately quaint businesses that front on the canal, but otherwise there's little else of note to see there. The photo above right shows one of those shops that's just south of the tree-lined part of the block, but I thought it was special in its own right anyway.
Fort Erie is about equally exciting as Port Colborne, except for its view of Buffalo, the Niagara River spanned by the Peace Bridge which we'll be crossing when we enter the US next week, and Old Fort Erie, a national historic site. Unfortunately, the fort is closed for the season but we were able to walk around the outside of it.
Click here for Sandra's account of the last few days.


__________________________

For Older News

To read details of our previous stops and camps, visit the News Archives.


Updated Tuesday, October 30, 2007

Copyright © 2007 by Gordon L Wolford .
All rights reserved.