Overnighting In Deming, New Mexico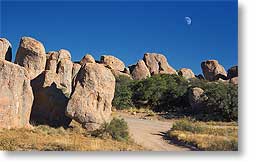 Tuesday, 20 November 2007 - First, please note that I've removed the weather information from the sidebar. I did this because it all too quickly went out of date and therefore was only briefly indicative of actual conditions. Plus it had become tiresome to update and I also don't think people found it all that useful, so in other words, more trouble than it was worth. If I find out I'm wrong about this, I'll add it back, or some form of it, but I think adding general weather information in the individual reports at the time they're written would be more meaningful.
Okay, that said, as I write this we are spending the night at the Dreamcatcher RV Park in Deming, New Mexico and we are without internet access because I didn't feel like setting up the satellite dish. The site we're on is a thin layer of gravel over the nearly rock hard dirt that's typical of the American southwest and driving a stake into it to anchor the satellite dish was more of a chore than I was up to last evening for just one night. There is an open wi-fi network nearby that we used once just to check on internet things, but we can't reach it from the RV, Hopefully, I'll go over there and get this posted before we leave later.
Anyway, we left 'The Bosque' yesterday morning at 10:10am and made the 145 mile (233 km) drive to Deming in just over 2.5 hours, arriving here a little before 1pm for an average speed of 58 mph (93 kph), which is not bad (faster in fact than normal because we made no pitstops) but would have been even better except for construction along the two lane road we took from Hatch to Deming that twice closed one of the lanes and we had to wait on a flagman for clearance to proceed.
On arrival here, we were checked in and setup in 45 minutes (amazing how quickly things go when we don't have to access satellites) and were on our way to see the City of Rocks, a state park 30 miles (50 km) northwest of here that Gayle back in the Bosque had told me about. It is a concentration of huge boulders in a fairly featureless area of rolling terrain that's between some distant mountain peaks that look rather like the tips of dark icebergs floating in a sea of grass. They obviously aren't icebergs, but that's the visual effect. The boulders (photo above shows a small section of them) are fairly tightly packed in an relatively small area, maybe a mile or so long, but have been eroded enough over time that there is room to climb around between them. They, apparently, are the product of a colossal volcanic eruption 40 million years ago (1,000 times greater than that of Mount St. Helens, they say) so I expect the mountains we see in the area are what's left of the crater's rim. The City of Rocks is a very interesting place and totally out of character for the terrain surrounding it.
Later this morning we leave to make the 230 mile (370 km) move to Justin's Diamond J RV Park that's a short drive southwest of Tucson, Arizona. I expect we'll spend a week there, but maybe longer if we like the park and the weather is good.
Right now, the weather in New Mexico is good, cold nights near freezing (ugh) but very nice days (sunny yesterday and reached 77°F (25°C)), but a cold front is moving down from Canada in a day or two which is to turn this area quite wintry and they are even predicting the possibility of snow, so it's time to get across the mountains into Arizona which is supposed to escape that weather pattern and is where we will probably spend the rest of the winter, seeing things around the state we missed on our visit there two years ago.
For a map of the move to Deming, click here.
For Sandra's account of yesterday, click here.

We See Some Of The Region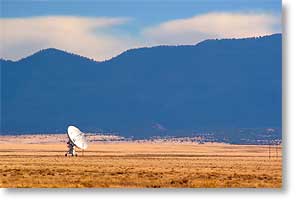 Monday, 19 November 2007 - (Updated) Saturday, after I spent sunrise shooting more photos in the Bosque del Apache National Wildlife Refuge, we drove up to the nearby village of San Antonio and looked around there a bit.
Surprisingly, it has a bit of history since Conrad Hilton was actually born and raised there, plus it's the nearest town (40 miles, 64 km) to the Trinity Site where the first atomic bomb was detonated, so scientists (posing as 'prospectors' for security reasons) often went there for some R&R.
From there, we drove the 9 miles (14 km) north to the small city of Socorro where we picked up US Route 60 and headed west on it, seeing some beautiful mountain scenery and passing through the town of Magdalena, which retains a bit of its Old West look, so we stopped there for a few photos, and eventually ended up at the VLA, the Very Large Array Radio Observatory. The photo above was our first sight of it, this dish being one of the nine in that arm, which is one of the three arms that make up the array, the arms configured in a 'Y' arrangement.
As a boy I had a keen interest in astronomy and even considered making it my career, until I realized it involved more high level math than merely observing the stars, so I moved on to other things for my livelihood but have always retained a casual interest in astronomy, so seeing the VLA up close and personal was quite an experience for me. And not only do they allow people to photograph the installation, unusual in a post-911 world, they actually encourage it.
From the VLA we headed back the way we came, again spending some time shooting photos in Magdalena, since the light was now better and I'd noticed they still had the stock pens built in 1885 to hold the cattle brought in on cattle drives and waiting to be shipped east by rail.
We had also been told that Magdalena was a speed trap. We had not seen any cops the first time we passed through town, but on the way back saw 3 or 4, one of whom had a car pulled over, so I was glad to have been forewarned...not that I ever speed.
From there, we stopped at the Super Wal-Mart in Socorro and then treated ourselves to supper out by dining at the famed Owl Bar & Cafe in San Antonio. I say famed since the owners claim it to be because of their unique hamburger recipe, plus as mentioned before, this was where some of the Trinity Site scientists came to unwind, plus part of it has some connection with Conrad Hilton before he moved to Texas and became the famous hotelier we've all heard about, but there are several different stories about exactly what that connection actually was, so I won't say any more than that here.
Yesterday, I again spent daybreak in the wildlife refuge and got some shots of the sandhill cranes I'd been wanting, but otherwise we took the day off and did little else but plan for our next two stops – an overnighter in Deming, New Mexico on our way to Tucson, Arizona where we plan to spend some time and hopefully find the nights warmer. We've been dropping down to near and below freezing at night for far too long. We leave for Deming later this morning.
For Sandra's account of the weekend, click here.

Now Near 'The Bosque'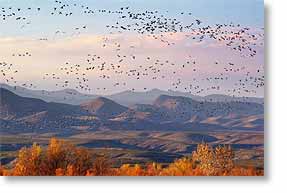 Friday, 16 November 2007 - That's the Bosque del Apache National Wildlife Refuge near San Antonio, New Mexico. The refuge name means "woods of the Apache" in Spanish and was named for the people who often camped in the riverside forest there, the river being the Rio Grande.
Yesterday, as planned we packed up and moved from Tijeras, New Mexico to the Bosque Birdwatchers RV Park just south of San Antonio, New Mexico, a drive of only 109 miles (175 km) that took us around 2 hours to make. Click here to see its map.
The day dawned much colder than expected, well below freezing, 24.7°F (-4°C) at its coldest point, but fortunately, in the desert things warm up quickly when the sun appears.
As it turned out, purely by coincidence, our site is right next to the site of the people we know that are also camped here, Gayle and Breland. The RV park won't win any awards for esthetics, but with 50 amp service, clear view of the entire southern sky, and the most level site we've ever had, it is certainly functional and its location is ideal, being just a very short drive from the refuge entrance, so as soon as we had camp setup, Sandra and I took off to see The Bosque.
Although Gayle has extolled its virtues many times, I had kept a wait-and-see attitude due to my history of sorry experiences with bird sanctuaries and wildlife refuges (always seeing more wildlife outside those places than in, with the only notable exception being the George C. Reifel Migratory Bird Sanctuary in Delta, British Columbia, Canada near Vancouver when we were out there two years ago.
Well, I have to say that Gayle was right. The Bosque is an incredible place and makes the Reifel Sanctuary pale in comparison. We saw many thousands of snow geese (photo above showing just one of the huge flocks of them that we saw) and what had to be thousands of sandhill cranes, plus numerous other species of birds, plus a coyote that walked right by the truck, after depositing a...ahem...territory marker, shall we say, in the middle of the road.
And not only was The Bosque teeming with birds, but the scenery itself was incredible with mountains serving as a backdrop to numerous wetland and marsh areas. If we hadn't seen one bird, it would have been worth the effort just for the scenery. Unfortunately, the cottonwoods' fall color has faded, but things are still beautiful.
So I expect we'll stay here four days rather than the two we had originally planned on and forego entirely a stayover we were going to make at Caballo Lake, New Mexico. This decision is based on the weather being forecasted to turn quite wintry around this entire part of the country and we'll have to move into Arizona to get away from it.
For Sandra's account of yesterday, click here.

We See Some Albuquerque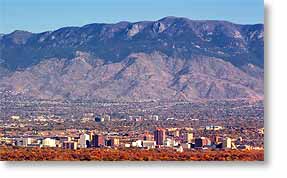 Thursday, 15 November 2007 - Yesterday, we took I-40 through Albuquerque to visit the Camping World store that's across the Rio Grande valley, out on the western edge of the city, near where we stayed when we were here in March last year. We needed a few odds and ends for the RV, like light bulbs, etc.
On the way back though, being hungry as it was lunchtime and me having a craving for Taco Bell, we took Historic Route 66 on the return trip instead of the freeway, thinking there just had to be a Taco Bell somewhere along that legendary road. This proved to be correct and we didn't have to drive far before finding one, it being just down the hill from where the photo here was taken, showing downtown Albuquerque in the foreground with the Sandia Mountains in the distance.
After lunch we stayed on the old road and since Albuquerque's Old Town district is right off of it, we turned in there and retraced more of our steps from our previous visit. Old Town is interesting historically and has maintained some of its heritage, but it's also another of these places that have been turned into a tourist trap. It is also hard to get a feel for its age since onstreet parking is allowed and streets lined with parked cars, while making it convenient to park and walk around, also destroy the old look and feel of the place. As do all the other modern contrivances, like utility poles and wires. Despite all that, I still like the area.
After getting our fill of Old Town, we continued driving back through the city and arrived in due course back at the RV, which later this morning we will be towing down to San Antonio, New Mexico for a stay near the Bosque del Apache National Wildlife Refuge, where I'll hopefully find thousands of birds waiting to pose for my camera, as well as seeing Gayle and Breland, a couple who share my interest in photography and who I met first on the internet and then in person on our way through Louisiana in February on our way from Texas to Florida. Our stay near 'The Bosque' might be a short one though, since winter is catching up with us and we need to find a warm spot.
For Sandra's account of yesterday, click here.

We Know The Way To Santa Fe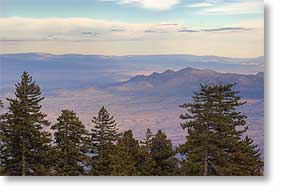 Monday, 12 November 2007 - Rather than doing chores today, as we had planned, we instead went off gallivanting along the Turquoise Trail, a.k.a. New Mexico Route 14, a national scenic byway, and the most direct route from Tijeras to Santa Fe, 50 miles away.
However, as is all too often the case, the drive wasn't quite as striking as the hype and promotion surrounding it.
For instance, Madrid (apparently pronounced MAD'rid) while interesting, is more of an artsy-fartsy tourist trap that looks like it's trying to be quaint than what I'd call an actual artist's community. But still, the drive itself is very scenic and the little village of Cerrillos does maintain a bit of an old west feel and Santa Fe is unique unto itself and worth the drive no matter what route one takes to get there.
But the high point of the drive, and I do mean high point, since it was at 10,678 feet (3,255 m) elevation, or two miles above sea level and one mile above the surrounding countryside, was making the drive up to Sandia Crest, the highest mountain peak around Albuquerque.
To reach the top, one takes the 14 mile Sandia Crest Byway which apparently is considered part of the Turquoise Trail, but in reality is actually an offshoot of it. Anyway, the Sandia Crest Byway passes through the Sandia Mountains division of the Cibola National Forest and unlike many national forests in the US southwest, this one actually is a forest of trees.
The drive up seems an eternity of hairpin turns and switchbacks with an overall grade of 7% (that's driving 14 miles to climb 1 mile), however, contrary to what I'd read, there were no scenic overlooks where you could park and the few parking areas we did see had no panoramic views except for the ski lodge area, which is called Sandia Peak (not to be confused with the summit which is Sandia Crest, or at least I think that's the distinction).
However, we did find a couple places where we could simply pull off onto the shoulder of the road and take some photos of the awesome panorama one sees from up there and then when one reaches the top, one can see forever to the east and to the west. The view is almost overwhelming, the photo above showing part of the view to the east, but it was also quite chilly up there. It was 63°F (17°C) at the base of the mountain and 41°F (5°C) at the summit.
All in all though, considering the disappointing aspects of the drive it was still interesting and worthwhile and I'm glad we made it, but didn't see anything so compelling I have to go see it again, except Santa Fe, where I hope we can spend an extended stay sometime, rather than being there just a few hours.
For Sandra's account of the day, click here.

Now Near Albuquerque, New Mexico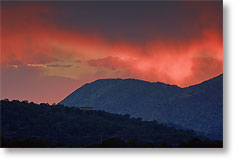 Sunday, 11 November 2007 - Please note: we are now in the Mountain time zone, 2 hours behind Eastern, and we again have cell phone coverage.
That said, today we made the 292 mile (470 km) move to Tijeras, New Mexico, Tijeras being in the Sandia-Manzano Mountains just a few miles east of Albuquerque.
Click here to see the map of the drive, which also took us from an elevation of 2,800 feet (853 m) at the bottom of Palo Duro Canyon, to just a bit over 7,000 feet (2,134 m) at Clines Corners, NM, before ending the day at 6,700 feet (2,042 m) here at the Hidden Valley Resort in Tijeras. The word 'resort' isn't the one I'd use to describe this place, but it's a decent RV park, not bad, not great, but priced right since it's a Passport America member. It's also a former KOA and is right off the freeway exit, so the location is excellent, but the sites are small. We asked for a large one and we can just barely fit both the RV and truck into it. I wouldn't want to make a long stay here, but for a couple of nights it is fine.
Anyway, at 9:15am CST this morning we pulled out of our campsite in Palo Duro Canyon (where we had a most enjoyable stay), stopped at the nearby dump station on the way out and had the tanks emptied by 9:30am, exited the park at 9:45am after climbing the mile long 10% grade up to the canyon rim without difficulty (the truck having to work at it, but still having plenty of power to spare) and arrived here in Tijeras at 1:45pm MST for a drive of 5.5 hours, averaging 53 mph (85 kph), but this time getting only 10.9 mpg (17.5 kpg) due to the almost mile high change in elevation and driving into fairly stiff headwind nearly the entire way, doing this on one tank of fuel but without much left.
We are here because it was an easy distance for Sandra's back, which looks to be recovering, and because the truck is due for its next scheduled maintenance, but we plan to be here only a few days before moving on. It's noticeably cooler up here than it was down in the canyon, so we'd like to get somewhere warmer as soon as we can (i.e. lower elevation).
The photo above was sunset this evening over the Sandia-Manzano Mountains.
For Sandra's account of the day, click here.


__________________________

For Older News

To read details of our previous stops and camps, visit the News Archives.


Updated Wednesday, November 21, 2007

Copyright © 2007 by Gordon L Wolford .
All rights reserved.