We Move



Wednesday, 28 November 2007 - Yesterday, we signed up to extend our week-long stay here at Justin's Diamond J RV Park by a month and moved from the row of pull-through sites at the front of the park to back-in sites at the rear of the park in order to get a better view and quicker, easier access to the desert for walking in it. The photo above is a panorama of seven shots stitched together that shows about 135° of the view we now see of the Sonora Desert from the rear of the RV. On Goose Island, Texas last winter, we backed right up to the shore of Aransas Bay, this winter we're backing right up to the Sonora Desert.
Click on the photo to see a larger view, being sure to scroll horizontally to see all of it, since it's unlikely the whole image will fit in your screen, unless you have a very large monitor. The image is 1631 x 272 pixels.
Moving within an RV park is always much less involved than what has to be done for moving hundreds of miles at highway speeds. Yesterday, we didn't even take down the TV dish or wind sensor and moved the rest of the outdoor things by hauling them to the new site in the truck before hitching up the RV, rather than having to stow them away before moving. We were moved and set up on the site by noon.
For Sandra's account of the day, click here.

We Do Something Quite Different Today


Monday, 26 November 2007 - When we were in Tucson a year and a half ago we talked about going to the Arizona-Sonora Desert Museum, which is just south of Saguaro National Park West, but never got around to it, which was rather a disappointment because I'd heard and read only good things about the place.
So this time, it was high on my list of things to do while we're again in the area and that's exactly what we did today and it proved to be quite interesting.
And even moreso, because when I looked up the entrance fee schedule this morning before leaving, I saw that for basically twice what it would cost Sandra and I both to get in ($12 each) we could get a year's membership ($50) that covered both of us and from what I already knew of the place and since we're going to be here a month, I knew that at least I would be wanting to go back several times, so the first thing we did on arrival was to sign up for a membership (which is the thing about this that was different because we seldom spend money on something like this) and now we can visit to our heart's content. And after seeing the place, I'm glad we signed up, because there's way more to photograph there than I could hope to do in one or even two visits. So I'm happy.
The photo above is of their Ferruginous Hawk (Buteo regalis), one of the birds of prey that performed at their Raptor Free Flight Demonstration, which we didn't arrive at early enough to get a good viewing position because we had opted to take their very informative tour. Next time I'll get to the demonstration early and get a good spot. Sure glad I got that membership. The demostration was incredible in that the birds were free to go wherever they wanted, but limited their flying and movements to the demonstration area. Very cool. We saw a Greater Roadrunner (Geococcyx californianus), Common Barn Owl (Tyto alba), Chihuahuan Raven (Corvus cryptoleucus), and the aforementioned hawk.
Anyway, the museum, which is more of a desert zoo/aviary/botanical garden than a museum, although it's that too, proved to be what I was hoping it would be, so I expect we'll be spending a lot of time there over the next month. Lots of things to see and best of all for me, most of them had a clear view for photos! What a concept.
For Sandra's account of the day, click here.

Happy American Thanksgiving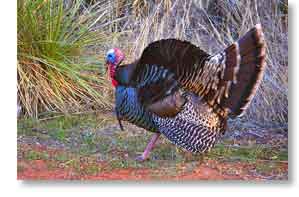 Thursday, 22 November 2007 - I'd like to take this opportunity to wish a Happy Thanksgiving to all the American visitors to this page.
The photo here was taken in Palo Duro Canyon in April last year when we first 'discovered' the place and whenever I see this image it brings Thanksgiving to mind. Unfortunately, this year while I photographed quite a few wild turkeys on our return to Palo Duro, none of the rascals would cooperate and show off their tail feathers.
Anyway, Sandra and I haven't done much of note since our arrival in Tucson except see some of just the immediate area around the RV park and to enjoy the weather, which has been superb, allowing us to sleep with the windows open the last two nights. This was particularly comforting last night, knowing the first major winter storm of the season was starting to dump freezing rain and several inches of snow on Toronto and Ottawa. I'm not gloating, since that would be unkind, but it does make up for some of the recent nights when it was actually warmer in Ottawa than it was where we were in New Mexico! Of course, our days warmed up nicely, being in the southwest desert, and those in Ottawa didn't, so it wasn't all bad.
I expect we'll go out in the truck later and find our nearest Super Wal-Mart and see a few sights. We'll probably have to wear shorts.

Now At Tucson, Arizona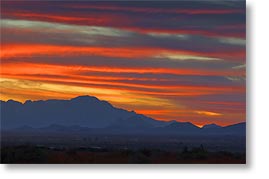 Wednesday, 21 November 2007 - We left Deming, New Mexico yesterday morning at 8:30am, drove the 229 miles (368 km) to Justin's Diamond J RV Park 10 miles (16 km) west of Tucson, Arizona, arriving four hours later at 12:30pm, for an average speed of 57 mph (92 kph), getting something around 12.5 mpg. Click here for a map of the drive, which was pleasantly uneventful under sunny and warm skies. Actually, it was hot by the time we got here (86°F, 30°C), but it's going to turn cooler in the next few days, just not as cold as it's going to get back in New Mexico.
Camp was setup by 2:30 pm with TV and internet satellites easily accessed and after catching my breath I went for a walk around the RV park and the one next to it. Our park is brand new so there are still plenty of empty spaces and it's nice and clean. However, there's no office to speak of and if there are showers, we haven't found them, and the hookups are at the back end of the sites, so it was a stretch to get the sewer hose to reach. Don't know what boneheads design some of these RV parks, but it's obvious they never have done any RVing themselves or they would put the hookups more toward the middle. Anyway, we're finally in Arizona and will probably spend the rest of the winter touring around the state.
Pictured above was the sunset we had on our first evening here. A beautiful start to our stay here. And click here to see the view from the back of the park.
For Sandra's account of yesterday, click here.


__________________________

For Older News

To read details of our previous stops and camps, visit the News Archives.


Updated Saturday, December 1, 2007

Copyright © 2007 by Gordon L Wolford .
All rights reserved.