From Site 11 to Site 13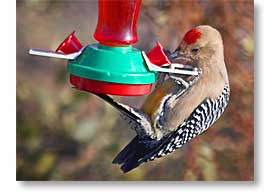 Thursday, 10 January 2008 - The only thing I have to report since my last entry is we were indeed able to get the site behind us, Site 13, as hoped, but it came only after a bad moment.
The booth at the park entrance, where you sign up for a campsite here at Usery Mountain Regional Park, is staffed starting at 6am, currently an hour and half before sunrise. So even though it was still pitch black out and everyone with any sense should have still been asleep in their comfy warm beds, I arrived at the gate right at the stroke of 6...only to find a couple already there ahead of me! Arrgghhh!!! I couldn't believe it! Crazy people! And as soon as I saw them I knew in my heart of hearts they were going to beat me to our hoped-for site and sure enough, as I walked up to the window I overheard the man say, "...rteen" and knew he'd just said, "Thirteen".
Well, happily, not to draw this out any further, as it happened he'd actually been wanting site fourteen, so all turned out well and now I already know our new neighbors.
Before we could pack up and move though, Sandra had to watch "Live with Regis and Kelly" because Betty and Garth had gotten tickets for the show and were going to be in the audience. I guess they were, but we didn't see them.
Then it was pack up time. Most of the outdoor things we just walked back to the new site, it being only 50 yards/metres behind us. I took the RV by the dump station (we managed to go all 14 days without filling the tanks) and we were setup on the new site shortly afterward, so we're good for another two weeks at Usery.
Not long after we were settled in I saw a hummingbird out the dining room window, so Sandra dug our hummingbird feeder out of storage, filled it, and hung it out in a nearby tree. We did have one hummingbird give it a sniff, but left without partaking. Not long afterward though, the gila woodpecker in the photo above thought itself to be a hummingbird and actually looked to be getting something out of the feeder.

Sandra & I Go Out Parking

Wednesday, 9 January 2008 - As in Regional Parks, that is, not as in pretending to be teenagers.
Yesterday, being bright and sunny and almost warm, I decided to give my feet and legs a break from the abuse I've heaped upon them of late and go for a drive instead of a hike or a climb. So, since our current location is in one of the eleven regional parks that surround Greater Phoenix and overseen by Maricopa County, we decided to look at the campgrounds in a couple of the other regional parks that we hadn't seen yet, because our 14 day stay here in Usery Mountain Regional Park is up tomorrow and we'll have to leave this campsite.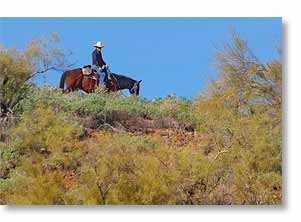 There's a chance we can simply move to another site within this campground, which is what we'd prefer to do since we like the park and the area and aren't ready to leave yet, but in case we have to, we needed to know our options.
Of the regional parks, only five of them have campgrounds, this one and four others. We'd already seen one of the others nine or ten days ago, McDowell Mountain Regional Park, which is also the nearest one, and it's still an option, although we like it here better, so yesterday we drove over to Cave Creek Regional Park and Lake Pleasant Regional Park, both north of Phoenix, deciding to leave Estrella Mountain Regional Park, southwest of the city, for another day. And, although the other six parks don't have campgrounds, we should give them a look sometime too, while we have a pass.
Anyway, since we were rather winging it yesterday, instead of following a map, we made a wrong turn and found ourselves in the town of Cave Creek instead of the park (not knowing there even was a town with the same name) and ended up in the adjacent town of Carefree before turning to the map and realizing the park entrance was further down the road we had been traveling on.
However, the towns (which are so close to each other you only know you've passed from one into the other by the sign that tells you so) are quite interesting themselves. They are of the artist colony variety and have mostly southwestern style architecture, which Sandra and I both like a lot, so they warrant a closer look than we gave them during our brief drive through them.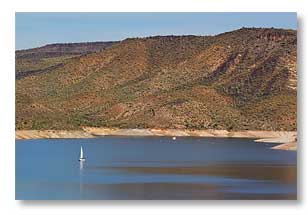 But that will have to wait because the goal of the drive was regional parks, not art and cute towns, so once realizing the error of our way, we did finally arrive at the Cave Creek Park, where our parks pass from Usery Mountain got us in without having to pay a fee. I'm glad it didn't cost anything, because the campground was small and full and the terrain fairly boring compared to what we've grown accustomed to at Usery Mountain.
We had the lunch there that Sandra had packed. It didn't require any spoons or my headline for this report would have been "Sandra & I Go Out Parking & Spooning", but the most interesting thing about Cave Creek park that we saw was you could go on a horseback ride there (photo above left). Never did see a cave or a creek, or even a sign for either, so we didn't dally, leaving immediately after finishing lunch.
Don't get me wrong, the park was nice and I'm glad it's there to protect at least that much area from the spreading cancer of urban development, but the hills there were just that, hills, and nothing compared to the Usery Mountains, Pass Mountain, Superstition Mountains, Goldfield Mountains, the Apache Trail, the panoramic vistas of the Valley of the Sun, and close proximity to the Tonto National Forest that we have here at Usery.
However, I like water and I particularly like the paradox of water in a desert, so I was keenly interested in seeing Lake Pleasant Regional Park, but when we got there we were again rather disappointed in what we saw. Yes, there's a lake, a big one, but it was low, as can be seen in the photo above right, where the water level is well below what looks to be the normal waterline. Again, there were only hills nearby, not mountains. The park had an excellent visitor center, staffed by a very nice couple of volunteers, but an outstanding visitor center doesn't a good park make.
I can't really put my finger on exactly what there was about the place that didn't appeal to me, but it's just as well because while the campgrounds we saw were quite large, the sites were quite small, with many of them going uphill. Yeesh! We saw only a few large enough to get our 38 foot 5th wheel onto and most of those we couldn't have gotten level on. So, as much as I was hoping to like the place, we won't be staying there.
So when we have to move tomorrow, I'm hoping a suitable spot here at Usery is available. Stay tuned.
For Sandra's account of our parking without spooning, click here.

Rain...Rain...and More Rain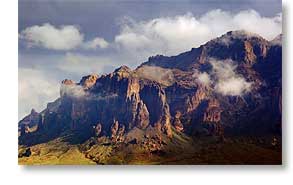 Tuesday, 8 January 2008 - It really is ironic to me that we've had more rain during our stay in the desert this winter than we had during July and August in central Ontario last summer.
At least if feels that way. Sunday dawned cloudy with scattered rain and the peaks of the taller mountains were lost in the mist and cloud. I drove over to Superstition Mountain (about 15 minutes east of here by road, 10 miles (16 km) line of sight), hoping to get pictures of its peaks shrouded in clouds but the entire mountain was lost to sight in rain, fog, and cloud.
In the afternoon, the clouds began to break up and this always presents some interesting skies, sometimes even dramatic ones, so I dashed over to my vantage points on the Merkle Hills and got some shots of Superstition Mountain as the clouds were dissipating from around its crags and crevices, as can be seen in the photo above right.
These are the conditions I was hoping to find in the morning when I was over there. Better late than never, but I knew they wouldn't last long enough for me to get back over there again. Despite that, I had to make the try anyway and as I had known, by the time we got over there, clouds had moved back in and that was that.
Then, yesterday was another day like the day before and not only was it again cloudy and rainy, but this time a cold front moved in with the rain. However things began to clear later in the day, so I again scurried over to Superstition Mountain and got some photos from a closer vantage point.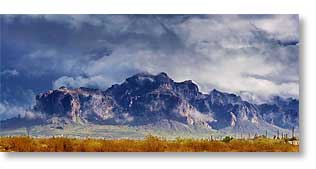 One of those, taken en route and shown here on the left, makes the mountain look like it might have looked several million years ago. Superstition Mountain is actually the caldera of a supervolcano. According to the geologists, it erupted around 20 million years ago and destroyed everything for 100 miles (160 km) around, sent ash as far away as Arkansas, and probably effected the earth's climate for years afterward and it was easy for me to imagine the clouds in this photo were actually smoke from when this was still a huge pile of smoldering rock. Such massive eruptions (if you didn't know, a large part of Yellowstone National Park contains a supervolcano caldera) can cause a volcanic winter that can throw the earth into an ice age. I find this kind of thing fascinating and once I learned the geological origin of Superstition Mountain, it has changed how I view it.
On a different topic, it is interesting that the infrastructure in much of Arizona doesn't involve ditches and culverts except for major highways. I guess they typically don't get enough rain here to justify the bother and expense. What they do instead is let back roads and side streets follow the contour of the terrain, so there are a lot of dips and rises in them, often to the point of being reminiscent of a roller coaster, and when there's rain, the runoff simply flows across the road in the dips. At the deeper dips, they put signs warning not to enter when flooded. I guess flash flooding doesn't last long.
Anyway, that said, yesterday when I was out driving around it was the first time I actually saw water flowing across dips in the roads. I was taking advantage of having a heavy duty truck with a lot of ground clearance, blissfully ignoring the 'Do Not Enter When Flooded' signs and merrily splashing my way through the dips, until I encountered one that made me stop. The water flowing through this one wasn't just a stream of water, it was a raging torrent, complete with waves being kicked up and whitecaps atop the waves. Being more prudent than daring, I turned around and decided it was time to go home.
Later in the afternoon, things were decidedly clearing up, so this time I decided to try some trails through the desert I hadn't been on yet, hoping to again get more shots of Superstition Mountain with some dramatic clouds floating about it. I did get a few, even though the mountain generally staying cloud covered, but what I got of even more interest to me was panoramic views of the other mountains around us, including shots of my beloved Merkle Hills that shows them in better context to the mountains near them. In all, I hiked 2.5 miles out there. That was yesterday: today my feet still hurt. I might take the day off from physical exertion.
For Sandra's account of the last few days, click here.

My Poor Poor Old Aching Body - Take 2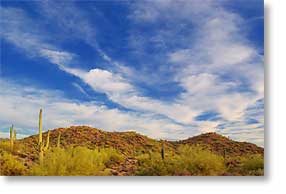 Saturday, 5 January 2008 - Wow, as if subjecting myself repeatedly to the Merkle Hills (photo left) wasn't enough, yesterday I accompanied my most wonderful wife to the Mesa Market Place Swap Meet – a long name for what everyone else would call a flea market.
We've been to similar markets before, like Traders World north of Cincinnati, but I think the one in Mesa is even bigger, not to mention, parking is free and they have a better looking website.
The Mesa flea market is on 55 acres and claims 1,600 vendor booths that line both sides of four very long buildings that are connected at each end. I can find no data stating just how long the buildings are, but they are really long, as my sore feet can attest to after walked the length of all four, some more than once, plus taking the bags to the truck midway through our shopping session. I've surely worn my legs down by an inch the last few days.
Personally, I find such commercialized flea markets full of cheap and tacky products, with the occasional good ones sprinkled about, but for what we were looking for (large all-steel tent stakes, a better outdoor mat for the RV, and heavier duty RV chocks than the ones we have) this flea market was the most likely place to find everything under one roof, which we did except for beads Sandra was looking for. Otherwise, what we found there was what we were wanting to get at the RV show and flea market in Quartzsite, so now it doesn't matter that we couldn't get a campsite there.
For Sandra's account of yesterday and flea market photos, click here.

My Poor Poor Old Aching Body


Thursday, 3 January 2008 - Ever since New Year's Day, I've been abusing my poor old body and it's starting to complain.
Doug and JoAnn, the RV blogger friends of Sandra's that were here when we arrived at Usery Mountain Regional Park (named after the mountain on the right side of this photo), had told us about the Vista Trail that winds its way up and over the Merkle Hills here in the park, but the information didn't really impress me until I tried the trail for myself on January 1.
As climbs go, it's not that high, only 150 feet (46 m) or so if you go to the peak, but it's a bit more rugged than I'm used to. JoAnn described it as a goat trail, but it's a bit less challenging than that. However, I have great respect for it and always use my camera's monopod as a walking stick, since the trail is steep enough in places that it would be easy to slip and that could get real ugly, but the views one gets from up on those hills are worth the effort. They can be spectacular. Both the photos in this report were taken from up there.
As Sandra will confirm, I get very frustrated with all the obstructions we encounter that block otherwise scenic views. To get above some of those obstructions, like roadside bushes and the like, I often stand in the bed of the truck, or on the lip of the truck bed, and even at times in my more daring moments, on top of the truck cab itself, but there are plenty of times I can't shoot from the truck due to having no place to pull off the road or when I'm hiking on a trail and the truck isn't available, as is the case of the Vista Trail on the Merkle Hills.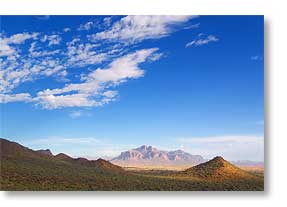 Fortunately, there are very few obstructed views along the trail once you've climbed above the flora on the desert floor and even halfway up offers great panoramic vistas of the Phoenix valley, where sunrise as well as sunset can be viewed, so the trail is aptly named. In fact, from either of the two peaks of Merkle Hills, one has unobstructed 360° vistas.
And one of the more noteworthy sights from up there is the outstanding view to the northwest of the normally difficult to see from ground level, but still more or less famous "<Phoenix" sign which can be seen In the photo above right at the base of Usery Mountain. The sign was first created in the early days of aviation as a navigational aid, but has been maintained over the years, I guess for its sentimental value since technology passed it by long ago for its original purpose. Its letters are 100 feet (30 m) high, made from whitewashed rocks. Click on the photo for a better look at it. The little light blob in the lower left corner is our RV.
The photo above left is the vista to the east, showing Superstition Mountain in the far distance and cloud shadow in the foreground.
Anyway, the point of all this is that since my discovery of the Vista Trail, I've made the climb for every sunrise and sunset, plus several times a day when the sky looked interesting, and it is those frequent climbs that's got my poor old body complaining. But, the exercise is good for me, or so I keep telling my feet, ankles, knees, hips, and leg muscles. Where's the aspirin!?!

Saying Hello to 2008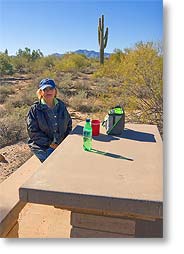 Tuesday, 1 January 2008 - As I start to write this report, it is 4:30am MST and the wind outside is blowing quite strongly. It must be bringing in a warm front because it's 50°F (10°C) which is about 20°F (11°C) warmer than it has been at this hour for quite some time.
Anyway, it is now the new year. As usual, I slept through its arrival last night. I don't put much significance on New Year, meaning little more to me than any other day except I have to remember to start writing 2008 now when I'm filling in dates.
Yesterday, we drove over to northeastern Phoenix, Sandra wanting to visit the Whole Foods Market there. I lose sight of just how large greater metropolitan Phoenix is. We're just north of Mesa, an eastern suburb of Phoenix, but that market is a 35 mile drive and took 45 minutes over mostly freeway. Unfortunately, although it's a very nice food store, they didn't have what she was looking for.
From there, we drove over to the McDowell Mountain Regional Park to give it a look. We like the regional parks because they are in a natural setting and those that have campgrounds don't squeeze the sites in like sardines, but they only allow a two week stay so we have to leave this one on January 10th and McDowell is the nearest regional park, 35 miles away.
We arrived for our look in due course, toured the park, found it acceptable although not as scenic as where we are due to a fire they had in 1995 that was ignited by lightning and devastated 14,000 acres of the park's 21,000 acres. We then had a small picnic lunch at one of the park's picnic areas, as seen in the photo here of Sandra, and then tried to return to Mesa.
I say tried because I attempted to find my way back via the scenic route, not the way we had come, and the scenic route is less than intuitive. In lieu of writing down the directions beforehand, we had simply brought Sandra's computer which has our GPS program installed on it and called that into service. With the assistance of GPS, we found our way back to familiar territory. Just gotta love GPS.
For Sandra's account of yesterday, click here.


__________________________

For Older News

To read details of our previous stops and camps, visit the News Archives.


Updated Saturday, August 16, 2008

Copyright © 2008 by Gordon L Wolford .
All rights reserved.