Sandra & I Go Out Parking Again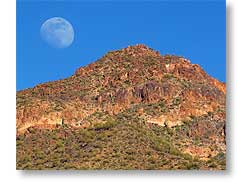 Sunday, 20 January 2008 - And still no spooning, but we covered a lot of ground yesterday, about 150 miles (240 km) of it round trip just visiting two more of the regional parks in the area – San Tan Mountain Regional Park, which is 25 miles (40 km) due south of us here at Usery Mountain Regional Park, and Estrella Mountain Regional Park, which is a 64 mile (100 km) drive west of San Tan via back roads
San Tan turned out to be basically a horse staging area and a parking lot with trails leading off of them and looked to be quite a popular place to bring your horse for a ride. We saw nothing there of interest to us though.
I had hoped Estrella would be in some scenic location in the Sierra Estrella mountain range with a beautiful campground surrounded by scenic vistas, but found it to be basically a large city park that was more devoted to picnic areas, sports fields, and golfing than to scenery and their advertised developed campground with hookups had only 7 sites! Very disappointing, and like San Tan, if one wanted to see the interior of the park, which I'm sure was indeed scenic, one had to either hike for miles or bring your horse and ride for miles. The paved roads at Estrella stayed down on the flats near the Gila River, to which there was no access from the park. Like I said, very disappointing.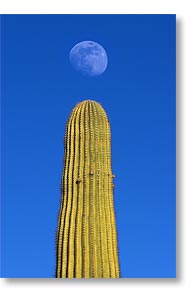 I'm sure both parks are dearly loved by a lot of people but neither park had anything of interest to me, except to make where we are at Usery look all that much better.
The most interesting thing I saw on the entire drive were egrets along the Gila River! Quite a few of them, in fact, but no way that I could see to get a better look at them, let alone take photos. No pullouts along the road or parking areas, except for one near the entrance to the Estrella park, but too far to walk back from.
Having had enough at that point, we took the freeway back, detouring through downtown Phoenix to take a look at the Arizona State Capitol, Phoenix being the capital city of Arizona. I'd never seen this capitol before, only to find it in shadow and the best light to photograph it being in the morning, not mid afternoon as it was when we went by. It's also not very large and is almost surrounded by other buildings, so not a very imposing sight as some state capitols are.
So, mainly because it was midday, which is the worst light for shooting photos, I ended up driving for 150 miles and saw nothing that compelled me to bother parking to shoot photos, except for the egrets where I couldn't park. Sandra took quite a few photos from the truck as we were moving, but nothing too exciting, just basically a record of the trip. We didn't even see anywhere we wanted to stop to eat the picnic lunch she packed, so we also ate that while on the move.
If you can't tell from the tone of this report, the drive wasn't all that exciting for me, but I am glad to have at least seen what we saw, which simply confirmed that north and east of Mesa and Apache Junction are the most interesting and scenic in the area.
As it turns out, once we got back and now being more familiar with the area southwest of the city, I see the Sierra Estrella has been designated a wilderness area and has no roads going into it and only one public access point that requires a four-wheel drive vehicle to get over, so it looks like I did about the best I could have done even if I'd been following a map (sigh).
Still needing a photo for the day to post to my Photo-a-Day Gallery on PBase.com, we went for a short hike eastward on the Blevins Trail here at Usery. We both got some interesting shots that included the moon, like the one above right, showing the moon coming over Pass Mountain, and above left, showing the moon dotting an 'i' formed by a saguaro cactus.
For Sandra's account of the days, click here.

There Is Now Less Of Me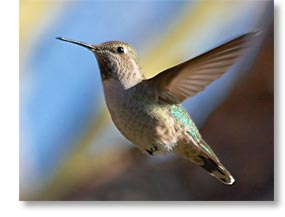 Friday, 18 January 2008 - We haven't done much terribly exciting since my last report, just sticking around the nearby area, doing some short drives and short walks and being entertained by the birds on the feeder, however Wednesday I finally quit procrastinating and stopped by a local dentist office that Sandra had noticed during one of our drives and made arrangements for them to extract an abscessed tooth that started bothering me as soon as we crossed the border into the US last October 25.
The dentist took the x-rays Wednesday and pulled the tooth yesterday morning bright and early (hence, there is now less of me), so now I'm recovering and although it's still tender where the tooth was, I already feel better with it gone. I think the abscess was beginning to effect my inner ear on that side.
For the record and for any RVers who might be in the area needing dental work, the dentist is Angela Pelletier, DMD, Family Dentistry at Ellsworth and Brown Road in the Bashas' Shopping Center, 1145 N. Ellsworth Road, Mesa, Arizona 85207, 1-480-830-7801. She seemed to be very good and I liked her, which I can't say about many dentists I've had in my lifetime. Also, the office was well run and the staff caring, competent, cooperative, and friendly.
And as an illustration to how small the world is, it turns out that Angela lived near Dayton, Ohio for a year while she was in the Air Force stationed at Wright-Patterson Air Force Base, not far from where I grew up.
The photo above shows one of the hummers that visit our hummingbird feeder. I've seen as many as three of these little guys humming around it at one time, but the woodpeckers really like it too and can drain it fairly quickly, little piggies.
For Sandra's account of the last few days, click here.

On the Trail of Some Apaches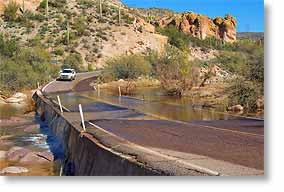 Monday, 14 January 2008 - Although at least more than a hundred years too late.
Today, Sandra and I traveled the Apache Trail, taking it from Apache Junction, past Canyon Lake, and through the little town of Tortilla Flat to just a little past where the pavement ends about 5 miles beyond town.
Calling Tortilla Flat a town is giving it a lot of credit since the official population is 6, but it swells to several hundred during the day when the tourists arrive.
For a tourist trap, it's moderately interesting and entertaining. When we're there, Sandra and I stop for lunch in the Superstition Saloon where real saddles serve as bar stools and the walls are completely papered with dollar bills from visitors.
Unfortunately, as we had been told, the water level in Canyon Lake was quite low, as can be seen by clicking here. It's a mere puddle compared to its normal size and most of the recreational facilities are closed until things return to normal, which is scheduled to be in about a month. I had assumed when I first heard about how low the lake was that it was due to the dry weather they've had around here for quite a while, but a bit of research on the internet revealed the water level was intentionally lowered (a drawdown) to allow maintenance work to be done on the Mormon Flat Dam that forms the lake.
As for Apaches along the trail, by some accounts today's road named the Apache Trail actually was an Indian trail for hundreds of years.


__________________________

For Older News

To read details of our previous stops and camps, visit the News Archives.


Updated Saturday, August 16, 2008

Copyright © 2008 by Gordon L Wolford .
All rights reserved.