Our New Neighbor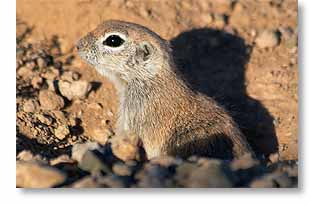 Thursday, 28 February 2008 - We've been on the go quite a bit lately so I took the last two days off and didn't do much of anything, although I did go out in the truck for sunrise photos this morning.
The sky was cloudless, so therefore not a spectacular sunrise, but I wanted to get a shot of Baboquivari Peak with the sun rising on it and I have to drive a bit to get a view without utility poles and power lines cluttering the view, but when I got there I saw the moon up in the sky and thought it would have been nice to have it setting beyond the Baboquivari Mountains, which it wasn't going to do, so I added it to the mountain shot in Photoshop, as seen here.
Then late in the afternoon, Sandra came in from reading outside and said we had a new neighbor except this one, a little Round-tailed Ground Squirrel, is out in the desert but within spitting distance from the RV.
It is very skittish and drops down into its burrow (where ground squirrels live, which is why they'd called ground squirrels) at seeing the slightest movement, but begins to come back out within minutes. So, rising to the challenge and seeing the burrow was just a few feet away from a young saguaro cactus, I used the cactus as a blind and was able to get quite close and took the shot of it above. It's been quite interesting to watch it, especially its territorial dispute with a Harris's Antelope Squirrel that apparently objects to the Round-tailed being there.
Click here for Sandra's account of the day.

Buenos Aires By Way Of Kitt Peak



Wednesday, 27 February 2008 - Unfortunately, that's the Buenos Aires National Wildlife Refuge in Arizona and not the city in Argentina, but we still had fun, even though we saw almost no wildlife other than two hawks, a bunch of miscellaneous little brown birds, and what we think was a vermilion flycatcher, but as is typical for our visits to wildlife refuges (Bosque del Apache being the notable exception), none of the critters would allow us to get close enough to photograph them.
However, the wildlife refuge was not the main goal of the tour we did yesterday. I've long wanted to go up on Kitt Peak (photo above) and get a look at the acclaimed astronomical observatories up there, so I figured yesterday was as good a day as any to do that, since it was another sunny warm beautiful day here.
From the RV park, it's 32 miles (51 km) west on the Ajo Highway (SR 86) to the turnoff onto Kitt Peak Road (SR 386) and then another 12 miles (19 km) up to the top, 9 miles (14 km) of that at an 8% grade on a road that progressively made you feel like you were in an airplane rather than a car, where there was nothing between us and the great wild blue yonder but the traction of the tires on the road. I was very glad when we were back down on level ground, but I get ahead of myself.
The national observatory on Kitt Peak is a very large complex of big telescopes, 23 of them in total. However, only two of them were open for public view yesterday, the McMath-Pierce Solar Telescope and the 2.1 meter telescope (83 inch diameter mirror).
The largest telescope on Kitt Peak is the Mayall Telescope (4 meter/13 feet diameter mirror) equipped with a 64 megapixel CCD digital image sensor (drool) and housed in an 18 story building (first on the left in the photo above, taken from the road as we neared the top) that can be seen 50 miles (80 km) away. At one time, this telescope was one of the largest in the world, but is small when compared to today's huge 10 meter jobs. The Mayall Telescope is now ranked about 15th in the world, but the complex it is part of is the largest assemblage of telescopes in the world.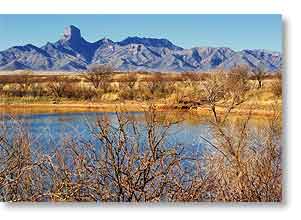 However, even the 2.1m telescope is an impressive device to the average person (see my photo of it here, taken from the observation area) and looking up and down the shaft of the solar telescope was very impressive as well (click here to see my photo of it looking up the shaft), but my main interest was in photographing around the complex and shooting nearby Baboquivari Peak and the other awe-inspiring vistas from the top of Kitt Peak, which at 6,880 ft (2,096 m) high is not much compared to some mountains in the American west (of which 90 are more than twice that height), but still taller than anything in the east (by 200 feet/61 meters). It is tall enough, however, to have caused a 20°F/11°C difference in temperature between there (54°F/12°C) and the desert floor far below (74°F/23C).
Anyway, I got the photos I went up there for and then received a bonus by getting close-up shots of some Mexican Jays, a species of bird we'd never seen before. They were busy freeloading off the tourists sitting at the picnic tables in the visitors parking lot. Click here to see one of my Mexican Jay photos.
At that point, we drove back down to safer terrain and since it was still early enough, Sandra agreed to make a small detour with me (or at least small had been my original intent) to get a closer look at Baboquivari Peak, which is a rather interesting Matterhornesque mountain that's about 15 miles south of Kitt Peak but still easily visible from here. However, one mile led to the next and before long we were at the road to the Buenos Aires NWR visitor center and only nine miles north of the Mexican border, so by then there seemed little point in at least not giving the refuge a look and from where we also got a good view of Baboquivari Peak as seen in the photo above, with Glebe Pond in the foreground. Apparently the water in the pond was a leftover from the last monsoon season, which they have in Arizona paradoxically, lasting July through August typically.
We were going to walk along a trail that bordered the pond until a couple of refuge personnel told us rattlesnakes had just been spotted along there, so as it was getting late anyway, we took that as a sign it was time to head for home, neither of us being at all interested in seeing a rattlesnake.
Click here for Sandra's account of our trip to Buenos Aires via Kitt Peak.

And Another Great Visit To The Desert Museum


Monday, 25 February 2008 - We thought that today being Monday, there would be less of a crowd at the Arizona-Sonora Desert Museum, despite the fact it was a gorgeous sunny warm day. So we headed out around 9:30am, which gave us a leisurely hour to drive over there and hike it down to the Raptor Free Flight staging area with plenty of time to get a good viewing spot.
So much for thinking.
The first sign of things to come was a tour bus that turned into the museum driveway just ahead of us and then no sooner had we parked, out at the edge of the main parking lot being as close as we could get to the entrance, than five, count 'em, 1-2-3-4-5 school buses pulled in and I gave up all hope of a nice quite tranquil visit. Fortunately, the museum had the Members' Express Lane open at least, so we once again breezed right in.
The first thing we checked on was which birds were on the schedule to fly in the Free Flight show and since they were all birds we'd seen fly before, we opted instead to see if the coyotes and javelinas might be making an appearance and much to our surprise, since we've never seen any coyotes there, there was not only one out in the coyote area, but two of them. And not only were they there, but they were actually out in the open not far from the walkway and were posing for us, climbing up on a couple of boulders there, making shots just too plain easy (photo below). Love those guys.
Then it was on to the javelina area (javelinas being what they call peccaries in the southwest). Sandra had never seen any out and I had only seen a couple of them at a distance one day during one of my solo visits, but today, as things were suddenly going our way, they were going our way indeed because not only were javelinas out, they were out in force. Must have been at least six of them and they too, like the coyotes, were in plain view and being uncharacteristically cooperative, coming well within range of even Sandra's little camera and posing and nibbling on the vegetation, even showing their tusks and being just generally wonderful critters.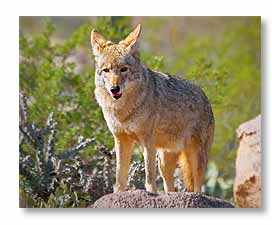 We were having a great time. Who needs the Raptor Free Flight anyway.
Well, we actually did walk by there as the show was starting, but by that time couldn't get within five people of the fence (which is why you gotta get there early), so we continued on, heading for the bird aviary and on our way there I got the highlight of the visit – the photo above on the left of a bird looking out of a nest hole in a saguaro cactus. I've been looking for this situation every since we got into saguaro country (Arizona) and for three months, count 'em, 1-2-3 months I've seen nothing but empty holes in saguaros. I was told early on that spring was the best time to see this, so I guess spring must be in the air and the birds have begun to start this year's families.
I would have preferred a better looking cactus and a gila woodpecker or cactus wren instead of this miscellaneous little brown bird (as we call miscellaneous little brown birds that all look alike), but I'm certainly not complaining. I got my shot and I could leave Arizona happy now, although I'm still going to try for a better photo.
Otherwise, we saw a barn owl and a pair of kestrels up close, held by docents who were answering questions about the species, a few wild flowers which are starting to bloom, birds in the wild (even caught a couple in flight), birds in the aviaries, deer, squirrels, prairie dogs, a butterfly, and a little lizard.
All in all, despite the place being overrun by urchins (they were actually pretty well-behaved kids), we had a great time, it being a very worthwhile visit that once again showed us that once we've felt like there isn't much left that we haven't seen there, we continue to see new things.

Mission Possible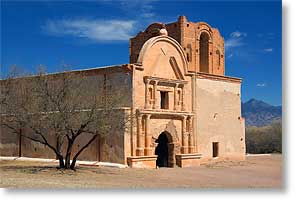 Friday, 22 February 2008 - Yesterday we went on a mission to see a mission.

The Mission

I had thought the only old Spanish mission around Tucson was the San Xavier del Bac Mission a few miles south of the city, but during the course of some recent research I stumbled across a reference to the Mission San José de Tumacácori (photo on the left) that's located between Tucson and the Mexican border and thought that mission would also be worth a look.
However, unlike most of the missions we've seen out here, which are still in use today even though many of them are hundreds of years old, the mission at Tumacácori is a ruins, but still in reasonably good condition. The site was taken over many years ago by the National Park Service which maintains the mission's condition in a state of 'arrested decay'. Sandra, having no interest in history, doesn't share my enthusiasm for these places, but I find them fascinating as being some of the oldest European structures in North America.

On the Road

So, around midmorning we headed out and to make it more interesting for her and to make the most of the trip, we had decided to pack a lunch and make a day of it by seeing what else was between Tucson and the Mexican border, like the little village of Tubac, the border town of Nogales, and then northeast to Patagonia Lake State Park, which we'd been told was a place worth going out of our way to see.
Our first stop was to fill up with fuel, so we dropped by our favorite gas station in the area, Tucson Estates Auto Service, where they still pump your gas (diesel in our case) and clean your windshield for the same or better price for fuel than elsewhere (it's also a good place to get propane).
From there we took the scenic route (side streets) down to give the San Xavier Mission a look, since it was on the way, to see if by some fluke of chance they had at long last taken down the scaffolding that's been there for years as the church is being renovated, ruining any possibility of a good photo of the place, but alas, the scaffolding was still up so we didn't stop.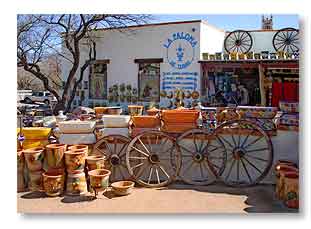 Tubac

We then took I-19 south to Tubac, which today is an artists' colony (better described as a tourist trap of craftspeople selling their wares, as in this photo taken by Sandra) but was once a Spanish military post (some of which has been preserved as the Tubac Presidio State Historic Park), so the village has a little bit for both of us, shopping and history. We only drove through it quickly, which wasn't that easy to do as road work was being done right in the middle of town, but we saw enough of interest we'd like to go back and spend some time there.

Tumacácori

From Tubac, the Tumacácori Mission is only a few miles south and also just off the freeway. Here we had to pay a $3 entrance fee per head, but was worth it to me (although not to Sandra but she paid it anyway). The National Park Service also protects a couple other nearby mission ruins that are indeed little but ruins now and, as I understand it, they are only available to the public through reserved tours. The mission at Tumacácori is apparently the second church built on the site, begun in 1800 and abandoned, unfinished, at the end of the Mexican War in 1848, so it's not as old as some we've seen, but still an impressive structure and compound, all things considered.

Nogales

After taking photos of the Tumacácori Mission, we returned once again to I-19 and took it down to Nogales, leaving it at exit 8, Grand Ave., which we took into the city. Nogales reminded me of similar border cities we've seen, like Laredo and Brownsville, Texas, although much cleaner and safer looking than Brownsville. We have no plans to see any of them a second time unless something comes up someday that compels us to go back, like wanting to actually cross the border and tour Mexico.

Very Scenic Byway

With only a quick drive by, we of course didn't see much of the city and saw nothing worth stopping for, so we went back up to where State Route 82, the southern leg of the Patagonia-Sonoita Scenic Road, heads east out of town and took that to Patagonia Lake State Park, passing through some quite beautiful mountain and hill country on the way that looked more like Texas than what we're used to seeing in Arizona.

Patagonia Lake State Park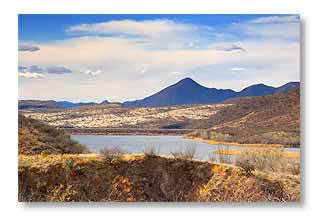 At Patagonia Lake State Park we had to pay another entrance fee, $7 for the vehicle, and it was overpriced for what we got out of it, which wasn't much: a picnic table to eat our lunch at (with trees blocking our view of the lake), a look at their visitor center and their campground (most sites being too small to accommodate an RV the size of ours), and a walk along a nature trail that followed the shore of the lake for a ways. For as much as we've heard about this place, there wasn't much there for us since we don't fish and don't have a boat and we saw precious few birds, mostly coots and few ducks in the lake and a few small brown birds that all look alike to me. Saw a quite a few cows up close and personal though.
And to whine a bit more, the trail was one of those we've seen all too often where what views there were to be had from it, in this case fairly scenic mountains around a lake, were virtually obstructed from view by the vegetation growing along both sides of the trail. Why places create trails like this and don't at least cut out a few viewpoints along the way is just a mystery to me. Probably good for birders who like to look at little brown birds that all look alike, but not so good for nature photographers looking for some scenery to photograph.

More Scenic Byway

The road from Nogales and the road into the state park were far more scenic than the park itself and didn't cost anything. The best view of the lake (photo above right) was from the road going back to State Route 82, which we then took up to Sonoita, where we picked up State Route 83, the northern leg of the Patagonia-Sonoita Scenic Road, after passing through a Border Patrol checkpoint.
That leg of the scenic road travels along the eastern side of the Santa Rita Mountains and through a section of the Coronado National Forest.
Both legs of that scenic drive were so beautiful we're planning on taking it again.
Click here for Sandra's account of yesterday.

And If I Thought Sunday Was Crowded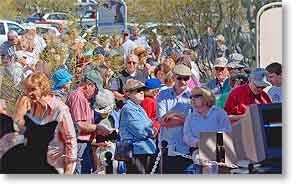 Wednesday, 20 February 2008 - Yesterday being a Tuesday, I thought I'd go back to the Arizona-Sonora Desert Museum, expecting to not have a crowd to fight and indeed, since I got there just an hour after they opened, the parking lot was only half filled.
But to have that many cars there so early was indicative in itself of things to come and sure enough, when I got to the entrance I found a line had already formed of people waiting to get in. Fortunately, the members' express lane (as I think of it) had just opened so I once again breezed right in.
I had gotten there early mainly so I could get a good position to watch the Raptor Free Flight show, which I hadn't seen for quite a while, but when I found out they were flying birds I'd already seen, I opted instead to visit the aviary, hoping everyone else would be at the free flight. And that indeed proved to be the case for a while, but then kids started showing up, running around and making kid noise, which of course caused all the birds in the aviary to go into hiding, so I left soon afterward and the photo above shows some of the waiting line at the entrance by the time I was leaving. This one was even longer than the line had been on Sunday. And this a Tuesday, go figure. Such an amazingly popular place.
I once again had a great time there, but aren't kids supposed to be in school on a Tuesday, not running around scaring birds in an aviary? Don't parents teach kids that the best way to see wildlife is to move slowly and make as little noise as possible? My parents taught me that, but it also seems like common sense, duh, but I guess the kids yesterday proved the old axiom that there's nothing common about common sense.
Click here for Sandra's account of yesterday.


__________________________

For Older News

To read details of our previous stops and camps, visit the News Archives.


Updated Saturday, August 16, 2008

Copyright © 2008 by Gordon L Wolford .
All rights reserved.