Status Report

Saturday, 29 March 2008 - Well, after the first antibiotic didn't work, the second one seemed to be helping a little but then started causing an allergic reaction with a very itchy rash primarily on my feet, lower legs, knees, and shoulders.
So, late Thursday we tried to get a different antibiotic substituted. Sandra called the pharmacist but he wouldn't do it without authorization from the doctor, so she called the hospital ER, who said the pharmacist would have to call them, but then refused to do anything when the pharmacist did call, so we had no choice but to drag my sick body back to the hospital around 9am yesterday morning.
At least things went more quickly than they had on Monday night and things took a definite turn upward when the ER doctor from Monday night came in at 11am and said the results from my Valley Fever test had come back four days earlier than expected and they were positive for me having Valley Fever. So what I have is pneumonia brought on by Valley Fever and apparently is fairly easy to treat.
If nothing else, I was relieved this didn't end up being one of those new strains of pneumonia that are resistant to antibiotics.
After getting away from the hospital around 1pm, we returned to the RV and Sandra headed back out to get my new prescriptions filled. I took the first dose of the Valley Fever medication last night at dinner and then proceeded to sleep through the night for the first time in quite a while. I didn't even have to get up to take Tylenol or Excedrin to bring my fever back down since I no longer had a fever.
And that's where things stand as I write this while having breakfast on Saturday morning. Things seem to be looking up.
Many thanks to all who have offered their prayers, help, and condolences either to me directly or through Sandra. It looks like I might live.

A Bit Of Bad News

Tuesday, 25 March 2008 - I hate to report bad news, but yesterday my health took a turn for the worst, so with Sandra keeping me company, we spent the night in the emergency room at St Mary's Hospital in Tucson where they diagnosed me as having pneumonia and how I could have gotten something like that is a complete mystery to me.
We got there around 6:45 in the evening, sat in the waiting room for four hours in chairs impossible to get comfortable in before an ER bed became available, where they put me on an inhaler and pumped in IVs while giving me a battery of tests, from bloodwork to chest x-rays to a CT scan and I guess it was the scan that showed the problem with my lungs. The doctor said the antibiotics the walk-in clinic had prescribed for me should have taken care of it, so he was concerned that they hadn't and is having me try a different antibiotic.
They didn't release me until after 3am. Sandra, my most wonderful wife, sat with me the whole time and was probably harder on her than me since at least once I got the ER bed I was laying down, although I had so many tubes stuck into me I could hardly move. We didn't get back home until 4am. A seriously exhausting evening.
Apparently, there's also a disease in this region called Valley Fever that's common to the desert southwest, although we had never heard of it before. Valley Fever is a lung infection. A fungus becomes airborne when dust around construction areas and agricultural areas is transported by the wind. When spores are inhaled, Valley Fever can result. The medical name for Valley Fever is coccidioidomycosis and apparently it can result in a fungus-based pneumonia that doesn't respond to antibiotics, but takes a different kind of treatment. The results from that test won't be back for a week, so until then they are doing what they can.
Kind of ironic to have such a disease in an area where people once came to ease lung problems, but this, combined with Sandra's health issues, probably spell the end to our RV travels, although it's too early to be coming to any decisions.
Click here for Sandra's account of the last night.

Belated Happy Easter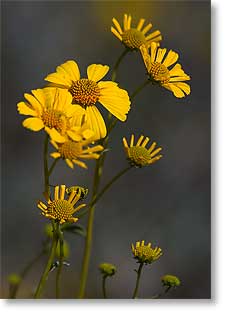 Monday, 24 March 2008 - Happy Easter to all who observe the holiday, although my greeting is a bit belated since I spent the day in bed yesterday, down with another case of what appears to be bronchitis, although I'm not sure it isn't allergy related or the result of something going down the wrong way while I slept one night, woke up choking, but couldn't clear my lungs because my back was out and I couldn't cough effectively, so it's sitting there moldering. March has not been a good month for me healthwise.
So, I've effectively been out of commission for most of the last week although I had been able to do things between bouts of fever and feeling awful. I went to a nearby walk-in clinic about 5 days ago and after spending what seemed like an hour filling out paperwork and dealing with insurance matters and finally giving up and basically saying screw the insurance, I'll pay out of my own pocket, but I want to see the doctor...now!
I understand those places have to make money and if they don't get paid up front they're likely not to get paid at all, but really, you go in sick, hardly able to sit up and they make you go through all that paperwork just so the doctor can breeze through and spend all of two minutes with you, it doesn't seem right. I remember the days when doctors made house calls and doctors were still the wealthiest members of the local community. Why are things so much more difficult now in an age when technically things should be simpler?
Anyway, after asking me some of the same questions Sandra and I had labored over to answer in the paperwork (so it's unlikely the doctor even bothered to look at it) and listening to my breathing with her little stethoscope, the doctor diagnosed bronchitis, gave me a prescription for antibiotics (which so far don't seem to be doing much), and to speed my recovery along even faster offered an $80 injection of antibiotics which I took and even that hasn't seemed to do much either except for two days make my butt feel like someone had stabbed me there with a hunting knife and left a golf ball behind.
At least I can sit again without pain and today I at least feel up to making this report, sad as it is. I just hope I'm up to getting us out of here when we're scheduled to start the long trek back home on Friday.
On a bright note, at least the weather this past week has been fabulous. Sunny and quite warm days with nights mild enough to sleep with the bedroom windows open.
While not Easter Lilies, the photo above is of some of the local desert wildflowers, which are abundant in places.
Click here for Sandra's account of the last few days.

Nothing Much To Report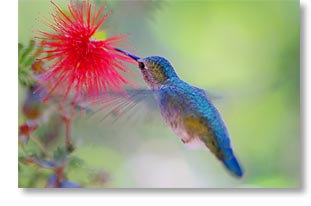 Monday, 17 March 2008 - I haven't done much since my last report because my middle back went out on me a few days ago and yesterday I gave up hope it would go back into place on its own and went to a local chiropractor.
Otherwise about all I've done was walk out in the desert behind the RV and visit the desert museum a couple more times. The photo here is from yesterday's museum visit that we made after the chiropractor was done with me. Hummingbirds are so cute, but even though they hover in place a lot, it's seldom long enough to get the camera on them, focused, and the photo taken before they dart off, at least not long enough for my old reflexes, but now and then I'll catch one.
We are now looking at where we go when we leave Tucson in a week and start the long trek back. Two places in particular I want to see are the Chiricahua National Monument in southeastern Arizona to photograph the rock formations there and Lake Martin in Louisiana for swamp photos.
I've also started doing research for a new camera. My Canon 20D has now taken 87,000 photos, 12,800 of those in Arizona this winter, but from what I can tell, the camera's shutter has a life expectancy of 50,000 actuations, so I'm well past that and the camera may be clicking away on borrowed time, so I need to be prepared.

Back to the Patagonia-Sonoita Scenic Road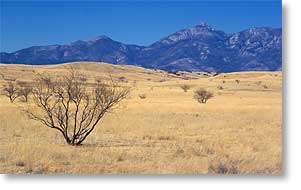 Monday, 10 March 2008 - Yesterday, we headed out to take an encore drive on the Patagonia-Sonoita Scenic Road. We had traveled this road on February 22 and been impressed with the beauty of the region and wanted to see it again, but conditions this time weren't what I like for photos and the road was much busier than I had expected it would be on a Sunday morning, so things didn't click for me this time.
That's not to say we didn't enjoy the drive, but as often happens, it just didn't impress me the second time like it did the first time.
We did take some photos along the way, the one here being of some grassland north of Sonoita and east of the Santa Rita Mountains which are seen in the distance, but all the places I really wanted photos of had nowhere to pull off the road and traffic was too heavy to simply stop in the road for a quick shot.
We did stop in downtown Patagonia for a late breakfast at the Home Plate Restaurant, which looked to be part of the Stage Stop Motel, which looked to be more of a hotel than motel, but what's in a name. The restaurant was quite busy when we got there at midmorning, was efficiently run, provided a large plate of food (we had bacon and eggs) that was quite good, but for the price they charged for it ($6.75) coffee should have been included, not charging an additional $3 for it, so I doubt we'll ever go back. Three bucks for a plain-jane cup of coffee is highway robbery!
From there we drove to Tubac to give it another look, Sandra for the shops and me for the Tubac Presidio State Historic Park. Sandra enjoyed the shops, but there isn't much left to the presidio but a couple very small sections of what looked to be adobe ruins. Someone keenly interested in the history of the area might have found it interesting, but I found it disappointing. The shops were okay, and some of the artsy-craftsy stuff was very well-done, but it all began to look alike after a while, and towns that commercialize themselves to the extent that Tubac is doing always seem contrived, so it too, like the scenic road, just didn't trip my trigger this time.
Or maybe it was just because I was still very tired and feet still sore from doing King Canyon Trail the day before. I also kept telling myself I should particularly be enjoying myself because our weather was beautiful while the northeast was being pounded by snowstorms, but it didn't help. From out here, the northeast just seems too far away to be relevant.
Click here for Sandra's account of the day.

Daylight Savings Time

Arizona does not observe Daylight Savings Time (smart people), so while most everyone else sprang forward an hour yesterday, we did not. So, we are still on Mountain Standard Time, which is the same as Pacific Daylight Time.
Confused? More simply, we are now 3 hours behind Eastern Daylight Time, 2 hours behind Central Daylight Time, 1 hour behind Mountain Daylight Time, and on time with the Pacific coast, so timewise, think of us as being in California.
For all the trouble it causes, not the least of which is screwing up our internal biological clocks, I've never understood why people bother bouncing back and forth an hour every year, but I guess it's human nature not to keep things simple. This all came about because a British golfer wanted more time in summer evenings to play golf! I won't comment further, although I could...easily.

IT WORKED!!!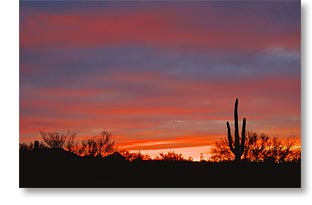 Sunday, 9 March 2008 - Well, kinda sorta, as my friend Mel would say. I'm talking about my ploy to get some dramatic skies by washing the truck, which would bring on rain, which meant clouds moving in.
As can be seen in the photo here, taken during yesterday's colorful sunrise, the first we've had in two weeks, we got the clouds and while it tried its hardest to work up some rain, it couldn't quite do it, which is just as well since it was the clouds I wanted.
In most places, a red sky in the morning (sailors take warning) means rain later that day, but that saying doesn't seem to work in Arizona.

King Canyon Trail

After we ran some errands, ate lunch, and had a midday nap, the sky had cleared again (drama in the sky can be so shortlived) and Sandra decided she wanted to go take a look at nearby King Canyon, a place Ellie had told her about where one can see some centuries-old petroglyphs left by the Hohokam people. However, to get to the glyphs involves a hike of nearly a mile, along an uphill trail.
It's interesting that the trailhead and its parking lot are in Tucson Mountain Park, but once on the trail itself, you almost immediately enter Saguaro National Park West, so this is a way to get into the national park's trail system without having to pay a fee and while the trailhead parking lot is dirt and rock, the road to it is paved. What a concept.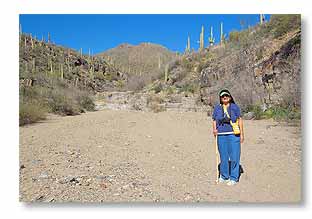 The trail starts out at an elevation of around 2,900 feet (884 meters) and by the time you reach the petroglyphs 9/10s of a mile later (1.4 km), you've climbed to around 3,200 feet (975 meters), for an elevation change of 300 feet (91 meters), or in other words, a 6% grade, which isn't bad, but climbing up 300 feet (91 meters) is still equivalent to climbing the stairs of a 30 story building, an endeavor your body tends to notice, at our ages anyway.
The trail parallels a wash, which is seen here in the photo of some chick I kept bumping into along the way and who insisted on coming home with me. You can take either the trail or the wash to the petroglyphs, the trail being mostly rocky, which was difficult for Sandra with her still periodically tender foot, and the wash being mostly small rocks, pea gravel, and sand, which made for soft walking, but still difficult in its own way because your foot slides in it with each step. We took the trail up and the wash back down.
We found the petroglyphs in due course. They are etched in the rock faces on either side of the wash a short distance downstream from where the trail crosses the wash near the Mam-a-Gah picnic area (named for a local Tohono O'odham Chief). The glyphs were rather faded and not very spectacular and at first you had to look closely to see them. In fact, it would have been very easy to walk past them without noticing them, but after you got used to how they looked, you could spot them fairly quickly, although I expect we missed a lot of the less obvious ones. Click here to see one of my petroglyph photos.
It was a good hike and we also saw and photographed quite a few wildflowers along the way (click here to see one of my wildflower photos), but by the time we got home, we were content to take it easy the rest of the day.
In the photo above of Sandra in King Canyon, the distant mountain is Wasson Peak, the tallest mountain in the Tucson Mountains and the trail system goes to its top and I'm tempted to give it a try because the views from up there are supposed to be spectacular, but I'm only tempted. At the moment, with sore feet and tired legs, it seems like a lot of effort.
Click here for Sandra's account of the day.

'Blue Skies, Smiling At Me...'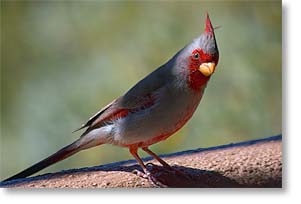 Saturday, 8 March 2008 - '...Nothing but blue skies, Do I see.'
Those lines are from the lyrics of the old Irving Berlin classic song and they certainly describe our weather of late. I really hate to complain when everyone else thinks we're having ideal weather, sunny and warm during the day, but blue skies really make for boring photography, unless one is shooting for postcards, which I don't, even though some of the photographs I took in St. Augustine, Florida are being used on postcards there. They, of course, have blue skies in them.
Anyway, I had to do something about this weather pattern in order to get some drama put back in the sky, so I washed the truck yesterday, which should guarantee some rain. Since it's been so long since it rained, and I can't remember offhand when it did last rain, the truck just kept getting dustier and dustier, until it reached the point yesterday I was embarrassed to be seen in it. Click here to see Sandra's photo of the truck while it was still clean.
Of course, as it turned out, washing the truck proved to be a futile effort, not because doing so actually brought on rain, but because being the idiot that I am, I then got in the mood that evening to drive through Saguaro National Park West for the sunset light and the roads within the park are all dirt. And in keeping with the national park roads we've been on of late, which now require a fee to drive over, these roads were not only dirt where vehicles kick up great plumes of dust, much of which ends up back on the vehicle, but these roads also have a rough washboard surface that is bone-jarring to drive over with a heavy-duty suspension. So, while the scenery was nice, the experience wasn't and the truck is dusty again. Actually, the neighboring Tucson Mountain Park has better saguaro, paved roads, is more scenic, and is free. I expect going further into the national park we would see better scenery, but I doubt we'll subject ourselves to that torture. The truck has to get us back to Canada. The US should spend less money on war and more on improving itself internally, like paving its park roads. Jeez!
Anyway, since my last report, we've also gone in search of roadrunners to photograph, but found none; paid another visit to the desert museum where, as always, photo ops abounded, including the one above of a male Pyrrhuloxia, which is often mistakenly identified as a female cardinal; attended a pot luck supper at Ellie & Jim's RV where we met a new couple, Joyce & Jim (yes, that's a different Jim); and drove up Sentinel Peak, aka 'A' Mountain, which has the best panoramic vistas in the area of Tucson, its valley, and the surrounding mountains ranges.
For more details on those events, see Sandra's blog by clicking here.

Where Did The Week Go?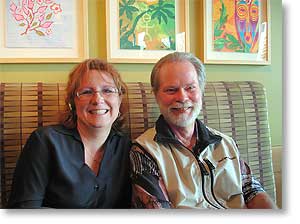 Thursday, 6 March 2008 - I can't believe it's been a week since my last report. How time flies when you're having fun.
The day after my last report, we had Sandra's RV chat buddies, Ellie & Jim, over for supper and spent a very pleasant evening with them. Click here for Sandra's account of the festive occasion and for the photo, taken by Mr Tripod. After listening to the tales of Ellie & Jim's recent RV trip to Mexico and the complications that arose from trying to do just simple things we take for granted north of the border, I'm in no rush to follow in their tracks south of the border.
Then yesterday, we met with Barbi (photo on the left taken by Sandra). Barbi is a niece of my longtime friend, former employer and client, Bill, who has retired to Florida. He thought since Barbi lives in Tucson that it would be nice for Sandra and I to meet her, so we made arrangements and met yesterday morning for coffee at one of the pervasive Starbucks in Tucson. We had a great time and an hour and a half flew by before Barbi, not being retired, had to head on to work.
Barbi is much cuter than Bill, so I think next winter rather than go to Florida and see Bill while we're there, we'll just come back to Tucson instead and see Barbi.
Hehe...just kidding, Bill, but bet I had your attention there for a second, didn't I?
Anyway, after we left Barbi, we headed down to Camping World for the second time in a week to try and get a replacement for our toilet fan that recently died, but again failed to find one. Ours is Canadian and all they have around here is US, which is enough different that it wasn't directly replaceable short of replacing the entire fan assembly which would take more effort than I personally care to put into it. I learned long ago to leave such things to people who know what their doing. It just amazes me though that for all the Canadians who come down here for the winter that RV places in a city the size of Tucson wouldn't stock replacement parts. Boneheads.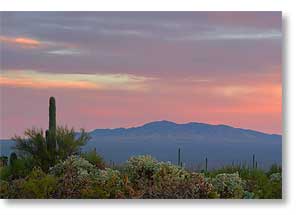 Otherwise, not much of interest happened around here the past week. We did enjoy quite warm weather during the days and we were even able to have the bedroom windows open a couple of nights, although it has turned cold again this morning in the wee hours as I write this (32°F/0°C), but that's a temporary thing and still much better than they're having back north, so no complaints.
One thing about the warmer weather though is we now have to be more vigilant for rattlesnakes during our walks in the desert, which has become part of our daily routine.
I've also been to the Desert Museum a couple of times since my last report and while each visit had points of interest and I always find photos there, nothing was particularly noteworthy, except it's always nice to walk around there and one doesn't have to worry about being bitten by venomous snakes while doing so.
A few days ago I did get the itch to go see some new sights, so we headed over to the Sierrita Mountains, a minor range nearby (as seen in the photo above taken last night at sunset), but we didn't see anything worth even stopping to take photos of, and from there we drove over to Mission Road and took that south all the way to its end near Green Valley. A few miles south of the San Xavier Mission the road passes through miles of massive piles of mine tailings from a number of open pit mines, that while interesting to see, the tailings have totally destroyed whatever landscape was there and the piles are so huge they can be seen even from here if you know where to look.
Click here for Sandra's account of the last few days.


__________________________

For Older News

To read details of our previous stops and camps, visit the News Archives.


Updated Saturday, August 16, 2008

Copyright © 2008 by Gordon L Wolford .
All rights reserved.