Overnighting At Delaware, Ohio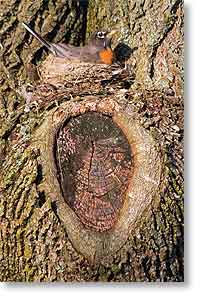 Tuesday, 15 April 2008 - We left Terre Haute, Indiana this morning at 9:20 after a cold night that dropped down to below freezing at 29°F (-2°C) and deposited a heavy frost on the truck windows. Happily, that's the coldest we should see for the rest of the trip back to Canada.
As hoped, the nasty weather we encountered moved on during our extra day at Terre Haute and today's drive was under sunny clear skies with temperatures in the mid-50sF, rather then the high 30sF, and it's supposed to continue to warm up even further. I am sure glad. It's bad enough trying to get us home with pneumonia, let alone having to cope with cold damp weather on top of it.
Anyway, I'm happy to report today's drive, which passed by Indianapolis, through several miles of concrete barrier-lined road work north of Dayton, and around Columbus, Ohio, proved to be blissfully uneventful and we arrived here at the Cross Creek RV Resort in Delaware, Ohio 20 miles north of Columbus at 2pm. This is a very nice RV park and it costs less than KOA. It also claims campground-wide wi-fi, but only has one antenna that's on the office roof, but this one I can receive fine from my recliner, so I'm happy for the night.
The drive today (click here to see the route) was 275 miles (442 km), the second longest of our drives so far on the trek back to Ontario, only a mile shorter than our drive from Tijeras, NM to Amarillo, TX.
The photo is of a robin in its nest which it built in just a small recess in the trunk of a tree beside the RV site we had in Terre Haute. Robins will build nests just about anywhere, whether it's a good location or not.
Click here for Sandra's account of the day.

Now At Terre Haute, Indiana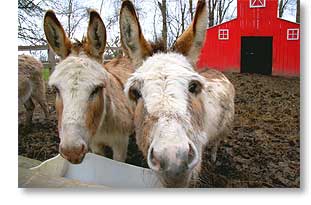 Sunday, 13 April 2008 - Even though it was cold and raining, we left the Saint Louis West KOA at 9:50 this morning and headed east for Terre Haute, Indiana, hoping the Terre Haute KOA would be more to our liking. It is somewhat better, but not by much, costing almost the same as the one near Saint Louis and with wi-fi that's no better. Sticking a wi-fi antenna on the roof of the office building does not constitute "campground-wide" wi-fi. Sandra has no problem receiving it with her newer computer, but I can only reach it with my older computer from the RV's bedroom, which is the closest point to the antenna, but not from my recliner, and we're fairly close to the office. Fortunately, this wi-fi network is also open (doesn't require a password) so I can make it usable with the high gain amplifier, but as more RVers arrive here for the evening, the network is already bogging down, so not impressed.
Anyway, the drive today was 208 miles (335 km) and otherwise almost identical to the last one...cloudy, rainy, cold, temperature hovering between 37°F (3°C) to 43°F (6°C), even a bit of snow mixed in with the rain once, fairly strong crosswind out of the north, and averaged 12.5 mpg. We arrived at 2:30pm EDT (notice we changed time zones when we entered Indiana so we're on Eastern time now) and signed on for two days, to give me a much needed day of rest and to hopefully let this crappy weather system move ahead of us.
Really really tired of this cold damp weather.
Rather than a map of today's drive, which you can see by clicking here, I actually was motivated for the first time in 11 days to dig out the camera and take a photo of these miniature donkeys that reside here in this KOA. So cute.
Click here for Sandra's account of the day.

Overnighting Near St. Louis, Missouri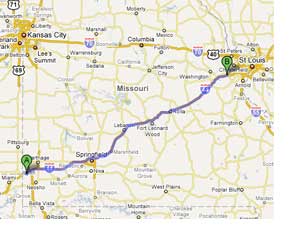 Saturday, 12 April 2008 - Actually, we're overnighting at Eureka, Missouri, but who's ever heard of Eureka, Missouri?
We left Joplin at 8:45 this morning under cold, cloudy, and windy skies, temperature around 39°F (4°C), and arrived here at the Saint Louis West KOA 259 Miles (417 km) later at 1pm for a drive of 4 hours 15 minutes that averaged 12.5 mpg due to again having stiff crosswinds in addition to the road doing little but going up one hill and down the next. I was surprised our mileage ended up doing that well.
30 miles east of Joplin we passed the halfway point of our return to Ontario, so that was a milestone to enjoy.
I'm not terribly impressed with this KOA, mainly because they charged us $10 more for the night than we've ever paid at a KOA before, so I think we were gouged but were too tired to argue about it. Plus they stuck us down in a corner where the wi-fi reception is only marginal on my old computer. Sandra's has no problem with it, of course, but on the plus side, it's an open network so I setup the high-gain wi-fi amplifier and that's got things working adequately for me.
It was cloudy and cold for the entire drive today, temperatures ranging from 37°F (3°C) to 43°F (6°C) with sporadic patches of misty rain, one of which actually turning briefly into sleet. Swell! We sure ain't in Arizona no more. The weather tomorrow is supposed to be the same, but we're planning on getting through Saint Louis tomorrow regardless since it will be Sunday and the traffic should be light. The forecast isn't for things to start warming up again until early next week, so I guess we just have to grin and bear it until then.
The map shows our route today. Click on it for a closer view.
Click here for Sandra's account of the day.

Overnighting At Joplin, Missouri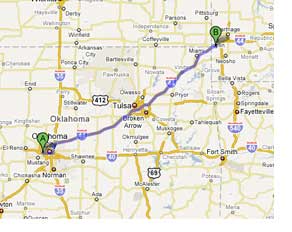 Friday, 11 April 2008 - Our stay at the Council Road RV Park in Oklahoma City proved to be quite enjoyable for just an overnighter. The showers were excellent and the park has the best wi-fi setup of any RV park we've ever stayed in and Sam, one of the owners, was Mr. Charming.
We left there a little after 9am this morning, just as rush hour was ending so traffic wasn't bad at all, and headed for Joplin, Missouri, taking I-44 right through Oklahoma City, following Sam's very helpful advice on the lane changes that needed to be done. Skies were clear when we left and temperature peaked at 57°F (14°C) before things started to cloud up and cool down.
Today's move was 220 miles (354 km) with a fairly strong crosswind from the northwest for most of the way and a lot of hills, so mileage ended up being only 12.7mpg, which is about our low end of average. We arrived here at the Joplin KOA four hours later at 1pm.
In the time since we were here last, five and a half months ago, they've improved their campground-wide wi-fi that's included in the site fee ("not free, but included" as I was told) and I can now reach their wi-fi even with my antique old laptop, so I shouldn't have to setup the internet dish this time.
We are planning to be here just for the night and then head on for St Louis, Missouri tomorrow, although the weather for the weekend is forecast to turn cold and rainy with even a chance of some snow, so I'm not sure if we won't end up staying here and waiting it out if it gets too nasty and from all the flooding we saw on the drive today, they've had more than their share of nasty weather in this region of the country lately.
The map shows our route today. Click on it for a closer view.
Click here for Sandra's account of the day.

Overnighting At Oklahoma City, Oklahoma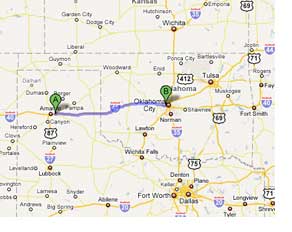 Thursday, 10 April 2008 - Our stay at Amarillo ended up being for three nights, not two. Although I really hated to lose a day's travel, an intense system of thunderstorms moved through Oklahoma yesterday and since I have a lot of respect for those plains storm systems, we decided to wait it out where we were in Texas rather than try to tow in it and then setup camp in it.
So, we left Amarillo around 8:30 this morning under clear but chilly skies (43°F/6°C) and with a very strong tailwind and generally dropping in elevation, so between Amarillo and the Oklahoma state line we got an amazing 18.1 mpg, but then the winds changed and became crosswinds and we ended up with a still respectable 15.2 mpg for the 239 mile (385 km) drive, arriving here at the Council Road RV Park in Oklahoma City's west side just off I-40 at 12:45pm. This is a nice clean park, well-maintained and has excellent free wi-fi throughout. The staff was also very friendly and helpful and guided us to the our site, something we haven't had done for quite a long time. The lady in the office said they got 4 inches of rain yesterday and it rained all day, so I'm really glad we waited out the storm.
We are planning to be here just for the night and then head on for Joplin, Missouri tomorrow.
The map shows our route today. Click on it for a closer view.
Click here for Sandra's account of the day.

Two Nights At Amarillo, Texas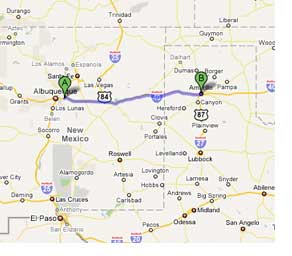 Monday, 7 April 2008 - We were up and on the road even earlier this morning, leaving just a few minutes after 8am MDT. Skies were again clear and bright, temperature again on the cool side but quickly becoming pleasant. It was another perfect day for driving.
We reached the high point of the drive 38 miles east at Cline's Corners, New Mexico, 7,055 feet (2,150 m) elevation, so it was generally downhill from there. That, plus a strong tailwind and we averaged a little over 15mpg on the 276 mile (444 km) drive that took 5 hours which included two pitstops, with us arriving here at 2pm CDT.
We are now at the Aok Camper Park, 3,540 feet (1,079 m) elevation, just east of Amarillo. This place can be described in one word - seedy. The only thing to like about it is that it's a Passport America member so it only costs us $11 per night. We signed up for two nights since the truck has to go in for its scheduled maintenance appointment tomorrow.
At the moment, there's only one other RV in this place that looks respectable, all the rest look to be seasonal or permanent trailers that are rotting where they sit, same as the park buildings are. This was once a KOA campground, hence the clever change of name to 'AOK' from 'KOA' by the people who bought it, but it doesn't look like they've done a lick of maintenance to the place since then and that was years ago.
On the bright side, it does have sewer, water, and 30 amp electric on gravel sites, which are fairly level, and a clear view of the southern sky, but nothing else. No cable TV, no wi-fi, no showers, no restrooms, no book exchange, no rec hall, although it does have an empty swimming pool that's also going to seed. This is a very convenient place to overnight because it's right off the freeway, and I do mean right off the freeway, but so are much nicer RV parks further toward town, although they don't cost $11 per night.
Since we're here for two days and I still had energy after the drive, I set up the internet dish, so we'll be online for two days.
We went on Central time when we crossed the Texas state line today, so we're now only one hour behind Eastern time.
The map shows our route today. Click on it for a closer view.
Click here for Sandra's account of the day.

Overnighting East of Albuquerque, New Mexico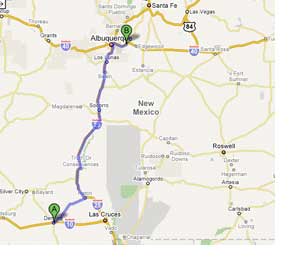 Sunday, 6 April 2008 - We were up and on the road by 8:30am this morning, a fairly early start for us. Skies were clear and bright, temperature on the cool side but quickly became pleasant. It was a perfect day for driving, helped even further by the fact it was Sunday, so traffic was light.
The drive was 250 miles mostly up I-25 from Deming to the Hidden Valley Resort in Tijeras, 20 miles east of Albuquerque off of I-40, which we'll now be taking as far as Oklahoma City.
This is the same RV park we stayed at back on November 11 as we were heading south, so it is familiar territory. With my fragile health, which is holding up so far, I'm just interested in finding the easiest and fastest way back home.
We arrived here shortly after 1pm. Traffic in Albuquerque, which we drove right through the heart of, was fairly light but we did encounter a stretch of eastbound I-40 where they were doing some fairly serious road work with lanes narrowed somewhat, but all of them open. However, I expect during weekday rush hours that section of road still gets pretty interesting. Glad we came through on a Sunday, so it wasn't bad.
Camp was setup very quickly. When overnighting we don't go to a lot of bother getting the rig level or setting up a lot of the things, like the satellite dishes. They have wi-fi at the office so we'll use that instead of the satellite, which I'm not sure I can see from this site even if I felt like bothering. We just basically unhitched (I much prefer fueling the truck when the RV is not hitched to it), put the slides out and hooked up the water and electric, and that's that.
Destination tomorrow is Amarillo, Texas, 270 miles (435 km) away where we will have to take the truck in for its next scheduled maintenance appointment, so we will probably be there two nights.
The map shows our route today. Click on it for a closer view.
Click here for Sandra's account of the day.

We Make It To Deming, New Mexico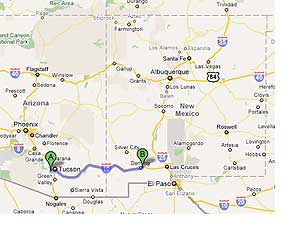 Friday, 4 April 2008 - Even though we tried to get done as much as we could of the packing last night, we still had a lot left to get done this morning before we could head out, but by 9:30am this morning we were packed up, hitched up, and on our way.
Deming, New Mexico is 229 miles (368 km) east of Doc's Diamond J RV Park in Tucson and I thought for the first leg of the long trek back to Ontario that would be a good day's drive, four hours at 60mph (100 kph), if I was well enough to do it. If not, we had looked up RV parks along the way where we could have stopped early if my strength gave out. However, the drive didn't seem to tire me out anymore than previous drives have, which is very encouraging.
In fact, when we arrived here at the Dreamcatcher RV Park, same place we stayed last November on our way to Arizona, I still had the strength to put up the internet dish. We might spend two nights here, but as of yet that's undecided. I don't want to overdo things and have a relapse, so slow and steady wins the race.
The map shows our route. Click on it for a closer view.
And while we're in New Mexico we'll be on Mountain Daylight Time, so we lost an hour when we crossed the Arizona-New Mexico state line. This means we're now only two hours behind Eastern time.
Click here for Sandra's account of the day.

Arizona's Best Kept Secret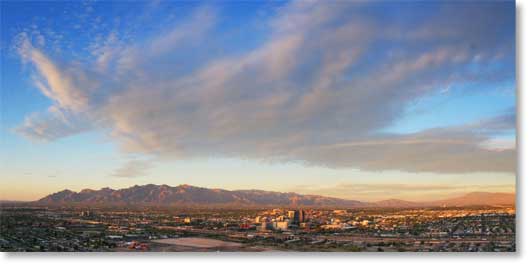 Thursday, 3 April 2008 - Over the intervening days since my last report I've had no fevers and been slowly regaining my strength and appear to be returning to some form of normalcy, although the lungs are still effected. We are scheduled to leave here tomorrow to start the long trek back to Ontario and barring any unforeseen setbacks it looks like I'll be well enough to at least give it a try. I gave myself a small test earlier this morning and got the bicycle and BBQ propane tank stowed away in the truck and didn't suffer any ill effects from that fairly strenuous effort, so I'm hopeful.
Last evening, and evenings have been the worst time of day for me since coming down with Valley Fever induced pneumonia, we did another test of my condition by going out for dinner at Taco Bell (my appetite has also slowly been returning) then took a late evening drive, ending up overlooking Tucson at sunset from Sentinel Peak ('A' Mountain) as seen in the photo above, not getting back to the RV until after dark, and I managed that two hour excursion with a fair bit of driving also with no ill effects.
During the time since I was diagnosed with Valley Fever I've been doing some research on it and it always amazes me how something so widespread could be talked about so little. It has to be Arizona's best kept secret. Locals all seem to know about it, but you never hear anything about it until you start complaining of symptoms. However, it's not limited to just Arizona. Apparently cases of it have been appearing in all areas of the southwestern desert, from west Texas to California.
And there doesn't seem to be any way to prevent getting it if you're around here for any length of time, unless a person can get by without breathing. It's just that normal healthy immune systems can fight it off, often with no symptoms, and once it is fought off, the person is immune from then on. So when I get back to Ontario I need to find out why my immune system didn't protect me.
But other people's immune systems aren't infallible either. There are thousands of cases of it every year, most going either undiagnosed or misdiagnosed, and the more people that move in here, the more construction there is, the more the soil gets churned up and becomes airborne in the frequent high winds they have, so it's going to be an upward spiral as I see it.
Anyway, this has certainly been a sad end to what had been an otherwise great winter tour.


__________________________

For Older News

To read details of our previous stops and camps, visit the News Archives.


Updated Saturday, August 16, 2008

Copyright © 2008 by Gordon L Wolford .
All rights reserved.